"Music for Viola and Cello" Reissued by The Electric Recording Company
Musical cults in the rock world can't compare to what goes on in classical music—as anyone who's perused some of the used record prices on
popsike.com
surely knows. That's certainly true of the late, legendary cellist Jacqueline Du Pré.
Du Pré, who was 17 years old when she recorded this cello recital for HMV, was considered one of the instrument's finest 20th Century players by its most respected practitioners including Rostropovich who upon first hearing her remarked that he had found someone to carry on his work. She eventually studied with both him and Pablo Casals.
It didn't hurt that along with being supremely talented, she was visually appealing. Tragically, at age 26 she was diagnosed with multiple sclerosis and by the time she was in her early 30s in the mid 1970's she was virtually paralyzed. She passed away in 1987 at age 42.
As the notes on the Electric Recording Company website remind visitors, DuPré should not overshadow viola player Herbert Downes, whose career was equally illustrious, if not nearly as tragic. He was the principal viola player for the Philharmonia Orchestra from 1945 to 1974 and a noted soloist and chamber music enthusiast. He passed away in 2005 at age 95.
Yes, a copy of this superbly remastered, pressed and presented reissue will cost you dearly (about $650) but originals routinely go for $3000 and up. Audio enthusiasts, especially those who aren't classical music fans, tend to prefer bombastic symphonic music for their classical listening needs, but this record ought to convert the chamber music stragglers: along with being a remarkably fine sounding recording first issued on vinyl in 1963, each track features a duet between Downes and Du Pré and another instrumentalist, which adds a layer of both musical and sonic interest.
On the viola side, Downes is accompanied by a harpsichord, a harp (on Vaughan Williams' "Fantasia on 'Greensleeves'", which everyone of course knows), a guitar, a piano and on the side closer, "Ave Maria" (which everyone also knows) by an organ that goes way low. You won't end side one thinking it's filler and you need to get to DuPré.
However, side two does make for exquisite listening musically and sonically. The cello recording is intimate, transparent, three-dimensional and richly textured. The 17 year old Du Pré covers familiar territory as well, with Bach's "Sonata in D major" accompanied by a harpsichord, Bach's "Toccata in C major" accompanied by organ, "Le Cygne" (the Swan) from Saint-Saën's "Le Carnaval des Animaux" accompanied by a harp, "Jota" from Manuel de Falla's "Suite Populaire Espagnole" (derived from de Falla's "Seven Popular Songs") and Max Bruch's "Kol Nidrei", which, appropriately closes the side. It's named for a declaration recited but once a year on the Jewish high holy day Yom Kippur (day of atonement).
Interestingly, Max Bruch was not Jewish though his name sounded so and he wrote the piece, but Jacquelin Du Pré was. She converted when she married Daniel Barenboim.
If you wish to have but one Jacqueline Du Pré record in your collection make it her enduring 1965 recording of Elgar's solemn Cello Concerto (EMI ASD 655), which has never gone out of print and probably never will. Sir John Barbirolli conducts the London Symphony Orchestra in a memorable performance by all.
However, if you can have two Du Pré records in your collection this would make a damn fine accompaniment to the Elgar!
Of course the packaging as with all ERC reissues is superb. The pressing of this promo copy was super-quiet with but one or two minor "ticks"—certainly fewer distractions than the coughing, choking, sneezing and seat-rustling you hear at live concerts but manage to ignore to get to the music, which is why I find the 'classical music purist/whiners" so ridiculous when they complain they can't deal with an occasional pop and/or click on a vinyl record.
One of ERC's best sounding reissues—and that's saying a lot! Limited to 300 copies. Here's an image of the tape: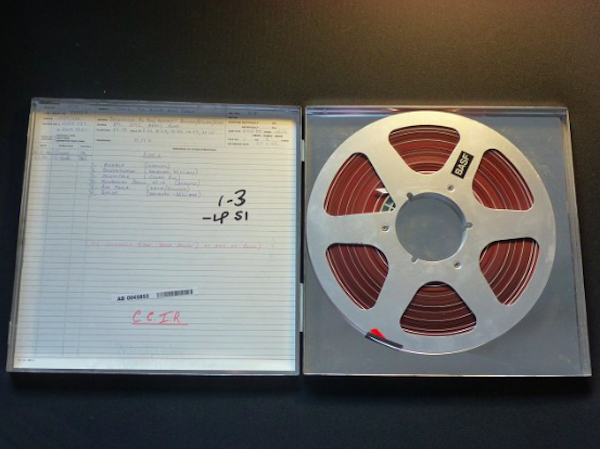 <!- ------------------------------------>