Righting a Rolling Stones Catalogue Wrong: The New Rolling Stones "Studio Album Collection 1971-2016" Box Set
The irony wasn't lost on Stones fans when ABKCO and Universal simultaneously issued Rolling Stones vinyl box sets back in 2010. ABKCO, which owned the group's British Decca-era catalog, hired legendary mastering engineer Bob Ludwig to handle mastering of its catalog while Universal, which controlled the group's own label, released a box set with no mastering credits.
The history of the ABKCO box is well documented as covered in the two box sets' musicangle.com review, which now appears on analogPlanet.com: "To go back to the early 2000s: restoration producer Jody Klein assembled a team on both side of the Atlantic to research analog tapes and oversee the transfers. Steve Rosenthal at The Magic Shop oversaw the restoration and archiving while Teri Landi oversaw the archival research and the actual A/D conversions. Bob Ludwig did the mastering, while Gus Skinas—a name familiar to SACD enthusiasts—was the DSD engineer. During the original archiving all "electronically reprocessed for stereo" tracks were removed from the catalog and a few stereo mixes that had never before been officially released replaced them. The rest appeared in the original mono."
Those files were used for the original ABKCO SACDs (now sadly out of print) and LPs mastered by Don Grossinger via PCM converted files at Europadisc. According to ABKCO archivist Teri Landi the 2010 box set was sourced using those same DSD files converted to 192k/32 bit and 192/24 bit WAV files (she didn't say why two bit rates were utilized) using Weiss Sarcon conversion software. The files were sent to GZ Digital Media in the Czech Republic, which cut DMM and pressed the 180g vinyl. For the UMG (now UMe) box no information was provided, thus the irony. Plus, while the equalization was reasonably accurate to the original LPs, that box sounded squashed and the file used for Exile on Main St. was the same absurdly squashed one used for the 40th annivesary box set edition of that record.
All that has changed for this new box set, though it too has been cut from digital sources. The big difference is that we know who cut and from what sources, which is very useful information. Here Miles Showell at Abbey Road Studios was given a hard drive containing high resolution flat transfer files of all 15 albums. Showell, a fan of the late Stan Ricker, uses a carefully restored lathe and cuts at 1/2 speed. How that's accurately accomplished in the digital domain would make an interesting story!
Showell was kind of enough to send this email to an enquiring individual who was kind enough to forward it to me:
"While I was not granted access to the original master tapes (some of which are getting pretty worn and should be used as little as possible to prevent further damage) I was loaned an archive hard disk by the management. On this disk were two separate sets of high resolution flat transfers from the master tapes for each album where the source was analogue tape (two or three of the later albums are digital recordings and these were digitally dubbed at their original sample rate to the hard disk). The two archive transfers were DSD and also 24 bit 192 kHz PCM (a few were 24 bit 176.4 kHz).
"I was told to listen to both and choose whichever one I felt was the best to use. In most cases the DSD transfer won, but not always. Once I had chosen, I was given free range to just 'do my thing' which was remarkable freedom. I had no instructions from the band's management or from Universal other than to do it as well as I could.
At no point was any digital peak limiting applied to these albums as this is never good for audiophile releases and is completely useless as a source for vinyl records (full scale digital audio is too loud to cut from, so it is pointless to smash it against the brick wall only to drop the level still further for the cut. Adding limiting would have been the worst of all worlds, increased distortion and "mush" with no level increase). On some songs I did apply some gentle tube compression (I have an analogue tube AT-101, which is a very faithful Fairchild 670 recreation, it sounds wonderful, almost certainly because of the 22 tubes in it). This compression was for artistic effect and feel and not to over hype the music and make it too pumped. I am no fan of extreme compression but like salt and pepper in cooking, a little bit carefully applied at the right time in the right quantity can really improve things.
"I was also loaned a set of original pressings for every album which was an excellent reference point as I could play these on the calibrated system on the lathe while also listening to the files. My goal was to make these new cuts at least as good as the originals and hopefully better. This is not as easy as it sounds due to the wear on some of the tapes.
"Essentially, for the original cuts, the tapes were obviously in mint condition which is a huge advantage for the original pressings, but I have a far cleaner signal path than was available to the original cutting engineers which helped me. I am happy that I achieved my goal. Management and Universal did not listen to anything until the test pressing stage when the decision was taken to proceed, thankfully the feedback was good (had they not liked it, the box would almost certainly not be happening).
I hope all of the above answers your question and if you get a box that you are pleased with it. Just so you know, the latest album in the set was not remastered but all of the others have been worked on by me." (Blue and Lonesome was pressed using the original metal parts).
Now, what more could you ask for than that kind of refreshing honesty coming directly from the mastering engineer himself? Well you'd probably want a beautifully presented box with carefully produced album jackets and maybe a download card for all of the files at CD and MP3 resolution ("maybe" because the set I was loaned did not included it. It's supposed to be on a small card that I couldn't find ). All of these elements are part of this superbly produced, well-documented box set.
Oh, and you'd also want the records to be well-pressed. I received a sealed box to review so no special set (it is box No. 00061). I've heard plenty of grousing about new pressing quality. This set, pressed at MPO in France contained a box of 18 perfectly pressed, perfectly flat records. MPO, which is a "veteran" pressing plant is now producing "world class" records.
There's no book and no big "hoopla" inside, just a well-produced series of reissued LPs in carefully produced jackets complete with the inserts found on the originals. The single insert card containing the production credits also includes useful information including that "...these sleeves have been created from the original release material therefore certain information re-created is no longer valid and have been recreated as replica pieces only." In other words, the jackets recreate the originals including a real working zipper on Sticky Fingers and no bar codes PTL!
You're even told that "While every attempt has been made to match materials and design of original releases in certain circumstances it has not been possible due to modern manufacturing techniques." Nonetheless the jackets are very well done (the removed photos of Lucille Ball, Jayne Mansfield and the others on Some Girls are still "censored"). BTW: if you've never seen the uncensored insert behind the die-cut cover, here it is (hope I don't get sued):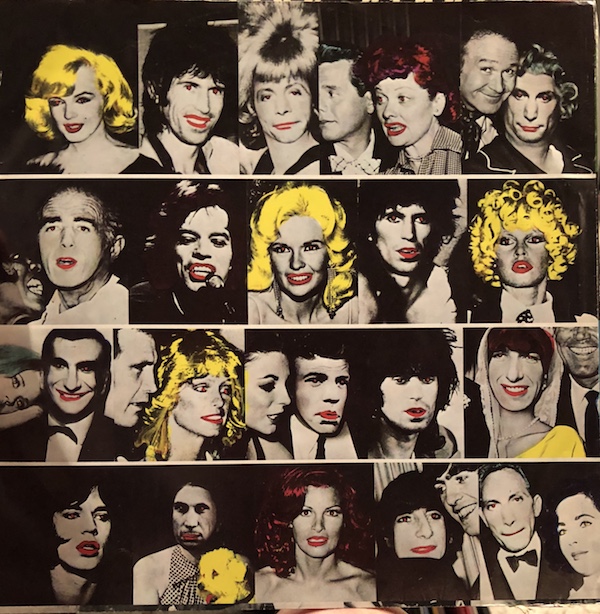 You will not feel as if you're been fobbed off with some haphazard jacket art. Even the outer box including a large die-cut Stones logo and an lenticular one that changes colors depending on the viewing angle looks and feels great!
Of course you want to know about the sound. Here's there's both great and not so great news. The great news is that these reissues finally have the originals' dynamic slam and punch (and some beat the originals). If you've suffered with the last and limp, squashed remastering of Exile...., you'll be in drunken/drugged out heaven with the Stones when they recorded this sloppy, debauched masterpiece as tax exiles in a Nelcote France Chateau.
When they'd finished in France, Mick flew to Los Angeles with the tapes to complete the overdubs at Sunset Sound in Los Angeles. Once the mix had been completed (a great mix that the rock critics of the era, foolishly labeled "muddy" because they were listening on junk turntables) Mick and probably Keith ran they over to Artisan Sound where the original lacquers were cut. So let's just say, if you have an original Artisan Sound mastered copy of Exile..... you have the best, but finally here's a reissue that does justice to that album. Let me prove it to you (or disprove it, depending upon what you hear) with two excerpts from "Tumbling Dice".
Perhaps its oxymoronic to present you with 96/24 files, one cut from an original all-analog record and one cut from an analog record sourced from a digital tape, but anyway, here you go, with neither file identified so you'll have to choose which you prefer "blind". BTW: I don't know what Miles Showell used to play back the records, but I used the Continuum Caliburn, fitted with the new SAT LM-09 arm (it's the "budget" model at $24,800) and Ortofon MC Century cartridge ($12,000). My original copy of Exile... has been played since 1972. So much for "record wear".
And as long as we're at this, here are two excerpts from Tatoo You one from the original mastered by Bob Ludwig at Masterdisk and one from the box:
(File identities will be revealed at a later date). Here's my sonic conclusion without being album-specific: Miles Showell has done a superb job given what he had to work from, which were digital transfers from tapes, some of which have heard better days, and original high resolution files from later digital recordings. Would we all have preferred that he cut from tape where it was originally so recorded? Yes. Is digital "transparent to the analog source"? HELL NO. That's one of the biggest crocks of sonic shit still being sold to the public. All of these transfers produce in the reissued LPs a slight "smoothing over" effect that reduces somewhat transient crispness and image solidity. So be assured that the transfer from the AAA LP loses something as well but the differences should be clear. The original of Undercover cut at Sterling Sound by the late George Marino just smokes the reissue, but without having the original, you'll surely enjoy the reissue. By the way: the originals during the Atlantic Records distribution days (after Sticky Fingers and Exile... were all mastered at Sterling Sound for both the American and U.K. editions as well as for Holland (for some reason the best sounding Some Girls is the orange vinyl Dutch edition mastered at Sterling).
These new records maintain the spirit of the originals and in some cases the careful mastering on a super-clean chain produces a somewhat different but equally valid and occasionally improved listening experience that even owners of originals might enjoy. You will find that the later albums in this set sound better than the originals, which were ridiculously squashed (Bridges to Babylon for instance is much better here than on the original). The bottom end Showell has engraved into these records will please even the most jaded analog fanatic. That said, if you own a set of original pressings (of the early albums in particular) you are all set. If not, finally here's a box worthy of The Rolling Stones on their own label. And if later, the label releases these individually, you might consider picking up the group's later output.
One thing I don't understand though: if the hard drive of flat transfers from the original tapes supplied to Mr. Showell is now considered the repository of the masters and is essentially the masters, of what value to management are the tapes that will over time continue to deteriorate? Why not grant someone with the expertise to attempt one final disc transfer from tapes that are still useable on the iconic albums like Exile... and Sticky Fingers?
The Doors management and even Elektra founder Jac Holzman once said the box it produced for Rhino was cut from a 192/24 bit transfer because the tapes were too fragile to use. Chad Kassem buzzed around their heads about the tapes, and finally when he buzzed with the correct amount of cash, out came the tapes. Compare the Rhino box, which sounds like the best CDs you've ever heard, to the Analogue Productions records, which sound like great sounding records and you wonder what still might be—if only on a few of these Stones albums.
I concluded the 2010 box set review with "Perhaps some day we'll get another edition of Exile on Main St. mastered uncompressed from the original analog tapes by Chris Bellman at Bernie Grundman's or by George Marino at Sterling or by Doug Sax at his facility.That's a dream."
Of course now Marino and Sax are sadly gone and we still don't have that version of the album but we do have one here that has all of the original's slam and drive with much of the original's surprising three-dimensionality and detail (that only a really top front can can decipher) and one that without comparison to the original is damned enjoyable and doesn't sound as if it's struggling to escape a sonic box in which it's been put.
Everyone involved here did their best and the results are worthy of their efforts. The set rocks!

SPONSORED VIDEO
<!- ------------------------------------>