Rough Mix and Empty Glass Inaugurate Universal's New Pete Townshend Abbey Road Studios Half-Speed-Mastered 180g LP Reissue Series With Some Quite Striking Sonic Results
I'll begin this review with a reveal of bias: Rough Mix is my favorite non-Who-credited recording by Pete Townshend. But before I get into my chronology — and, more importantly, how these new Abbey Road Studios half-speed-mastered editions sound — let's run down the key specs you'll want to consider regarding Rough Mix and Empty Glass, the two newly reissued LPs that Universal says are kicking off a new, limited-edition Townshend reissue series.
April 1980's Empty Glass was originally produced by Chris Thomas (Roxy Music, The Pretenders, Wings) while September 1977's Rough Mix was produced and engineered by Glyn Johns (The Beatles, The Rolling Stones, The Who, Led Zeppelin) with assistance from Jon Astley. This latter detail is notable, as Astley (who was also an assistant engineer on Rough Mix) remastered both new releases at Close To The Edge. The new half-speed-mastered lacquers were cut from hi-res digital transfers of the original master recordings by Miles Showell at Abbey Road Studios, and the vinyl was manufactured in the Czech Republic (probably at GZ).
As with most of the albums in Universal's broader, ongoing Abbey Road Studios half-speed-mastered reissue series, these two albums come packaged in original sleeves with obi strips and certificates of authenticity. Each of these LP has a respective SRP of $39.99 — which, frankly, is a bit too much to shell out for most any 1LP release, in the collective AP opinion, unless you're a must-have-all collector/fan and/or a price-is-no-object fan/collector and/or want an upgrade of a worn-out original (all of which, mind you, are legit reasons to get both options here).
Rough Mix — which is actually credited to both Pete Townshend and Ronnie Lane on the cover, and is credited on the spine and LP labels as being by "Townshend/Lane" — recreates the original album's gatefold sleeve design, and this 180g LP comes housed in an audiophile-grade plastic-lined inner sleeve. The disc itself sports a reproduction of the original Polydor Records label design as issued in the UK. (The U.S. editions were on the black/rainbow MCA Records label, back in the day.)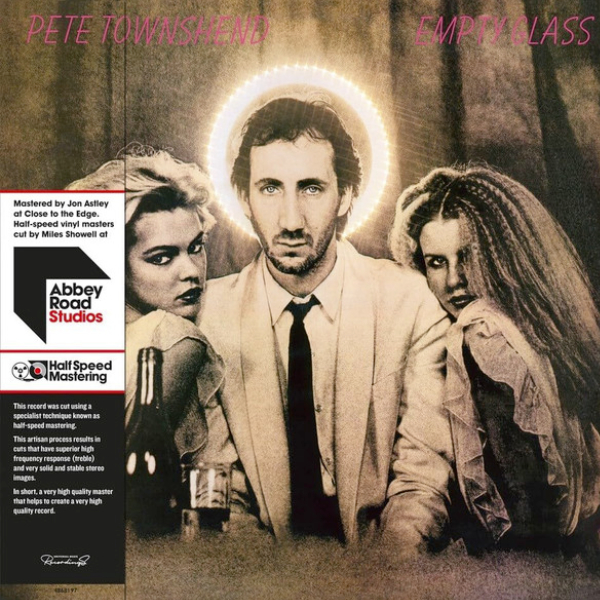 Meanwhile, Empty Glass was originally a single pocket release, and this LP comes to you housed in a reproduction of the beige inner sleeve printed on heavier cardboard stock than the paper of the original U.S. edition, and it also features complete album lyrics. The new edition of Empty Glass also includes a nifty 300 x 600mm-sized promotional poster featuring the album cover art. (As far as I know, this was not in the original releases.) While the LP and overall package don't reproduce the original Atco Records label here at all, the new, scripted Universal Music Recordings logo design is simple and classy in its own right, and it's something that befits the whole package.
Rough Mix was recorded at Olympic Studios in London between the winter of 1976 and the spring of 1977. If there is one thing that jumps out at me listening to this LP in comparison to Empty Glass, it's a consistency of sound. I find Rough Mix a far more rewarding listen overall, even though Empty Glass, a Top 10 hit, was no doubt a bigger success. Fact is, Rough Mix only reached No. 44 on the UK album charts, and No. 45 on the Billboard 200. From The Who's official site, we learn that Rough Mix "was initially released in September 1977 while The Who were on hiatus and was a collaboration with Small Faces bassist the late Ronnie Lane, and features contributions from Who bassist John Entwistle, Eric Clapton, and Rolling Stones drummer Charlie Watts amongst others."
Musical pedigree aside, from a purely audiophile perspective, I have often used parts of my original Rough Mix LP as a demo disc of sorts, most especially the kickin' Side 1 opening track, "My Baby Gives It Away," in addition to the Side 2 opener, "Misunderstood." This is one of those albums that unfolds wonderfully as you turn up the volume on your system.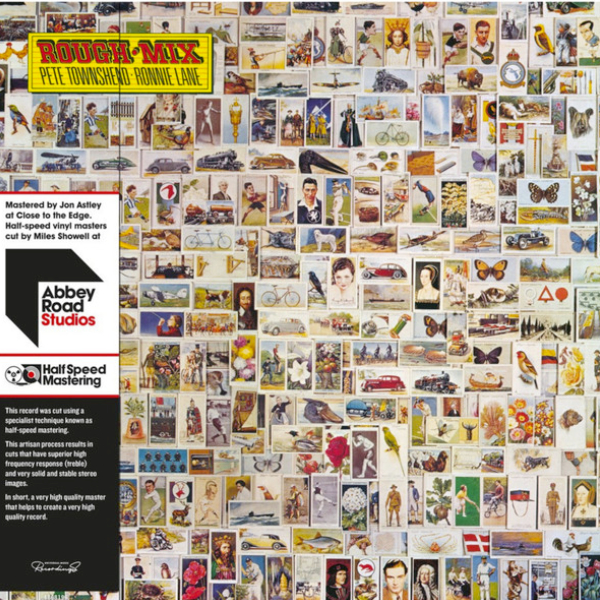 Rough Mix is a great guitar album too, as all of its guitarwork has been beautifully recorded, with producer Glyn Johns masterfully blending and layering acoustic and electric textures to outstanding effect. This is clear from the start of the aforementioned "My Baby Gives It Away," on which you can almost count all the layers as they stack up.
For me, the centerpiece of Rough Mix is on Track 3 on Side 2, the stunning "Street in the City." Featuring Townshend's spectacular solo acoustic guitar and dramatic in-your-face vocals against an orchestral setting (with an orchestral score from Edwin Astley, father of the aforementioned Jon Astley), the recording is a lush and powerful listening experience. Townshend's performance is arguably one the finest of his entire career. That "Street in the City" was issued as a 12-inch 45 single back in the day says something to how highly this song was regarded by artist, producer, and label alike. (More on that in a moment.)
The other stunning track on Rough Mix is Track 4 on Side 2, "Heart To Hang On To," which bridges the acoustic and electric vibes in a classic Townshend style — in fact, this one could have easily been a Who track! Beyond the hard-rocking drums, snarling electric guitars, and punchy horns, this song excels in the contrasts between loud and soft moments, during which beautiful acoustic parts emerge like a ship coming out of a stormy sea into a sweet sunset. It is also one of the most purely collaborative pieces here, with Townshend and Lane trading off the lead vocals.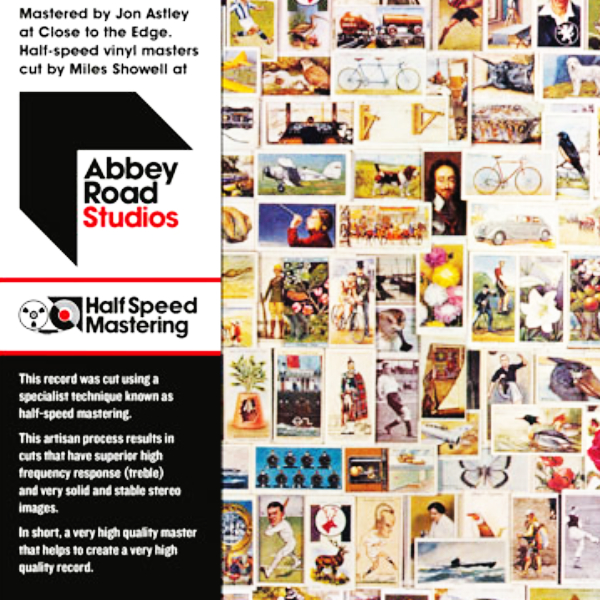 As far as how this new half-speed-mastered version holds up compared to my original LP edition — well, that is a double-edged sword to address. And whether you need to get this edition is a question only you can answer, depending upon what you might — or might not — have in your collection.
I never have been able to get my hands on a UK edition of this album over the years, so I don't have that version compare it to, just a basic stock U.S. pressing. Also, I never have even seen a copy of the 2002 Classic Records edition — which (like many of you, I suspect) I've heard great things about — that has become a pricey collector's item. At the time of this posting, there is but one copy of it for sale in the U.S. on Discogs and 10 available overall internationally, all of them ranging in price from about $80 to nearly $200. No copies are available at present on Popsike, and there was one scuffy copy on eBay going for $65. I'm sure the Classic Records version sounds as wonderful as has been reported, but until I get my own hands on one of those editions at a reasonable price, I'll be enjoying this new half-speed-master edition as a complement to my original U.S. LP.
All that said, yes, there is something different-sounding about this new half-speed-master edition. It isn't bad, mind you — just different. There is more of a crisp presence to the overall feel, but I didn't find it painful to listen to, nor harsh.
For example, I compared the version of "Street in the City" on the half-speed master LP to the above-noted UK-only 45rpm vinyl 12-inch single version of the song, and it fared quite well. The new half-speed-mastered version also edged out the 45 in that it is perfectly centered, something that makes a big difference on the orchestral parts here. (My 12-inch single is a wee bit off-center, which is a bit noticeable at the very end of the track.)
On "Heart To Hang On To," if you listen closely at the hushed acoustic breakdown toward the end of the song, you can hear Pete or someone in the studio breathing, and/or perhaps moving gently against the guitar. These are cool details I never noticed on my original U.S. pressing.
In retrospect, the U.S. edition really wasn't a bad release to begin with — it was a warm and inviting listen that opened up as you put more volume behind it. My copy of Rough Mix was one of the last good MCA pressings I remember getting back in the day. I will still hold onto my original for now in addition to this new half-speed master, both for sentimental reasons and for future comparisons.
The new Rough Mix is in some ways more open and detailed than the original, with a wider sense of separation at points. The quieter 180g vinyl certainly helps the music reveal at those very hushed moments. Bottom line: This new Abbey Road Rough Mix half-speed master is not a bad route to take if you have worn out your original copy and don't already have one of the Classic Records editions and/or UK pressings.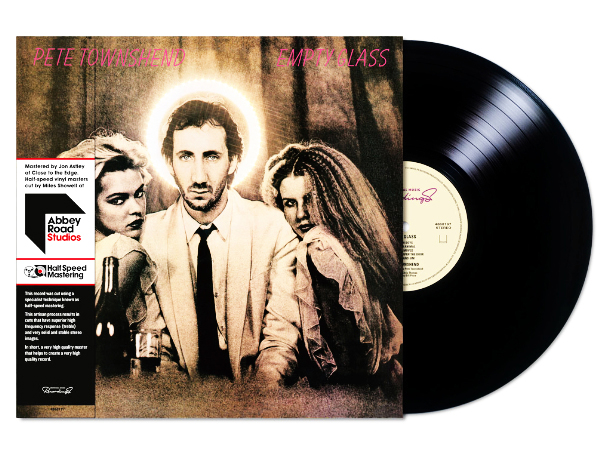 Now, Empty Glass is a very different recording from Rough Mix, as it's an album that found Townshend breaking on through the new decade in search of a new sound. There is no doubt the approach here by producer Chris Thomas was right for the times and for this music, resulting in the Top 10 U.S. hit single, "Let My Love Open the Door." Musically speaking, Empty Glass is a great album, and some consider it better than The Who's first post-Keith Moon album, March 1981's Face Dances.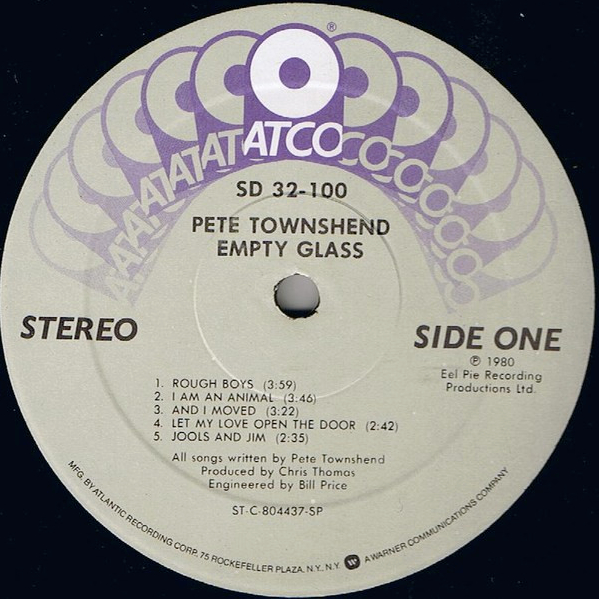 Hit status aside, I personally never really loved the album's overall production flavor, at least as heard on my U.S. Atco copy of Empty Glass. Again, this is another instance where I've never come across a U.K. pressing nor the prior 2017 European-only clear vinyl Abbey Road half-speed-mastered edition. It always felt to me like I was missing something when listening to the U.S. pressing of Empty Glass — notably that sense of "muchness" (to borrow a phrase from Tim Burton's 2010 film, Alice in Wonderland) — something I loved so on Rough Mix. For me, Empty Glass wasn't punchy and dynamic enough — but that is purely my taste speaking here. Your experience may vary, as they say.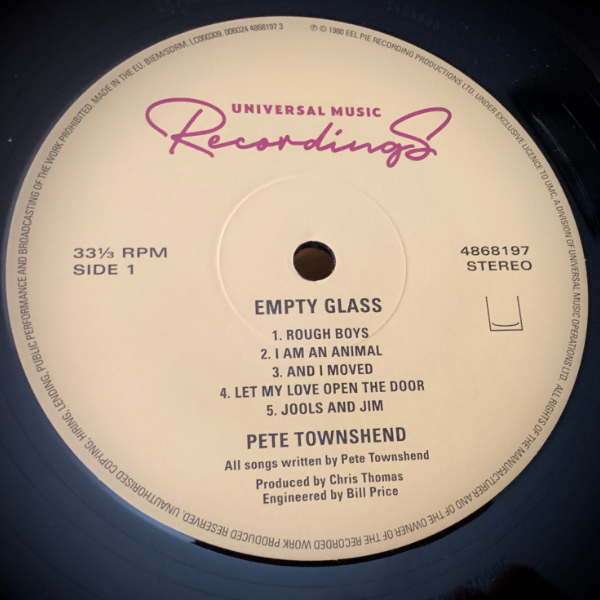 Comparatively, the new Abbey Road half-speed master is a bit of a revelation vs. the U.S. original pressing. The compressed feel is still present — it's part of the sound of the album — but the dynamics are more appealing here. I'm hearing all sorts of little detail notes that are not as apparent on the U.S. pressing like ride cymbals, guitar fills, and the scrape of Townshend's guitar pick across guitar strings on some tracks. "Keep on Working" (Track 1, Side 2) feels noticeably more open, especially on details like the time-keeping "clang" heard throughout the song. And the kick-drum break toward the end of "Let My Love Open The Door" (Track 4, Side 1) packs more wallop than on my original.
As far as the pressing goes, I have had no problems with this Empty Glass — just as I didn't with Rough Mix — seeing how they are both thick, dark black, well-centered, and generally quiet LPs respectively.
The only problem I did have with this Empty Glass was a side effect of poor packaging, and how the album was shipped. Many of us who buy albums by mail know that the discs themselves can move around during shipping; which — as I've mentioned in some of my other AP reviews — is why many good sellers put the vinyl outside the cover and within a plastic protective sleeve. My copy of Empty Glass must have been bumped around a bunch en-route, as there was a tear in the inner sleeve that left tell-tale white-paper dust marks on the vinyl — especially on the edge of the disc where it broke through. (It is possible some of the dust may have happened during automated packing.) Fortunately, this time, the dust came off easily with a standard pre-play cleaning. But it did leave a little visual mark on the album which, thankfully, didn't turn out to be audible this time 'round.
All that said, I'm enjoying the flavor (if you will) of this new half-speed-master edition of Empty Glass much more than the old U.S. edition on Atco. I would still like to hear this music completely remixed someday to perhaps ease back some of the dense early-'80s production vibes, but I'd like to think this new edition represents more of how Townshend wanted Empty Glass to sound on vinyl. If you love this album and are looking for a step-up copy, this new half-speed-mastered edition might well just be the next cuppa Pete you need for your collection.
(Mark Smotroff is an avid vinyl collector who has also worked in marketing communications for decades. He has reviewed music for AudiophileReview.com, among others, and you can see more of his impressive C.V. at LinkedIn.)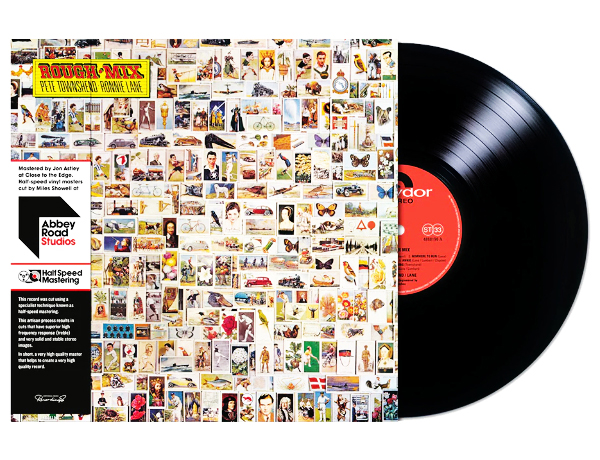 PETE TOWNSHEND / RONNIE LANE
ROUGH MIX
180g 1LP (Universal Music Recordings)
Side A
1. My Baby Gives It Away
2. Nowhere To Run
3. Rough Mix
4. Annie
5. Keep Me Turning
6. Catmelody
Side B
1. Misunderstood
2. April Fool
3. Street In the City
4. Heart To Hang Onto
5. Till The Rivers All Run Dry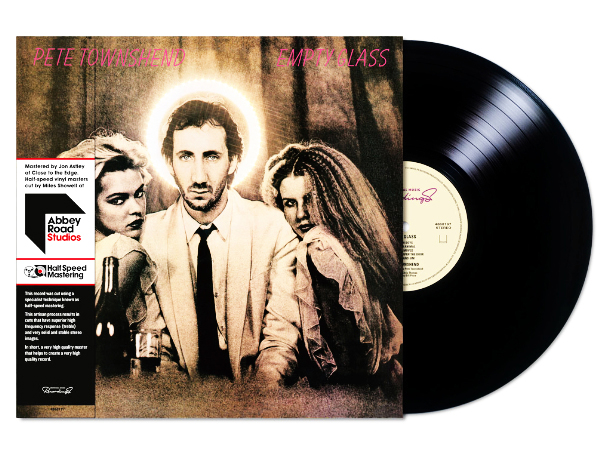 PETE TOWNSHEND
EMPTY GLASS
180g 1LP (Universal Music Recordings)
Side One
1. Rough Boys
2. I Am An Animal
3. And I Moved
4. Let My Love Open The Door
5. Jools And Jim
Side Two
1. Keep On Working
2. Cat's In The Cupboard
3. A Little Is Enough
4. Empty Glass
5. Gonna Get Ya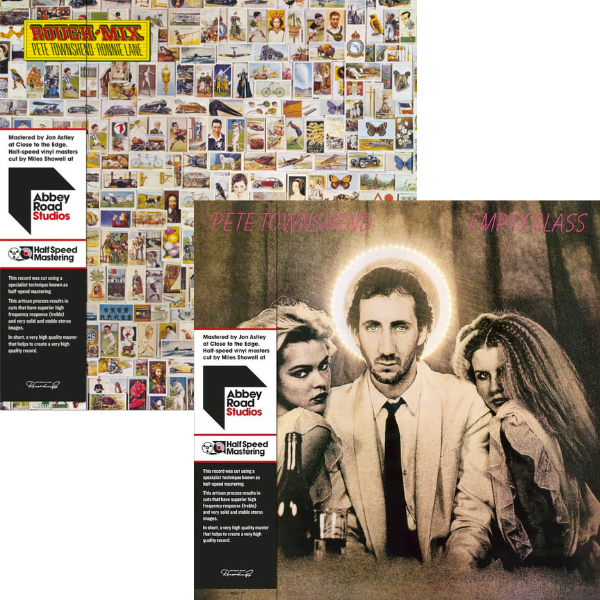 <!- ------------------------------------>