Steely Dan's All-Analog Countdown to Ecstasy 200g 45rpm 2LP Set Establishes the Gold Standard for All Upcoming Releases in This Stellar UHQR Analogue Productions Series
Steely Dan were finally hitting their stride with July 1973's Countdown to Ecstasy. After setting the SD sonic template with November 1972's debut LP on ABC Records, Can't Buy Thrill, they reshuffled some personnel — for one thing, original co-lead vocalist David Palmer departed (albeit providing some backing vocals here and there), while keyboard whiz kid Donald Fagen took over essentially all the lead vocals fulltime, from this point forward — and the five-piece collective worked out much of their sophomore album's core material live onstage during 1973's hectic tour schedule, all of which added to Countdown's inherent interactive grit.
The next treatise in the mighty Dan's West Coast decay-and-decadence diary, Countdown to Ecstasy is the blueprint for how the band's conjoined pair of masterminds, the aforementioned Donald Fagen and Walter Becker, would come to both chronicle and embody the excesses of the '70s — sometimes in firsthand documentarian fashion and other times via more ironically detached narratives, more than occasionally resulting in soaring over the heads of numerous listeners who never quite got the sardonicism therein.
The version of Countdown we have here before us today is also the second entry in Analogue Productions' comprehensive Steely Dan UHQR series, which began in earnest with quite the bang last fall with Can't Buy a Thrill. (You can read my own News report about the entire Steely Dan UHQR series to come here, and then you can read my esteemed colleague Mark Smotroff's review of the UHQR Thrill here.)
The basic series stats are these. The 45rpm 2LP UHQR version of Countdown has been pressed at Analogue Productions' Quality Record Pressings on 200g Clarity Vinyl, packaged in a deluxe box, and it includes a booklet detailing the entire process of making a UHQR along with a certificate of inspection. Each UHQR is pressed using hand-selected vinyl. The Countdown box set, as do the other entries in this series, has an SRP of $150.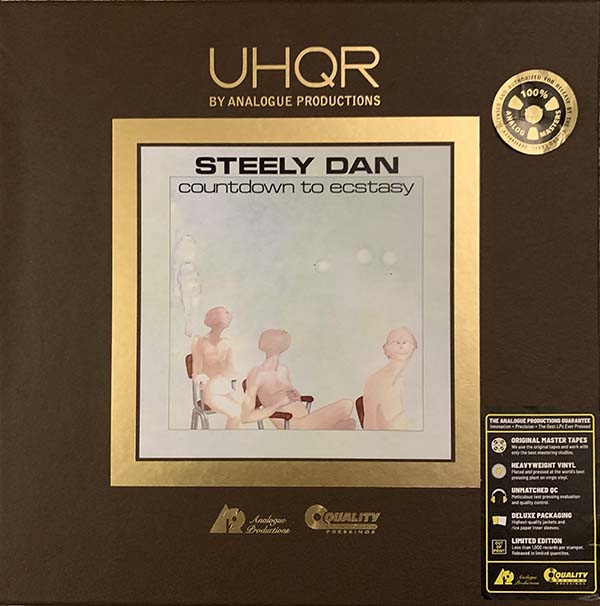 Countdown to Unboxing
I totally get why there are those who continue to balk outright at the $150 pricetag for these UHQR editions, which is one reason why I'm going to spend a decent amount of time and space here discussing the packaging specifically to give you a better sense of what you're paying for beyond the pair of 200g LPs themselves. Me, I tend to look at any given box set's contents not only from the audiophile perspective, but also from the collector's perspective. And yes, we all deal with shelving issues — and that's certainly a legit dilemma as time rolls on and the deluxe reissues and box sets just keep on a-coming — but as long as there is a relatively uniform presentation to them, I can usually accommodate these boxes in and on my primary shelving units (which are, admittedly, always seeming to be in a growth pattern).
In the case of Countdown, the black textured box looks as upwardly classy as all UHQRs do, and it uniformly fits alongside other UHQR boxes, with a clearly delineated spine with sans-serif gold type that's easy to read at a glance. As I often do with box sets, I unfurled my trusty Lufkin Red End folding ruler to measure it exactly, just to make sure. By my count, this box measures 13 3/8 x 12 13/16 x 1 1/8 inches (w/h/d), and it slides open to the right quite effortlessly, thanks to its grippable, convex edge. The ease of accessibility to what's inside this box is in stark contrast to so many uniformly square/rectangular box sets that verge on being too seamlessly aligned in a way that makes removing any of the inner contents somewhat of a chore — and, if you're not careful and/or get as frustrated/impatient as yours truly does sometimes, your fingernails may wind up scraping the outer surface and leave behind a mark. I've done that more than once over the years, and, believe me, I absolutely hate being somewhat personally responsible for blemishing a pristine cover.
I also took care to affix the two hype stickers from the outer shell's protective plastic wrap directly onto the box's front cover, both of them on the all-black right side so as not to cover up the gold-framed Countdown album cover image that is perfectly center-squared. (Incidentally, the blue-hued sci-fi-centric cover art itself is courtesy of artist Dotty White.)
Now, some collectors pooh-pooh this hype-sticker-affixing practice outright, but my view is this — that's how I saw the box's presentation when I opened up the box it was shipped in, so that's where I want those stickers to be visible every time I look at the cover. To each his own, but that's my preference. Additionally, I can't stand it when hype stickers don't peel away from the plastic wrap all in one piece, and/or leave behind any sticky/glue residue and don't affix to the cover properly. If you must know, I did a much better job with peeling-and-placing the 2½ x 3¾-in rectangular "Guarantee" sticker at the bottom right than I did with the shinier circular ¾-in "100% Analog Masters" one upwards near the top right. (The latter one may eventually have to be placed inside the box if it doesn't stay in place, truth be told.)
Inside that sturdy outer box, the contents within the half-cornered durable interior Countdown box is presented as follows, from top to bottom: 1) four-sided UHQR certificate of inspection pamphlet, horizontally positioned; 2) four-sided UHQR Technical Specifications Manual; 3) four-sided Acoustic Sounds Fall 2022 release hype sheet; 4) four-sided Countdown liner notes booklet, which includes five new paragraphs from Donald Fagen; 5) both individually sleeved 45rpm black-labeled clear discs inside one outer plastic sleeve; and 6) glossy cardboard gatefold Countdown album sleeve. In direct comparison, the contents of the Can't Buy a Thrill UHQR box were presented in the exact same six-layer fashion, including the horizontal positioning of the certificate of inspection.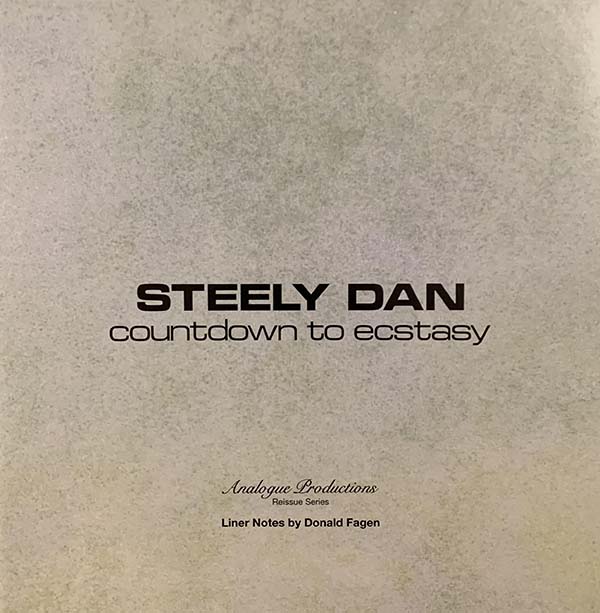 Finally, a few words about the liners before I move on to the music. The Fagen liners in the Thrill box were much more detailed than they are here in Countdown, perhaps being a function of Thrill serving as the inaugural entry in this series and thus needing a bit more of a broad-view context overall. If you happen to have the 1998 MCA CD reissue like I do, you've seen a much more involved set of liners co-written by Fagen and Becker under the general header of "Thought + Action = Feeling" — as good a statement of purpose as you'll find for any album, to be honest. Hopefully, we'll get more details from Fagen as this UHQR series roll on, as the bold-type postscript at the end of the five Countdown paragraphs ends with a succinct "will continue in" teaser. (In case you're wondering why Becker isn't being quoted in the new liners, he passed away in 2017.)
Listening Sessions, a.k.a. As Good as Gold Teeth
And now, it's listening time! Both of my clear-vinyl Countdown discs were spot-clean and well-centered, with the first disc fitting a bit more snugly on the spindle than the second disc did. The black labels sport a Geffen logo centered at the top in place of the various ABC logos found on earlier LP editions (something my man Smotroff discusses at length in his Thrill UHQR review, so I won't repeat any of it here). I made sure Disc 1 was well-clamped before Side A began to spin. The length of the run-in groove gave me enough time to get back into my sweet-spot seat once I dropped the needle.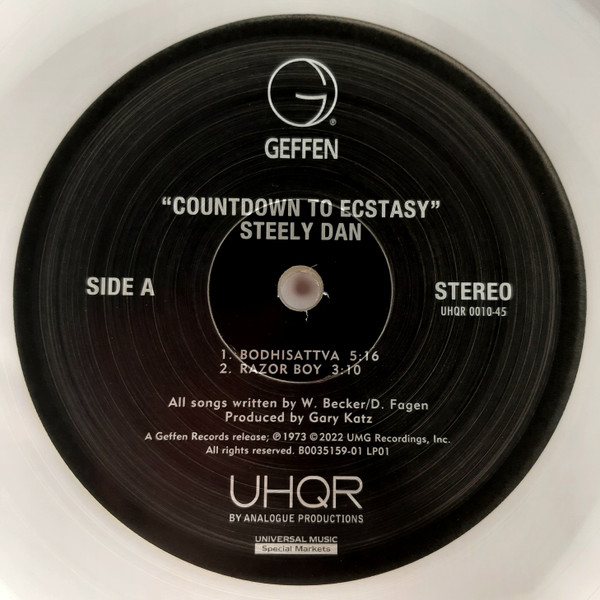 Track 1, "Bodhisattva" — or is it actually "Bodhisaatva" with the extra a in the middle and one less t, as it appears at the outset of paragraph three of Fagen's new liners? — got the heart-pumping/foot-tapping ball a-rolling. As Fagen put it in those liners, this song "is what swing era musicians used to call a 'flag-waver'; that is, an up tempo number that is supposed to wake up the audience." His piano intro nestles in at center-left as the opening guitar riff rolls in at the right, and the repeated handclaps before the vocals finally kick in have a more crisp character to them than they do on my original (and admittedly well-played) 1973 ABC Records / Pitman Pressing LP.
The Jeff "Skunk" Baxter and Denny Dias dual lead-guitar tandem is ultimately this track's main focus — a veritable chops 'n' cutting heads clinic, to be sure. You can almost visualize how these players trade-off their one-up solo turns with the ever-so-slight pauses between those "your turn/top this!" moments. I also love the rockabilly-tinged fretboard walk on the right before the more-centered riff's run takes off. Speaking of tradeoffs, the whirlybird synth line on the left and the ensuing guitar responses on the right was a good sign that even more pivotal musical moments were ahead of me.
Listen for Fagen's insistent inflections of each more-than-slightly-echoed repeat of the four-syllable title word "Bodhisattva" in the song's back half — is he running out of breath, or just adding emphasis and punch as needed before the track's final, all-in denouement crescendo? ("Look out!" indeed.)
Track 2, "Razor Boy," downshifts into midtempo jazzy waters, with Fagen's more naked lead vocals residing in the middle. On the choruses, the triangle is off to the left and Victor Feldman's percussion accents are over to the right. Baxter's pedal-steel solo is a work of art, and I continue to marvel at his somewhat subtle pedal-steel choices that both mirror and springboard from some of the vocal lines on the verses. You should also be able to discern Roy Brown's tasteful string-bass plucking making its presence known for a few short bars as the track closes.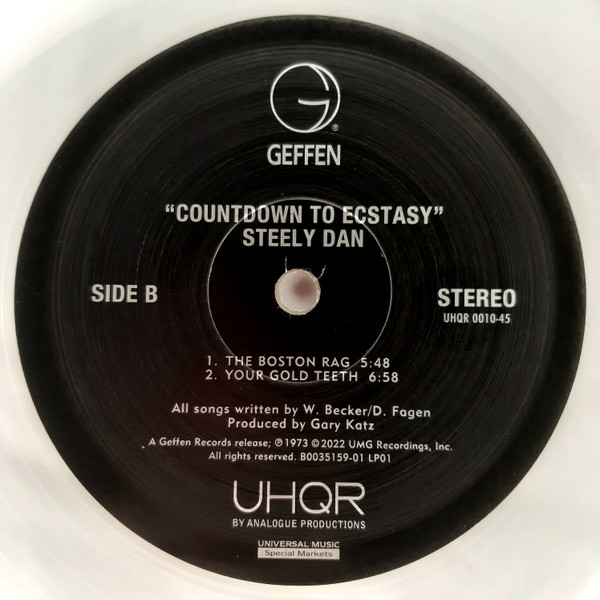 Side B also cued up clean, with "The Boston Rag" kicking things off with Fagen's throaty, strained vocals on the opening lines, "Any news was good news / And the feeling was bad at home." Dig the parallel piano notes from Fagen paired with drummer Jim Hodder's cymbal taps that subsequently spread out across the soundfield like a curtain opening up for Baxter's guitar-solo spotlight, which starts off quiet and is note-noodly before it ramps up in terms of both note-frequency and some gnarly amp buzz 'n' crackle to boot. Admittedly, I did want more oomph from the stacked background vocals on the phrase, "Bring back the Boston Rag," and I couldn't help but wonder how Michael McDonald would have taken them to a higher place. (Soon enough, he'd be brought in to do that exact kind of thing recurrently just two albums later, starting with March 1975's Katy Lied.)
Track 2, "Your Gold Teeth," is a pure ensemble piece with a palpable, nervous (and possibly chemically enhanced) energy level, with Fagen's synth bringing to mind mid-period George Duke, his own multiple solo turns balanced by more than a few clean guitar breaks. Feldman's percussion again adds that extra touch when warranted. As "Teeth" begins to fade out during minute seven, I wanted it to keep going.
Then it was on to the second disc (which dropped onto the spindle slightly less snug than the first disc did) and Side C, which opens via the powder-drenched updated/warped doo-wop of "Show Biz Kids." Rick Derringer's searing slide guitar appears all throughout the song, call-and-responding between many of Fagen's verse lines before moving more upfront in the mix to take the track home. Fagen's upward lilt on the final word of the second line of the deliberately self-aware phrase, "They got the Steely Dan T-shirt / And for the coup-de-gras" adds the extra push required for the kicker, "They're outrageous." Becker gets into the act with some tasteful harmonica stabs near the end, interspersed with muted, filmic dialogue.
The album's best-known track, "My Old School," ends Side C with rah-rah rejection aplomb. It's a cut many of us have probably heard one too many times on compressed radio, so I was probably even more receptive to receiving the fuller breadth of the female-dominant vocal blends on the titular choruses and the clear swing and verve of the saxophone section. I also appreciated the overall arrangement choice to dial the accompaniment back during two of the guitar solos so they were essentially backed only by Hodder's cowbell rather than a full-on percussive and/or instrumental assault. All that said, I still prefer this version to the one on my original above-noted 1973 ABC Records LPs — or on any of my MCA LPs, for that matter. (Class dismissed!)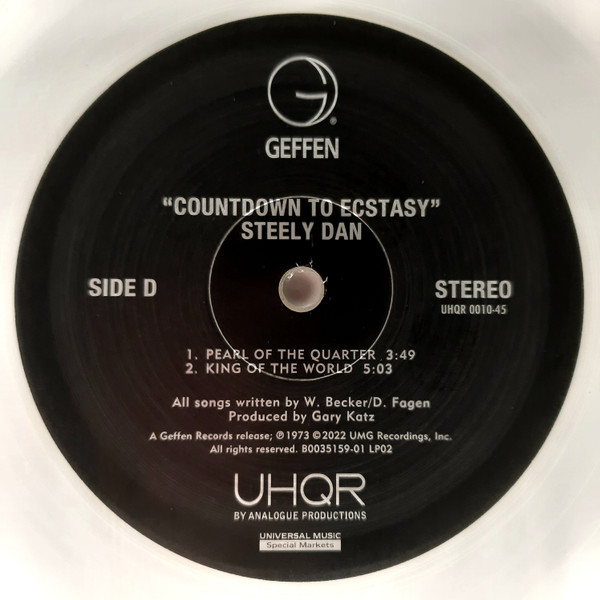 Side D takes "Countdown home, first with "Pearl of the Quarter" — my least favorite track on the album, truth be told, though I will acknowledge the fine acoustic guitar accents from Ben Benay and Baxter's returning pedal-steel mastery. The album's final track, "King of the World," finds Fagen's somewhat disembodied vocals sent wide across the soundfield and never truly centered, usually accompanied by jangly guitar riffage over to the right. The two synthy solo segments are wide and breezy, the last one eventually giving way to a furious guitar run off to the left (though that constant jangly counter remains over to the right).
Conclusions
Upon repeated listens, the UHQR version of Steely Dan's Countdown to Ecstasy continues to reveal itself to be truly worthy of a 10/10 rating in terms of both Music and Sound, each of them being a respective notch above the Thrill UHQR, not to mention being my preferred choice over any of the ABC and/or MCA Records versions I own.
To modify a line from "Show Biz Kids," the overall Steely Dan persona/vibe may appear that they don't give a f!#?, but they sure as bleep do care more than a great deal about how they write, arrange, record, and ultimately sound on vinyl. If Countdown sets the current Steely Dan gold standard for 200g 2LP UHQR excellence, then the next expected entry in this series, February 1974's Pretzel Logic, should ratchet up the expectations, and the executions thereof, considerably.
Bravo, Analogue Productions — bravo. Countdown to Ecstasy delivers across the board, full stop. Man, I simply cannot wait to give those upcoming UHQR pretzel platters a spin (or ten) when the time comes.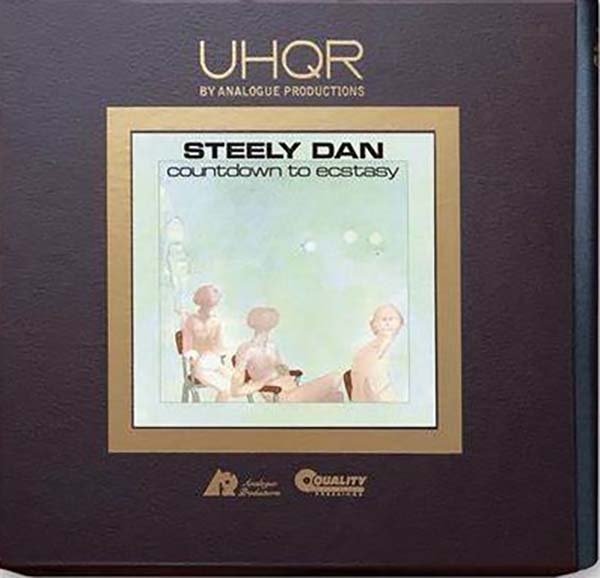 STEELY DAN
COUNTDOWN TO ECSTASY
200g 2LP 45rpm (Geffen/Analogue Productions)
Side A
1. Bodhisattva
2. Razor Boy
Side B
1. The Boston Rag
2. Your Gold Teeth
Side C
1. Show Biz Kids
2. My Old School
Side D
1. Pearl Of The Quarter
2. King Of The World
<!- ------------------------------------>