Steely Dan's Pretzel Logic Serves Up a Different Listening Experience in Its New, Precision-Pressed 180g 1LP Edition From Geffen/UMe
Steely Dan and UMe have thrown fans of the band's music a sweet-but-curious series of bones when it comes to their current vinyl reissue series. We all know about (and mostly love) the AAA 200g 2LP UHQR editions crafted by Analogue Productions that all have an admittedly steeper SRP entry fee of $150. But the hard reality is that many of us can only really afford the standard 180g 1LP editions being released under the Geffen/UMe label banner. What's a budget-minded, audiophile-leaning Steely Dan fan to do?
Well, before I dig down into the pros and cons of hitchhiking your way 'round these twisty sonic streets to decide whether the latest entry in the series — February 1974's Pretzel Logic — is one you need to get, let's look at the key stats for these new standard-edition albums, courtesy of Steely Dan's official press release: "All albums are being meticulously remastered by Bernie Grundman from the original analog tapes. . . Lacquers for UMe's standard 33 1/3 RPM 180-gram version will be cut by Alex Abrash at his renowned AA Mastering studio from high-resolution digital files of Grundman's new masters and pressed at Precision. They will be housed in reproductions of the original artwork."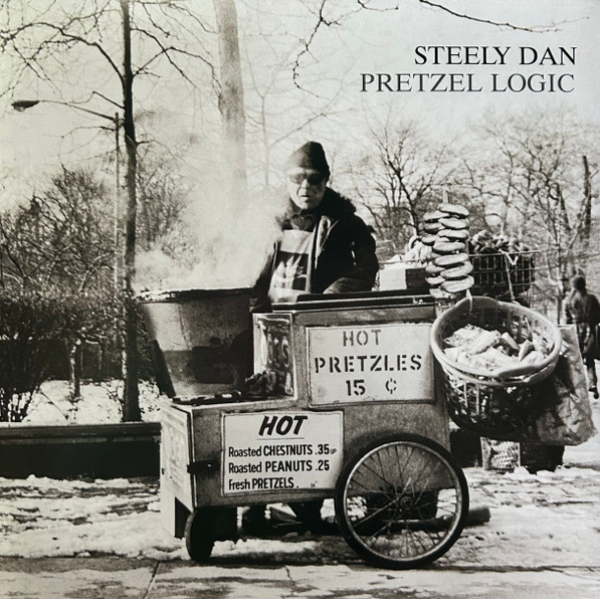 The underlying DNA of these new standard-edition SD releases is certainly promising, especially given the $29.99 SRP, but the digital files notation may give some of you pause. I'm not going to discuss the AAA version of Pretzel Logic in this review, since AP editor Mike Mettler has already explored that edition quite in depth here. Besides, if you are reading this review, you are probably interested in knowing whether the lower-cost edition is worthy of your attention.
Ultimately, the answer to that question, and the final choice you make, will come down to setting and managing your individual priorities for sound and pressing quality, trueness to the original album design and packaging, and, of course, bottom-line cost.
First, let's look at the going rate of NM original pressings of our review subject at hand, Pretzel Logic. Of the 14 copies currently on Discogs at the time of this posting, only one was less than $50 (a somewhat less-desirable record club version) and most were going for upwards of $100 (including several more club editions). The point is, finding truly clean original copies of any Steely Dan album is not an easy task these days.
These were popular party albums back in the day — especially among the college students of the times — so there are many "well-loved" VG/VG+ editions out there that do indeed play fine but come with a certain amount of ticks, pops, and inner-groove distortion from repeated play on those poorly aligned automatic changers that were a pretty popular thing back then. Add in the reality of the mid-'70s oil crisis (oil being a key ingredient in making vinyl), and you'll find many of these original pressings weren't the greatest to begin with, as far as the audiophile experience goes.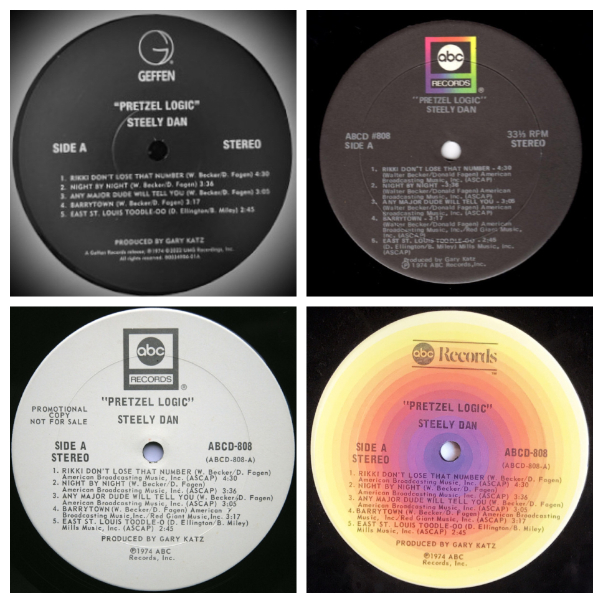 Of course, you can get some of the later editions on the rainbow-target ABC Records label — which can indeed sound quite good, if you are lucky to find one! — but you'll probably want to avoid the MCA Records editions of the late-'70s and '80s, some of which were often problematic on multiple levels (poor pressing quality, compromised cover art, etc.). I personally saw many returns of these MCA editions coming through the record store I worked in while attending college in the early '80s.
Circling back to our initial premise, you are probably wondering by now whether this new UMe edition of Pretzel Logic is worth the 30 bucks. I think it is — albeit with caveats, of course! On the plus side, Pretzel Logic certainly sounds better than the last UMe reissue in this series, July 1973's Countdown to Ecstasy, which had some pressing issues, as I noted in my review of it here. As for my new copy of Pretzel Logic, it is well-centered, and the vinyl is clean, dark, quiet, and solid. So, all those key factors line up just fine with this new edition.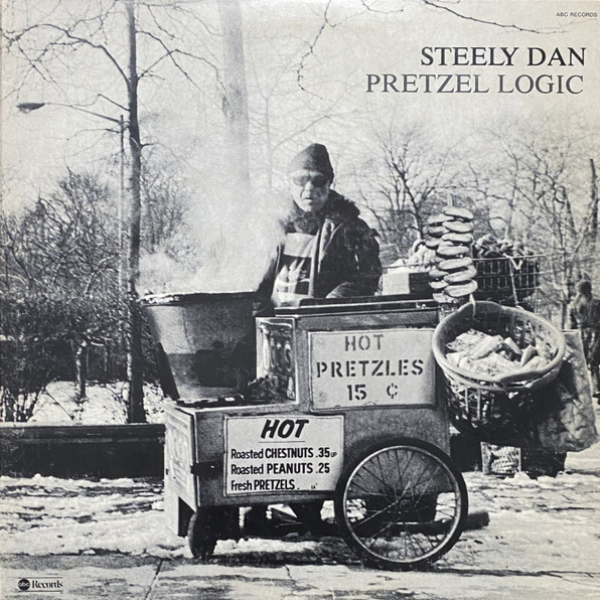 However, the cover art is not entirely accurate to the original editions — which, unusually, put the album pocket on the left front part of the gatefold. So, this new edition is more of a standard gatefold-format scenario, placing the disc in the right-side pocket. And while they do use the original album art, the graphics are not quite as clear as my original pressings (see the above example of that) — even though it is a somewhat blurry black-and-white photo to begin with! The new edition veers toward a near-sepia-toned, higher-contrast image vs. being pure black-and-white with shades of gray. And, as I've mentioned in the past, UMe does not recreate the original ABC Records label design on the LP itself, but instead offers a more modern, and simple, Geffen Records logo in its place.
The sound of my new copy of Pretzel Logic wasn't bad, all things considered. It sounds pretty good for the most part, if a bit rolled off at points. There was definitely some of that crisp digital feel going on, but after a while, I got used to it for what it is.
But, would I replace my originals with it? Well, no, because I have a nice condition black label original, and a decent condition white label promo copy, both of which sound quite good despite some rather significant surface noise — hey, it was the mid-'70s, and, like I said earlier, the oil crisis was on, impacting the quality of vinyl production at the time.
So, therein lies the rub when it comes to deciding what to do regarding these mid-70s Steely Dan albums. If you are willing and interested in trying to score an original pressing and don't mind listening to used albums that will inevitably have some sort of anomaly on them — again, things like surface noise and perhaps a tick and pop here and there are very commonplace — then you'll probably want to start looking around for one.
Personally, I don't mind that sort of thing, as long as it isn't a major distraction to the music. I find inner-groove distortion far more of an issue, as it's something that does annoy my, shall we say, sonic sensibilities. I've gone through many copies of Pretzel Logic, looking for a copy that plays "East St. Louis Toodle-Oo" — a rare Duke Ellington cover that ends Side A, and the first instrumental-only track the band had issued, just a month before the maestro passed away in 1974.
But for those of you who primarily and simply want that "new album" experience with vinyl that plays very quietly and offers a pretty solid representation of what the album is supposed to sound like, then this Geffen/UMe edition may well be appealing for you. The price is fair, and it is still cheaper than trying to buy a mint or near-mint original pressing of some sort. Yes, there are no doubt tradeoffs involved here, given the digital sourcing and your threshold for what that may entail in terms of your own listening experience preferences. But if that latter fact doesn't deter you, and you do want a decent clean version of this album, then the new Geffen/UMe 180g 1LP edition of Pretzel Logic should serve you just fine.
(Mark Smotroff is an avid vinyl collector who has also worked in marketing communications for decades. He has reviewed music for AudiophileReview.com, among others, and you can see more of his impressive C.V. at LinkedIn.)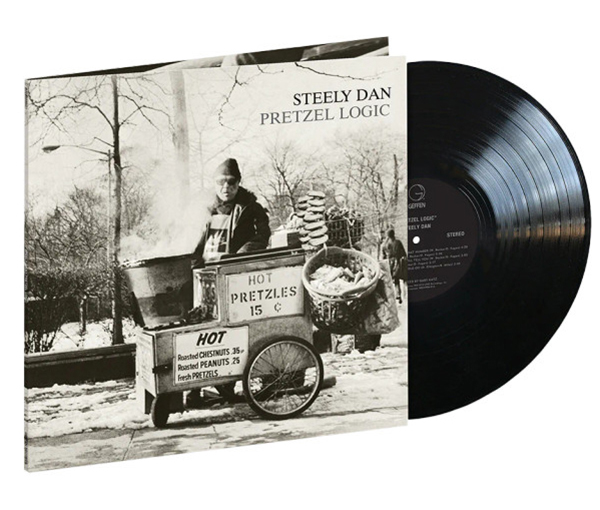 STEELY DAN
PRETZEL LOGIC
180g 1LP (Geffen/UMe)
Side A
1. Rikki Don't Lose That Number
2. Night By Night
3. Any Major Dude Will Tell You
4. Barrytown
5. East St. Louis Toodle-Oo
Side B
1. Parker's Band
2. Through With Buzz
3. Pretzel Logic
4. With A Gun
5. Charlie Freak
6. Monkey In Your Soul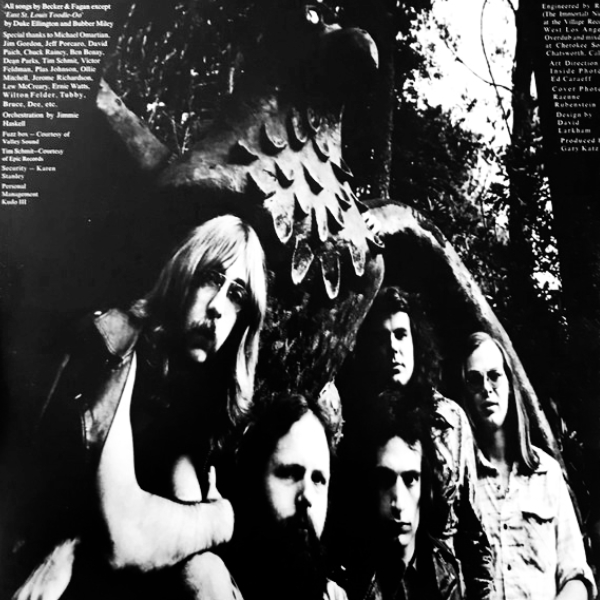 <!- ------------------------------------>