Talking Heads' Complete Stop Making Sense Concert Film Soundtrack Finally Sees the Expanded Release It Richly Deserves, Via Stunning New 40th Anniversary 2LP Edition From Rhino
Mike Mettler: We're going to try something new here on AP. This will be the first in a hopefully vibrant ongoing series of joint/concurrent album reviews that will be dually bylined from myself and my esteemed colleague Mark Smotroff. In essence, we will be conducting a tag-team review dialogue, if you will, all throughout these kind of back-and-forth posts, wherein we'll both be discussing the merits — and/or lack thereof — of key LP releases we feel deserve extra attention.
To kick off this new series, we gravitated toward co-covering the new 2LP 40th anniversary edition of the soundtrack to Talking Heads seminal 1983-shot and 1984-released concert film, Stop Making Sense, seeing how it was such an important release to the both of us upon its initial release in September 1984 — albeit in slightly differing ways, as you'll soon find out.
Me, I bought the original 1LP Sire limited-edition release at Record Swap in downtown Homewood, Illinois, pretty much day-and-date. That particular copy came with a 20-page booklet that I kept on the table my old record player sat on back in those days for regular reference. Truth be told. I wasn't a fan of that edition's bland cover art (more on that in a bit), so I wound up getting a second copy, the 1984 Specialty pressing with the "big coat" half-cover image.
I also recall seeing the concert film on MTV — or did it also air on USA's Night Flight? — and being absolutely mesmerized by the performances, the look of the band and the overall sparse yet clever set design, the ever-shifting choreography, and, yes, I loved that infamous big white suit too. I also remember at the time of seeing the film thinking something to the effect of, "Man, I wish they'd have released the entire soundtrack, not just the nine songs on this album." Well, it only took 39 years, but I finally got my wish, thanks to Rhino's recognition of the 40th anniversary of SMS by releasing this new 2LP set on August 18, which also happened to run relatively concurrent with A24's 4K restoration of the film that will hit IMAX on September 22, and everywhere else in theaters on September 29.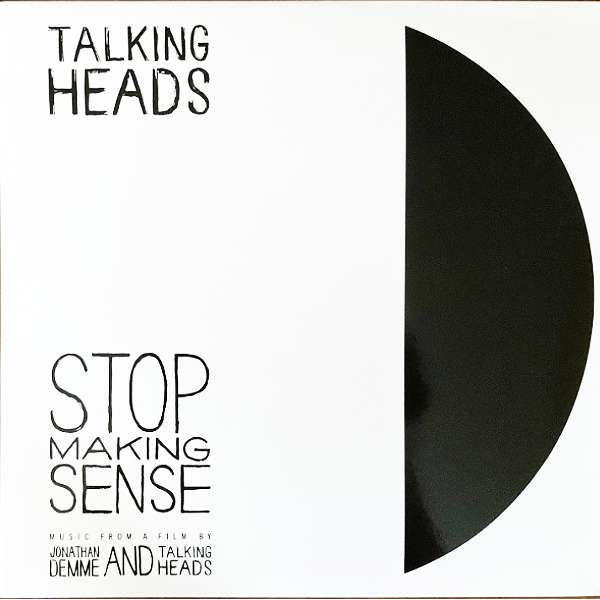 The new Sire/Rhino 2LP limited edition's stats are these. Stop Making Sense comes on standard-weight vinyl housed in paper sleeves — I immediately replaced them both with plastic-lined ones — with the properly replicated orange-hued Sire labels (full tracklistings of each side on one label, and the stacked, tall-type album and band name on the other). Both discs are housed together in a single slot (i.e., there's no gatefold upgrade here), which also holds an updated 28-page, 9 x 12in (w/h) booklet with new and unpublished color and B&W photos galore, plus new liners from the core four Heads — bassist/vocalist Tina Weymouth, lead vocalist/guitarist David Byrne, drummer/vocalist Chris Frantz, and guitarist/keyboardist/vocalist Jerry Harrison (listed here in the order their respective pages appear in the booklet). Sadly, the top left corner of the cover on my copy was bent, its jagged shape following the angle of those curved paper LP sleeves. The new LPs were manufactured in Canada (most likely at GZ/Precision), with the new lacquers for the vinyl pressing having been cut at Sterling Sound by Chris Grainger. (Mark and I will discuss the album's source material later on in this review.) While designated as a "limited edition," we haven't yet seen an exact number of copies to reflect what that means. Finally, the SRP for this 2LP Stop Making Sense set is $39.99.
I'm now going to turn things over to Mark at this point, and then we'll commence trading comments back and forth throughout the balance of the review that ensues. Take it away, brotha Mark!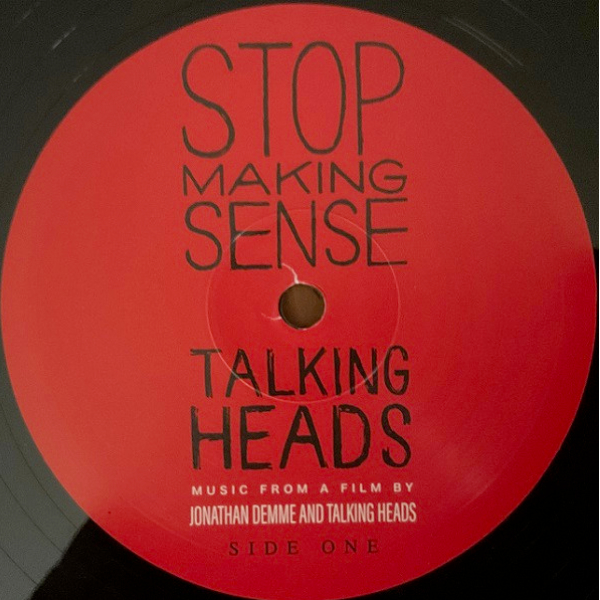 Mark Smotroff: Thanks, Mike! It might be hard for some to imagine it right now, but in 1983, Talking Heads were one of the biggest bands around. Their June 1983 hit album on Sire, Speaking in Tongues, led to a massively successful tour that culminated in three shows held at Hollywood's Pantages Theater in December of that same year — at which time, the Heads made the groundbreaking concert film experience called Stop Making Sense. Directed by the late, great Jonathan Demme, the movie proved to be a remarkable snapshot of the moment, as well as acting as a forward-looking summation of the band's career.
As Mike mentioned, in celebration of the 40th anniversary of SMS, Rhino has finally reissued the complete soundtrack — which, oddly enough, has never been released on vinyl before in its entirety.
Before we explore the album itself any further, let's discuss the following source-material info. From the enclosed, upgraded booklet, we learned that Stop Making Sense was recorded on early digital multitrack recorders — probably 16-bit/44.1kHz at their root, since higher-res 24-bit recording was still some years off at the time. The producers had two 24-track units synced together, giving them 48 tracks to capture all the nuance and grandeur of the expanded seven-piece band (plus two background vocalists) and its intricate, polyrhythmic funk-fueled new-wave infusions.
For the analog purists starting to struggle with the "d-word" here, don't give up hope — this album sounds pretty darn great! The new Stop Making Sense comes to you on quiet, well-centered, standard-weight black vinyl housed in good-quality plain paper inner sleeves. The no-frills cover design — while initially a bit disappointing, as Mike noted — actually recreates the promotional editions of the 1980s that included a full-color tour program type booklet in the package.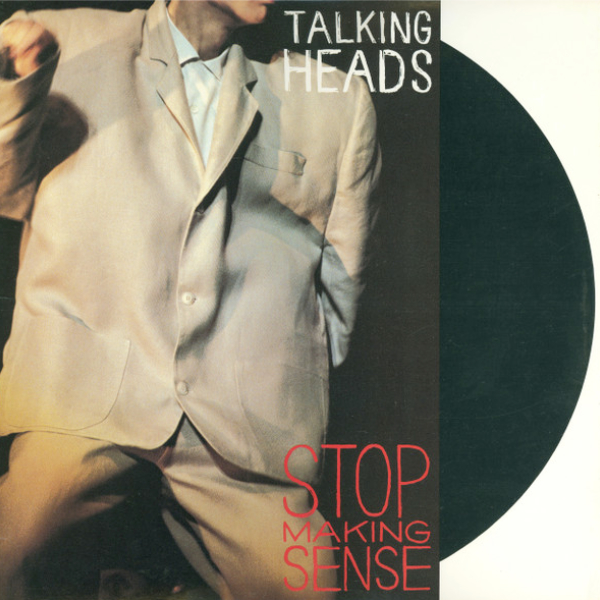 Mettler: That's indeed a good point about the new edition mirroring the initial promos/limited-edition cover I have, Mark, but I remain quite disappointed in the selection of that option as the new SMS cover art choice myself. I much prefer the iconic Byrne in white suit in motion half-sleeve shot (as shown above), but maybe the band made a collective decision here to keep the cover art somewhat "neutral" to reinforce the idea that this is a full band album, and not a Byrne solo turn. Back to you to tell us more about what else is in the revised booklet, and any other thoughts you have about the cover.
Smotroff: The booklet has been newly expanded with previously unreleased photos and fresh remembrances from all four main bandmembers, as you noted. The images found on the original LP's inner sleeves are presented in full color in the more deluxe booklet in the new set, so it's not like something is being left out here.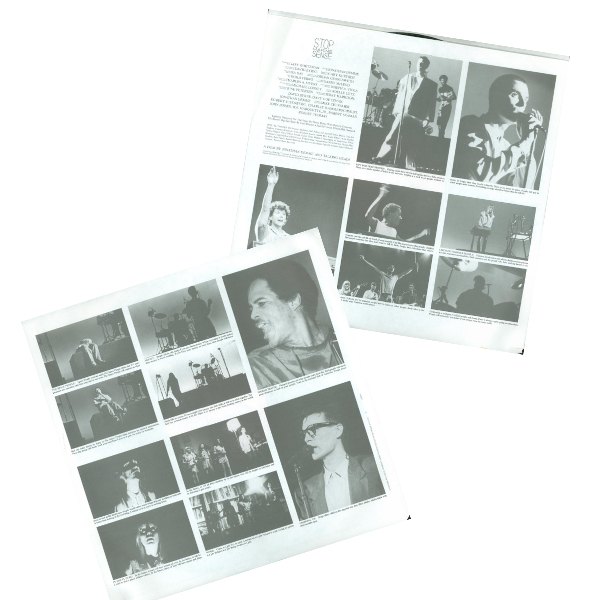 Mettler: I do admit to liking the color picture options over the B&Ws only on the original paper sleeve anyway (see above) — plus I like the double-opposing fold-out pages in the new booklet too.
Smotroff: The stark outer cover you don't particularly like is indeed modeled after the original 1984 limited-edition promotional version that included the booklet wrapped around it. And, as you also noted, the standard pressings had the iconic booklet cover image of David Byrne's big suit printed on the LP cover. So, while the look of this new 2LP edition might well be confusing to some, really, it's all a-ok in the end.
Mettler: Gotcha. How does the new vinyl sound to you?
Smotroff: In general, I'm very happy with the sound on this new edition of Stop Making Sense. The music is crisp and rich, and when you turn up the volume on your amp, it doesn't hurt your ears — something I can't always say about all digitally remastered recordings. Perhaps it's the fact that the music was natively recorded in digital — not in analog and then transferred to digital, potentially losing information along the way — that leads it to actually sound quite good. We have found with other digital recordings, such as the live recordings from Frank Zappa's final 1988 tour (such as on the 2021-released 180g 4LP set, Zappa '88: The Last U.S. Show), some of these early forays into the digital format can sound pretty solid if the material is handled with care.
Mettler: I know certain AP readers perpetually roll their eyes at anything digital being involved in any vinyl release these days, but since SMS was a native-digital recording to start with, as you rightly point out, I don't have a problem with how it sounds on the new 2LP set, especially in comparison to the original 1984 LPs I have and loved at the time of release.
Smotroff: That said, on this 40th anniversary expanded 2LP edition, the highs are crisp, the lows are resonantly distinct, and all of it is tied together by a nice, natural-sounding midrange. Let's put it this way — even though this was an '80s recording, like the film itself, the music is not overly tied to the production flavors of the day. Even the gated snare-drum sounds are kept in check, relatively speaking. In a word, this is a timeless recording, inside and out.
Mettler: Gated drums always make me cringe somewhat to this day, I must admit, and I tried not to wince too hard at how they come across during certain emphasis points on Side Two's first two tracks, "Burning Down the House" and "Life During Wartime," for example. Anyway, carry on. . .
Smotroff: What is ultimately most significant about this edition of Stop Making Sense is that it restores the complete track listing of the actual concert performance. Previously, this album was only available as a single disc of nine highlights, just like you said. The only way you could get the full concert was to get the VHS tape version or the laserdisc, but relatively few of us had access to either of those editions at the time — or at reasonable prices if we did.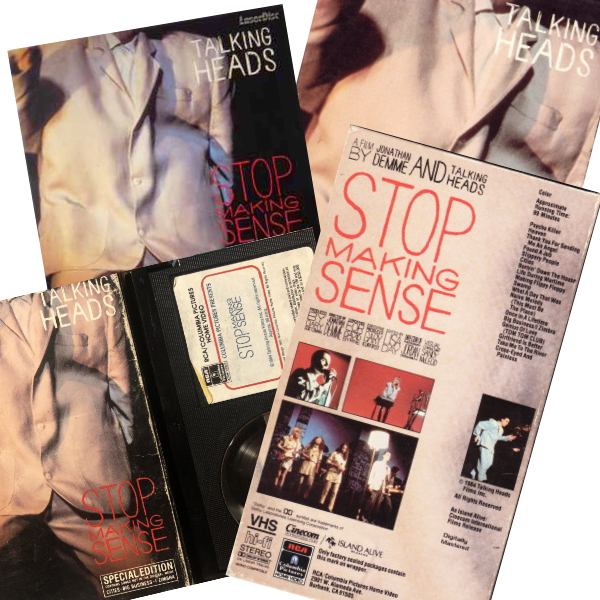 In fact, the VHS is what my friends and I opted for back in the day, because most everyone was then getting into longer-form album offerings on CD and tape-oriented formats, so the notion of an incomplete LP version held less appeal. And while I owned and enjoyed the VHS, one of my friends who had an early VHS Hi-Fi deck was actually able to make a decent transfer of the soundtrack to cassette! That was the version I listened to for many years, including during my initial drive out to California in 1988.
It's a little hard to fully appreciate just how significant Stop Making Sense was upon its release, and on multiple levels. Beyond the production's technical brilliance and seeming simplicity, the film enabled many more people who hadn't seen the band in concert to enjoy a bonafide top-tier live performance experience.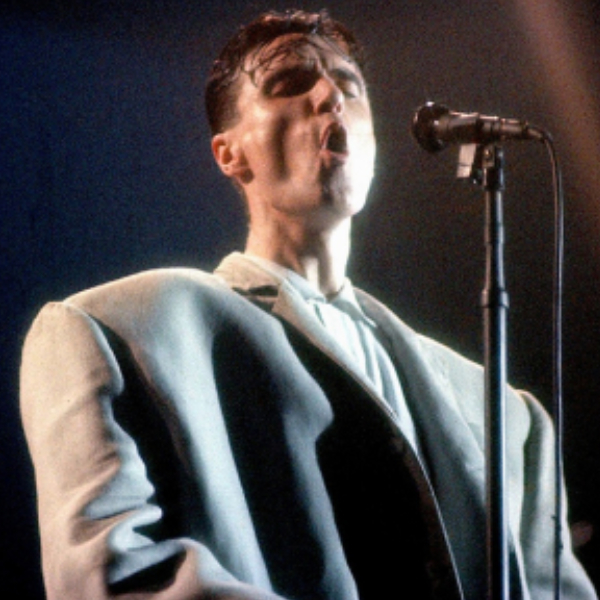 Mettler: Another fair point. I never got to see the Heads perform live myself, so viewing the full SMS concert, like I mentioned earlier, was both eye- and ear-opening, and something that made me appreciate listening to the admittedly abbreviated original LP at the time even more affecting. After watching SMS, I would then visualize what I saw in the film when songs like "Psycho Killer" and "Once in a Lifetime" would be spinning on the turntable.
Smotroff: Despite being a big fan, circumstances resulted in my not having had a chance to see Talking Heads in concert either — primarily because of college, budget constraints, travel logistics, timing, luck, etc., etc. So, by the time I was out of school and the film came out in 1984, it was a no-brainer to go see it. I remember seeing Stop Making Sense with friends on its debut run at one of the fancy high-end showcase theaters in upper-midtown Manhattan, and I seem to remember even having to buy those tickets in advance.
Mettler: How was it, seeing the original SMS movie in a theater like that?
Smotroff: It was a serious party inside that theater! The only other time I'd seen a film audience get this joyous and free-spirited was during one of those midnight showings of The Rocky Horror Picture Show and — if I'm not mistaken — also at a theatrical showing of The Grateful Dead Movie. People were dancing in their seats and in the aisles, cheering and screaming. It was almost off the hook!
As far as the crowd was concerned, they were at a Talking Heads concert, not watching a movie. And that was the magic director Jonathan Demme conveyed in the film. He captured lightning in a bottle with those Talking Heads performances, and projected it all on the silver screen.
Indeed, in the official press release for this 2LP reissue, Rhino reports the following: "Stop Making Sense was an artistic and commercial triumph when it arrived in September 1984. The film had people dancing in theatre aisles, while the soundtrack sold over two million copies. Just last year, the Library of Congress added Stop Making Sense to the National Film Registry in recognition of its cultural, historical, and aesthetic significance."
In fact, drummer/vocalist Chris Frantz discusses this exact phenomenon in his contribution to the new liners, referencing a recent screening he attended in Putney, Vermont that triggered ecstatic viewer reaction: "The sold-out audience was on their feet dancing and cheering. I felt such a wave of joy. Multiple waves, in fact. I felt so proud of Tina, David, and Jerry and what we have accomplished. I'm pretty sure they feel the same way." With this film, Talking Heads clearly created something magical and timeless.
Mettler: At this point, I should interject that all four Talking Heads are reuniting together for the first time since their induction in the Rock and Roll Hall of Fame in 2002 to discuss the SMS film after its IMAX world-premiere showing at the Toronto International Film Festival (a.k.a. TIFF) on September 11 by participating in a live-streamed Q&A moderated by Spike Lee, who directed the 2020 film version of Byrne's American Utopia. In the meantime, the following, brief but clever YouTube clip sets the table for seeing SMS on the big screen, if you so desire.
Mettler: Anyway, back to the music. What are your favorite tracks on the new 2LP SMS set?
Smotroff: I must admit that every time I hear the Stop Making Sense version of "This Must Be the Place (Naïve Melody)" Track 2 on Side Three, I inevitably choke up a bit. My other favorites include the tunes from David Byrne's The Complete Score From the Broadway Production of "The Catherine Wheel" (an RSD 2023 release I reviewed earlier this year, which you can read right here), including "What a Day That Was" (Track 3, Side Three) and "Big Business / I Zimbra" (Track 4, Side Three). I also love the utterly infectious "Making Flippy Floppy" (Track 3, Side Two) and that kickin' version of "Found A Job" (Track 4, Side One). Of course, the opening one-two-punch of "Psycho Killer" (Track 1, Side One) followed by "Heaven" (Track 2, Side One) is simply stunning. They are clearly the stage-setters for the whole show.
Mettler: Hey, you took the words right out of my mouth, er, keyboard! I concur that "I Zimbra" is a revelation, and "Psycho Killer" sets a nice, acoustified tone (replete with the somewhat jarring, but quite-intended amp buzz at the very end). Since I had the Sire 45 of "Burning Down the House" long before I ever bought the Tongues LP from whence it came, I zeroed in on how that song opened Side Two ("Who got a match?"), and was rewarded with some fine details all throughout it, including the right level of keyboard emphasis behind the blended vocal punches of key phrases like "hold tight" and "all wet." Plus, the back-half keyboard solo is slightly out front in the mix ahead of Frantz's percussive accents that parallel his own solo on the original studio track, neither element stepping on each other in the least ("that's right").
Over on Side Four, vocals rule the roost, as I was quite pleased with the character of the blending of Tina Weymouth, Lynn Mabry, and Ednah Holt's leads on "Genius of Love" (Track 1, the Heads' interpretation of the Weymouth/Frantz sideproject Tom Tom Club's funk-rap prototype from 1981), as well as the full scope of "better than this" and "stop making sense" (Track 2, "Girlfriend Is Better"), the lower-volume gospel-tinged repeated refrain of "Take me to the river / Drop me in the water" along with the audience's respectful handclap encouragement (Track 3, "Take Me to the River"), and the insistent, recurring "I'm still waiting" in the back half of the show's, and album's, final song, "Crosseyed and Painless" (Track 4).
Anyway, Mark, I leave it to you for the final SMS assessment. I think we're both agreed on the 9 rating for the Sound here. You have the Music rated as a full, perfect 11. I'd put it at a 10 myself, but I'm willing to defer to your goes-to-11 number in this instance since Stop Making Sense is in fact one of the best and most important live recordings of the rock era. But now, back over to you for the wrap-up!
Smotroff: I appreciate that, Mike. All that mental muscle memory — if you will — of the film is still there when you listen to this soundtrack album. With Stop Making Sense, Talking Heads created arguably one of the last great live concert albums of the 20th century, and it's truly great to finally have the whole recording together again for the first time under one roof on vinyl. File this new 2LP Rhino edition of Stop Making Sense under AEL — Absolutely Essential Listening.
Mike Mettler is the editor of Analog Planet in addition to being the music editor of our sister site Sound & Vision, and he's also a contributing music editor to one of our other sister sites, Stereophile.
Mark Smotroff is an avid vinyl collector who has also worked in marketing communications for decades. He has reviewed music for AudiophileReview.com, among others, and you can see more of his impressive C.V. at LinkedIn.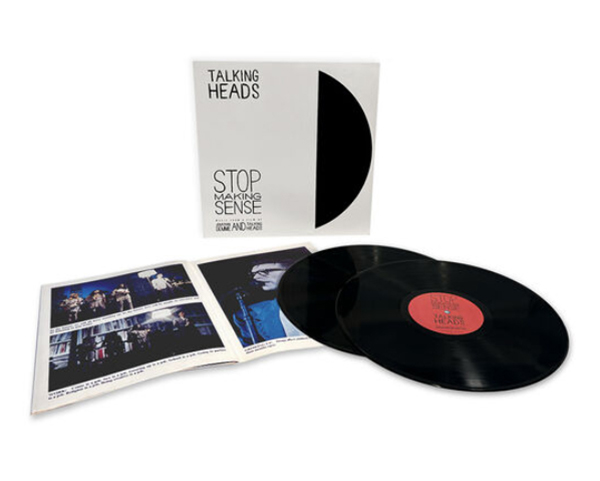 TALKING HEADS
STOP MAKING SENSE
2LP (Sire/Rhino)
Side One
1. Psycho Killer
2. Heaven
3. Thank You For Sending Me An Angel
4. Found A Job
5. Slippery People
6. Cities*
Side Two
1. Burning Down The House
2. Life During Wartime
3. Making Flippy Floppy
4. Swamp
Side Three
1. What a Day That Was
2. This Must Be The Place (Naïve Melody)
3. Once In A Lifetime
4. Big Business / I Zimbra*
Side Four
1. Genius Of Love
2. Girlfriend Is Better
3. Take Me To The River
4. Crosseyed And Painless
*previously unreleased
<!- ------------------------------------>