Tears For Fears Exhibit a Consistently Timeless and Innovative Nature on the New Abbey Road Half-Speed-Mastered 40th Anniversary 180g 1LP Reissue of Their Synth-Centric 1983 Debut Album, The Hurting
Full disclosure — despite Tears For Fears' massive success happening around me, I didn't get fully onboard the fan bus for this innovative British band until their magnum-opus third release, September 1989's truly epic The Seeds of Love. Not being on the bus didn't mean I wasn't listening, however! Indeed, Tears For Fears' music was on the radio incessantly in those interim years, and TFF's March 1983 debut album The Hurting was in fact an active part of the soundtrack to my last semester of college — though I simply didn't fully realize it at the time, seeing how I was focused mostly on making sure I graduated that spring.
Home to now long-acclaimed anthems such as "Mad World" and the pulsing "Change," The Hurting went Gold in the United States — meaning, it sold 500,000 copies here in the U.S., a sales-designation certification that still meant something back then — and it was an auspicious start for a band from Bath, England that has since sold over 30 million albums worldwide. Fronted by the creative tandem of Roland Orzabal (vocals, guitar, keyboards) and Curt Smith (vocals, bass, keyboards), Tears For Fears' success story began with the synth-centric The Hurting, which set the stage for the broader scope of their worldwide mega-breakthrough — the No. 1 quintuple-platinum-selling sophomore LP, February 1985's Songs From The Big Chair.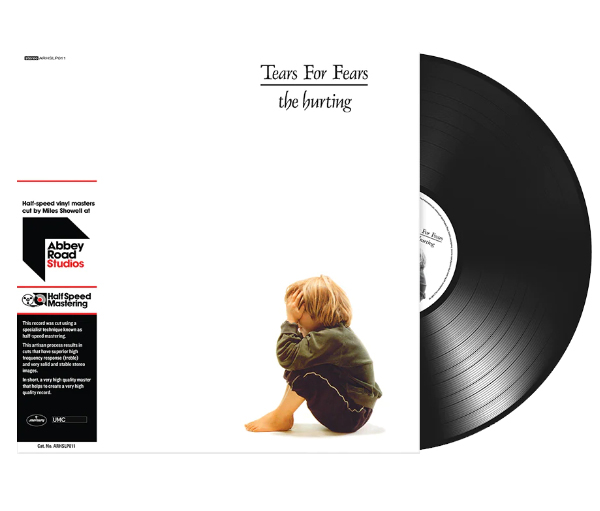 Now let's get to the key stats related to this new pressing of The Hurting, which was just reissued in a fine half-speed-mastered 40th anniversary 180g 1LP edition via Mercury/UMC. The album itself was originally produced by Chris Hughes and Ross Cullum. You'll also no doubt want to take note the lacquers for this new release were cut by acclaimed audio engineer Miles Showell at Abbey Road Studios. It has been well-established that Showell works with hi-res digital file transfers from the master tapes for reasons of stability and consistency. Indeed, most of Showell's Abbey Road half-speed masters we have both heard and reviewed here on AP to date have generally been outstanding.
This new edition of The Hurting was manufactured in Germany — and probably at Optimal, where many other recent releases from Universal have been pressed. (We will update things here accordingly if Universal directly confirms that pressing info one way or the other.) The SRP for this new 1LP edition of The Hurting is $32.99.
Happily, my copy of the new Showell half-speed remaster of The Hurting sounded really great, right out of the package. The pressing is well-centered and the vinyl is quiet and transparent, so all those important details check off without incident. The packaging also appears to recreate all the original UK packaging design elements — right down to the picture label, as seen below. The initial U.S. pressing featured a different cover, however, which can be seen at the very end of this review, following the side-break listings.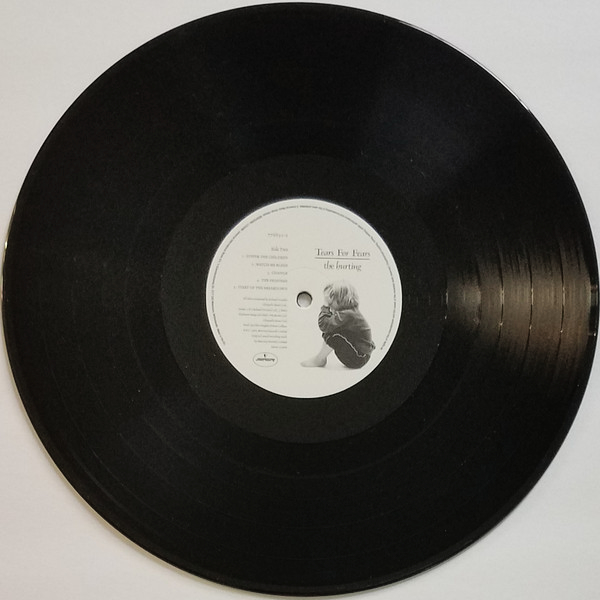 I know some of you are wondering how this new edition of The Hurting compares to an original 1983 LP copy of the album. Alas, I never owned The Hurting on vinyl until now, so I can't make a direct comparison per se — but I can attest this new LP is a very enjoyable spin. Even for what was effectively an early-'80s computer-programmed production — and, from what I've been able to discern via the interwebs, it also seems to have been largely recorded in a friend of the band's home studio equipped with an 8-track recorder along with then-cutting-edge drum machines, and such — the overall sound of The Hurting is quite wonderful, even when you crank up your amp to higher volumes.
Do note, however, that this LP is ultimately a 1980s production and numerous early computer-oriented sequencing devices were used in its creation, something that no doubt shaped some of the overall sonic footprint of the recordings. The point is, The Hurting LP isn't going to reflect a big-budget studio sound akin to what you hear with Pink Floyd's The Dark Side of the Moon or The Beatles' Abbey Road. Fact is, The Hurting is most definitely its own thing, as far as sonic palettes go — and that's totally fine by me.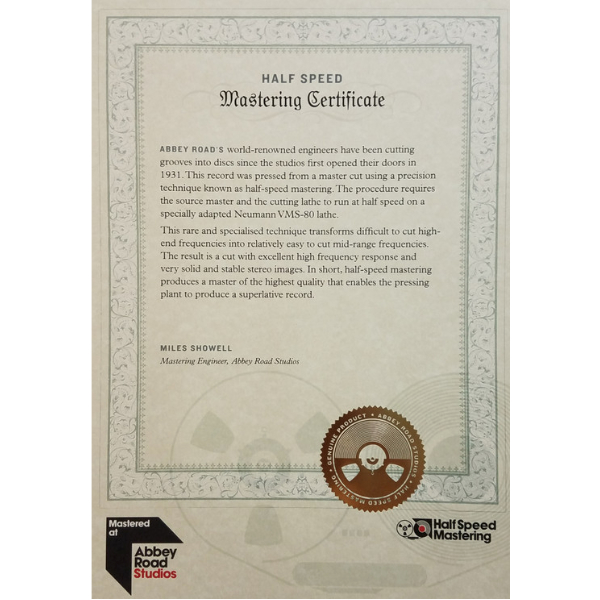 In preparing for this review, I did go back to revisit my German-pressed CD of The Hurting, and some surprising musical details resonated with me. I found it remarkable how many of its songs were internalized and very familiar to me, even though I can't honestly say I spent as much time with this album as I have with later TFF albums. Listening back to the Side One album-opening scorcher "The Hurting," I flashed back and forgave myself for somehow at one point in the past thinking this was actually a Peter Gabriel tune (and I mean that in the best possible way). Actually, "The Hurting" has some quite-strong ELO production qualities about it as well, pre-echoing the quasi-psychedelic vibe of the aforementioned The Seeds of Love album, which was released six years after this LP.
Listening with fresh ears, I could certainly recognize some of the influences TFF have cited in the making of The Hurting, including Gary Numan, David Bowie, and (of course) Peter Gabriel. And I couldn't help but notice that "Watch Me Bleed" (Track 2, Side Two) sounds inspired by Neil Young's classic barnburner "Cowgirl in the Sand" (from May 1969's Everybody Knows This Is Nowhere) — especially on the verses.
Popular Hurting songs like "Mad World" (Track 2, Side One) and "Change" (Track 3, Side Two) still resonate organically, despite the computer-driven pulse running throughout much of the album. It is this natural feel that helps make the balance of Tears For Fears albums appear more timeless than those of a number of their contemporaries from the period.
My only little issue with The Hurting may indeed just be my issue related to my own inadvertent making, ultimately for not paying closer attention to how I put the LP back in its sleeve. As many of you know, albums can often move around in their packaging during shipment, which is one reason used-LP sellers typically pack the physical disc in a sleeve outside the actual album cover — and usually secured within the protective blanket of a clear-plastic outer-sleeve at that.
I noticed when I first took out my new copy of The Hurting that there was some white dust along the edge of the LP — and, indeed, upon closer inspection, I saw that, in shipping, the LP itself had broken through one edge of the inner sleeve. Clearly, it had moved around more aggressively than I would have liked in transit.
On my first couple of plays of The Hurting LP, everything sounded fine — but on one of my more recent spins, I noticed a little tick happening at the start of Side Two that I hadn't heard before. Now, I am usually very careful with my handling of vinyl, so the only thing I can think of here is that, in putting the LP back inside the inner sleeve, perhaps it slipped through the rough paper tear that was already there on the sleeve, resulting in a scrape or two when I pulled it out the next time.
Ultimately, it is not a big deal as the tick only lasts for a couple seconds, but I did want to give everyone a reminder to always be careful with your LPs, especially if you happen to notice any white powder, flecks, or specks along any edge of the disc before you play it. That said, it would have been nice if The Hurting's inner sleeve had been made of a sturdier material and/or was packed separately in a poly-lined sleeve — the latter of which some labels are now wisely doing for new reissues and releases like this one, which in turn preserves the reproduction inner sleeve. I have since placed my copy of The Hurting LP in a separate plastic inner sleeve so I don't accidentally damage it again. Lesson re-learned!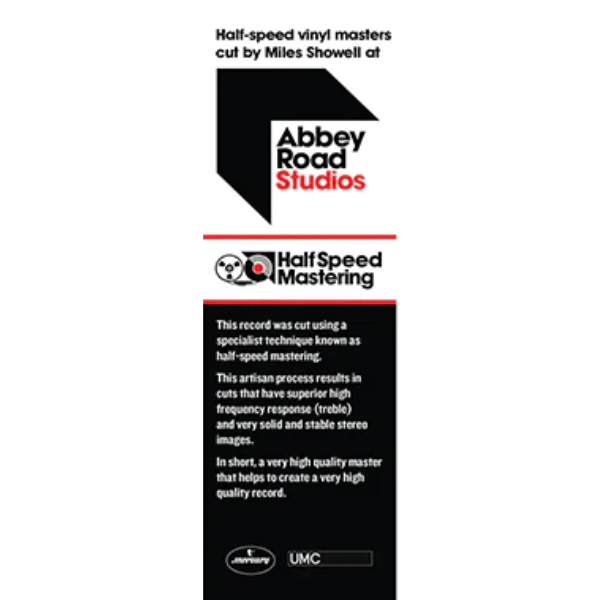 It is also interesting to consider The Hurting was also somewhat of a concept album, and one with a heavy undercurrent. From the interwebs, we learn, "The Hurting is a loose concept album focusing on themes of child abuse, psychological trauma, and depression. . . Despite its dark subject matter, the album was a huge commercial success. The songs were written by Roland Orzabal inspired by his own childhood traumas and the primal theories by Arthur Janov."
In retrospect, it is this overall richness of composition and innovative production that I think helps the album achieve its timeless stature. If you love Tears For Fears and the career groundwork they laid with The Hurting, you'll probably want to get a copy of this new Abbey Road half-speed mastered 180g 1LP edition as soon as you can to see why this band still matters in today's ever-changing musical landscape.
(Mark Smotroff is an avid vinyl collector who has also worked in marketing communications for decades. He has reviewed music for AudiophileReview.com, among others, and you can see more of his impressive C.V. at LinkedIn.)

)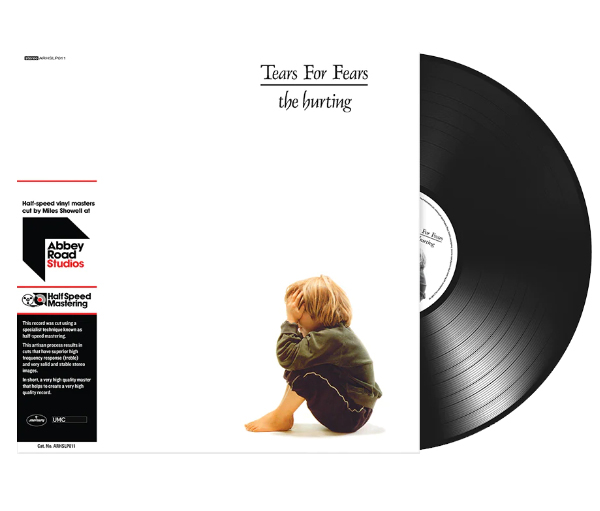 TEARS FOR FEARS
THE HURTING
180g 1LP (Mercury/UMC)
Side One
1. The Hurting
2. Mad World
3. Pale Shelter
4. Ideas As Opiates
5. Memories Fade
Side Two
1. Suffer The Children
2. Watch Me Bleed
3. Change
4. The Prisoner
5. Start Of The Breakdown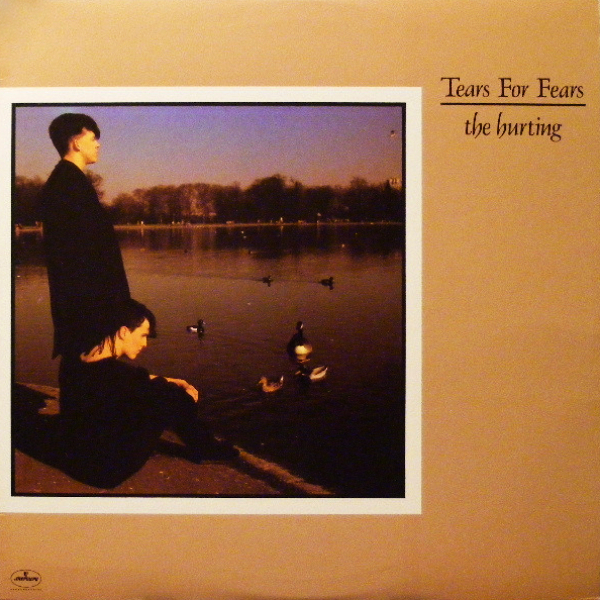 <!- ------------------------------------>