Two Classic Frank Zappa Electric Orchestra Jazz Fusion LPs, Waka/Jawaka and The Grand Wazoo, Are Revived and Rejuvenated Anew Via a Perfect Pair of AAA Grundman-Remastered 180g LPs
In my experiences talking with music fans who appreciate some of Frank Zappa's music, there is a certain type of apprehension I've come across, time and again. These casual Zappa fans will often get into his music enough to buy a few records — usually LPs like Hot Rats, Fillmore East – June 1971, Over-Nite Sensation, and perhaps even Apostrophe (*) — yet they seem be afraid to wade into the deeper end of the pool where much more of Zappa's greatest works reside.
The latter is the type of listener who likes Zappa because of the pioneering jazz rock recordings on the legendary classic 1969 release Hot Rats. Or perhaps they came in by way of his jaw-dropping Roxy-era band — so named after the live Roxy & Elsewhere album — a band that existed from about 1973-75, and included none other than George Duke on keyboards and vocals across albums like Over-Nite Sensation, Apostrophe (*), and One Size Fits All.
And then there are those FZ listeners who like above-noted comedy-oriented live album Fillmore East – June 1971 that featured Turtles' lead singers Howard Kaylan and Mark Volman — a.k.a. Flo & Eddie — along with an underrated version of The Mothers of Invention.
Which brings us to a good entry point to discuss these two new reissues at hand. After that 1971 version of The Mothers imploded — due to a frightening and tragic attack on Zappa while he was performing onstage in London — the maestro thankfully was able to return to America to heal and recuperate after his horrific fall into the orchestra pit that caused a broken leg and other major injuries. (It's a miracle he survived!)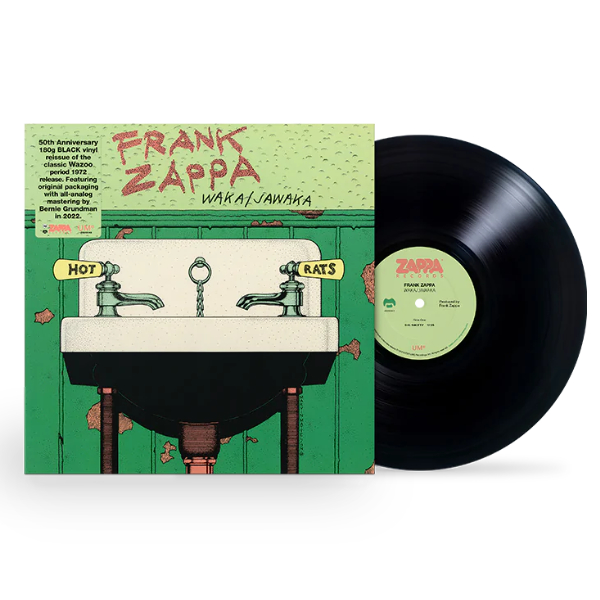 Never one to sit idle, even with his leg in a cast and being confined to a wheelchair, Zappa pushed onward in the aftermath of that incident, in turn making some of the most creative music of his entire career. The resultant two albums — July 1972's Waka/Jawaka (official Zappa album No. 15) and November 1972's The Grand Wazoo (official Zappa album No. 16) — are two sides of a coin that finds our hero more or less picking up conceptually where he left off around the time of Hot Rats. In fact, Waka/Jawaka was originally intended as a Hot Rats sequel.
Celebrating both albums' 50th anniversaries, Zappa Records and UMe have issued a pair of lovely 180g black vinyl audiophile editions of both and The Grand Wazoo, featuring all-analog mastering by Bernie Grundman. Each LP retails for $29.99.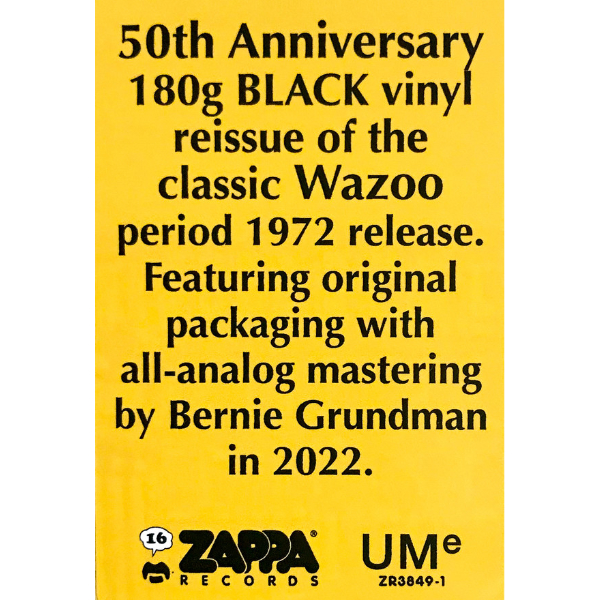 In general, I am very pleased with these reissues, both of which were pressed in Germany at Optimal and feature the original album art. Each 180g LP comes in an audiophile-grade plastic-lined inner sleeve. As with many recent Zappa reissues, these editions unfortunately don't include the original Bizarre Records label — likely because it was owned by Warner/Reprise back in the day. Other than that, overall, these albums feel very true to the original editions, with wonderful comic cover art and high-quality graphics.

Overall, both releases sound excellent. The best compliment I can give here is these new reissues of Waka/Jawaka and The Grand Wazoo reissues sound the way Waka/Jawaka and The Grand Wazoo should sound!

Some interesting details to note: In the teensy-tiny ultra-fine print on the back cover of both albums, we learn these new editions were sourced from a "1/4-inch analog EQ copy master tape." This helps explain why these new editions retain much of that original album feel as Zappa created back in the day — as opposed to a so-called "flat" master that might have required a new EQ approach to the approximate the sound Zappa achieved.

Both albums are filled with mostly modern-leaning, large-to-big-band instrumental jazz-rock-fusion recordings. FZ, along with engineer Kerry McNabb at Paramount Studios in Los Angeles, did a great job capturing the essence of the group sound while leaving room for Frank's always engaging and inspiring guitar solos.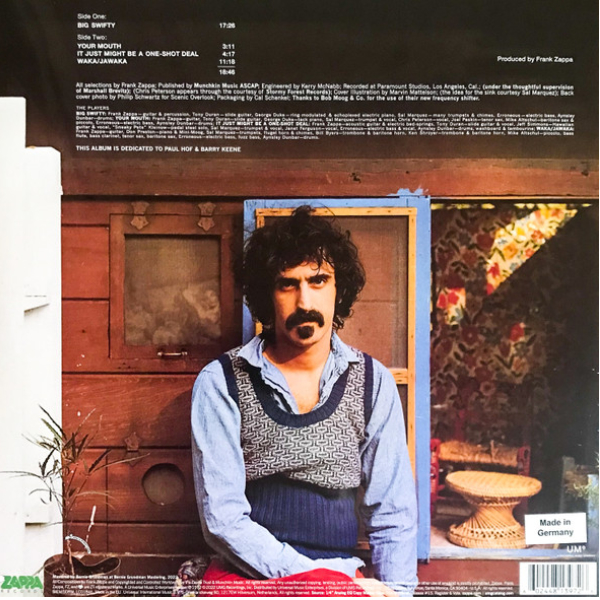 After refresher listens to my original pressings and a full spin of both entire albums, I went back to the song "Waka/Jawaka" — one of my favorite Zappa compositions [Ditto!—MM] — to marvel at some of the newfound clarity Grundman has achieved with these remasters. The original album always sounded pretty great, but as with many recordings from the 1960s and '70s in particular, mastering engineers often pulled in some of the dynamics to ensure proper tracking on average equipment of the period. On this new edition, there is not only a bit more audible high-end, but also more of the sound of certain instruments coming through beautifully.

For example, I really like the way that Frank's (likely) acoustic rhythm guitar layers chime and sparkle now. That low Mini-Moog note Don Preston hits after Aynsley Dunbar's drum solo — a favorite speaker test record moment for me! — sounds just wonderful, and somehow seems more audible for a longer stretch than I remembered from my old albums. There is so much going on in this song, including totally terrific harmony trumpets, ferociously frenetic piccolos and. . . tubular bells!

Listen for those sproingy, out-of-tune strings pulled toward the end of the quasi-Allman Brothers-like homage "It Just Might Be a One-Shot Deal" (one of two tracks with some vocals on them). Whatever they are, it all sounds very realistic now, like someone was cutting the strings on an old zither, toy guitar, or piano.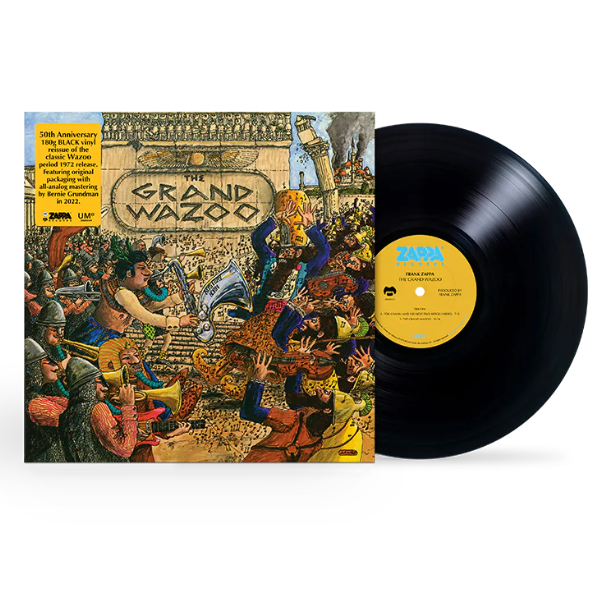 On The Grand Wazoo, before you get to the deeper big band stuff, I suggest you jump to the final track on Side Two, "Blessed Relief," where you will hear one of Zappa's most sumptuous melodies play out before your very ears. The mids and low-end on this new version are even richer than on the white-label promo copy I have of this album. This song is a great reminder that despite his reputation as being very "out there" and "weird" musically, Zappa really was first and foremost a master of melody. Go back and listen to any/all of his albums from The Mothers of Invention's 2LP 1966 debut Freak Out! onward, into even the weakest of his mid-'80s albums (not my favorite period), and you'll hear hooks galore at every twist and turn. Whether you like them or not is another story entirely — but it is undeniable the man had a gift for songcraft.

"Blessed Relief" is just such a sweet composition that I could imagine it being used in an alternate-universe Peanuts cartoon, much in the way Vince Guaraldi's music conjured up much imagery of youthful spirit for those legendary TV specials of yore. Here, George Duke is the star alongside Frank's soloing, delivering a Fender Rhodes-like keyboard solo that soars. The aforementioned Aynsley Dunbar is also at his most uniquely swinging best here.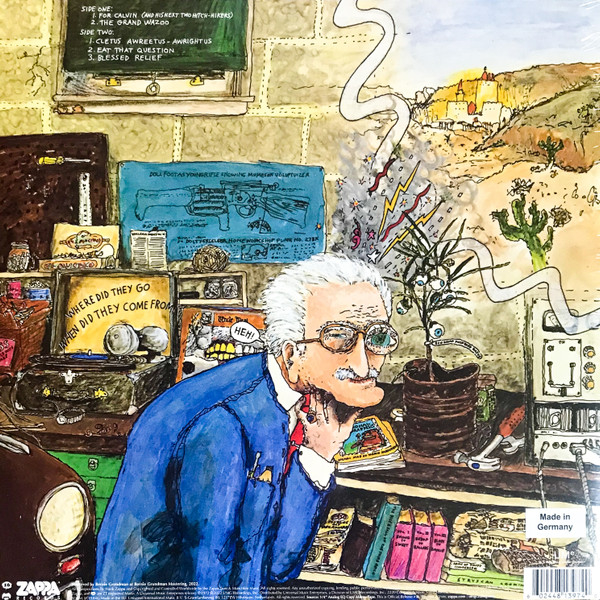 Actually, Dunbar's penetrating ride cymbal work sparkles all throughout, right from the start of the album-opening "For Calvin (And His Next Two Hitchhikers)." I'm hearing some of Zappa's wah-wah guitar parts much more clearly on the title track, compared to my original pressing. The horn section is especially rich here. For example, there are some 20 musicians/instruments playing on "The Grand Wazoo" alone, including woodwinds, trombones, bottleneck slide guitar, multiple brass, drums, and percussion. Trumpet player Sal Marquez shines on both albums, by the way — and I wish Zappa had worked more with him over the years, as he is a fine, fine musician.

The only negative I have to report is, at one point on one track on Waka/Jawaka, there was initially a bit of surface noise — possibly a "non-fill" moment, or perhaps a remnant bit of vinyl detritus in the grooves from the disc-pressing process. I only really heard this on the first play or two — but on subsequent spins, it seems to have dissipated. That said, I just wanted to give you a heads up to keep an ear and eye out for possible but hopefully unlikely issues. I suspect my copy is an anomaly, because generally, the pressings the Zappa estate has issued in conjunction with Universal have been quite excellent over the years. Other than that lone nit, the 180g black vinyl pressings on these two new releases have been quiet and well-centered.

Perhaps my only other nit is UMe didn't recreate the original, so-called "tip-on"-style cardboard sleeve for the regular release, and only for the brown vinyl edition sold via the official Zappa website. Personally, it doesn't bother me, as I am keeping my original copy anyway, and the new regular edition is perfectly nice and functional — it is made of a white oaktag-type cardboard stock upon which the artwork is printed directly, as opposed to the grey/brown cardboard of the original that have the printed paper graphics sheets pasted onto them. This is a relatively minor detail in the grand scheme of things, but I thought some of you collectors out there would want to know about it.

Either way you go, these Waka/Wazoo-era releases are essential listening for the instrumentally oriented Frank Zappa music fan. Between Waka/Jawaka and The Grand Wazoo, you'll find this is some of the most heartfelt music Zappa ever made.

(Mark Smotroff is an avid vinyl collector who has also worked in marketing communications for decades. He has reviewed music for AudiophileReview.com, among others, and you can see more of his impressive C.V. at LinkedIn.)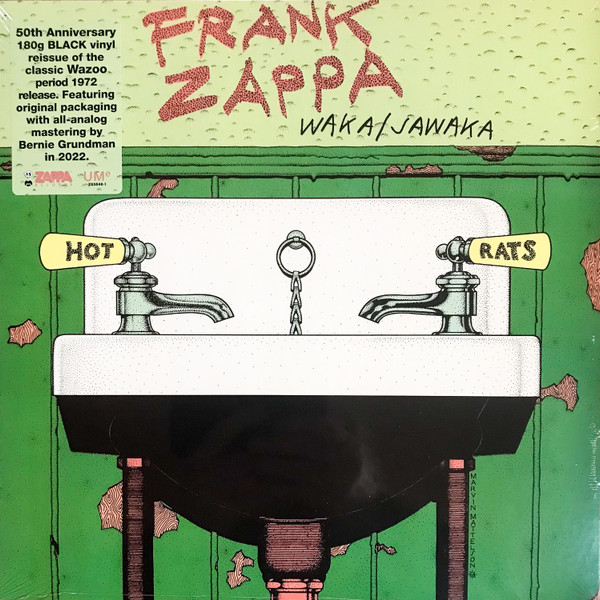 FRANK ZAPPA
WAKA/JAWAKA
180g 1LP (Zappa Records/UMe)

Side One
1. Big Swifty

Side Two
1. Your Mouth
2. It Just Might Be A One-Shot Deal
3. Waka/Jawaka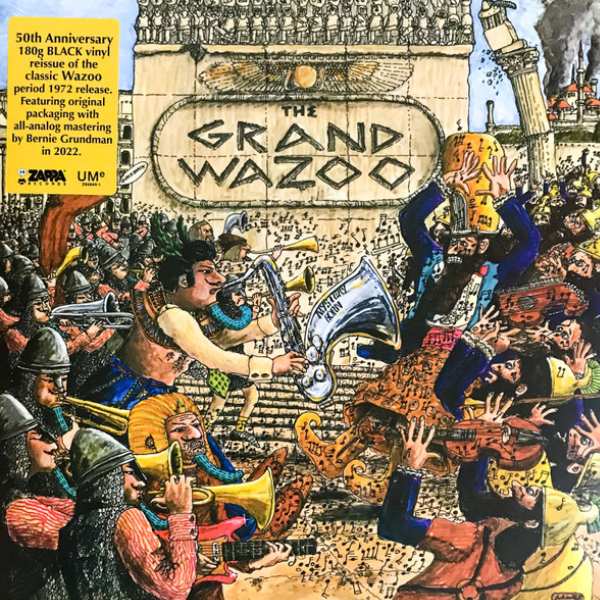 FRANK ZAPPA
THE GRAND WAZOO
180g 1LP (Zappa Records/UMe)

Side One
1. For Calvin (And His Next Two Hitch-Hikers)
2. The Grand Wazoo

Side Two
1. Cletus Awreetus-Awrightus
2. Eat That Question
3. Blessed Relief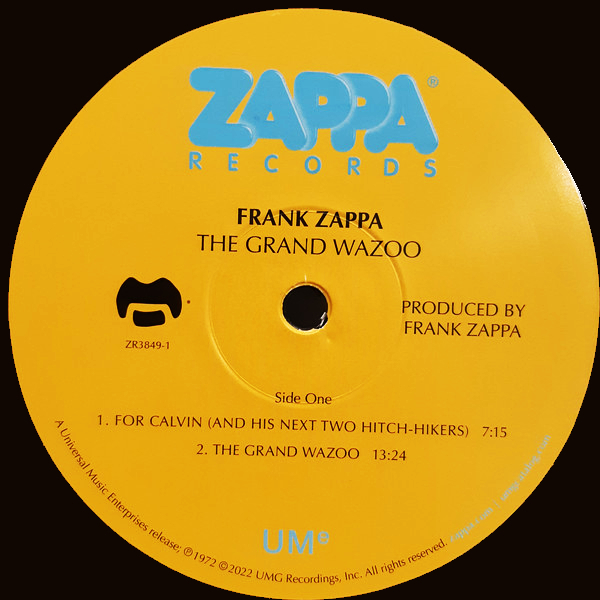 <!- ------------------------------------>