Wattstax at 50: Legendary Music Festival Properly Celebrated With a Pair of New Analog-Mastered 140g 2LP Reissues That Get You Into the Right Groove
In 1972, Stax Records — the influential Memphis-based label that brought the likes of Otis Redding, Booker T. & The M.G.s, and Albert King to the world — recognized the need for a large-scale, highly visible public event to help heal America's fractured African American communities. Particularly focused on the Watts section of Los Angeles and the annual Watts Summer Festival — then commemorating the seventh anniversary of the devastating 1965 riots — Stax president Al Bell giant-sized the local event, duly dubbed it Wattstax, and enabled more than 110,000 people to come together in Los Angeles' Memorial Stadium on August 20, 1972,l for a day of amazing music — and for just $1 per ticket!
Subtitled The Living Word, Wattstax brought together the cream of Stax's roster in support of our African American communities in a statement of unity and peace. Featuring many of the biggest names in soul, R&B, gospel, and blues music at the time — including Isaac Hayes, The Staple Singers, Albert King, Carla Thomas, Rufus Thomas, Kim Weston, The Emotions, and The Dramatics — the concert includes no less than Rev. Jesse Jackson delivering powerful messages of community and connection that still resonate to this day.
Craft Recordings, the current owners of Stax's tracks, has now seen fit to honor that historical Wattstax event with a fantastic 50th anniversary reissue series, the jewels of which are a pair of timely analog-mastered 140g 2LP gems: Wattstax: The Living Word and The Living Word: Wattstax 2.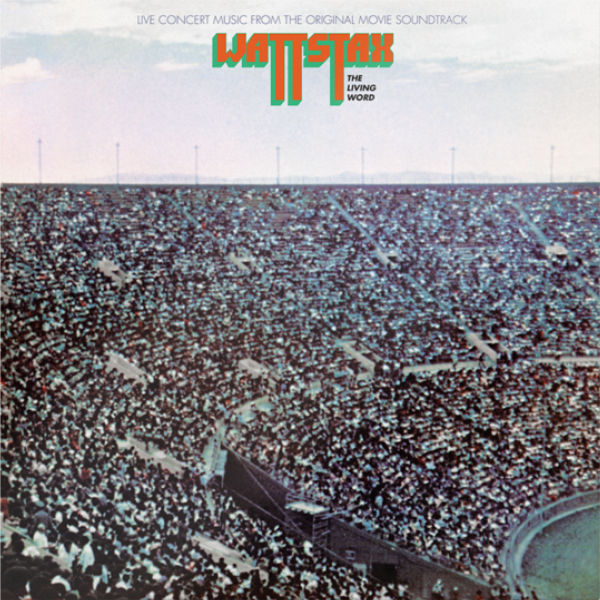 Recording Notes
Before I dig into the heart of these recordings, I'll first tally the all-important tech specs. First off, the only way to get the analog-mastered vibe of these original soundtrack recordings — which were initially captured on 8-channel multitrack tape and mixed to stereo by Terry Manning and Tom Nixon — will be to get the 2LP highlights sets I'm reviewing here, both of which were cut by Chris Muth from the original analog tapes.
Since Stax was a Memphis-based label at its start, it seems appropriate that these standard-weight 140g LPs were pressed for this 50th anniversary project by Memphis Record Pressing. The pressings I've listened to for this review are well-centered and quiet, and each LP is housed in a plastic-lined protective inner sleeve. Clearly paying attention to the little details that matter, the albums feature period-accurate labels — and they even include Stax's original address as on the 1972 labels! The only thing missing is the custom Wattstax inner sleeves that were in the original LPs — the ones bearing a special message from the company on one side, and a grid of album art by their featured performers on the other.
Both of these gatefold album covers are reproduced with artwork that's arguably nicer-looking than on my original pressing — albeit with a more modern, oaktag-type stock construction style than the 1972 editions, which sported printed art pasted on thicker cardboard. The SRP for both Wattstax: The Living Word and The Living Word/Wattstax 2 is $29.99.
I should note there are a number of variants to this new 50th anniversary series. If you're interested in going the super-deluxe route on vinyl, be aware that the expansive 10LP edition — titled Wattstax: The Complete Concert — was mastered from hi-res digital files by Joe Tarantino, and that these particular lacquers were cut by Jeff Powell. The SRP for the 10LP set is $299.99.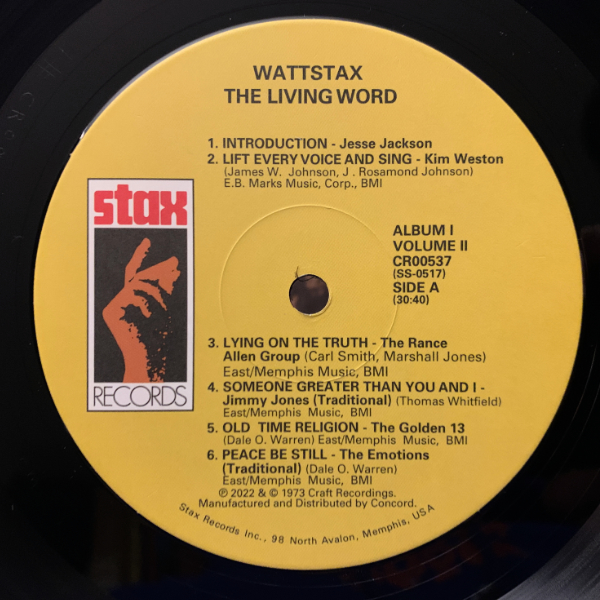 Sound Quality
While I've given both of these two 2LPs an 8 for their respective sound, that rating should be taken in context. I think both Wattstax: The Living Word and The Living Word: Wattstax 2 sound pretty fantastic for 8-track recordings captured on the fly at a massive, one-time concert event like this — similar to Woodstock, which, for what it is, sounds pretty remarkable at times.
That said, you should appreciate Wattstax as an apples vs. oranges scenario when compared to other live recordings. For example, those expecting every live album to sound akin to the benchmark July 1971 Capricorn release of The Allman Brothers' At Fillmore East — which many still regard as one of the greatest live albums ever recorded — should recall that album was captured on then-state-of-the-art 16-channel multi-track tape and recorded at an indoor venue that enabled more controls and a different level of fidelity than what could be expected to be captured at a benefit concert held in a football stadium. So, don't be thrown by this numerical ranking, as these Wattstax LPs do sound really quite great, all things considered — save for the somewhat middling spoken word comedy sequences (more on that later).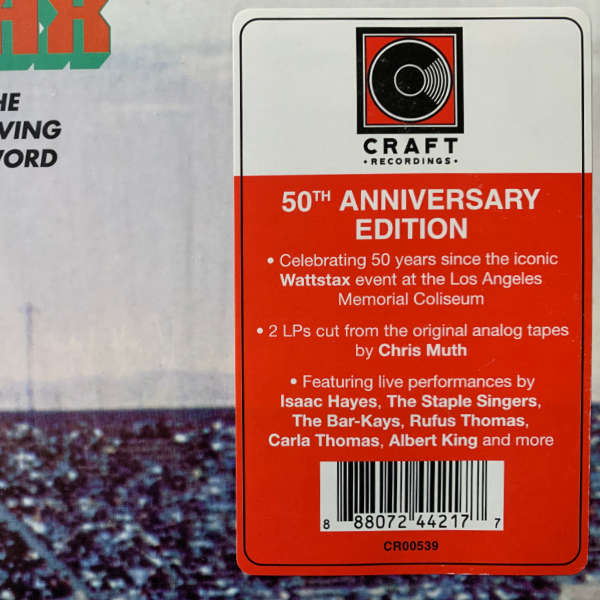 Reissue Vs. Original
Now, as for the rationale to why you may want to buy these reissues as opposed to tracking down original copies, that may come down to simple arithmetic. While the first volume of Wattstax: The Living Word is said to have sold more than 500,000 copies in its first weeks on the market, there are only 13 copies listed on Discogs in "near mint" condition. They are indeed reasonably priced, so you fans of OG copies best snap them up before the eBay flippers try to make a quick buck out of this 50th anniversary push! However, it is worth noting that none of these so-called "near mint" copies seem to be truly "near mint," as they have cut-out holes punched into them, seam splits, and other anomalies as listed in their descriptions.
My personal experience over the years has been that it is not easy finding clean copies of these albums out in the wilds of collecting, from record stores on down to flea markets and thrift shops. It took me years to score a pretty nice copy of the first volume of Wattstax but I have yet to find a clean copy of the second volume, so I'm actually very happy to have these reissues!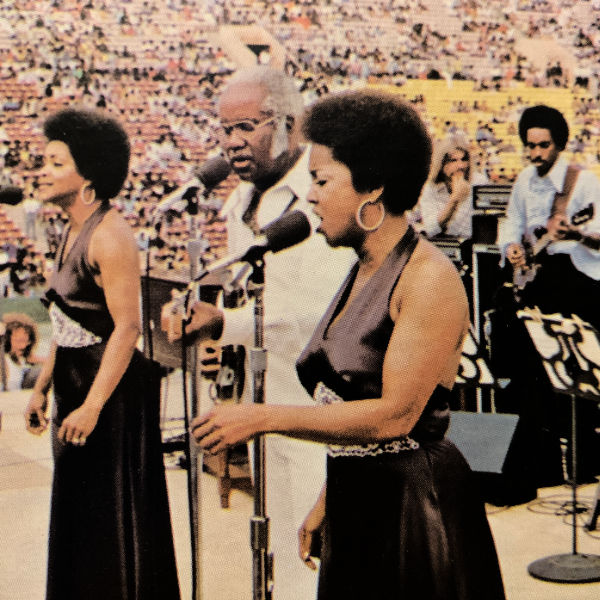 The Music
The performances on both Wattstax volumes are exemplary. The Staple Singers were riding high on their No. 1 crossover hit "I'll Take You There," which stayed on the charts for 15 weeks and was ranked as the 19th biggest American hit of 1972. Thus, The Staple Singers open the collection and take up most of Side A, yet share groove space with Eddie Floyd — who turns in a great version of his smash hit "Knock on Wood." That said, it's his take on "Lay Your Loving on Me" that won me over here.
Wattstax: The Living Word simultaneously stands as a document of soul music in transition, as the album swings from sweet '60s Memphis soul vibes to '70s funk flavors in a heartbeat, at times. This is most dramatically delivered by the arguable show-stealers that day, The Bar-Kays. In 1972, this group was a new assemblage created by two surviving members after most of the band had sadly been killed in the same plane crash that took the life of their boss, the legendary Otis Redding, in 1967. At the time of this recording, The Bar-Kays were riding high with a Top 10 R&B hit "Son of Shaft," which is extended into a nearly 10-minute epic in this concert. Next, they pay homage to Redding and their lost bandmates by whipping out a searing cover of Redding's iconic "I Can't Turn You Loose." If there was a roof on the L.A. Memorial Stadium that day, they would have torn it off.
Talk about burnin' down the house — Rufus Thomas caused the crowd to jump the fences and run onto the field to turn it into a massive, joyous dancefloor during the outstanding extended version of "Do the Funky Chicken." The Rance Allen Group delivers on "Lying on the Truth," and blues legend Albert King's set smokes too!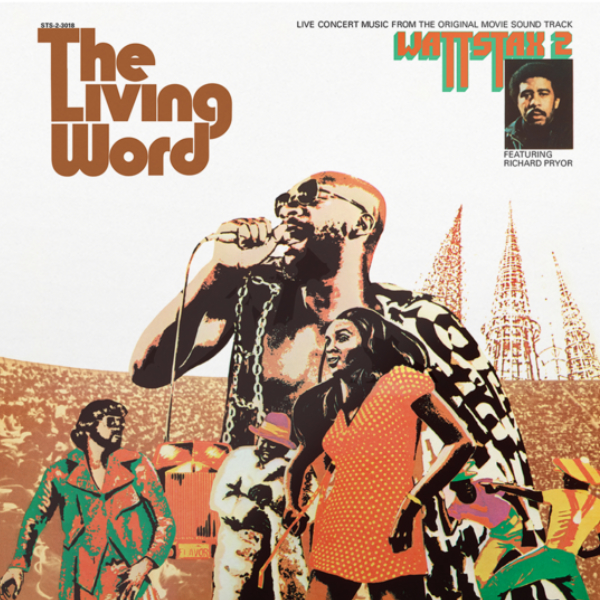 The Living Word: Wattstax 2 is admittedly a curiously sequenced album, particularly giving deserved light to many of the artists who opened the show as well as those who couldn't be there that day and were instead recorded at performances in smaller clubs during the 2 months following the main concert. Of those recordings, Kim Weston's concert-opening take on the NAACP-acknowledged Black National Anthem "Lift Every Voice and Sing" is a jaw-dropper. There are some powerful gospel moments from The Golden 13 on "Old Time Religion," and it is essential to hear Rev. Jesse Jackson's album-opening comments here as well. This is where we also get to hear The Dramatics doing their smash breakthrough hit "Whatcha See Is Whatcha Get," in addition to an extended set by the great David Porter.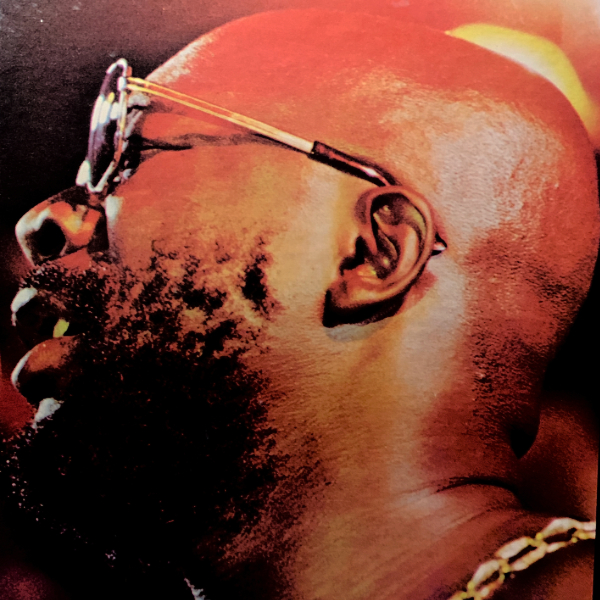 Perhaps my only surprise with Wattstax is that then-superstar Isaac Hayes wasn't given more tracks on either of these albums. Online research unearthed the following explanation: "As originally edited, the Wattstax film concluded with two performances by Isaac Hayes of hit songs from the motion picture Shaft: 'Theme From Shaft' and 'Soulsville.' Following Wattstax's premiere on February 4, 1973 at the Los Angeles Music Center, but before its wide release in the United States, Stax Films and Wolper Films were informed by Metro-Goldwyn-Mayer (MGM), producers and distributors of Shaft that Wattstax could not be released with Hayes' performance number. MGM's contracts for the music in Shaft prevented any use of those songs in any other film until 1978."
Timewise, Hayes does deliver the goods in a long 17-minute version of Bill Withers' mega-hit "Ain't No Sunshine," while his own "Rolling Down a Mountainside" closes the second volume. (To hear Hayes' full set, there are multiple avenues you can take, including the aforementioned 10LP box set.)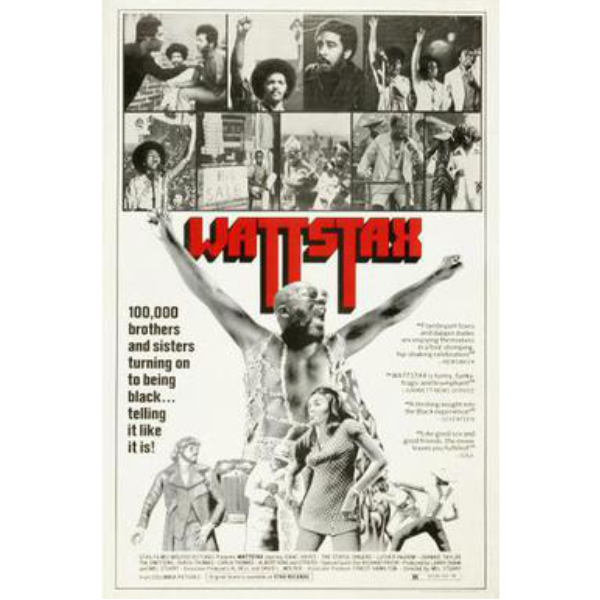 R Stands for Real
Personally, I would have preferred if comedian Richard Pryor had been given his own side, or one condensed section — a bonus EP would have been a neat solution, for example — but since this is a movie soundtrack, I suspect his poignant commentary peppering the album is meant to be reflective of the film experience. A sidenote for the uninitiated: Pryor's monologues (as found on The Living Word: Wattstax 2 original soundtrack) feature adult language. Partially because of this, the film received an R rating, which apparently Stax leveraged back in the day in the promotional tagline, "Rated 'R' Because It's Real."
According to Craft Recordings' own press release, the two companion soundtrack albums were "followed in 1973 by the Mel Stuart-directed concert film Wattstax, which features Richard Pryor as host and went on to be nominated for a Golden Globe award for Best Documentary in 1974. In 2020, the film was selected for preservation in the United States National Film Registry by the Library of Congress as being 'culturally, historically, or aesthetically significant.'" This all reminds me that I need to watch the entire film from start to finish fairly soon — and you should too! (Check out the trailer after the tracklisting section to get a taste of what to expect.)
Taken as a whole, Wattstax: The Living Word is an essential snapshot of a moment when America was justifiably being forced to look in the mirror and face up to its realities. We are still growing to this day, so the message of Wattstax is more relevant than ever. Listen.
(Mark Smotroff is an avid vinyl collector who has also worked in marketing communications for decades. He has reviewed music for AudiophileReview.com, among others, and you can see more of his impressive C.V. at LinkedIn.)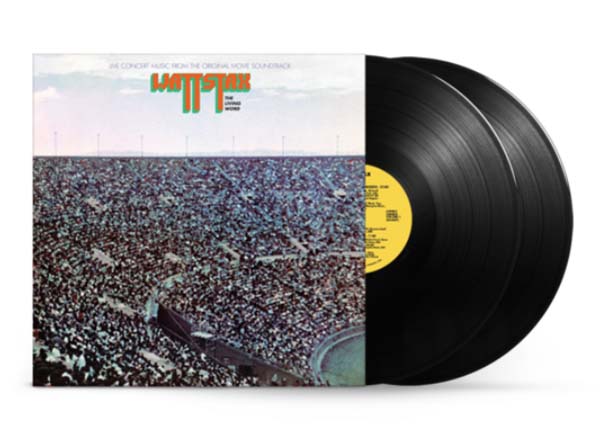 WATTSTAX: THE LIVING WORD
140g 2LP (Stax/Craft Recordings)
Side A
1. The Staple Singers – Oh La De Da
2. The Staple Singers – I Like The Things About Me
3 The Staple Singers – Respect Yourself
4. The Staple Singers – I'll Take You There
5. Eddie Floyd – Knock On Wood
6. Eddie Floyd – Lay Your Loving On Me Live
Side B
1. Carla Thomas – I Like What You're Doing (To Me)
2. Carla Thomas – Gee Whiz
3. Carla Thomas – I Have A God Who Loves
4. Rufus Thomas – The Breakdown
5. Rufus Thomas – Do The Funky Chicken
6. Rufus Thomas – Do The Funky Penguin
Side C
1. The Bar-Kays – Son Of Shaft / Feel It
2. The Bar-Kays – I Can't Turn You Loose
3. Albert King – Killing Floor
4. Albert King – I'll Play The Blues For You
5. Albert King – Angel Of Mercy
Side D
1. The Soul Children – I Don't Know What This World Is Coming To
2. The Soul Children – Hearsay
3. Isaac Hayes – Ain't No Sunshine

THE LIVING WORD: WATTSTAX 2
140g 2LP (Stax/Craft Recordings)
Side A
1. Jessie Jackson – Introduction
2. Kim Weston – Lift Every Voice And Sing
3. The Rance Allen Group – Lying On The Truth
4. Jimmy Jones – Someone Greater Than You And I
5. The Golden 13 – Old Time Religion
6. The Emotions – Peace Be Still
Side B
1. Richard Pryor – Saturday Night
2. Richard Pryor – Blue Note
3. Richard Pryor – Back Room
4. David Porter Show – Introduction
5. David Porter Show – Ain't That Loving You (For More Reasons Than One)
6. David Porter Show – Can't See You When I Want To
7. David Porter Show – Reach Out And Touch (Somebody's Hand)
8. David Porter Show – Finale
9. Richard Pryor – Arrest
10. Richard Pryor – Line Up
Side C
1. Johnnie Taylor Show – Introduction
2. Johnnie Taylor Show – Steal Away
3. Johnnie Taylor Show – Stop Doggin' Me
4. Johnnie Taylor Show – Jody's Got Your Girl And Gone
5. Little Milton – Walking The Back Streets And Crying
Side D
1. Richard Pryor – N------s
2. The Emotions – Group Introduction
3. The Emotions – So I Can Love You
4. The Emotions – Show Me How
5. Richard Pryor – N----es
6. The Dramatics – Whatcha See Is Whatcha Get
7. Richard Pryor – Handshake
8. Mel & Tim – I May Not Be What You Want
9. Richard Pryor – Wino Get A Job
10. Isaac Hayes – Rolling Down A Mountainside
<!- ------------------------------------>