Your Stereo Was Made For Ciaramella's Dances on Movable Ground
I'll tell you how I got into medieval era dance music similar to what's on this record and on
la Spagna
: back in 1969 when I worked in the downstairs record store division of Minuteman in Harvard Square, a salesman named Duane who worked upstairs selling audio gear I could not at the time afford, insisted I buy a record on Deutsche Grammophone's Archive Production label.
Those are the records in the academic-looking, solid yellow, artwork-free jackets. Early ones included scholarly histories and even large sized, already filled in index cards you're supposed to cut out of the jacket-sized inserts.
So I bought the enticingly titled IV. Research Period The High Renaissance Series G: Dance Music (ARC 73153/198653SAPM) on which Collegium Terpsichore performs dance music created by three composers: Michael Praetorius, Erasmus Widmann and Johann Hermann Schein.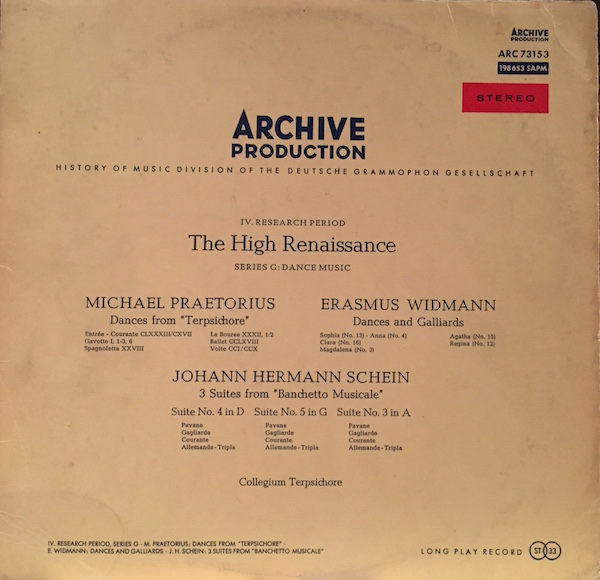 The High Renaissance was like the '60s, except that it lasted for thirty years instead of maybe ten. The Archive record Duane recommended is to the High Renaissance what the "Woodstock" soundtrack was to the '60s: I thought I was one of ten nerds playing that record over and over but I later came to find out it was and still is, an extremely popular "cult" record among both Renaissance musical aficionados and civilians like me.
As far as I know Speakers Corner has reissued but one record from the Archive Productions catalog and you can guess what it's called and even the catalog number. It's well done but the original sounds better.
Which brought me to the la Spagna BIS reissue and now to Ciaramella's superb sounding 45rpm disc Dances On Movable Grounds. "Grounds" refers to the repeated chord progressions and melodic ideas of Renaissance and Baroque-era dance music.
The Ciaramella Ensemble is a modestly sized group of seven musicians playing recorders, percussion, dulcian (a bassoon-like Rennaissance era woodwind), viola da gamba, guitar, theorbo (a large lute) and harpsichord—all of which are recreations of original instruments.
It is a small ensemble compared to the Atrium Musica De Madrid, for instance and so the arrangements are organized more intimately and appropriately, the recording sounds more closely miked, yet still wonderfully spacious and natural. Instruments are convincingly spread across the stage and to appreciate fully, don't play it too loudly.
The music covers "grounds" from Spain, Italy and England. Even if you didn't know that, you'd easily guess the origins of each of the songs. These mostly mirth-filled tunes sound something like what you'd expect to hear at an outdoor June wedding held in a garden and you might expect the group to break into Pachelbel's Canon in D, but thankfully they don't—not that there's anything wrong with Canon in D, which was written about two decades after the newest old piece played here (there's also a new composition "The Fisher and Fox" by group co-director Adam Knight Gilbert).Side two begins with Alessandro Piccinini's "Chiaccona in partite variate", which has a chord progression familiar to any rocker or folkie.
As much pleasure as the melodic compositions and spirited playing bring, an additional highlight is the superb, minimally miked recording (a single AKG C24 tubed "stereo" unit), produced to analog recording tape at USC's Alfred Newman Hall.
The short signal path wired with five foot long custom, stranded silver interconnects, features custom Elliot Midwood-designed vacuum tube preamplifiers and no mixer. The cut from the original tape at 45rpm by Bernie Grundman uses no compression or limiting. Grundman went the "extra mile", bypassing his board and cutting the lacquer directly from the tape playback deck's output.
So guess what? The sonics are astonishing and the Pallas pressing dead quiet. Quite simply, if you want to know how good your stereo can possibly sound, get this short, but delightful record (if the woodwinds "break up", blame your turntable, not the recording or pressing)! My only criticism is that the back jacket layout is a confusing mess and the photos are, in my opinion, at odds with the music.
<!- ------------------------------------>