Kenny Burrell's Classic Midnight Blue At 33 1/3 From Music Matters
On his posthumous album
The Sky Is Crying
, Stevie Ray Vaughan covers "Chitlins Con Carne", the opening tune on this seminal 1963 jazz/blues release. The annotation includes a quote from brother Jimmie who said that the album was "...a tribute to Stevie's heroes...." among whom was Burrell. Despite his undeserved reputation as a "note-slinger", SRV's version evokes much of the delicacy and nuance found on the original.
The cover art of Elvis Costello's terribly underrated Almost Blue album is probably as much of a tribute to this album as it was an art direction stunt.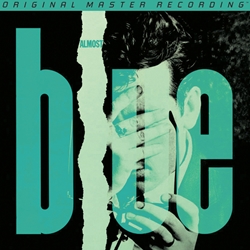 Listening to the opener it's easy to imagine it influenced Carlos Santana as well. Its similarity to "Black Magic Woman" might be a coincidence, but probably not. Jimi Hendrix was a fan. Hugh Romney, who was the "Voice of Woodstock" got his nickname from the song "Wavy Gravy" found on this album.
This Burrell album may not be as well-known as some of the other iconic Blue Notes, but it easily rates among the top classics—an enduring album that continues to find new generations of fans.
The opening tune just keeps getting covered but it's hardly the only attraction.
Burrell went piano -less here, organizing the grooves around Ray Barretto's conga, Stanley Turrentine's deeply soulful tenor, Major Holley Jr.'s bass and Bill English's drums.
The two middle tunes on side one "Mule" and "Soul Lament" say all that needs to be said about Burrell's introspective, thoughtful playing and his exquisite touch. You cannot play those two tunes enough times, so soulful and deep are they.
The side ends with the uptempo, classic Blue Note groove sounding title tune and good as it is, it's the two preceding it that manage to stop time every time.
I'll halt the play-by-play because either you know this record or that's sufficient to entice you to get a copy (or you're not at all interested, which would be too bad).
Analogue Productions reissued this as a double 45 "twofer" in a single jacket back in 2008 mastered by Kevin Gray and Steve Hoffman. Music Matters way upped the reissue business's packaging standard to include meticulously reproduced cover art re-created from the original negative photographs and gatefold sleeves containing black and white Francis Wolff session photos.
The double 45 sounded really good, though the cover art reproduction left a great deal to be desired: the color was way off and the box was absent around Burrell's photo on the cover.
This reissue was again cut by Kevin Gray from the original master tapes but this time at 33 1/3 at his recently renovated Cohearent Mastering. Gray has upgraded all of his playback electronics, completely rewired his system with Audioquest WEL Signature cable and made other changes to his system, just as you might in yours—if you had around $70,000 to invest.
I was visiting a reviewer for another magazine and we compared this new version, produced by Music Matters to celebrate Blue Note's 75th anniversary, with the previous double 45 and within a few cracks of Barretto's conga, it was obvious that this reissue "smoked" the double 45 in every way, but particularly in terms of transparency and three-dimensionality. The differences were not at all subtle.
With no piano to record, Rudy Van Gelder was able to craft a truly stunning sounding recording, the transparency and detail of which will throw you back in your seat and keep you there—and you needn't get up four times to enjoy it all. This is a Blue Note that need not make any apologies for having been recorded more than 50 years ago.
100% absolutely and highly recommended. Music Matters charges $34.95 for these and when you get your hands on the exquisitely produced jacket and then hear this RTI pressed LP you will know it was money well spent. It's a record you'll return to repeatedly, I'm sure.
Reissue producers Ron Rambach and Joe Harley have taken the art of Blue Note Record reissues to new heights of visual and sonic brilliance.

<!- ------------------------------------>