Happy 100 Frank Sinatra! "Ultimate Sinatra" And Today A Free Vintage UBER Ride On Frank
Of course the only "ultimate" Sinatra collection for fans is having a huge collection of his albums on Columbia, Capitol and Reprise—the label he started—plus some of the original 78s from the late '30's up until the era of the long playing record.
But not everyone is that as into Sinatra, so for those who don't collect but want a well-curated compilation, this one, containing twenty four tracks put together with help from Frank, Jr., Nancy and Tina Sinatra will do nicely and it might get some buyers to start collecting Frank vinyl.
This set smartly includes early Sinatra originally on 78, including "All of Nothing at All", which is the name of Alex Gibney's four hour documentary originally shown on HBO back in April. No Sinatra fan should miss it.
The tune, with Harry James and His Orchestra was also Sinatra's first big hit in 1943, though it was recorded in 1939 and only after Columbia reissued it five years later during a musicians' strike, did it become a hit.
The predictables are here: "I'll Never Smile Again" with Tommy Dorsey and his Orchestra, "Love and Marriage", "Witchcraft", "Love and Marriage", "All the Way", "Come Fly With Me", "Strangers in the Night" (feh!), "My Way", "Theme From New York, New York" and "It Was a Very Good Year" (plus others).
Record one of the two LP set is all mono and of course these are digitally mastered from the master tapes (or from 78), which makes sense on a compilation like this.
The second LP brings things into what most of us consider the modern recording era. Stereo begins here with "One For My Baby (And One More For The Road)"and here, if you have the original LPs, you'll hear that while these are very good transfers, space, depth, instrumental textures and especially transparency get lost. I compared this "One For My Baby...." with the original on Frank Sinatra sings for only the lonely ( Capitol SW 1053) and guess what? Digital still sucks. On the original the lonely piano is well in the distance and Frank's in the room. The reissue sounds like a CD and that's all there is to it—and I have no doubt the files used were CD resolution.
However, for what it is, this is a very nicely done production and either a great Frank intro, or the one Frank you'll own so you have some Frank. In my opinion no record collection is complete without at least one Sinatra record. However, it does suffer the fate of many such compilations, which is that though the originals all have unique sonics—even within a given record label—everything here sounds "cut from the same cloth. Another compilation that suffers the same sonic fate is an otherwise excellent ABKCO Sam Cooke double LP set mastered from DSD files. Everything sounds the same.
This was no cheaply done for vinyl production. The jacket is nicely done (though not "tip on") with the title raised and shiny and the inner gatefold photo alone almost makes this worth buying. Lacquers were cut by "anonymous" but it was well done and very well pressed somewhere in Europe. (There's also a far more complete 4CD set for old people).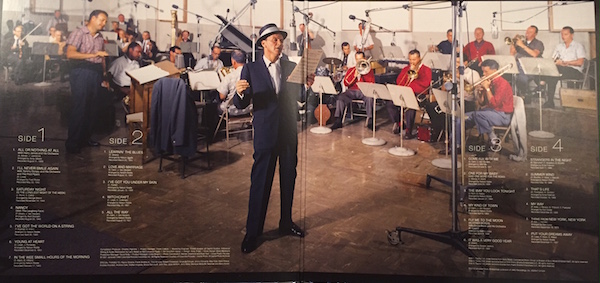 Meanwhile, today only (12-12-15—Frank's birthday), the car service Uber in conjunction with UMe is offering this:
To celebrate Frank's birthday, "...a fleet of vintage vehicles will be available for request through the Uber app in Manhattan, transporting passengers in a classic style synonymous with Sinatra. Users who enter the promo code FRANKS FLEET in their Uber app will unlock the "SINATRA" option to request a free ride in one of these vintage vehicles starting at 12pm. When connected with a driver, passengers will be transported to their destinations in timeless Sinatra style, complete with an inspiring listening experience of Ol' Blue Eyes classics. The promotion will be available from 12pm to 8pm EST in Manhattan below 59th Street. Participating cars are limited, and demand will be high."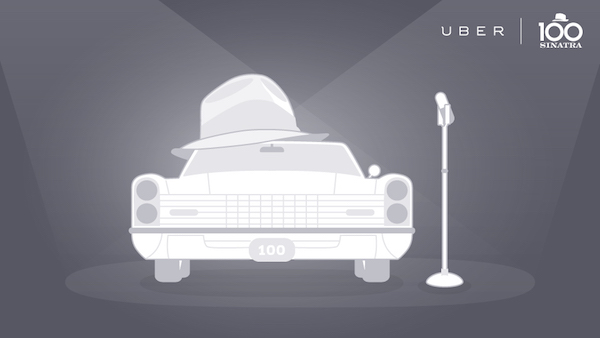 <!- ------------------------------------>