Does Chasing the Dragon's "España" "Jump the Shark"?
España
is
Chasing the Dragon's
latest and most ambitious Direct-to-Disc record. It's difficult enough to record Direct-to-Disc a string ensemble, or a big band or a big band with vocalist, all of which the label has done successfully managed.
However, recording a full symphony orchestra produces a series of additional challenges, especially when you add excerpts from Bizet's "Carmen" that feature a vocalist. Yet Mike and Francoise Valentine who run Chasing the Dragon didn't let the potential problems stop them from trying. You can read here about the recording session—a single day-long event that included rehearsals and recordings that AnalogPlanet editor Michael Fremer attended.
The first problem one runs into recording a "warhorse" like Chabrier's "España" coupled with Rimsky-Korsakov's "Capriccio Espagnol" is that there are already many excellent available versions, of course including the legendary Decca release with Argenta conducting the London Symphony Orchestra (Decca SXL2020/London CS6006) recorded in 1956/7 in stereo at Kingsway Hall (itself a legendary venue). That record, known for both the performance and sonics was reissued back in the 1990s by Speakers Corner and is still in print.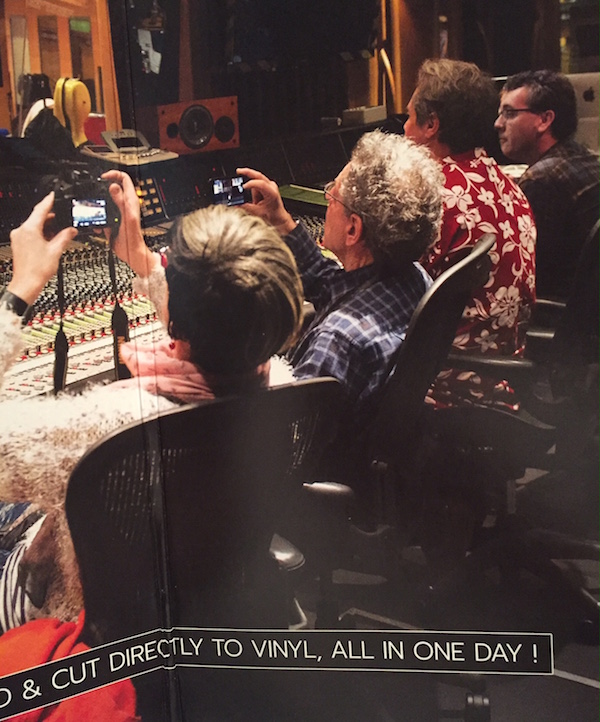 Image of inside gatefold jacked
The producers chose to include excepts from Bizet's "Carmen" and there again there are many great performances and recordings including from 1964 the RCA Soria 3 LP box set (LDS-6164) with Von Karajan conducting the Vienna Philharmonic featuring Leontyne Price.
Leaving aside the orchestra and vocalist choices, recording an orchestra D2D poses other problems of both cost and logistics, yet despite all of this, the Valentines chose to go right ahead and do this (self-funded), thank you very much!
They selected The National Symphony Orchestra (NSO) and for the vocalist Rosie Middleton. The NSO, founded in the 1940s, is today the most recorded orchestra at Abbey Road studios and regularly tours the U.K. The orchestra's recorded works are for the most part film scores. It is a "freelance" orchestra, with members chosen for particular projects based upon the musical requirements. You can read here about the young Mezzo-Soprano Rosie Middleton. Conductor Debbie Wiseman (MBE) is well-known to British audiences as both a conductor and film composer.
So yes, this is a quality orchestra led by an experienced conductor and Ms. Middleton is also an established vocalist but don't expect Price, the LSO or Ataulfo Argenta (and I'm not even sure those folks could have performed at full speed knowing they were recording D2D) but do expect an exceptional recording and a "molto" enjoyable listening experience.
Before getting to the performances, also consider that the venue is AIR Studios, not a concert hall. That means the sonic perspective will be somewhat altered from that of a hall recording. AIR is a de-sanctified church featuring a large, high-ceilinged main room that's been treated but can still sound "cavernous". The orchestra is somewhat crammed into the space in an extreme semi-circle and while this can work very well for film score recording, the sonic perspective here is somewhat unusual.
To the producers' credit, in order to produce a coherent soundstage and excellent imaging they went with a "Decca tree" microphone configuration (visible in the photos and video) augmented with spot mics around the room. For film scoring it's more likely that multi-miking would be used. As reported in the original story, there was also a "dummy head" used for a high resolution digital and CD resolution binaural recording.
Music and Sound
The program opens with Ms. Middleton's "L'amour" from Carmen—a familiar melody that she must sing minus the backing chorus. She does a fine job, bringing more lust and zest to the performance than it seemed she had brought watching her sing it live. That's the difference between studio and stage where you have to "sell" it to the audience. She just had to sell it to the microphone! She did.
Don't forget this is D2D so when she'd finished, she stepped away from the microphone and in real time Ms. Wiseman readied the orchestra and signaled the downbeat for "España". This produces serious pressure on all involved, especially since the entire program had to be repeated three times as I remember it. The main melody was turned into the pop hit song "Hot Diggity, Dog Diggity" sung by Perry Como, so some of you "oldsters"will be well familiar with it even if you don't know "España".
The performance here, not unexpectedly, doesn't quite catch fire the way the Argenta/LSO's does. It reminded me of a careening hot air balloon repeatedly bouncing off the ground instead of "sticking" the landing. The somewhat sluggish tempo added to that sensation as did the sonic perspective, which was more distant than the photo or the miking would suggest, and that's because of the room's "wet" reverb qualities.
I stood in that room during a rehearsal close to the celli and double basses and what the microphones "heard" is what I heard live: "big" bass drums, warm overall sound. The room is "alive". The only way to tame it would be to stick a microphone on everything, but that would defeat the "purist" purpose and certainly mess with soundstage coherence among other things.
The orchestra more successfully performs the billowy "Capriccio Espagnol", which opens with a dramatic flourish that the orchestra also handles well, though somewhat more tentatively than you'll hear on recordings that can be edited and spliced.
Again, the perspective is mostly deep and distant with a great deal of bass warmth as heard in the room but there's a lovely bit of fiddling (sorry using that term) caught by I assume spot mikes on the violins to the conductor's left.
Overall Rimsky-Korsakov's orchestral suite based on Spanish folk melodies is pleasingly, though somewhat tentatively performed and richly recorded, though with a somewhat distant perspective.
If your system already has a rich, bass heavy sonic perspective this recording might be too much for it. If yours lives in the tonal "neutral zone" you'll find pleasing the recording's overall warmth, though the tympani overwhelm at times on the recording as in the room.
Yes the overall sound is somewhat distant and overly rich on bottom and the brass and woodwinds get at times smothered but the record is a more or less honest document of the sound I heard in the room.
On the other hand, the Cinemascopic "dummy head" Binaural CD resolution WAV file I was sent (that's for sale on the company's website along with hi-rez downloads) loses much of the D2D's liquidity, transparency and enormous spatiality (especially in terms of stage depth). It is not nearly as much "fun" to listen to, but its overall tonal balance and detail resolution make it a more successful overall document of what went on that day at AIR Studios. That said, the D2D record's transparency, three-dimensionality and dynamic "slam" will wow you in ways the CD resolution file won't.
While this is the Valentines' most ambitious project yet, it's not the couple's finest (I'd reserve that for the Clare Teal Ella record) but neither is it a failure—not even a "glorious failure". If you cut this one a bit of slack I think you'll enjoy it because it does take you into AIR studios that day in ways no digital recording can and the music is well-performed and "user friendly" especially if classical music isn't your "thing". And keep in mind it was rehearsed, mixed and cut to lacquer all in a single day!
Chasing the Dragon now has available three Binaural LP's:
Espana – A Tribute to Spain Binaural version
Mozart by Candlelight – A Live Binaural recording at St Martin's in the Fields
Binaural Baroque – The world's first Direct Cut Binaural recording.
<!- ------------------------------------>