Beethoven Complete Works For Cello and Piano ( New: Source Clarification)
How the original single LP of cellist Fournier and pianist Gulda performing Beethoven's Cello Sonata in D (Deutsche Gramophon SLPM 138 083) ended up in my collection isn't clear to me but I can narrow it down to either my college Beethoven symphony music appreciation class professor, or to Duane, the classical music expert at Minuteman Records in Harvard Square.
Just received: email from Rainer Maillard at Emile Berliner Studios, where this set was cut. Maillard says DGG hasn't a "clear strategy" about how best to use their analog archives for cutting. Sometimes it's "pure analog, sometimes they send 192/24 files". He says he's trying hard to convince DGG to let him cut from tape whenever possible. In this case he wrote, ".... (Gulda/Fournier) (is) a digital cut (and) is not the worse solution ever. We had to do a lot of restoration work which could not be realized in the analogue domain with this quality…."
So, here the cut was, of necessity, from a digital source. And in this case the reissue sounds better than the original.
Rainer added: "Starting about a year ago in addition to the catalog number, we sign the lacquer with "PURE ANALOGUE if the cut is 100% analog (e.g. see all Speakers Corner LPs), we sign DIRECT-TO-DISC if it is 100% direct to disc and analog. If you see nothing, it is digital (from our studio it's about 80% digital, worldwide it's about 99.9%).
I remember being told that these two guys made for an unlikely pair and that I should pay attention to the disparate musical sensibilities of the French cellist and the Austrian pianist.
The cellist, I was told, was kind of wild and would make the instrument sometimes bark and at other times screech, while the Viennese pianist would compensate with intense precision for the Frenchman's flamboyance.
Whoever told this to me was probably trying to entice a rocker into chamber music but I didn't find Fournier's playing "wild" (maybe I was expecting The Flock's Jerry Goodman?). Nonetheless I did note the cello's lower notes croaking and the upper ones sometimes if not screeching, then pushing towards edgy. The new liner notes consider the two distinctive playing styles.
More importantly, the music's elegance moved me and made it easy for me to switch between the Cello Sonata in D and Simon and Garfunkel's Bridge Over Troubled Water album.
Admittedly I haven't played this record in years but when a Ume publicist sent me this box set of Beethoven's Complete works for Cello and Piano I pulled it out and gave it a spin. It sounded much better than I last remember it since my system's much better. I particularly noted how easy it now was to hear acoustics of the relatively small Musikverein, Brahms -Saal concert space—a 600 seater located in Vienna.
The new 3 LP box includes Beethoven's complete works for cello and piano that includes the original LP's side two program of variations on Handel's oratorio "Judas Maccabee" and Mozart's "The Magic Flute".
Of course, I began with the familiar Sonata #1 and within a few bars it became obvious that this reissue cut ½ speed at the Emile Berliner Studios in Berlin was sonically way better than the original. Instrumental focus was better, everything was better and the pressing probablyh at Optimal was dead silent too.
The presentation includes a high quality glossy laminated box and as with this year's excellent and highly recommended reissue of Beethoven's 9 symphonies with Bernstein conducting the Vienna Philharmonic, this set includes facsimiles of the DGG production paperwork. It was exciting (for a record geek) to see the sheets produced for the original LP I've had for so many years.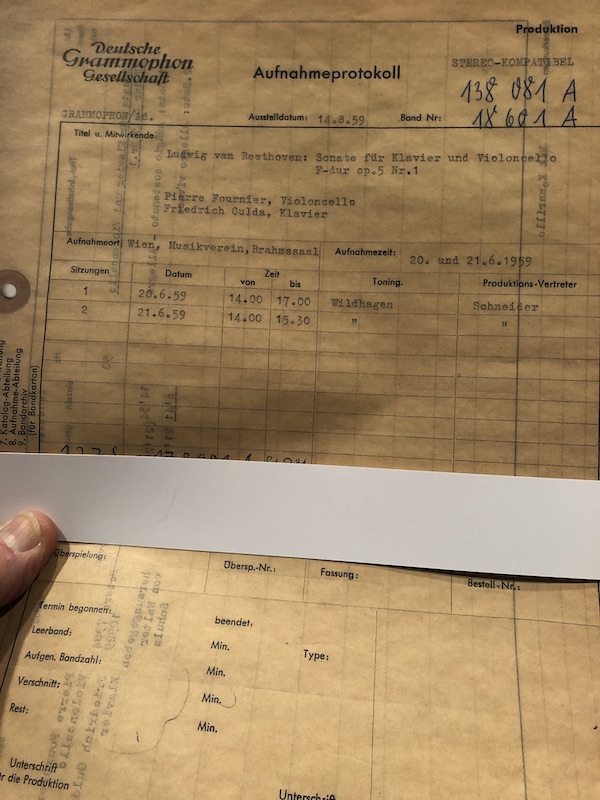 About the only think missing from this box set were the tulips around the label. Otherwise, if you want more high quality all-analog produced classical music reissues you'd do well to support this effort even if you don't think you like chamber music. You might be surprised! Now I'll play Bridge Over Troubled Water to complete the cycle!

<!- ------------------------------------>