Art Blakey And The Jazz Messengers/First Flight To Tokyo: The Lost 1961 Recordings
The Blakey was cut from 96/24 files according to Chris Bellman at BG Mastering for the surmised reason: the songs were on multiple tapes and the most expeditious way to produce cutting masters was to first digitize. The annotation wasn't clear but I don't think anyone was "trying to pull a fast one".
_MF). It was Beatlemania when Art Blakey and the Jazz Messengers landed at Haneda Airport, New Year's Day, 1961. Of course, The Beatles hadn't yet happened, but neither had Blakey and his group ever been greeted in America with the rousing enthusiasm they encountered both upon landing and during the series of shows in which they performed in Japan that month.
As Blue Note President Don Was writes in his opening annotation, "Thus it was an irony of tragic proportions that this maestro of America's greatest indigenous art form was relegated to performing in little jazz bars, his music shrouded in toxic smoke and loud drunken conversations. But that changed abruptly in January of 1961…(when) the throngs of fans... greeted the plane on the runway and showered the musicians with flowers…"
Blakey later told Down Beat magazine, Was recounted, "It was like a florist's shop. They wanted me to make a speech but I couldn't. I just cried."
In an interview upon returning home to America Blakey said "I've been to many countries to perform. But that was the first time that all the members of the band cried on the plane.
This tour's history so well recounted in the 12x12 glossy booklet, didn't seem to have sonic documentation, though footage was shot for a documentary but because of rights issues never released. Later, the production company went bankrupt, and the film and sound recordings were lost.
You'll have to read the booklet to get the entire story (and you should!), but in 2017 found among the belongings of Fumiko Sakao, a prominent recently deceased female film trailer editor were "five 6mm (1/4") tapes labeled "ART BRAKEY and his JAZZ MESSENGERS, Hibiya Public Hall".
Before going any further, be assured that unlike some other "lost tapes" releases that were either poorly recorded or that of necessity, featured weird, unsatisfying mixes, this one was well-recorded, intimately mic'd, and mixed in mono on a Nagra. Expect excellent clarity, timbral, dynamic and three-dimensional mono satisfaction and somewhat less than perfect cymbal sound.
Because there's no record of the concert set list and there were multiple tapes, the archivist who discovered them determined they were recorded January 14th when there was both an afternoon matinee and an evening show.
Producer Zev Feldman in his notes writes, "There were a number of incomplete tunes among the recordings and my co-producer David Weiss and I decided to leave those off of this release." Because the actual order was unknown, the two chose to sequence the release "…in a way that to (them) best enhanced the listening experience."
No matter how they chose to sequence it the listening experience is spectacular. This was peak Jazz Messengers and a group with Wayne Shorter, Lee Morgan, Bobby Timmons and Jymie Merritt having played together for almost a full year. The group had a few months earlier recorded the epic A Night In Tunisia (ST-84049).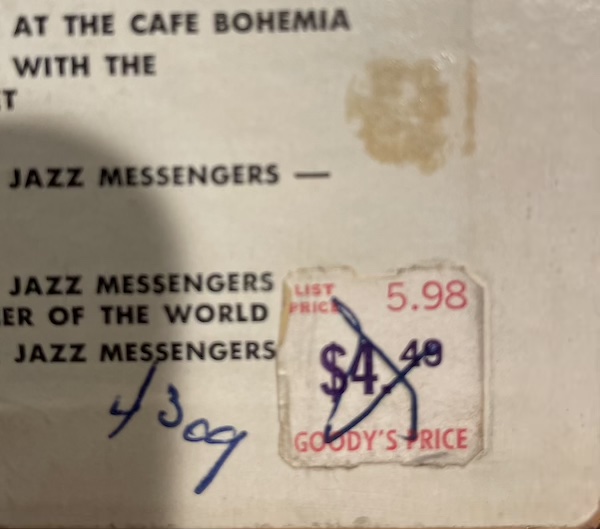 This concert was the capper of a two-week tour of major Japanese cities. Blakey chose a program of material familiar to Japanese fans including Bobby Timmon's "Moanin", and "Dat Dere", Charlie Parker's "Now's the Time" (two renditions), Benny Golson's "Blues March", and Monk's "'Round About Midnight".
The group had a chance to "rock out" and have fun throughout, leaning on the familiar to take it further into space.
Blakey's solo on the second "Now's the Time", while shorter by about half than on the first one is still a slammin' monster that you don't want to end. The "Night in Tunisia" closer features dazzling Morgan trumpet runs, squiggling Shorter excursions and dramatic Timmons keyboard stabs. Those familiar with the album version will find this take familiar territory, yet in some ways more playful—especially Shorter's final, powerful, twisting fog horn like "blat"-filled solo.
This double LP set is less like a Blue Note one-off detour and more like a homecoming or a reunion. Opening notes by Blakey's son Takashi Buhaina Blakey following Was's introduction puts the event into geo-political and cultural focus. Zev Feldman follows with production notes, Bob Blumenthal frames the group and performances, Wayne Shorter in an interview with Mr. Was talks about his entry into The Jazz Messengers and his recollections of the tour: "And they lined up at the end, we were signing 2,000 autographs and they were taking pictures. We didn't get out of there until one, maybe two in the morning." But mostly Shorter talked about what it was like working with Art Blakey, how this particular group came to be and Blakey's generosity and good-natured spirit. His final anecdote will make you laugh.
Journalist Reiko Yukawa describes in personal terms how she got into jazz following World War II and later welcoming the Jazz Messengers to Japan at the airport. There's a photo. She also interviewed Blakey and Bobby Timmons. Later she got hooked on The Beatles and moved into pop world coverage. There's a wonderful photo of Bobby Timmons autographed "To Reiko Always stay as as sweet as you are now."
That's followed by the story of the tape discovery and a photo of one of the tape boxes, which appears to be for Scotch 111. And finally there are Blakey remembrances by musicians: Japanese jazz artist Sadao Watanabe, Lou Donaldson, Louis Hayes, Billy Hart, Donald Harrison (his is titled "He Gave and Asked Nothing in Return", which pretty much summed up what the others wrote), and drummer Cindy Blackman Santana who closes her contribution and the 15 page book with "I hope people will enjoy this treasure from Art Blakey and the Jazz Messengers! It's great to hear more from this incredible band. The recording is very clear. The nuances, especially in Art's ride cymbal are fantastic…Each of these musicians is stellar. And Art Blakey? He's the king. He's everybody's daddy. I can't put it any better than that. He's everybody's daddy."
The sense of family, of a Blue Note family, of a jazz musician family comes through so clearly in this package. It might change forever your perspective on jazz. It surely will give you a deeper appreciation of Art Blakey. Crank this one up. The energy level is incredible the solos inspired, the ensemble work well-meshed. And Bernie cut from tape! Other than that it says "stereo" on the jacket, this is pretty much a perfect set.

<!- ------------------------------------>