Poll Winners Win Again: Barney Kessel, Shelly Manne, and Ray Brown Score on Craft Recordings' QRP-Pressed, Grundman-Mastered 180g Vinyl Reissue
There's a striking new reissue from Craft Recordings I'm sure many jazz fans and collectors are as excited about as I am: 1957's The Poll Winners. This LP features three of the greatest jazz musicians of their time (as well as the immediate future) — Barney Kessel on guitar backed by Shelly Manne on drums and Ray Brown on bass. From the liner notes, we learn all three of these fine musicians won the three major American jazz popularity polls in 1956 in Down Beat, Metronome, and Playboy magazines.
Understand the album title better now? Long before the Internet was even a glimmer of an idea, reading print publications — a.k.a., physical newspapers and magazines — was how people learned about new music they might have heard on the radio or in a record store. In the 1950s, there were some significant publications tracking the world of jazz that had a lot of influence on the music world. (Times have changed.)
At any rate, getting these artists together for a recording session was an obvious stroke of opportunistic genius. So popular was this trio, in fact, that they went on to record four more albums in this series. First, some background. The central focus here is, of course, Barney Kessel, one of the all-time great guitarists in jazz history, a fantastic player who crossed many cultural/societal and musical boundaries in his career. He recorded with everyone from Chico Marx and Charlie Parker to Lester Young, Oscar Peterson, and Art Tatum. But Kessel's career did not end there, and by the early 1960s, he was a much in-demand session player, one of the first-call musicians in that now-beloved aggregation known as The Wrecking Crew. You can hear his work on many pop and rock hits by the likes of Sonny & Cher, The Monkees, The Beach Boys, The Coasters, and Sam Cooke.
Shelly Manne was also one of the go-to session and live players in his day, a regular on the West Coast Jazz scene and a prominent figure at Contemporary Records. They issued many albums with him backing others as well as by his own band (Shelly Manne & His Men). You can hear Shelly on recordings with Stan Getz, Hampton Hawes, Benny Carter, and even on the first Ornette Coleman album. He also worked on many film soundtracks.
Bassist Ray Brown is often remembered for his work with Oscar Peterson and Ella Fitzgerald, but if you poke around in your collection, you'll probably see his name on many other sessions and liners. He's played with everyone from Dizzy Gillespie to Steely Dan. (He's on their second album, July 1973's Countdown to Ecstasy.) And Brown also put out many albums as a bandleader himself.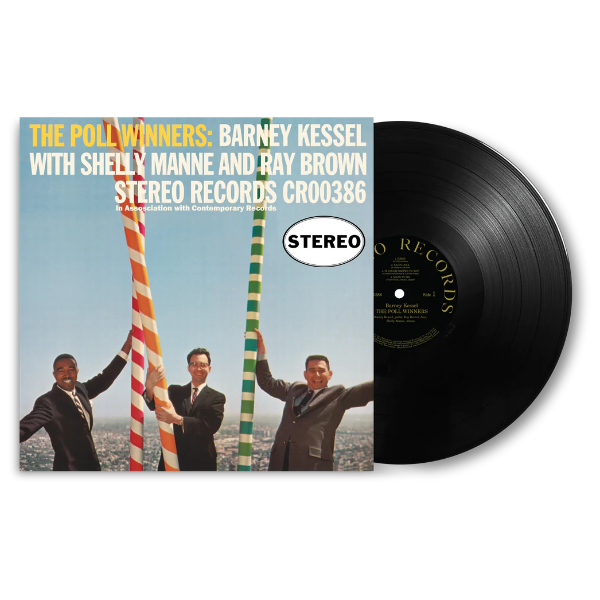 So now you have some understanding of who these players are, why they were hot in 1957, and — hopefully, with this perspective — why they're still popular enough today to warrant a premium reissue like this new QRP pressing from Craft Recordings.
Before I get to how this sparking new reissue of The Poll Winners sounds compared to my original pressing, I must point out that simply finding a fairly clean original stereo (or mono) copy of this particular album is not an easy task. For example, at the time of this writing, there were six mono and five stereo copies (at best, in VG+ condition) on Discogs selling for upwards of $50. It took me many years — and several upgrades along the way — to find a fairly decent copy, and even that has its moments of click, ticks, and pops. But I don't really mind, as the recording is excellent and timeless.
This is probably a good time to mention a bit about Contemporary Records, a label many newer collectors seem to overlook in favoring releases on Blue Note, Impulse, and Prestige. That said, many audiophiles and jazz collectors know Lester Koenig's Contemporary Records is home to some of the best-sounding recordings of the times, equal to — if not exceeding — the best platters from Blue Note and Prestige. One of the label's "secret sauce" ingredients setting them apart was engineer Roy DuNann, who brought a great sense of musicality and fidelity to his work (and I can't always say this about every Prestige and Blue Note title, as great as the music may be). But pretty much every album on this label I've heard sounds great. (Just sayin'. . .)
Another interesting detail about The Poll Winners is it was originally released at the dawn of stereo recordings. Initially issued in 1957 in mono on the Contemporary Records branded label (which was bright yellow), it was issued in stereo in 1958 on a new — and short-lived — subsidiary label non-ironically titled "Stereo Records." Eventually, the Stereo Records label went away and just became a black label Contemporary Records variation, but for that year or so, it was a thing. They issued quite a number of well-recorded albums, mostly in the jazz realm. However, they did issue some classical albums, and I see on Discogs they even issued some 45rpm singles. Talk about being ahead of their time, issuing stereo singles. . .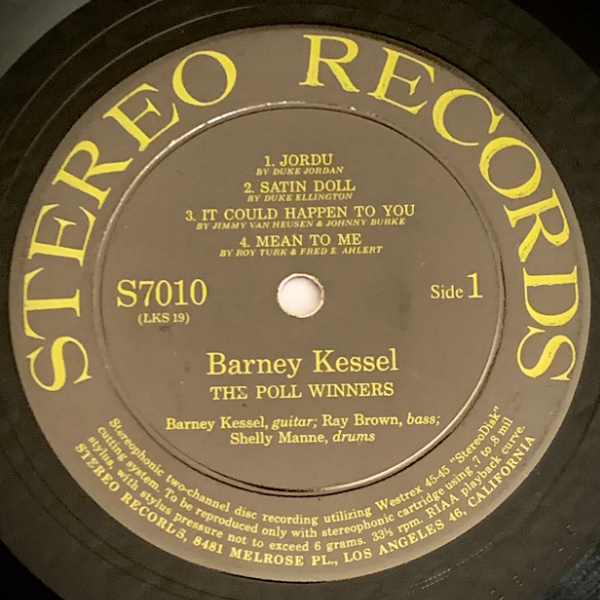 But now, back to the reviewing. I'm sure by now, you're wondering how The Poll Winners album sounds and compares to my original. In short, it is pretty fantastic. The Poll Winners is generally a great-sounding recording to begin with, and some of you might even want to consider using this as a demo disc with its simple but sweet stereo soundstage. This recording is a classic West Coast jazz trio setting, with these sensitive players performing swinging versions of now-classics like "Satin Doll," "On Green Dolphin Street," and "Mean to Me."
However, some of that dynamic might have been pulled back on the low end a bit, so as to not cause mistracking on average turntables of the period. Thus, the new edition is much bigger-sounding in many ways, notably on the low end. Ray Brown's bass here is richer and rounder than on my original. The high end on my original is a wee bit better, but that isn't surprising if you understand the nature of magnetic tape — it deteriorates over time, losing bits of information with every pass of the tape. I'm no doubt splitting hairs as the new edition sounds excellent, all things considered. And I think that, at the end of the day, I'd rather have richer, rounder lows and mids than worry about a slightly brighter high end.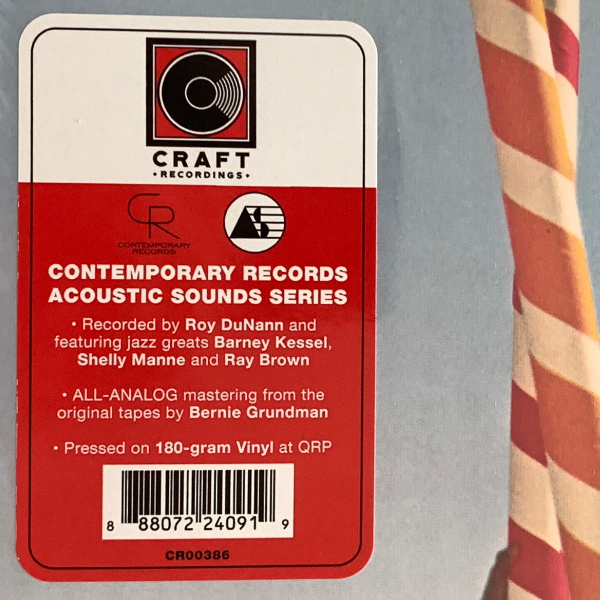 Kudos to Bernie Grundman for his fine finesse on this all-analog mastering from the master tapes. The 180g black vinyl Contemporary Records Acoustic Sounds Series pressing from QRP is well-centered, dead-quiet, and, ultimately, musically invisible. All these factors are easily checked off my list.
In fact, I was so pleased with the reissue that I was almost prepared to purge my original. But then I noticed one little physical incongruity that makes the completist collector in me want to hold onto my old copy — namely, the cover and the label designs are a smidge different!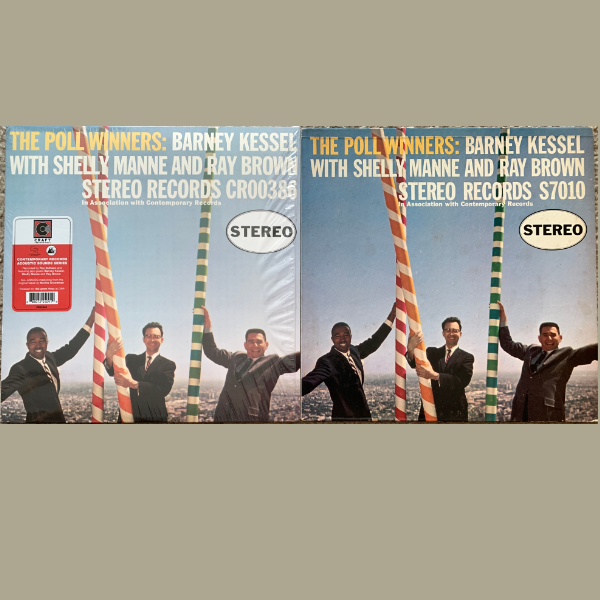 The album designs are pretty much identical, but if you look closely, you'll see they had to invoke some production alchemy on the title text over in order to make room for the longer album ID number there. It's really quite clever what they did, as it is easy to overlook. The label design is period-accurate and similar to my original "deep groove" version, but it too shows some variance. If you care about that sort of "OG" minutiae [I do! —MM], do take note.
I'm more than happy to keep my original as a reference copy, but will likely play the new Craft Recordings issue from here out for regular listening. And that's the best compliment I can offer: I've enjoyed listening to this fine reissue of The Poll Winners featuring Barney Kessel, Shelly Manne, and Ray Brown. I suspect you will too.

<!- ------------------------------------>