The Beach Boys' Very Best 180g 6LP Box Set: A Super-Sunny 21st Century Soundtrack for Endless Summers
Reviewing The Very Best of The Beach Boys: The Sounds of Summer, the massive new 60th Anniversary 6LP Beach Boys box set retrospective from UMe/Capitol/Brother Records, has been a daunting yet fun challenge. For perspective, the official press release establishes a baseline appeal for this expanded incarnation of The Very Best of The Beach Boys: The Sounds of Summer, which we're quoting here below in italics for added perspective:
Originally released in 2003, the album soared to No. 16 in the US and stayed on the chart for 104 weeks. Now certified 4x platinum for sales of nearly four and a half million albums, the new edition has been updated in both number of songs and sonics as it expands the original 30-track best of with 50 more of the band's most beloved songs for a total of 80 tracks that span their earliest hits to deeper fan-favorite cuts. Boasting 26 new mixes, it includes two first-time stereo mixes, plus 24 new-and-improved stereo mixes, which in some cases feature the latest in digital stereo extraction technology, allowing for the team to separate the original mono backing tracks for the first time.
Now, I am not a hater of remixes, as they have a place and purpose. No doubt, The Beach Boys' original analog mono mixes as masterminded by Brian Wilson will always be the definitive versions of those classic songs as heard on 45rpm singles and 33 1/3rpm albums from the early- to mid-1960s.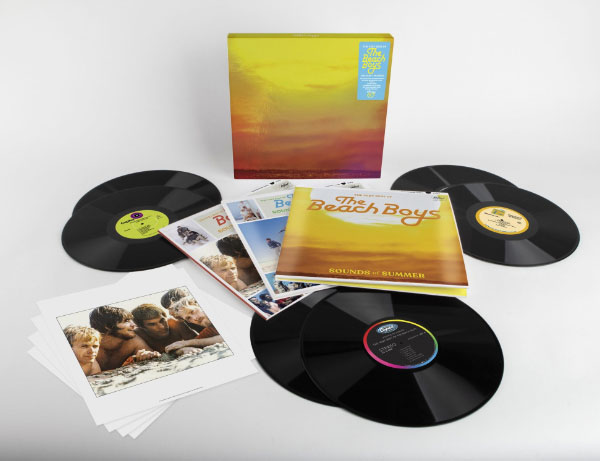 These new digital, discrete true stereo remixes are a fascinating way to get deeper inside this amazing, influential music. They are a huge improvement over poor-sounding fake stereo issues from the '60s. Freed from the constraints of mixing for primitive portables and car radios of the times, these new versions let us to hear more of what Brian and the band actually heard in the studio back in the day. They provide insight into the choices made to create those mono masterpieces, akin to how master painters layer colors on a canvas to achieve distinctive and unique textures and tones.
My appreciation for Beach Boys remixes started in 1996 when I wrote a cover feature about the first stereo remix of their landmark May 1966 album Pet Sounds for the industry publication EQ Magazine. I still have a soft spot in my heart for the later surround sound mix (and have hopes that it will be remixed anew for Blu-ray and into Atmos — but that is another story entirely).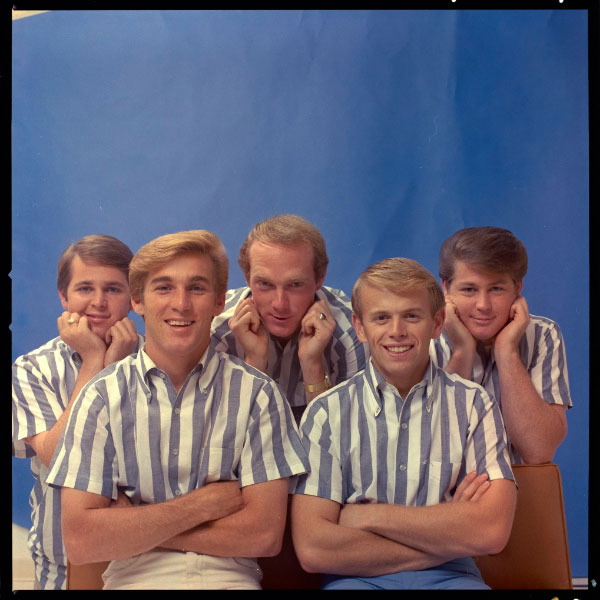 Apples Vs. Oranges
Listening to The Very Best of The Beach Boys: The Sounds of Summer, I realized it would be fruitless to attempt a compare-and-contrast type review. That is not the point here. This new set delivers 21st-century-fresh stereo mixes for a new generation of listeners as well as longtime fans. It will allow Beach Boys' music to live on in films, TV, radio, and online streaming.
Listeners can now explore the full scope of Beach Boys music without being off-put by dramatic jumps in fidelity — especially when hearing the songs on playlists next to present-day artists. Established fans can appreciate hearing favorites with newfound clarity. And hardcore fanatics (like me!) get to geek out on the subtle nuances revealed. A comprehensive retrospective, this set mostly succeeds, especially on vinyl.
Tastes Like Chicken, Sounds Like. . .
I first previewed The Very Best of The Beach Boys: The Sounds of Summer in the car via a CD-quality stream from Qobuz via Apple Carplay. I'll be honest: I didn't love the experience. The music sounded just great as CD-quality-streaming-in-the-car goes, but that endless playlist-style format didn't work for me. This was especially apparent when tracks jumped from an early-'60s surf tune to a track from the 1980s made with a drum machine.
When listening to the same tracks on vinyl, the experience was, however, very enjoyable! Being mixed and mastered by Mark Linett, The Beach Boys' longtime recording engineer and archivist, this collection has achieved a remarkable continuity from track to track. This is no small task, given the diversity of music across a 60-year period, spanning generations and huge leaps in technology from early analog tape to digital multi-channel computer workstations.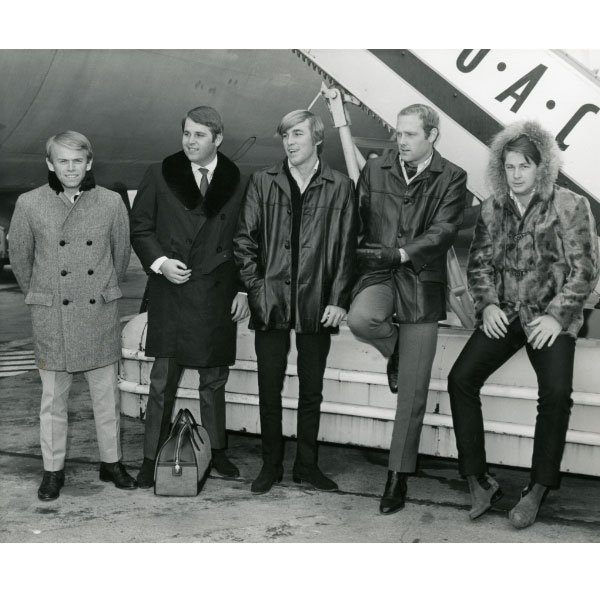 Portion Control
Unlike the streaming playlist, The Very Best of The Beach Boys: The Sounds of Summer on vinyl is effectively three carefully curated 2LP sets, giving the listener more easily digestible portions to take in, broken out into six- and seven-song album sides.
Giving one's ears a break to flip album sides goes a long way to make the sequences work — at least it did for me! For example, on the streaming playlist, 1963's "Farmer's Daughter" sounds a little awkward slamming right into 1977's "Let's Go on This Way." But on vinyl, the latter song kicks off its own album side, and thus makes for a great opener — with a fab new 2021 mix that rocks! This is a terrific lead-in to the equally fabulous remix of "You Need a Mess of Help to Stand Alone" (from May 1972's under-appreciated Carl and The Passions: "So Tough" collection). I had a similar problem transitioning on the stream from "Wouldn't It Be Nice" to 1985's "Getcha Back" while the break in vinyl sides made all the difference as a listening experience.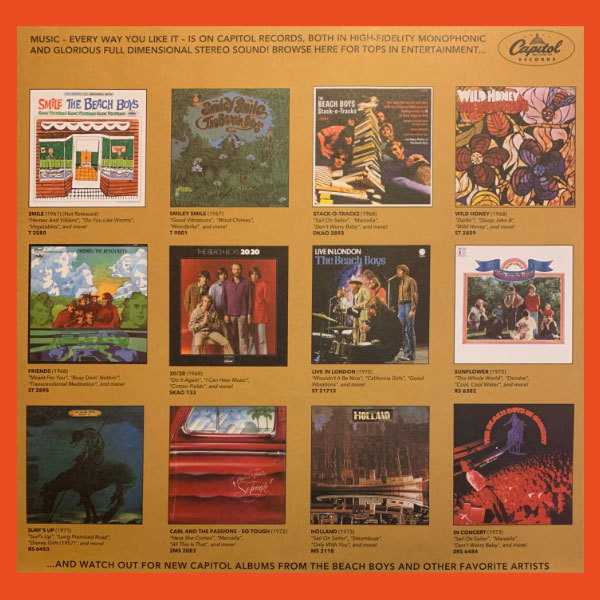 Tasty Tidbits
There are many sonic treats to savor in The Very Best of The Beach Boys: The Sounds of Summer. For more details about how it came together, I reached out directly to engineer/producer/archivist Mark Linett, who offered insight into the making of this collection. [Mike Mettler adds: Linett's comments are presented in italics over the course of the next four paragraphs inclusive, with only a minimal amount of grammatical elements inserted — i.e., serial and other commas, hyphens, quote marks around song titles, etc. — for style purposes only.]
Finally, after 6 years (or 54 years from its release), we were finally able to create a true stereo version of "Good Vibrations" by marrying new extracted vocals to a stereo backing track that I created in 2016 using the original instrumental session 3- and 4-tracks along with the instrumental overdub tape that contained the cellos and theremin. Creating that mix has been a longtime goal, since it is perhaps the most famous recording in The Beach Boys catalog, and one that sadly we don't have the final 8-track master for.
We used DeMixpro [professional audio extraction software] in a few different ways for Sounds of Summer Expanded Edition, and included them along with a number of new mixes just for this release from original 8- and 16-track masters.
The software has advanced a great deal recently, and allowed us to create several mono to stereo mixes ("Surfin' Safari," "Help Me Rhonda," "I Get Around") by extracting instruments and vocals from the mono master, and then using those tracks to create a stereo mix.
On other tracks where we had the original 3-track masters, the instruments were recorded in mono, so using DeMixpro, we were able to separate the instruments and, along with the two original vocal tracks, create a more modern stereo mix. This was done for quite a few tracks, including "In My Room," "Don't Worry Baby," "Fun Fun Fun," "Surfer Girl," and "When I Grow Up To Be A Man."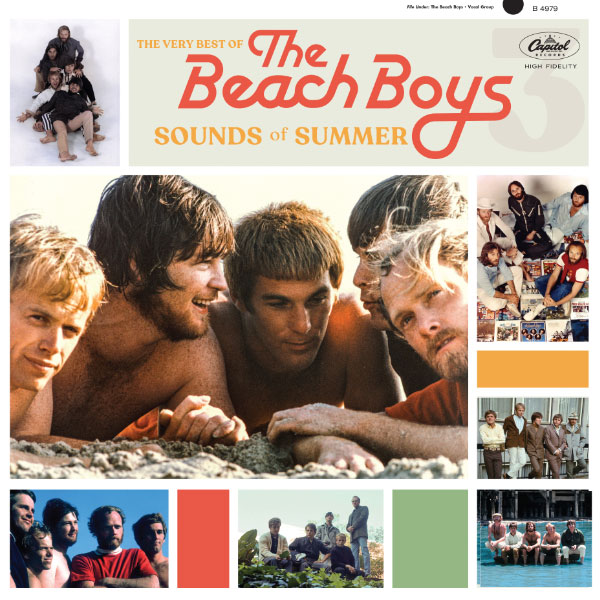 Thanks, Mark! Serious Beach Boys fans familiar with past incarnations of these tracks will no doubt approach this set with a certain archaeological perspective. You will be able to relish subtle new details that were buried in the original mixes. For everyone else, the sheer smorgasbord of music here should be enough to whet your palate!
A Feast for the Ears
The new remix of "In My Room" sounds pretty fantastic, as does the 2021 remix of "Do It Again." The latter is especially interesting, as I noticed some different drum hits helping to drive the tune along a bit more, plus those low saxophone honks and high harmonies feel super-rich.
The excellent new 2021 mix of "Good Vibrations" feels true to the intention of Brian Wilson's groundbreaking original mono masterpiece, but now offers a more cinemascopic presentation.
The version of "Cotton Fields" — first heard on August 2021's Feel Flows: The Sunflower & Surf's Up Sessions 1969–1971 4LP box set — begins with a child's vocal countdown intro and features prominent pedal-steel guitar parts not on the original 20/20 album version. It rocks, drives, and swings harder.
Dennis Wilson's hidden gem "Baby Blue" — lost on Side 2 of March 1979's L.A. (Light Album) — works nicely sequenced after "Aren't You Glad." The rocking "It's About Time" (from August 1970's Sunflower) opens up a side and surprises, going into an updated 2021 remix of one of my favorites from October 2011's The SMiLE Sessions album: "Do You Like Worms? (Roll Plymouth Rock)."
"Marcella" and "Good to My Baby" both rock madly (if you don't mind my borrowing a term of endearment from Duke Ellington). "It's OK" is a neat alternate take, and it's nice to hear the remix of "San Miguel" from December 1981's Ten Years of Harmony collection. I was surprised how well "Wendy" (a favorite from July 1964's All Summer Long) worked right after "Feel Flows" (from August 1971's Surf's Up).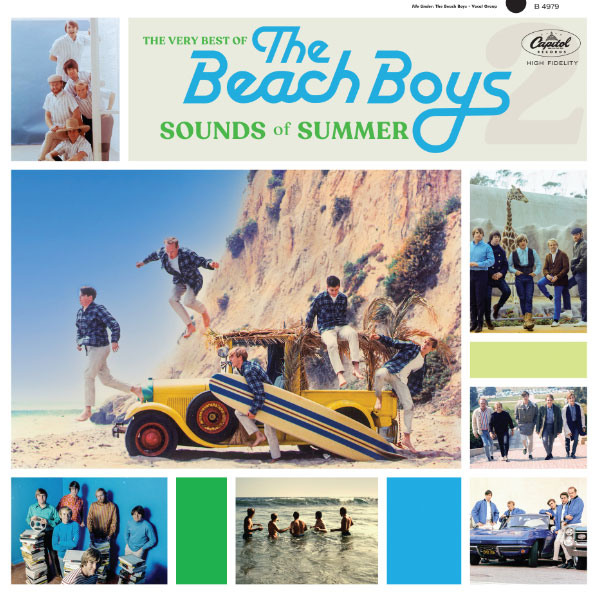 Secret Sauce
All this variety, new stereophonic sound, and exemplary mastering is certainly satisfying. I suspect, however, that it is more than just the sequencing that makes the vinyl versions work for me. For lack of a better phrase, this enjoyability factor may be attributable to that extra level of love and care that goes into the physical disc mastering, making the whole listening experience seamless.
Beyond Linett's thoughtful mastering, I wonder if some additional magic in the disc mastering/lacquer cutting stages helped achieve the sound here. One part audio alchemy, I know that this technical process can impact the final sound of a record, and is often a reason why vinyl sounds different than streams and CD versions of the same recordings. (Food for thought.)
Bitter Sweets, Tiny Bones
As far as the pressings go (these being from our friends in the Czech Republic), my discs were generally pretty solid. The 180-gram black vinyl is mostly quiet and well-centered. I say "mostly," however, as one album side was off-center, resulting in the music wavering in and out of tune. Off-center discs are a particular nit of mine. [Ditto! —MM]
One track had some annoying crackling initially, which I thought might be static, but my Zerostat didn't help. Perhaps it was a non-fill issue, but whatever it was sounded far less prevalent on a replay a day later. I had this happen with a Devo reissue from Record Store Day once, which, after four or five plays, an annoying click almost completely disappeared.
For some reason, a handful of the remixed tracks initially sounded a bit off to my ear, but upon subsequent listens, they started to feel more normalized. Even though the basic tracks sound rich and full, vocal details in particular at times feel oddly artificial. I'm not sure if this is a due to the DeMix extraction technology, or if simply certain parts were originally recorded extra hot with the intention of reining in certain frequencies during mixdown. (I'm just speculating, folks.)
This may just be part of getting used to a new flavor of Beach Boys recordings. Again, these recordings won't "replace" the originals — but they do offer new insights. Ultimately, your enjoyment of these tracks will be a personal decision. But I did need to mention this factor.
My only other disappointment was that the last side of the set is blank. I know it's "a thing" these days to include a laser-etched side on some two-disc sets — particularly reissues from the CD era that often don't fill up a full four sides of a 2LP set. But it would have been nice if the producers had simply rounded out the set with more music. It's not like The Beach Boys have a shortage of deep cuts to choose from in their catalog — just sayin'!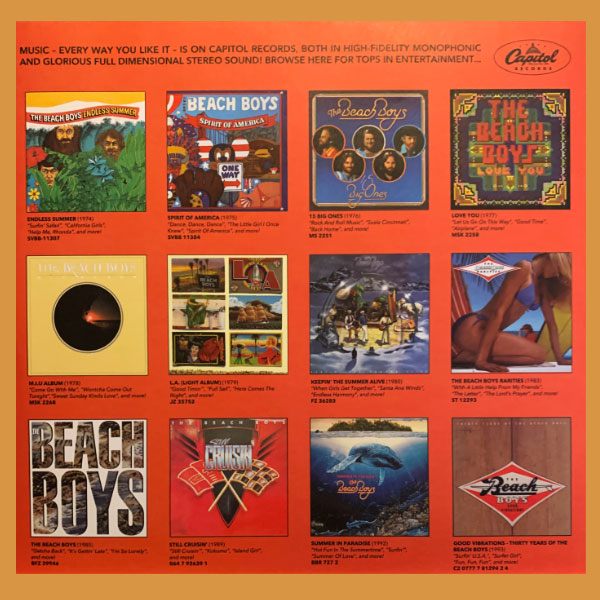 Eye Candy
Much care which went into this set's design. The outer box is made of reflective material that refracts available light into near rainbows! Two gatefold volumes inside feature the fun photo-collage design like the aforementioned classic All Summer Long. They even created Beach Boys catalog inner sleeves that pay tribute to the style of sleeve Capitol Records issued with most every album in the 1960s.
The LPs sport period-accurate labels, including the early-1960s rainbow-ringed Capitol Records look, the groovy lime green late-'60s mod design, and the band's own Brother Records imprint (from their '70s recordings).
Four lovely bonus art prints include a reproduction of the June 1974 Endless Summer compilation album cover — a great outtake from the October 1962 Surfin' Safari era, a touching late-'60s group shot with Dennis Wilson lost in deep thought. And there is also a sweet black and white of the June 1968 Friends-era band.
This set has something for everyone: deep tracks and superior remixes for the hardcore fan, a rich and ultimately rewarding retrospective for newcomers, and overall high-quality sound for those who wish to upgrade without buying all the individual album over again.
The Very Best of The Beach Boys: The Sounds of Summer will no doubt help reaffirm Beach Boys music as the de facto endless summer soundtrack for generations to come.
(Mark Smotroff is an avid vinyl collector who has also worked in marketing communications for decades. He has reviewed music for AudiophileReview.com, among others, and you can see more of his impressive C.V. at LinkedIn.)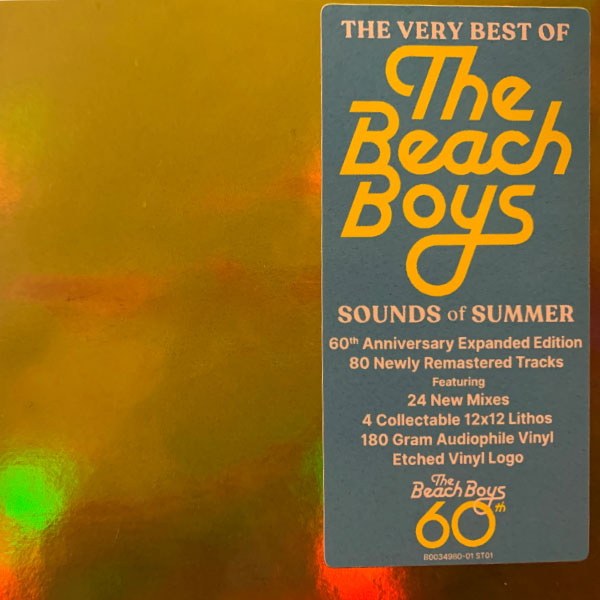 <!- ------------------------------------>