Analogue Productions' Truly Premium UHQR 200g 2LP QRP Pressing Of Steely Dan's Can't Buy A Thrill Reels Through the Layers to Reveal New Detail and Distinct Textures for a Super-Deluxe All-Analog Listening Experience
If I wanted to make my review of the new Analogue Productions' 200g 2LP UHQR edition of Steely Dan's Can't Buy A Thrill super-short and to the point, I could easily just say something like it was a "night and day" or "best ever" listening experience, and be done with it. However, that wouldn't do enough justice towards conveying appreciation for this new super deluxe vinyl edition — and it also wouldn't be very compelling reading for any of you [or me!—MM] either.
Seriously, though, listening to this new all-analog edition, newly mastered by the great Bernie Grundman — and especially when comparing it to the standard, digitally prepared sister 180g 1LP release of the same album from Geffen/UMe I reviewed here last week, as well as with an original 1970s pressing of Thrill — one begins to appreciate the nuanced levels of quality revealed. This UHQR edition was obviously made with much love and care.
For some more perspective, whenever you take the time to compare and contrast different vinyl pressings of any favorite artist's music, the experience of hearing increasingly superior editions can be a bit like peeling away layers of an onion. First, you get through the thin-but-tough outer layers that look and feel like an onion, but they don't quite have the taste and texture you are ultimately seeking. When you get further inside to the center, you discover the true pungent and vital bite of the music within.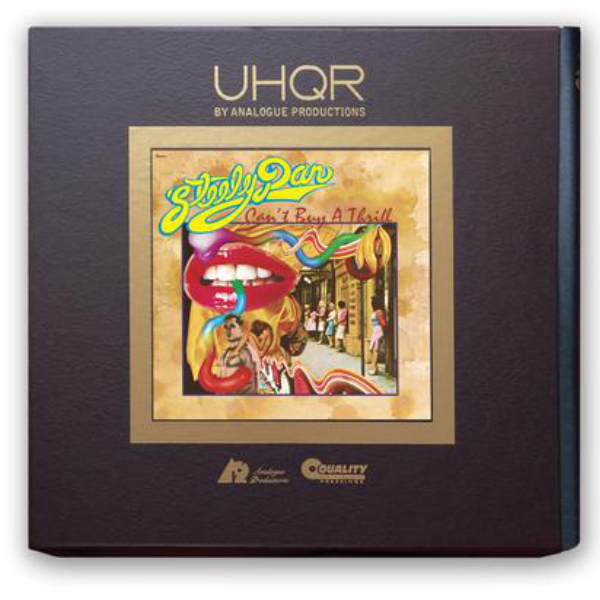 Likewise, you can certainly enjoy a 1970s-era pressing of Can't Buy A Thrill that was compressed according to the standards and limitations of the times. Or, you can slice down into the heart of the Steely Dan sound with this super deluxe UHQR package, and get that much closer to what the band really created in the studio.
From the official press release, which follows in italics, we learn a bit more about this limited edition run of Can't Buy A Thrill, and why it is indeed special:
The 45 RPM UHQR version will be pressed at Analogue Productions' Quality Record Pressings on 200-gram Clarity Vinyl, packaged in a deluxe box, and will include a booklet detailing the entire process of making a UHQR along with a certificate of inspection. Each UHQR is pressed, using hand-selected vinyl, with attention paid to every single detail of every single record. All of the innovations introduced by QRP that have been generating such incredible critical acclaim are applied to each UHQR. The 200-gram records feature the same flat profile that helped to make the original UHQR so desirable.
At this point, it may help to explain to anyone who is new to Analogue Productions' super deluxe series of reissues that the "original UHQR" brand referred to above — as explained in the liner notes to this set — are the specially formulated audiophile vinyl records manufactured and distributed in the 1980s by JVC. In simpler terms, these discs use a consistent flat-groove cutting process that is different than most commercial releases which are slightly sloped, resulting in less distortion, purer sound reproduction, etc. You can go here to access the Quality Record Pressing website for more insights into how this works. (We have also included an image below from the brochure to help illustrate the point further.)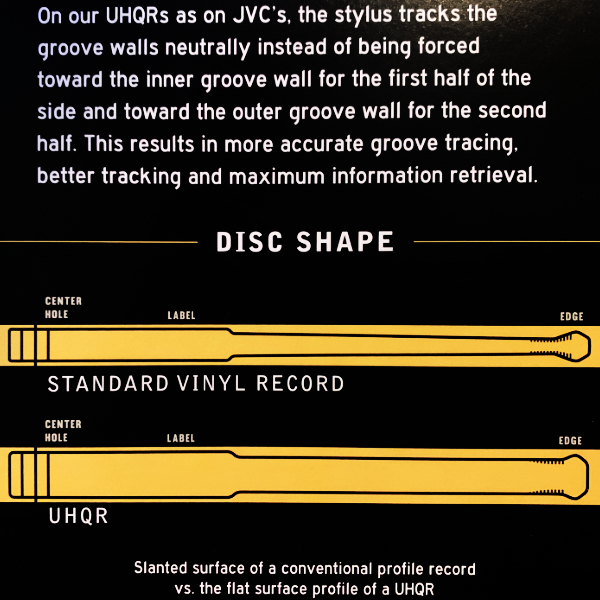 Playing Analogue Productions' new UHQR version of Can't Buy A Thrill (and calling back to my aforementioned onion analogy), for the first time, I fully realized there really was a great recording in there beneath the muddied exterior of early-1970s compression and inferior pressings of the period. At the end of the day, however, it is all about the music — and if you are going to spend $150 for one recording, as you will be doing for this edition. it darn well better sound pretty definitive.
[MM adds: For additional context, you can go here to read Mark's review of the earlier noted 180g 1LP Geffen/UMe version of Thrill that we posted on November 11, and you can also go here for my own September 16 post about all the tech specs regarding both releases. And now, back to the review!]
Happily, for this, my first UHQR experience, it feels super-solid. Musically, Can't Buy A Thrill feels more three-dimensional on this UHQR edition than on other versions I've heard. Overall, the sound is super-clear and crisp, but ultimately presents the music more warmly than the standard 180g 1LP edition does. When you compare them side by side, you start noticing the differences between the UHQR and the standard edition — the sizzling cymbals aren't quite as sizzly on the standard version, for one thing, and, comparatively, the vocals take on a bit of that raw edge around them. Plus, the congas feel less natural-sounding on the standard edition.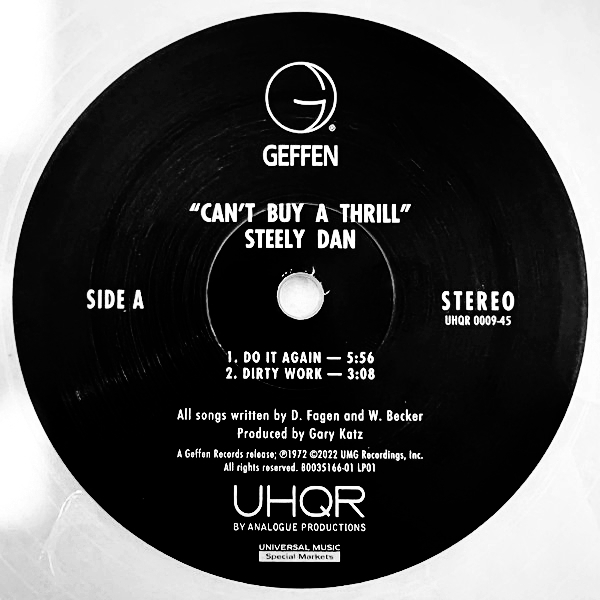 The following observations are some of the track-by-track highlights from my listening experiences thus far with the UHQR version of Can't Buy A Thrill. (I'm sure you'll hear comparable and/or supplemental, different things on your end, so please feel free to share your thoughts with us in the Comments section below, underneath the full tracklisting portion of the review.)
"Do It Again" (Side A, Track 1)
The first thing that got my attention here as this groove kicked in was that super-distinctive "ping" of Jim Hodder's ride cymbal, and the long natural decay of the crash cymbals. Having been in bands most of my life, I've been around a lot of drum kits both onstage and in studios, so I know that sound intimately — and this edition captures it quite nicely. Walter Becker's bass is more distinctive and apparent in this version than others I've heard. Here, I noticed the neat congas percolating and panning across the stereo soundstage, a detail which never really jumped out at me before on other versions. Denny Diaz's electric Coral sitar solo feels extra-vibrant. And be sure to listen for the super-cool extra snare-drum pick-up beats added to the rhythm bed at the very end — again, a detail I never really, well, picked up on (pun intended) before listening to my original pressing all these years.
"Dirty Work" (Side A, Track 2)
Pay attention for those crystal-clear strokes of the guitar pick sweeping across the strings for that super-distinct chord texture played in the background during Jerome Richardson's bridge/sax solo. Yes, on the standard version (and the original editions), you can hear it — but, as an effect, it sort of just sits there. On the UHQR version of Can't Buy A Thrill if you close your eyes, you can imagine in a much more three-dimensional manner Jeff "Skunk" Baxter dragging his plectrum across the strings down close to the bridge of the guitar to create that bright sound.
"Kings" (Side B, Track 1)
There is an interesting phase-shifting type effect on top of Donald Fagan's vocals during the verses I'd never really noticed before on earlier versions. It is much more apparent on the new UHQR incarnation of Can't Buy A Thrill. The congas on the choruses absolutely jump out of the speakers here. And check out that sweet amplifier tone pushing Elliott Randall's guitar leads.
"Only A Food Would Say That" (Side B, Track 3)
This is the first time I've heard this song perfectly centered on vinyl, and it brought a big smile to my face to experience it this way. There was no wavering of those Beatle-y chord breaks — finally! The high end is bright but it feels natural, and not like it was overly EQ'd. The final chord rings out longer than I've ever heard it. And those strummy acoustic guitars also sound beautiful.
"Fire In The Hole" (Side C, Track 2)
Here, Walter Becker's bass sounds rich and round. The piano is super-clean and natural feeling to the point where you can almost feel the woody acoustics resonating in the room where it was recorded. The cymbals sizzle! And, then there is that gorgeous pedal-steel part by Skunk Baxter, which sounds better than ever.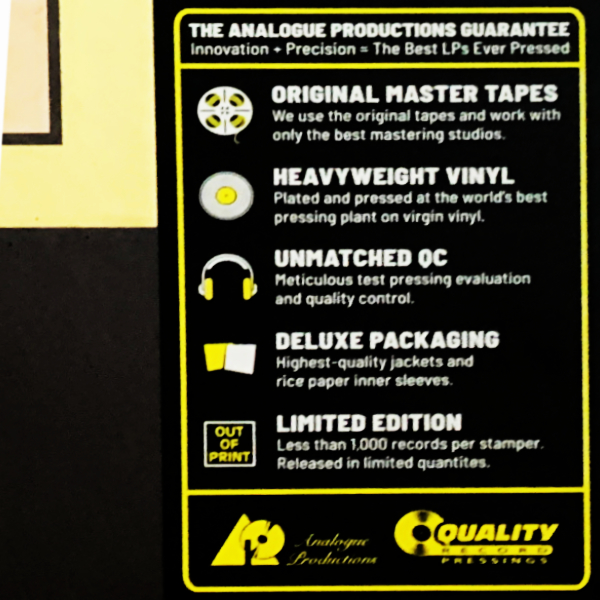 I could go on and on, but I think you get the idea this new UHQR version of Can't Buy A Thrill is a fine, fine spin. Everything about this edition is super deluxe. The whole consumer experience is sumptuous, down to the outer album box's wooden-spined, drawer style design, loosely reminiscent of certain deluxe edition releases from the 1950s by labels such as Angel Records and Everest Records — albeit much more striking with this edition.
The 200g clear vinyl has that heft of a vintage record from the 1950s and/or early-1960s — and, frankly, it seems extra-substantial to me. Is it because these LPs were pressed in such limited quantity by hand? If I can get extra-obsessive about it for a moment, this vinyl just feels nice in my hands, with silky smooth curves crafted with a sort of handmade precision more akin to something you might pick up from a skilled blacksmith or a woodworker, as opposed to churned out of a machine press.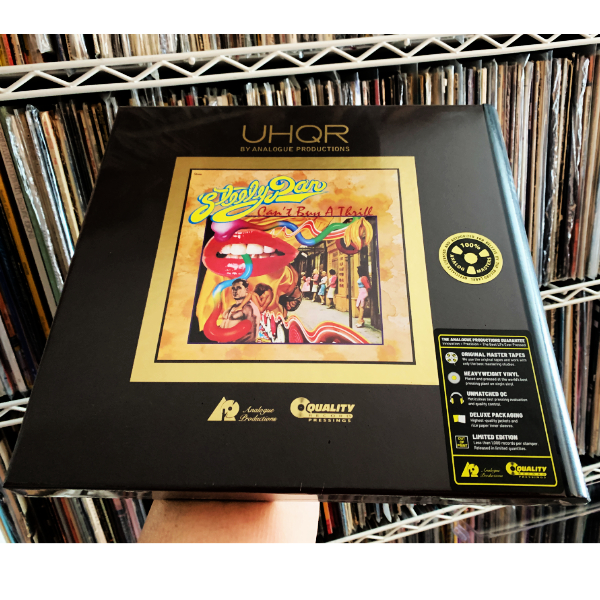 The cover of this new edition is manufactured like one of the recent Blue Note Tone Poet or Verve Acoustic Sounds reissues, having been crafted with thick, sturdy, brown cardboard, excellent print-quality graphics, and a fully laminated finish. This is easily the nicest version of this cover art you'll likely see and own. The discs themselves come shipped in audiophile-grade plastic-lined inner sleeves.
As I also experienced with the standard 180g 1LP edition, my only real nit here is they didn't reproduce the original ABC Records label design, but as I noted in my aforementioned review of said 180g 1LP edition, I understand that might have been a legal/licensing issue beyond the scope of the project. Hey, this gives us completist collectors a reason to hold onto our original pressings, right? But, honestly, I can't see any real reason why I would even want to play an older pressing again, save for maybe a white label promo copy — if I could ever get my hands on one at some point, that is.
[MM interjects: As I also mentioned in a parenthetical I added within Mark's fine 180g 1LP review, I will also point out here the word "Reeling" is spelled out with the "g" at the end on the label that appears on Side C (as was the case on both Side Two of the earlier ABC label and the new 180g edition), whereas the title is spelled with the "g" dropped and the apostrophe in place — "Reelin' In The Years" — on the back cover and on the inner gatefold of this edition. Do you have a preference either way? Share your thoughts in the Comments section below if so.]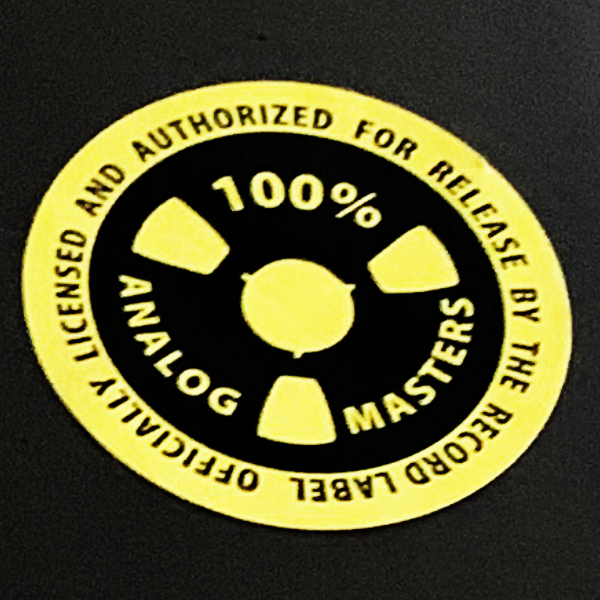 Conclusions
Given what I've heard with this Can't Buy A Thrill, the first salvo in Analogue Productions' Steely Dan UHQR release series, I'm quite thrilled about the rest of the reissues to come. I'm especially excited to hear what Analogue Productions will do with March 1975's Katy Lied (which reportedly suffered from early noise reduction system problems and has always sounded a bit wonky despite it being a fantastic record in itself) and May 1976's The Royal Scam (my personal favorite Steely Dan album). Can't wait to see, and hear, what comes next — but for now, the 200g 2LP Can't Buy A Thrill serves as one of the best listening experiences you'll have this year.
(Mark Smotroff is an avid vinyl collector who has also worked in marketing communications for decades. He has reviewed music for AudiophileReview.com, among others, and you can see more of his impressive C.V. at LinkedIn.)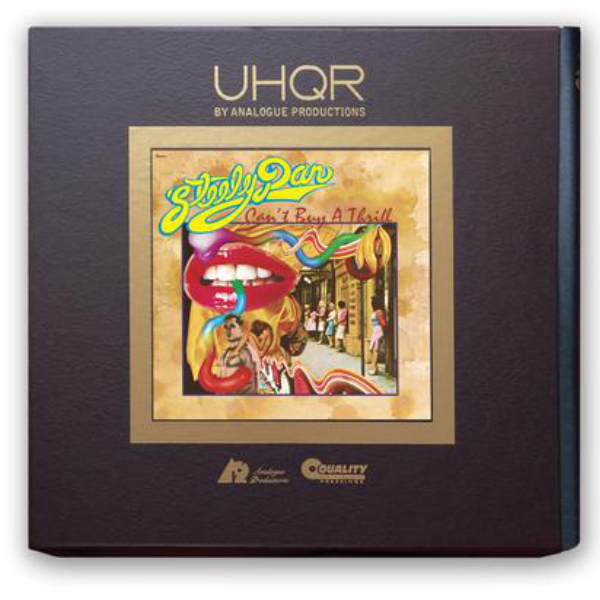 STEELY DAN
CAN'T BUY A THRILL
200g 2LP (Analogue Productions)
Side A
1. Do It Again
2. Dirty Work
Side B
1. Kings
2. Midnite Cruiser
3. Only A Fool Would Say That
Side C
1. Reeling In The Years
2. Fire In The Hole
Side D
1. Brooklyn
2. Change of the Guard
3. Turn That Heartbeat Over Again
<!- ------------------------------------>