Steely Dan's Grundman-Remastered Can't Buy A Thrill 180g 1LP on Geffen/UMe Portends Good Things for Concurrent UHQR Release From Analogue Productions
Steely Dan's November 1972 debut release Can't Buy A Thrill has often been overlooked in the wake of the band's later, mega-impactful hit albums like September 1977's Aja and November 1980's Gaucho. But the reality is, the template for the Steely Dan sound was born in full flower on their first album, and is thus ground zero for understanding and appreciating the trajectory of the band.
The new, standard-edition 180g 1LP version of Can't Buy A Thrill is the first entry in Geffen/UMe's fine new reissue series of the core ABC and MCA Records-era Steely Dan catalog. The series includes both standard 33 & 1/3rpm 180g 1LP versions via UMe, and super-deluxe 45rpm 200g 1LP ultra-audiophile UHQR editions via Analogue Productions. (More on all that in a bit.)
One thing that's really interesting when you go back and listen to older albums like this one with fresh ears and 20/20 hindsight [or should that be 2022 hindsight?—MM] is you hear things differently than you did many years before. When Can't Buy A Thrill came out in 1972, it sounded like nothing else on the radio, really — although it did have several touchstones that made the music feel at once familiar: strong, hook-filled pop melodies, intriguing lyrics this side of Bob Dylan and later-stage Beatles, and harmonies that embraced the close-knit aesthetics of Crosby, Stills & Nash (the latter of which were then top of the pops as far as public taste went).
And then, there were those infectious, witchy-mesmerizing grooves crafted from a recipe that included a pinch of jazz, a hint of future funk, a spritz of gospel-informed soul, and a big heaping dash of good ol' rock & roll. True, Steely Dan lyrics could be oblique, yet their hooks were at times bubblegum-worthy, and the music sophisticated enough to resonate with a generation raised on John Coltrane, Miles Davis, Horace Silver, Dave Brubeck, and Jimi Hendrix.
With all that in mind, Grammy-nominated producer Gary Katz did a great job of clarifying their sound to make Steely Dan radio-worthy — a sound that had one foot in AM radio of the past (mono, very compressed) and the other foot in the higher-fidelity future of FM radio (stereo, much more dynamic range).
I've owned many original ABC Records pressings of Can't Buy A Thrill over the years including the 1972 black-label edition, and the later "rainbow" design from the mid-'70s. Exactly none of these pressings were perfect, as far as listening experiences went — thus, my ongoing quest for better versions. [Me, I still have a so-so rainbow copy I can't bring myself to play anymore—MM]
Unfortunately, Steely Dan's popularity ascension in the 1970s coincided with two conflicting cultural phenomena: the music industry's explosive growth, and the Middle East oil crisis (oil being a key ingredient in making vinyl, of course). The band's original label, the above-noted ABC Records, was never known for especially great pressings when it came to rock recordings. From my then-junior-high-age perspective as an aspirant novice audiophile, the parent company seemed to pay more attention to those sonic details for their jazz releases on Impulse!, which generally sounded better than most rock records I heard from them. Three Dog Night, Steppenwolf, Emitt Rhodes, Jim Croce, Joe Walsh, and James Gang were all Steely Dan labelmates around that time period — and they all made some great records that sounded "just ok," even to my inexperienced ear back then. As the company grew, pressings quality seemed to suffer at times. (To be fair, this happened at other labels as well.)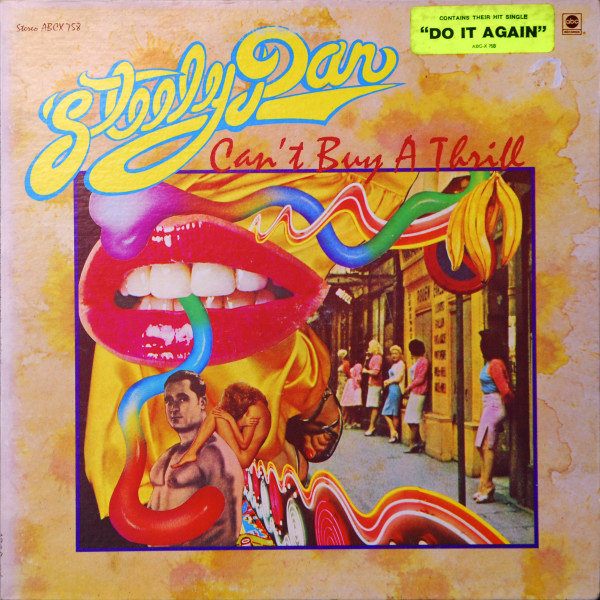 One of my biggest challenges with Can't Buy A Thrill over the years has been finding a copy that was not off-center. Especially when you get to the end of Side One and the song "Only A Fool Would Say That," wherein there are some full-stop breaks by the band featuring a big, Beatle-esque guitar chord that chimes on its own. When the album is off-center, that chord can easily waver annoyingly in and out of tune.
That said, this is a good time to discuss the details of how these new Steely Dan reissues have been crafted — many details of which MM initially covered in his News post from September 16, which you can refresh yourself with here.
I do want to share the following (in italics below) from the official press release for the series, which explains the nuance between the different versions of the albums that will be made available:
All albums are being meticulously remastered by Bernie Grundman from the original analog tapes except for Aja, which will be mastered from an analog, non-EQ'd, tape copy, and Gaucho, which will be sourced from a 1980 analog tape copy originally EQ'd by Bob Ludwig. (There's no evidence the original tapes containing the flat mixes of Aja and Gaucho were delivered to the record label and it's presumed the tapes no longer exist.) Lacquers for UMe's standard 33 1/3 RPM 180-gram version will be cut by Alex Abrash at his renowned AA Mastering studio from high-resolution digital files of Grundman's new masters and pressed at Precision. They will be housed in reproductions of the original artwork.
As noted both above and in MM's earlier News post, the Steely Dan catalog up to Gaucho will also be issued in limited-edition premium 45rpm formats in the Ultra High-Quality Vinyl (a.k.a. UHQR) series from Analogue Productions, the audiophile in-house reissue label of Acoustic Sounds. (When are we reviewing the latter version, you ask? Early next week.)
These are important distinctions needed to be understood from the get-go of this series, and I bring it up fairly early in my review because I've seen some people commenting/assuming in the socials that this new standard edition from Geffen/UMe is "all-analog." That status seems to be reserved for the UHQR editions, all of which we will also be reviewing as they are released. So, to restate for the sake of clarity: the standard edition's lacquers were cut from high-resolution digital files of Bernie Grundman's new masters.
With those technical distinctions in mind, I will go on record stating I think this new standard edition of Can't Buy A Thrill is really very good — all things considered. In fact, after several back-to-back listens, in general, I find it pretty fine when comparing it to my mid-1970s pressing (i.e., the rainbow label version). There is no doubt a brighter high-end here than on my old copy, but also the vinyl itself — 180g, dark and black, and pressed at Precision — is generally much quieter than any of the original copies I've had over the years.
I italicize the word generally here, as there is one caveat: I have heard a couple minor "non-fill" type glitch moments at a couple points during my listening sessions with this new edition. They weren't dealbreakers, however, as they were short and irregular during loud passages and not annoying, but I have to report two or three "pfft" type sounds came up — and thus far, they have not worked their way out, if you will, with repeated plays (as sometimes happens).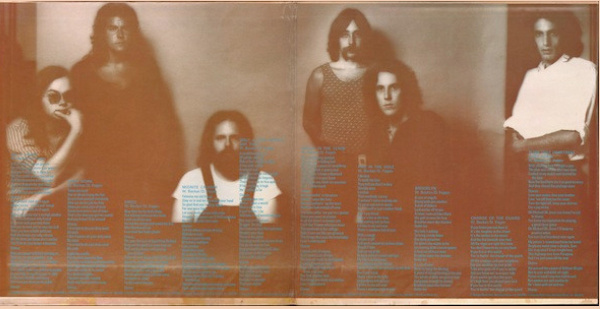 While this new pressing of Can't Buy A Thrill is indeed better than my original in terms of centering, it still wasn't perfect. Thus, I still heard a bit of that wavering thing going on at the end of Side One on "Only A Fool Would Say That."
Once I got used to the increased brightness, I grew to like the sound of this new edition. In comparison, my original sounds muddy, and overly compressed. This was effectively a jazz-rock band playing pop, so producer Katz could have easily gone the other direction and made Can't Buy A Thrill a very dynamic, wild-ride recording. But since it was a mainstream release with AM-radio hit aspirations, I think he, and they, wisely decided to constrain the dynamics a bit. I suspect this was also done to ensure there wouldn't be any returns from average teenage record players not being able to track the albums (a practice dramatically exemplified by Atlantic Records' treatment of Led Zeppelin's infamous/legendary October 1969 second album, Led Zeppelin II, and its initial amazing mastering by Robert Ludwig that was soon enough recalled).
As Steely Dan grew in popularity, their strengths as a studio group increased accordingly — as did the fidelity of their later albums, paralleling the growth of higher-fidelity FM radio and the advent of affordable, audiophile-leaning component audio systems that were all the rage at that time. If you went into most any stereo shop back in the day, there were almost always Steely Dan records being used for speaker demos (especially by the time of May 1976's The Royal Scam and the aforementioned Aja).
This new 2022 reissue of Thrill shines fine light on the little details of the recording. Listen closely for the cymbal crashes and related decay on "Do It Again," "Reelin' In The Years," and "Dirty Work" for some quick examples. Said crashes, courtesy drummer Jim Hodder, are much more natural, realistic, and present on the new version than on my original copy. Additionally, Denny Dias' acoustic guitar strums on "Dirty Work" sound more full-bodied and woody.
Walter Becker's bass on "Midnight Cruiser" is punchier than on my original LP, and the instruments and vocals on "Only A Fool Would Say That" feel richer and rounder comparatively, especially the acoustic guitars. Donald Fagen's acoustic piano on "Fire In The Hole" sounds very natural, rich, and open, complemented by those beautiful pedal-steel guitar lines by Jeff "Skunk" Baxter. Then listen for that badass amplifier tone on the guitar solo during "Change Of The Guard," which never came through this strongly on the original edition I have. I went back again to double-check, and the whole song sounds very squashed down on the '70s mastering, comparatively.
In general, this new edition of Can't Buy A Thrill is a solid, basic reissue. If you don't have it on vinyl or are hoping to upgrade from an older copy without breaking the bank, this will be more than adequate for most general high-fidelity listening situations.
Again, it is important to understand that great-sounding original pressings of Can't Buy A Thrill were never easy to find, and many later reissues of the Steely Dan catalog were decidedly lackluster — especially in the late-'70s and into the '80s, when MCA Records took over the catalog, and quality controls suffered greatly.
In some ways, it is even harder today to track down a decent used copy of Can't Buy A Thrill, seeing how it was a popular album back in the day, especially among collegiate audiences. So many original copies of the album in the collector's universe (a.k.a. "out in the wilds," as they say) have been played on average to sub-average equipment quite often, not to mention in party settings. Notably, I've frequently come across copies with annoying groove distortion towards the center of the disc, a telltale sign of it being played on a turntable or record player that was improperly aligned. [Hence, the latter being one of the main reasons I don't play my own rainbow copy anymore, as mentioned earlier—MM]
Due to the relative scarcity of finding these albums in good condition, prices of original pressings have escalated to fairly absurd levels these days. At the time of this posting, there were just eight near-mint original 1972 pressings on Discogs, with prices starting at just under $100 and maxing out at around $220. That's a lot of money for a popular record that was far from obscure back in the day, seeing how it reached No. 17 on the Billboard album charts, and was subsequently certified Platinum (i.e., 1 million copies sold) by the early-1990s.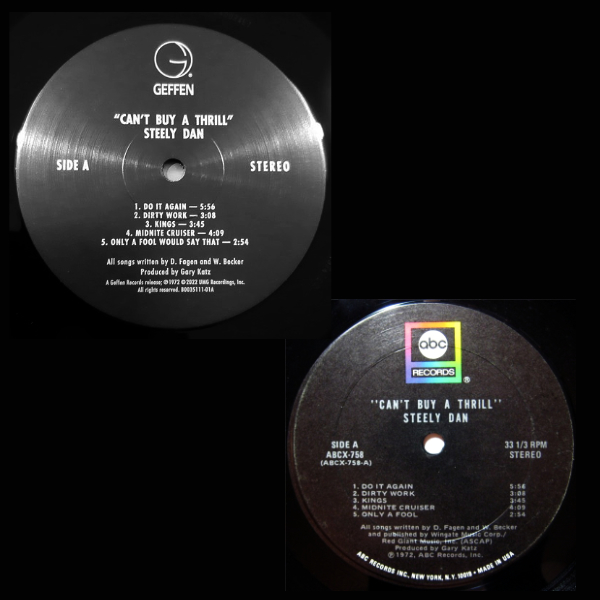 If I have any nits to pick at all, it is that it would have been a nicer touch if the album's designers had been able to make the record labels look a little bit more like the original 1972 editions. To UMe's defense, however, they may very well have had their hands tied to some degree, given they probably don't own the ABC brand or stamper outright.
[MM interjects: We'll look into confirming that for future SD LP reviews, but I must also point out here that the word "Reeling" is spelled out with the "g" at the end on the label that appears on Side Two (as was the case on the earlier ABC label), whereas the title is spelled with the "gr" dropped and the apostrophe in place — "Reelin' In The Years" — on the back cover and on the inner gatefold. Which way do you prefer? Share your thoughts in the Comments section below, either way.]
The album cover itself is made from a thinner white-card stock than the sturdy, thick brown cardboard used back in 1970s. Feeling more like album covers from the 1980s, the printing quality is quite good.
Taken as a whole, and considering the $29.99 SRP, this new 33 1/3rpm standard edition 180g 1LP reissue of Can't Buy A Thrill is a very fair deal indeed, and worthy of your consideration. As to whether you need the more expensive super deluxe UHQR version — which spins at 45rpm, is 200g, and comes in a much more elaborate packaging design — tune in early next week as we will explore that edition in full. Ultimately, whether you get one, or both, of these versions will depend on how much you love Steely Dan music, what kind of audio gear you own, and the current state of your wallet.
For those of you who already consider Can't Buy A Thrill an all-time Steely Dan favorite, owning the ultimate UHQR pressing of it may well be an investment-worthy Holy Grail. But for many, having a simple, clean, and nice-sounding standard edition may well be more than thrilling enough.
(Mark Smotroff is an avid vinyl collector who has also worked in marketing communications for decades. He has reviewed music for AudiophileReview.com, among others, and you can see more of his impressive C.V. at LinkedIn.)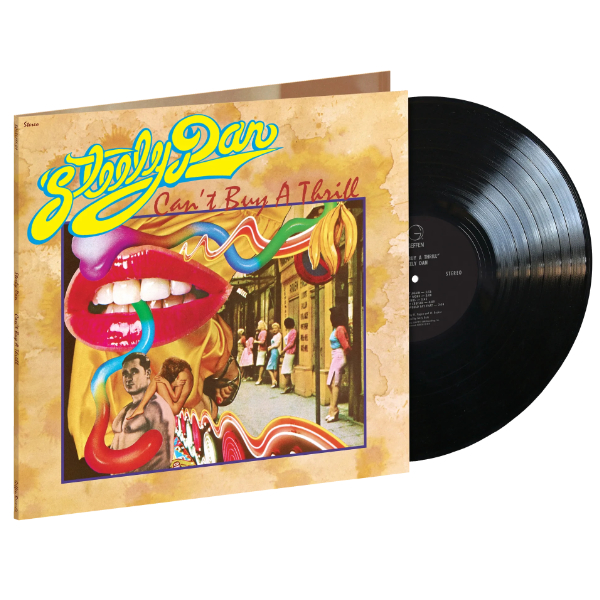 STEELY DAN
CAN'T BUY A THRILL
180g 1LP (Geffen/UMe)
Side One
1. Do It Again
2. Dirty Work
3. Kings
4. Midnite Cruiser
5. Only A Fool Would Say That
Side Two
1. Reelin' In The Years
2. Fire In The Hole
3. Brooklyn (Owes The Charmer Under Me)
4. Change of the Guard
5. Turn That Heartbeat Over Again
<!- ------------------------------------>