The Grateful Dead's Plangent Processes-Restored Boston 5.7.77 180g 5LP RSD 2023-Exclusive Box Set Completes One of Their Essential Live Trilogies
On Record Store Day 2023, Rhino Records issued another entry in their fine series of super-deluxe multidisc vinyl box sets celebrating the road trips of the Grateful Dead, a 180g 5LP box set titled Boston Garden, Boston, MA 5/7/77 (a.k.a. Boston 5.7.77). This new edition is an important historical puzzle piece in the band's storied legacy, effectively completing a trilogy of live releases culled from their epic spring 1977 tour peak.
The Grateful Dead were indeed at a performing peak that spring, no doubt spurred in part by their then-new record deal with Arista Records and a soon-to-be released masterwork produced by mid-period Fleetwood Mac hitmaker Keith Olsen, July 1977's Terrapin Station. The prospects of greater fortunes and larger audiences were on the horizon and the band was doing what they did best, hitting the road to connect with fans. The northeast run turned out to be especially fruitful, finding the group in an especially fine form, delivering consistency of performance vibe not quite seen since their epic 1972 shows in Europe (and especially 8/27/72 in Oregon, as seen in the Sunshine Daydream documentary film).
As a longstanding Deadhead who collected a fair amount of shows back in the day, when I first heard tapes from that 1977 period, I was pretty blown away by how super-focused the band sounded. They were playing with a sense of tightness and collective purpose that happened much less frequently in later years. Both drummers in particular, Bill Kreutzmann and Mickey Hart, are playing in incredible lockstep. Jerry Garcia's singing and guitar leads are especially heartfelt. Bob Weir's guitar rhythms are at their quirky best, and his vocal blend with second lead singer Donna Jean Godchaux is spot-on. Keyboardist Keith Godchaux was still playing hot and sweet. All was good in the Grateful Dead universe for a while, and the spring 1977 tour left us with many fine shows to enjoy.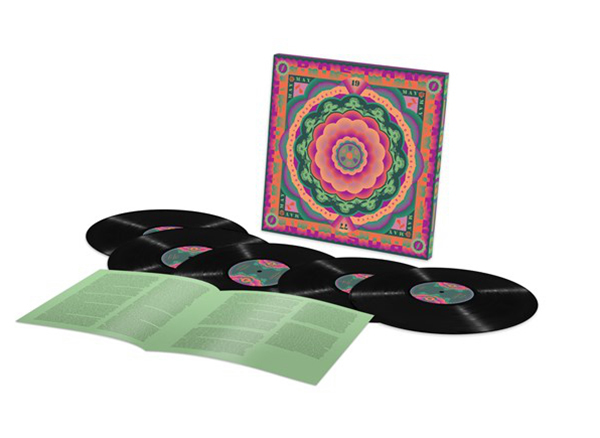 Indeed, tapes from that tour are highly revered among Deadheads, because it lifted the whole group to play on a very accessible level, making this music an ideal gateway for new fans. Their show on May 8, 1977 at Cornell University is considered by many to be one of the Dead's all-time best performances, if not the best performance ever. It's one of those desert island type of performances where, if you only could have one Grateful Dead show in your collection, it might well be the one to choose.
However, many deeper Deadheads consider the two shows on either side of 5/8/77 to be just as important, effectively viewing the three performances of May 7, 8, and 9, 1977 as one continuous arc. Those shows — along with May 5, in New Haven, Connecticut — were thus part of an extensive CD box set cleverly titled May 1977: Get Shown the Light (which was released in May 2017). It's a cool concept, and that is why these new vinyl box sets breaking out those shows in higher-fidelity LP form are quite nice, because you can take in this music as a collective whole to really absorb what was going on.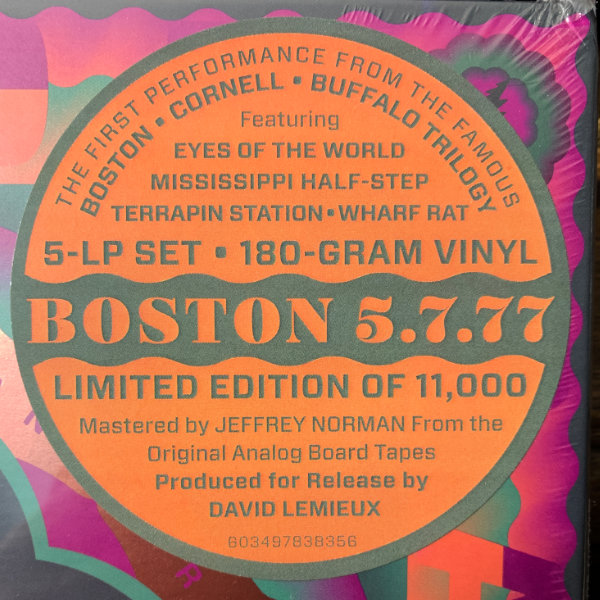 Before we get into the nitty gritty of my review of Boston Garden, Boston, MA 5/7/77 — a.k.a. Boston 5.7.77 (as it is delineated on the hype sticker) and/or Boston 5.7.1977 (as it appears on half of the LP labels in this collection) — here are the grateful stats for this tasty box set. The recordings were (of course) produced by the Grateful Dead, and the album produced for release by their archivist David Lemieux. The tapes were restored via engineering wizard Jamie Howarth's Plangent Processes technology (more on that in a bit). Mastering was crafted by Jeffrey Norman at Mockingbird Mastering in Petaluma, California from the analog master tapes as originally captured by recording engineer Betty Cantor-Jackson. Lacquers were cut by Chris Bellman at Bernie Grundman Mastering. The box's 180g dark black, quiet, and well-centered LPs were pressed at Optimal in Germany. Each of the set's five LPs come housed in audiophile-grade, plastic-lined inner-sleeves. This box set is limited to 11,000 copies, and has an SRP of $124.98. Since it is labeled as an RSD Exclusive Release, availability may currently be limited, but you can go here to see if a shop near you might still have a copy or find a shop that you can order it from. (As of posting time, Discogs also has some copies available at the listed SRP.)
I'm sure some of you are wondering, were these LPs, or were they not, cut from analog sources? The answer is, yes and no. A digital step is necessary to enable Plangent Processes' restoration technology — i.e., correcting machine-generation variations that impacted the underlying recordings. But the end result is a warm, analog-sounding presentation that is also rich, dynamic, and punchy.
From the Plangent Process site, we find a quote from Grateful Dead mastering engineer Jeffery Norman, who confirms, "I've used Plangent Processes on a variety of projects for the Grateful Dead on older 16-track tapes as well as 2-track 7.5 ips material. The benefits of using the Plangent Process were added imaging, and outstanding clarity of the audio and pitch solidification...while keeping the original analog warmth."
The proof is in the final product, and having listened to numerous titles that have benefitted dramatically from Plangent's technology — including releases by Bruce Springsteen, David Crosby, The Doors, Errol Garner, Neil Young, and the Grateful Dead — I can say that I am a fan. Notable audio producers/engineers from the likes of Phil Ramone to Bob Ludwig have sung its praises. I have reviewed numerous albums by many of these artists that have been restored with this technology over the years, and I encourage you to visit the Plangent Processes site for more insight into what they do.
We can all learn more about the underlying need for this solution and the gritty realities of analog tape recording via this lengthy passage from their site: "Every analog magnetic recording starts with a motor dragging a rusty strip of plastic over rollers and guides, across scraping metal parts. Unfortunately, every inconsistency in the speed of the tape as it traces this obstacle course distorts the music being recorded. The transport's various imperfections create an ever-changing matrix of speed variations, slow or fast, subtle or severe. At worst, this results in the familiar warps and warbles known as 'wow' and 'flutter.' It can even (as in the famous case of Miles Davis' Kind of Blue) cause a perceptible tuning change over time. Even the very best analog recordings — wherein the obvious wow and flutter are fairly well under control — are nevertheless affected by varying and shifting patterns of high frequency flutter, causing random beat frequencies to be introduced which seriously interfere with the natural harmonic structure of the musical material. Further, in many otherwise well-designed machines there exists a phenomenon called 'scrape flutter,' which is a combination of the oxide rubbing against the head and physical resonance of the tape as it spans unsupported area between guides and heads; a significant source of distortion and noise modulation."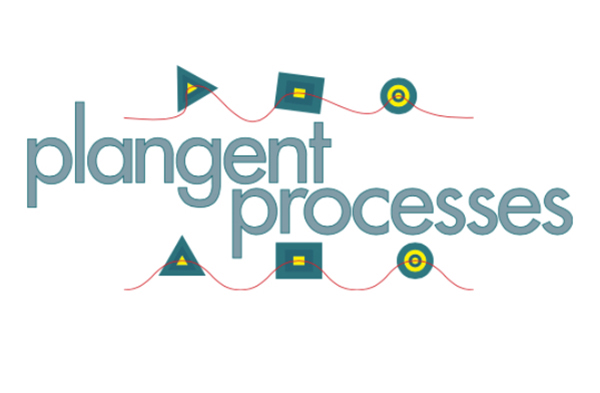 While we all love the analog sound, the reality is that for many archival releases it can become a production nightmare to restore the music to its original intended glory. As we heard on certain Springsteen recordings, some of the originals were actually imperfect due to tape issues.
The point of sharing all this detail is to help us make an informed purchasing decision. Some digital remasters can make analog tapes sound their best, but it helps to fully understand the nuance between great vs. just good.
To my ears, Boston 5.7.77 sounds tremendous, especially as you turn up the volume on your amp. Considering the Cornell performance that occurred the night after this gig, Boston 5.7.77 is a fine showing by the Dead firing on all cylinders. It is an excellent-quality document as captured by the aforementioned excellent audio engineer, Betty Cantor-Jackson.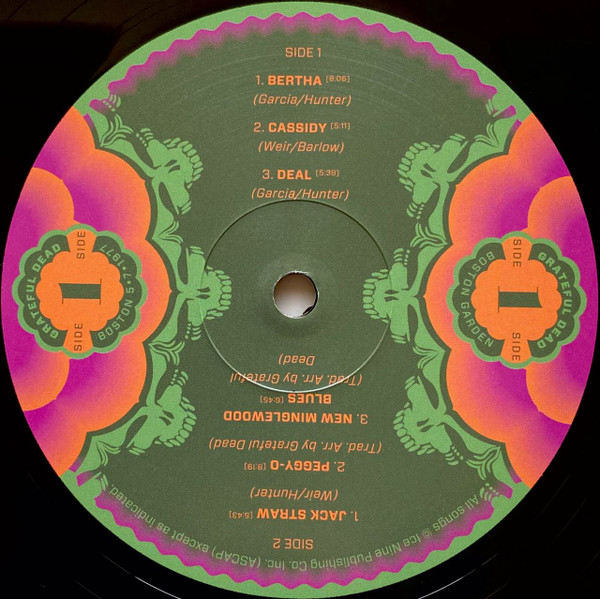 Among my favorite tracks in this performance is the beautiful "Peggy O" (on Side 2, LP1), which has a lovely solo from Garcia and beautiful piano support from Keith Godchaux. "Mississippi Half-Step Uptown Toodeloo" (Side 4, of LP2) seamlessly segued into a rollicking version of Johnny Cash's "Big River" (Side 3, LP2) is a moment of collective band genius, especially coming out of the final refrain lyric, "cross the lazy river" — Jerry's quick-pickin' soloing is at his fiery finest here!
The lovely slow full-band rendition "Friend of the Devil" (Side 6, LP3) has an subtle seductive quasi-reggae lilt to it, with bassist Phil Lesh punctuating the rhythm bed in an almost dub-like fashion, weaving in and around the guitars and keyboards. This is followed on the same side by the slinky 7/8-time rasta-funk of "Estimated Prophet," which is just about perfection as far as live recordings of this song go. Listen for how nice those background harmonies sound on the bridge, and how sweetly Garcia's automated-wah-wah-like envelope-filtered guitar cuts through while Weir's quirky rhythm guitar punctuates, both blending beautifully in with Godchaux's organ parts.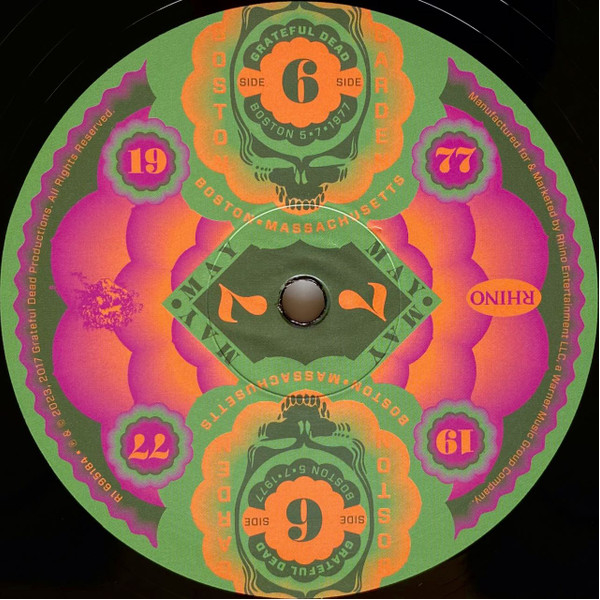 No doubt the band was very inside their new music from the intensive studio recording process that went into making the then-unreleased new album. Accordingly, the complex, multi-movement prog-leaning epic "Terrapin Station" (Side 5, LP3) is one of the better live versions I've heard, if not the best. The track that directly follows it, "Samson and Delilah," is a smokin' booty-shaker. The grand second set sequence — traced in Deadhead taper parlance with an arrow placed between songs in the track listing with a greater than symbol to indicate song segues — in this case, connecting "Eyes of The World," "Drums," "The Wheel," "Wharf Rat," "Around and Around" (as spread across Side 7, LP4 to Side 9, LP 5) is quite an epic journey!
Like a speedy jet airliner, the way the band kicks off "Eyes" is pretty stunning as they are just right there from the get-go, soaring down the runway before lifting off into the cosmos! Talk about a band that was well-oiled, pumped, and primed! Just stop for a moment to consider that, over the next two nights, the Grateful Dead played almost entirely different sets with equally stunning song sequences and performances. Taken together, all three shows make for a pretty spectacular overview of what the Grateful Dead live experience was like.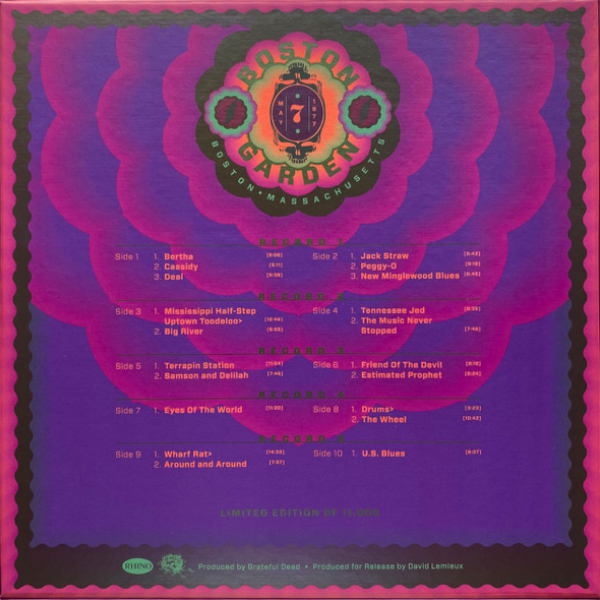 If you love these 1977 Grateful Dead shows like I do, you'll probably want to get a copy of this collection on vinyl while you can. I have to admit, I am kicking myself for not jumping on this excellent vinyl series earlier. Hopefully, one of these days, I'll find reasonably priced used copies of the May 8 and 9 sets on vinyl somewhere along the line. Along with getting a copy of the 1975 Great American Music Hall show in San Francisco — called One From the Vault, the first archival, complete concert recording officially released by the band! — I can foresee myself going down this vinyl road in the very near future.
The bottom line is, based on what you'll get to hear on Boston Garden, Boston, MA 5/7/77, these are special performances that warrant being preserved and enjoyed in the vinyl form. The music indeed never stops.
(Mark Smotroff is an avid vinyl collector who has also worked in marketing communications for decades. He has reviewed music for AudiophileReview.com, among others, and you can see more of his impressive C.V. at LinkedIn.)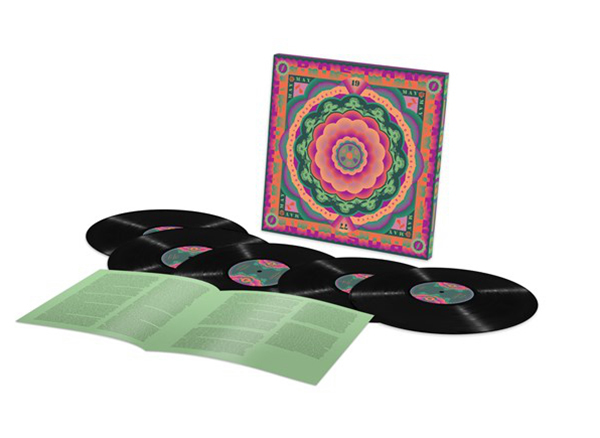 GRATEFUL DEAD
BOSTON GARDEN, BOSTON, MA 5/7/77
180g 5LP (Rhino)
LP1 – Side 1
1. Bertha
2. Cassidy
3. Deal
LP1 – Side 2
1. Jack Straw
2. Peggy-O
3. New Minglewood Blues
LP2 – Side 3
1. Mississippi Half-Step Uptown Toodeloo>
2. Big River
LP2 – Side 4
1. Tennessee Jed
2. The Music Never Stopped
LP3 – Side 5
1. Terrapin Station
2. Samson And Delilah
LP3 – Side 6
1. Friend Of The Devil
2. Estimated Prophet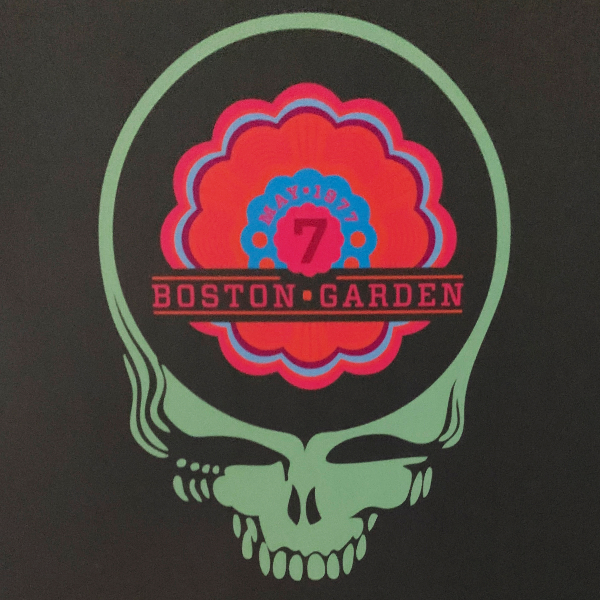 LP4 – Side 7
1. Eyes Of The World
LP4 – Side 8
1. Drums
2. The Wheel
LP5 – Side 9
1. Wharf Rat
2. Around And Around
LP5 – Side 10
1. U.S. Blues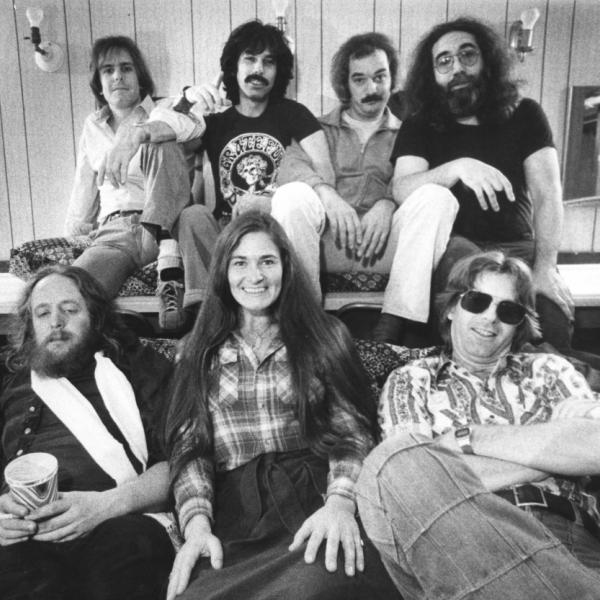 <!- ------------------------------------>