Bryan Ferry's "The Jazz Age" Takes Familiar Repertoire To An Old Place
Note: The pressing issue I encountered with the copy I bought was corroborated by some readers but not all. The producer's QC copy was fine, so we exchanged copies. The replacement I was sent (autographed by Bryan Ferry, thank you!) sounded fine throughout. Today I received an email from Ferry's office acknowledging the problem. I don't blame them for wanting to hear it for themselves before taking action. Though you might imagine this to be an extremely limited vinyl release, apparently it has sold very well. Worn stampers have been replaced more than a few times and at least one proved to be defective for reasons yet to be determined. All copies of the album, regardless of where they are sold, were pressed at one UK-based plant (The Vinyl Factory, formerly PortalSpaceRecords, profiled elsewhere on this site). I have been assured that replacement copies will be sent to anyone getting a defective copy, though the details have yet to be worked out. Therefore it's time for the review. If you buy a defective copy there will be a remedy.—ed.
Long time Bryan Ferry fans would not be surprised to read that his interest in music from a bygone era preceded his own rock-stardom. After all, the first Roxy Music album's sound, and especially its visual esthetic incorporated retro '50s elements while simultaneously projecting the music into the future beyond the "hippie in the dirt" scene in which it was then mired.
The so-called "art-rock" band was always about glamor and the expression of wealth at a time when that was very unpopular (in public at least. Behind the scenes the hippie rockers were living it up!). Ferry, Eno, Manzanera, MacKay et.al were musically goofing on much that was going on around them musically, but backed by serious musical intentions and skills.
The first few Roxy Music albums were acts of rebellion against the reigning feminine "earth mother" esthetic, as Bryan Ferry imagined a more glamorous era (when it was okay for women to be at least "sort of" seen as sex objects—and definitely so on album covers!), one, it can be argued, he helped usher in. We're kind of there now.
I remember driving from Boston to New York to see Roxy Music at The Beacon Theater in the fall of 1975. Playing to a room full of plaid shirt and denimed hippies, out strode a tuxedoed Ferry looking and acting much like many of our parents did going out for a formal wear evening. Now that was a (post) teenage revolution!
Was Ferry goofing in his post-Halloween costume or was he sending a serious message? I'd say the latter, though he was probably also goofing: on the audience and on the decrepitude of the time. Anyone who remembers mid '70s New York understands.
So here's Ferry re-imagining as the "yellow cocktail music" of F. Scott Fitzgerald's "The Great Gatsby," a select set from his repertoire. The novel was cast in a truly glamorous time (at least for the then ultra-wealthy) that one can easily imagine Ferry would have liked to have experienced first hand.
That's how annotator Richard Williams sees the exercise. After the first listen you'll find it difficult to disagree with him.
One could even argue that far from being a "novelty album," the musical intent here is as serious or perhaps even more serious than on any Roxy Music or Bryan Ferry solo album. This is a musicologist's meticulous attempt to re-create the distant musical past using compositions from the more recent musical past. Each song is re-imagined both stylistically and in terms of meaning and intent. Simply rearranging stylistically would have rendered an empty album devoid of meaning and unworthy of a second play.
It works perfectly even though some of the arrangement will remind you of cartoon music. But that's mainly because children of the 1950s grew up with silent era cartoons on television backed by this sort of music (or by Mendelsohn and other melodic classical music).
The set begins appropriately with "Do the Strand" from the second Roxy album—itself a retro-imploration that was positively incongruous in 1972 addressed to an audience of long-haired, bearded stoners, who were so fucking serious about being serious they needed a Ferry wake up call. It was liberating even if some of us felt constrained by peer group pressure to experience "the new way" in private!
Here it is as the opening tune, imagined along with many of the others as mannered, joyful, heavily syncopated cocktail music, redolent with clarinets, mischievous saxophones, cascading mallets, banjo and sometimes muted, braying brass.
I don't care if you're twelve, you've heard this style. It's as rambunctious and outrageous today as it was back then, skillfully and playfully arranged by Colin Good on keyboards accompanied by more than a dozen other musicians who turn the wayback machine to the roaring '20s.
Ferry has chosen from among his Roxy and solo efforts including some obvious ones like the elegant "Avalon" and "Slave to Love," to "Love is the Drug" (another "slave to love" song) and "The Bogus Man," which was cartoonish to begin with in the extended original. "Slave to Love" moves from a serious rumination to a carefree toss-off just right for a frivolous time.
There's "Don't Stop the Dance" from Boys and Girls, "This is Tomorrow" from In Your Mind, "The Only Face" from Mamouna and "Reason or Rhyme" from Olympia and "Virginia Plain", which was a single not included on the original UK Island LP. Ferry saves the most poignant musical transformation for the end: the version of "This Island Earth" from The Bride Stripped Bare resonates most perfectly with the nostalgia-soaked exercise. It has you gazing way into the past and realizing that the older you get, the more compressed becomes the time between then and now.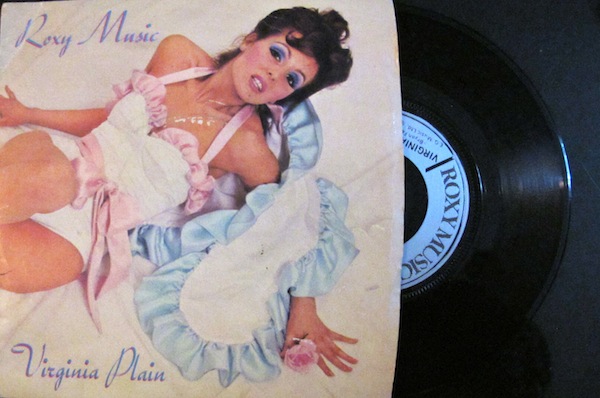 In producing the record, Ferry and long-time producer/engineer Rhett Davies had to choose between an old style with a modern sound or faux "old sound" with frequency and dynamic limits applied in monophonic space. Both can work. For stupendous sound applied to the "old style" listen to John Fahey and His Orchestra's After the Ball (Reprise MS 2145) if you can find a copy—every one I've seen is a white label promo—or his Of Rivers and Religion. And for this style done to complete absurdity but still sounding fine make yourself a happiness pie by finding copies of Roger Ruskin Spear's Electric Shocks (United Artists UALA097-F) and his Unusual (United Artists UK UAS 29508).
The point here, however, was to really pull the nostalgia strings and thus the retro-sound was not just appropriate, it was mandatory and like the music it is not a "novelty". Engineer Davies strikes just the right balance of "old" without producing a sensation of suffocation and the mono mix by Simon Willey masterfully blends the musical elements to create a well-congealed whole while allowing the individual instruments to assert themselves.
While some vinyl issues are clearly cheap afterthoughts, this one is anything but. The jacket is of the thickest cardboard stock and the paper laminate is equally generous. The same goes for the inner sleeve. The sumptuously reproduced artwork, based on 1927 illustrations by Paul Colin from the "Tumulte Noir" Portfolio, would be lost in a CD jewel box, but come to life on the 12x12 canvas.
A film maker might make a visual period piece. For a music maker with a strong desire to imagine living in a bygone era—if just for an album's length, what better way could there be than to create the soundtrack by re-imagining a career's worth of music as having originated in that era?
I can imagine Ferry listening to this album, sufficiently detached from it to see himself suitably attired, drink and smoke in hand flitting from guest to guest at a grand party he's thrown in a Gatsby-like mansion while the orchestra plays on, song after wonderful song.
"Who's the composer?" he might ask, having some vague recollection of his name, but not remembering and moving on to the next guest. The door's open, you're welcome to attend.
(Sound rating must be taken in context of intent).

<!- ------------------------------------>