Pressing Issue With U.S. Edition of The Bryan Ferry Orchestra's "The Jazz Age" (Updated 3/14/13)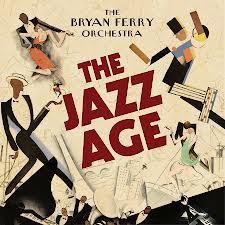 Update: according to Rhett Davies, all copies of this album were pressed at The Vinyl Factory in the UK (which is the former
PortalSpaceRecords
. Note: since that story was written, the
real
EMI pressing plant is apparently back up and running. Davies told me the copies he's checked all play fine so he and his team and trying to get to the bottom of this to insure that everyone who buys the vinyl gets a good copy."
I am returning my copy to Rhett's people and they are sending me another. They haven't found a defective copy so obviously not every copy is defective. If you're planning on buying this album don't let this "mini-controversy" deter you. But if you get a defective let me know!
Whether or not you appreciate the mono "old 78rpm" sound of Bryan Ferry's re-imagining of songs from his catalog as "jazz age" singles (I do so far), I came upon a serious pressing problem on side two track three that I brought up to Bob Ludwig, who gets mastering credit because I honestly wasn't sure if it was part of the " retro-plan" or a genuine pressing problem. In part that's because there's absolutely nothing visible to indicate a problem.
The problem is severe overload distortion on that track ("I Thought") with hints of it on the previous track ("The Only Face"). Bob confirmed that he sent 88.2/24 bit files to the client but as yet I'm not sure who cut it domestically. It was cut at Abbey Road by Frank Arkwright for the U.K. release and the cut was checked and approved by co-producer Rhett Davies who emailed to tell me that their edition sounds fine.
I sent an MP3 to all involved so they could hear what I was hearing. As I was preparing it I got an email from a reader complaining about the same problem. So that is not good news as it means I don't have a bad pressing. I fear they are all bad pressings, but let's wait until this is sorted out.
The packaging is deluxe, with laminated paper on cardboard jacket and thick stock full color sleeve. As for the music, I was pleasantly surprised though I am sure others may have a different reaction! A full review will appear soon. As for the pressing issue stay tuned (I think it was done at Rainbo but I don't think they are at fault unless lacquers were cut there).
<!- ------------------------------------>