Goldring Launches New Eroica HX H.O. MC Cartridge Ahead of High End Munich 2022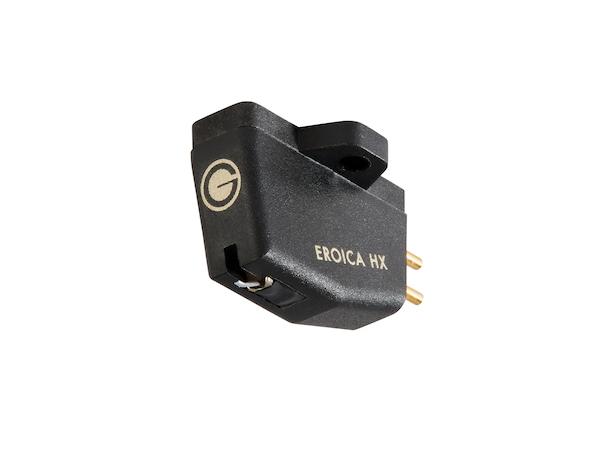 May 12, 2022
—U.K. cartridge manufacture Goldring today announced the
EroicaHX
a high output moving coil cartridge retailing in the United States for $899. The new cartridge will be available starting this June.
According to the press release, the new EroicaHX features a new pure-iron cross armature design wound with ultra-fine enameled-copper windings designed to produce higher output and low crosstalk. The stylus is a Gyger II fine line. The cartridge body is of lightweight Pocan, a low coloration composite material. The press release doesn't specify cantilever material but chances are it's aluminum.
The EroicaHX is designed to be a simple replacement for any MM cartridge while providing all of the benefits of a MC. With a Gyger II stylus, however, great care must be taken setting SRA! For more information visit Goldring USA.
Specifications:
Frequency Response 20 Hz – 20 kHz ± 3 dB
Frequency Range 10 Hz – 50 kHz
Channel Balance within 1 dB @ 1 kHz
Channel Separation better than 25 dB @ 1 kHz
Sensitivity 2.5 mV ± 1 dB, 1 kHz @ 5 cm/sec
Static Compliance 25 mm/N
Trackability 85 um (@ 315 Hz)
Equivalent tip mass 0.4 mg
Vertical Tracking Angle 22 °
Stylus Radius Gyger II
Stylus Type Non-Replaceable (re-tip service available see website)
Load Resistance 47 kΩ
Load Capacitance 100 – 500 pF
Internal Inductance 0.13 mH
Internal Resistance 35 Ω
Cartridge Mass 5.2 g
Cartridge Mass (inc. fixings) 6.6 g
Fixing Centre 0.5 " (12.7 mm)
Playing Weight 1.5 - 2.0 g (1.75 g nom.)
<!- ------------------------------------>