Elvis Costello and Burt Bacharach's Songwriting Partnership Is Properly Celebrated With Class and Style Via Bob Ludwig-Mastered 4CD/2LP Super Deluxe Box Set and Separate 140g 2LP Edition for The Songs of Bacharach & Costello
In the mid-1990s, Elvis Costello stunned many in the music world with the release of an outstanding song he composed with no less than the hit-making maestro Burt Bacharach, the composer of many iconic pop standards, acclaimed film soundtracks, and even a Broadway show. That song, "God Give Me Strength," was featured in the 1996 film Grace of My Heart, a movie that boasted a story loosely based on the life of Carole King and mashed up with characters representing Phil Spector, Brian Wilson, Gerry Goffin, and many others from NYC's Brill Building scene of the early 1960s. Very much a centerpiece to the movie, the Bacharach/Costello composing duo was so pleased with the results of and fan response to their first collaboration that these two legendary songwriters from different generations continued to work together on what ultimately became a full album.
The resulting September 1998 album, Painted From Memory, was a critical success, and it included some of Costello's finest songwriting ever, imo — and, arguably, some of Bacharach's best late-period work as well. Upon its release, Painted From Memory was only available initially on CD (and in the HDCD format, for those who remember that early step toward upping CD fidelity). Moving into the 21st Century, Mobile Fidelity issued the album on a quite fine first-time vinyl edition in 2017 (as well as on hi-res SACD).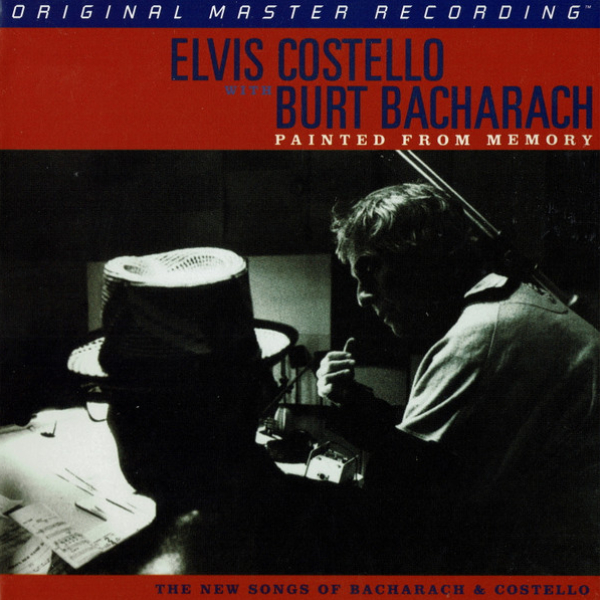 With Bacharach's sad passing earlier this month at age 94, the eerie timing of the release of The Songs of Bacharach & Costello 2LP+4CD box set may seem a bit crass to some — but it is far, far from that. I only mention this here because I saw a couple of snarky comments along those lines coming across social media posts related to the advance news about the box set.
Fact is, a deeply thoughtful project like this one has been in the works for quite some time, leading up to what is currently Painted From Memory's 25th anniversary and a nearly 30-year relationship between the two artists. The Songs of Bacharach & Costello is the kind of production that simply does not just happen overnight. And while I am very sad Bacharach will never get to see the applause he will no doubt receive for his contributions to this collection, I am happy this expanded edition has been thoughtfully crafted and released for all to embrace, enjoy, and ultimately learn from.
The technical stats are these. The Songs of Bacharach & Costello was mastered by Bob Ludwig at Gateway Mastering Studios. The lacquers were cut by Ryan Smith at Sterling, and the vinyl has been pressed at Precision Record Pressing in Canada. It is officially slated for release next Friday, March 3. The 2LP edition can be preordered, and it has an SRP of $37.99, while the all-in 2LP+4CD box set edition goes for $179.99. More stats about the overall contents of the massive box set edition can be gleaned here.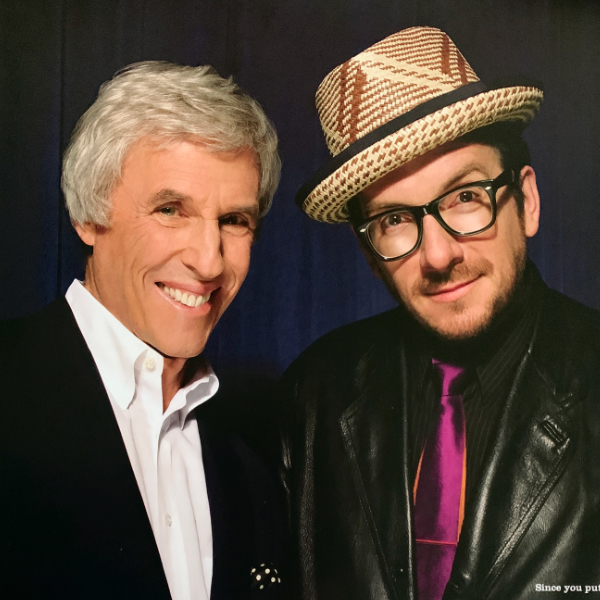 Now, for anyone reading this who may not be as up to speed on the legacy and lineage of Burt Bacharach and/or Elvis Costello, we suggest you go here to learn more about Bacharach's amazing, groundbreaking career, and then go here to learn more about Costello and his own stellar, and still quite ongoing, legacy. If you're so inclined, you can also read my 2022 review of the fine 180g 1LP reissue of Elvis Costello and The Brodsky Quartet's The Juliet Letters here.
Now, if you were someone who happened to pay close attention to Costello's early career, Elvis offered us clues as to where he was going on his music journey, and how it ultimately intersected with this project. Consider that, on his first 1977 package tour with other artists from the influential UK-based label Stiff Records, Costello performed a Burt Bacharach/Hal David tune that was a 1964 UK No. 3 hit for Dusty Springfield, "I Just Don't Know What to Do With Myself." Costello's version first appeared on the 1978 tour-document album Live Stiffs — and, thankfully, it is now included here on The Songs of Bacharach & Costello.
A personal aside: The first time I heard Costello's version of that Bacharach song while I was still in high school in the late '70s, I remember thinking to myself, "Okay, there is something much bigger going on here!" I soon enough got on the deep Elvis fan bus, collecting every bit of Costello music as I could find, including rare import pressings, singles with rare B-sides, live performances, TV appearances, guest appearances on other artists' albums, and more. He remains a favorite artist, and is one of the brightest torchbearers for inspired songwriting for several generations now.
All that said, there are some interesting but subtle details about how this "new" music is being presented to us. It is worth noting that, on the original album, Painted From Memory was credited to "Elvis Costello With Burt Bacharach" and it included a subtitle, "The New Songs of Bacharach & Costello." I'll go out on a limb and posit that it was a record-label marketing decision to position the artist credits in that way, especially given Elvis' popularity at the time. The new collection, however, is titled more directly and perhaps more appropriately as The Songs of Bacharach & Costello. Twenty-five years on, these songs are no longer "new," and I suspect the title switch crediting Bacharach's name first is Elvis' nod of respect to the maestro.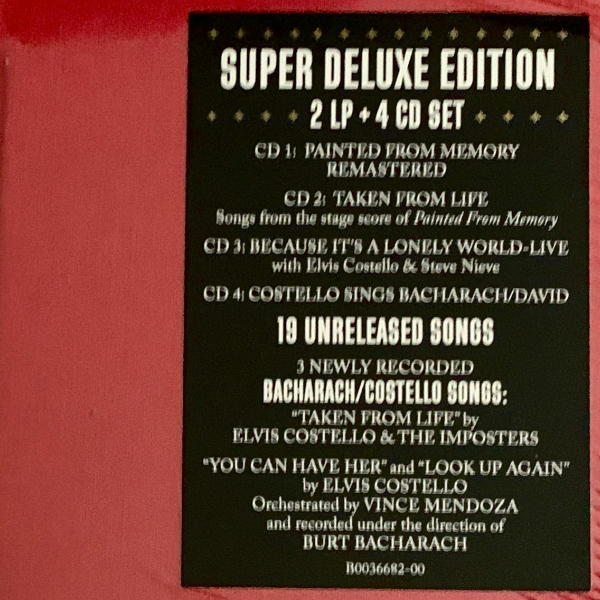 Thoughtful Mastering
Bob Ludwig's new remastering of Painted From Memory from the original analog master tapes — as included in both The Songs of Bacharach & Costello super deluxe box set as well as the standard 2LP edition — is excellent. In short, spreading the core album's 12 tunes across three sides of a 2LP set gives the music more room to breathe — and shine.
My listening process for this review included refresher listening to a promo copy of the original HDCD version of Painted From Memory, followed by the Mobile Fidelity SACD, and then the new CD remaster. Then I played the Mobile Fidelity LP edition (second pressing run — #1891, for the more collector-minded amongst us who might be wondering), which we now know was probably made from a DSD (digital file) source. And then I put on the new version of the album included in The Songs of Bacharach & Costello box set.
Interestingly, the SACD was mastered more quietly than the CD versions, though I didn't get any sense of so-called "brick walling" going on. I had to turn up the volume on my amp a bit when switching to the MoFi vinyl edition. And then when I jumped to the new edition, it was mastered at a lower level still, so I had to pump up the volume a bit more to reveal all that sweet dynamic detail.
As good as the MoFi edition is — one that puts all 12 songs on two sides of a single vinyl LP — indeed, there is more detailing apparent on the Songs of release's three-sided LP presentation. Every step along the way when listening to the new Bob Ludwig-mastered version of Painted From Memory, I have been hearing surprising details jump out at me. For example, listen for the Brian Wilson/SMiLE-esque ambient tack piano at the start of "Tears at the Birthday Party," a detail which shimmers beautifully now.
The piano and strings on the opening track, "In the Darkest Place," have an extra sense of sparkle. "Toledo" also sounds quite fantastic in this new presentation, with beautiful detailing on the acoustic guitars and bells (probably a glockenspiel).
The New Songs: Taken From Life
Highlighted on Side D of the 2LP set (and fleshed out even further on one entire CD in the bigger box set, if you're so inclined) — are additional songs written for a musical-in-progress revolving around the songs from Painted From Memory.
With a storyline crafted by TV comedy mogul Chuck Lorre and Tony Award-winning writer Steven Sater, the songs from Painted From Memory were woven together with more than 12 additional songs written for the attempted work.
From the official press release, we learn from Costello himself about writing the lyrics to these new songs: "These reflect the stories and impulses of a group of people who are, obsessive and vain, who are betrayed and become disappointed in life but long tenderly for a happier time, who are unfaithful, dishonest, destructive and turn out to be the inventors of a dangerous past, who are guilty, haunted and romantically deluded, desperate, vengeful and even cruel. In their musical form they are different kinds of dark love songs that anyone might sing if they happened to be an artist, his model, a wife, a fantasist, a lover, a philanderer or disillusioned daughter. You know, fun for all the family."
In one of the two full-album-size booklets included in The Songs of Bacharach & Costello box, Elvis goes into great detail —in a 10,000-word essay, no less! — on the complex twists and turns leading to these tracks. No spoilers here, but there is a lot of detail to absorb — and I'm still absorbing it all myself, to be honest, and I plan to re-read it all again soon.
The six songs highlighted on Side D of the 2LP set provide a sweet snapshot of the feel of this music, presented more in the form of a musical (as opposed to a pop record). For example, it is rather spinetingling hearing "Don't Look Now," "What's Her Name Today," and "I Looked Away" as performed by singer Audra Mae.
"Audra who?" you may ask. Yeah, I did too! A little research, and I found out soon enough she's the great-great-niece of Judy Garland, and a great granddaughter of Garland's sister Jimmie. (No DNA pressure there on filling those big shoes!)
I have indeed grown to like Mae's voice, which sounds kind of like if Karen Dalton (see "Something on Your Mind" from 1971, written by Dino Valenti) had Judy Garland's drive and delivery skills.
The new songs like "You Can Have Her" sparkle with lush vibrance. That tune, along with "Look Up Again," find Elvis backed by a full orchestra scored by Vince Mendoza. These new productions are just lovely, and they provide a dramatic, powerful way to bookend the set.
Of course, I wish the UMe powers that be had given all the box set's bonus material its own 2LP or even 3LP representation, including all the songs on the Taken From Life CD. I suppose going that route would have bumped up the SRP of the deluxe box set even further. [Or, another thought here: Perhaps the entire big box set collection could have been released in a concurrent, or even subsequent, LP-only box set—MM]
At any rate, I'm so glad they pulled out the gorgeous duet version of "Painted From Memory" sung by the great Cassandra Wilson with Bill Frisell on gorgeously recorded nylon-string classical guitar. This track had appeared on Frisell's companion release to Painted From Memory, issued as October 1999's The Sweetest Punch. It sounds gorgeous here, especially in this context with these other songs.
The collection pulls together related tracks like the brilliant "Everyone's Playing House," which appeared on the 2019 Record Store Day exclusive Purse EP, and features backing by Elvis' longtime band The Imposters. This, along with songs from Elvis' Grammy Award-winning October 2018 album Look Now are included here which add to the contextual impact — namely, "Don't Look Now," "Photographs Can Lie," and "Why Won't Heaven Help Me."
Sounds Great, More Filling
Elvis' voice is a bit brighter-sounding on this new Songs of edition than the Mobile Fidelity version of Painted From Memory. But after several listens, I am taking that as a good thing. The latter seems to have rounded off some of the frequencies around Costello's emotive but sometimes angular vocal stylings. Jim Keltner's always spectacular drumming sounds fuller, clearer, and more realistic than before on this new remaster.
"Such Unlikely Lovers" might well become a wonderful demo track for some of you, with a wonderful sense of dynamics, loud and soft portions, and powerful spine-tingling drum fills from Keltner. Overall, Bob Ludwig's mastering feels just right on this release, and generally is a welcome improvement over the MoFi edition.
I have a few nits to pick, however, which may or may not be important to some of you. The third side of my vinyl set was unfortunately off-center — and some of you likely know by now this is a big no-no in my book. However, I checked in with AP editor Mike Mettler, and he confirmed his copy of the same record in the same set is perfect. I have alerted UMe to this anomaly with my copy and I hope it is just that, but it is something to perhaps keep an eye out for when you get yours. In my case, it was just enough to make the music sway in and out of tune, which is a big drag, as that side contains the centerpiece track, "God Give Me Strength."
My only other preferences, especially given the box set's pricetag, would have been to press these albums on at least 180g, rather than the standard 140g. I also would have liked the LPs to have come in plastic-lined audiophile-grade inner sleeves, not plain paper. Other than these nits, The Songs of Bacharach & Costello is overall a very, very nice set.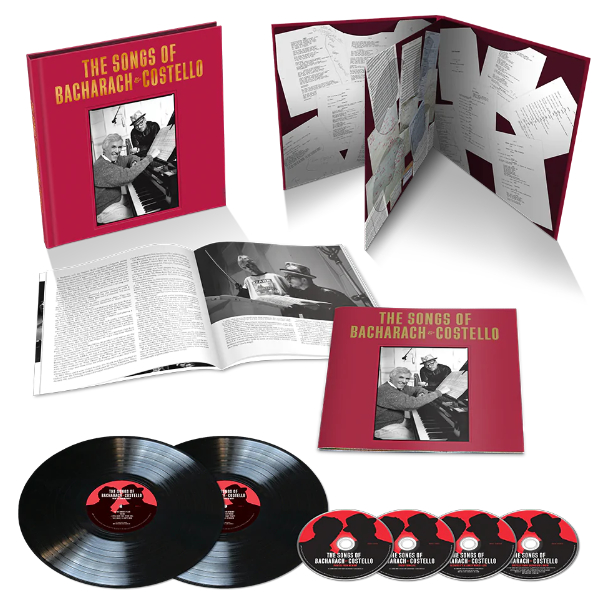 Thoughtful Packaging
The packaging for The Songs of Bacharach & Costello box set edition looks timeless, echoing designs of the past — particularly the 1950s — when deluxe-edition albums were often presented in fancy, linen-covered portfolio-style covers (particularly in the realm of classical, but also sometimes in pop and jazz). The rich, red-linen-wrapped, large-scale-design outer cover draws attention and focus to an iconic Bacharach/Costello photo inset. Taken together, it heralds a very classy affair inside.
From the official press release we learn, "Housed in a lavish 12.75" x 12.5" box, the expansive set features a 20-page booklet with photography from William Claxton and Rankin, in and out of the studio, early drafts of lyrics, studio notes, pages from the 'Painted From Memory' musical script, and a newly written 10,000-word essay by Costello that beautifully details his nearly three-decade long friendship and prolific musical partnership with Bacharach, and how influential the legendary songwriter has been throughout his life."
When you open up the gatefold cover, you will find separate pouches for each of the LPs, as well as the two individual booklets. Happily, because this is music of two great songwriters who value lyrics, one of these booklets contains all the words, so you can read along while listening so you don't miss any important lines that can often just walk on by.
A line somewhat out of context from one of my favorite songs on Painted From Memory kind of summarizes how I feel about The Songs of Bacharach & Costello collection overall:
"You knocked me out,
It was the sweetest punch"
If you are a fan of Painted From Memory, you need to get The Songs of Bacharach & Costello, whichever edition your wallet will allow. You and your ears will be more than glad you did.
(Mark Smotroff is an avid vinyl collector who has also worked in marketing communications for decades. He has reviewed music for AudiophileReview.com, among others, and you can see more of his impressive C.V. at LinkedIn.)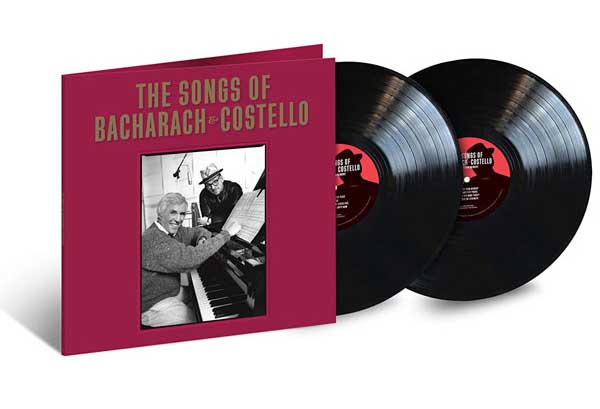 ELVIS COSTELLO & BURT BACHARACH
THE SONGS OF BACHARACH & COSTELLO
140g 2LP & 140g 2LP+4CD editions (UMe)
Side A - Painted From Memory
1. Elvis Costello & Burt Bacharach - In The Darkest Place (2023 Remaster)
2. Elvis Costello & Burt Bacharach - Toledo (2023 Remaster)
3. Elvis Costello & Burt Bacharach - I Still Have That Other Girl (2023 Remaster)
4. Elvis Costello & Burt Bacharach - This House Is Empty Now (2023 Remaster)
Side B - Painted From Memory
1. Elvis Costello & Burt Bacharach - Tears At The Birthday Party (2023 Remaster)
2. Elvis Costello & Burt Bacharach - Such Unlikely Lovers (2023 Remaster)
3. Elvis Costello & Burt Bacharach - My Thief (2023 Remaster)
4. Elvis Costello & Burt Bacharach - The Long Division (2023 Remaster)
Side C - Painted From Memory
1. Elvis Costello & Burt Bacharach - Painted From Memory (2023 Remaster)
2. Elvis Costello & Burt Bacharach - The Sweetest Punch (2023 Remaster)
3. Elvis Costello & Burt Bacharach - What's Her Name Today? (2023 Remaster)
4. Elvis Costello & Burt Bacharach - God Give Me Strength (2023 Remaster)
Side D – Selections From Taken From Life
1. Elvis Costello - You Can Have Her *
2. Audra Mae - Don't Look Now *
3. Audra Mae - I Looked Away *
4. Elvis Costello & The Imposters - Taken From Life *
5. Audra Mae - What's Her Name Today? *
6. Elvis Costello - Look Up Again *
* Previously unreleased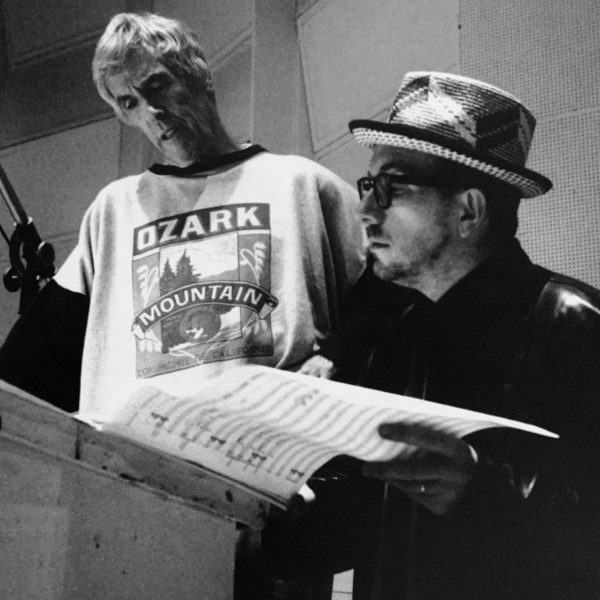 <!- ------------------------------------>