The Songs of Bacharach & Costello 4CD/2LP Super Deluxe Box Set and Separate 140g 2LP Edition Tapped for Release on March 3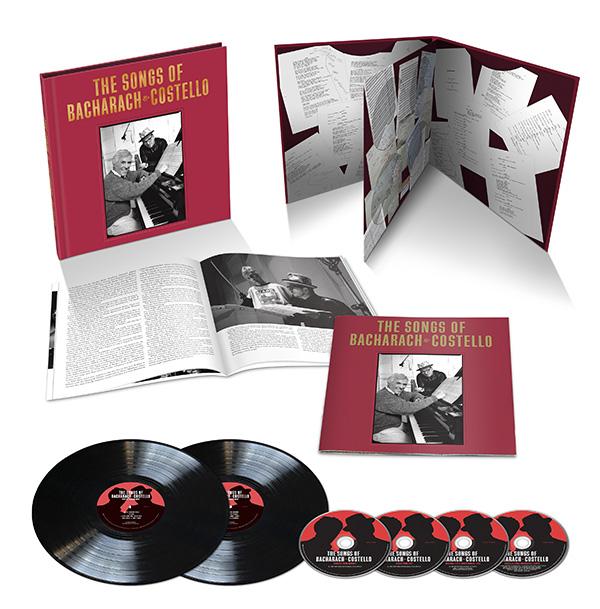 The vinyl gods have indeed given us strength with the announcement that The Songs of Bacharach & Costello, a comprehensive collection of the creatively fruitful, decades-long aural collaborations between Elvis Costello and Burt Bacharach, is set for release as a wide-ranging 4CD/2LP super deluxe box set from UMe on March 3. Additionally, a separate 140g 2LP edition comprised of the 2023 original-tape remasters of September 1998's Painted From Memory and six bonus selections from their unreleased Taken From Life musical will be released concurrently.
The stats at hand are these: Painted From Memory has been newly remastered for its 25th anniversary from the original tapes by Bob Ludwig at Gateway Mastering Studios. The new remaster is presented on 140g 2LP black vinyl. Side D of the 2LP set showcases six songs from the aforementioned Taken From Life, including three newly recorded compositions. (Pressing plant details will be forthcoming, and will be added to this story once we get them confirmed firsthand.)
The 45-song box set edition — compiled and sequenced with the invaluable assistance of compilation producer Steve Berkowitz — also includes live performances of Bacharach and Costello performing several of the songs from Painted From Memory, as well as other beloved Bacharach numbers, with orchestras in New York and London; Costello performing stripped-down versions of the songs on his Lonely World Tour with Steve Nieve (the classically trained pianist and keyboard player in both The Attractions and The Imposters); and a selection of Bacharach and Hal David songs Costello has performed and recorded over the years, including "I'll Never Fall In Love Again," which Bacharach and Costello famously performed together onscreen in 1999's Austin Powers: The Spy Who Shagged Me.
Housed in a 12.75 x 12.5-inch box, The Songs of Bacharach & Costello features a 20-page booklet with photography from William Claxton and Rankin (both in and out of the studio), early drafts of lyrics, studio notes, pages from the Painted From Memory musical script, and a newly written 10,000-word essay by Costello detailing his nearly three-decades-long friendship and prolific musical partnership with Bacharach, and how influential the legendary songwriter has been present and influential throughout his life.
To get a taste of what's in store with The Songs of Bacharach & Costello, check out the following clip of the rare and unreleased live performance of the starkly gripping "In The Darkest Place," recorded as a duo by Costello with Steve Nieve at the piano in Australia on the above-noted Lonely World tour. (Two other clips will be peppered throughout the balance of this story.)
In addition to the Super Deluxe Edition box set, which has an SRP of $179.98, The Songs of Bacharach & Costello will also be available in a variety of abbreviated formats, including the aforementioned 2LP set with Painted From Memory spread over three sides and a fourth side comprised of six selections from Taken From Life. The 2LP set is available separately with an exclusive lithograph for $49.99, or without the litho for $37.99.
Some further background details now about a collaboration that began in 1995 and continues to this day. It was Costello who wrote the first musical draft of "God Give Me Strength," communicating from Dublin to Los Angeles by fax — ah, the good ol' days! — and far from being offended by this presumption, Bacharach sent back an amended copy, laying out the signature intro motif for flugelhorn, adding the expansive bridge section, and making all sorts of subtle but crucial amendments to the melodic and rhythmic phrasing of Costello's first draft.
"God Give Me Strength" was also a commission for Allison Anders' 1996 film Grace Of My Heart. As Costello pegged it in his October 2015 memoir Unfaithful Music & Disappearing Ink (Blue Rider Press), "To have written a song like 'God Give Me Strength' and simply stopped would have been ridiculous." (Wholly agreed!)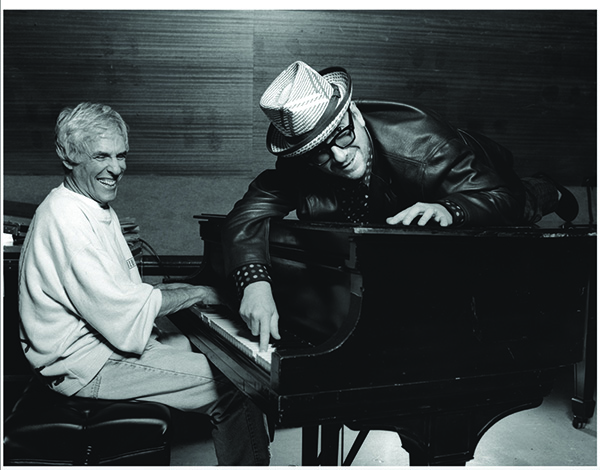 And thus began a series of face-to-face songwriting sessions in both California and New York City. Costello and Bacharach's working methods ranged from one writer responding to the other's opening musical statement to Costello trying to put lyrical substance and definition to a complete Bacharach composition that did not need any such musical reply. By the end of their initial sessions, there were occasions when they were seated across the room at two pianos, writing successive bars of the new tune. (Truly fascinating from a songwriting-to-sonic-realization perspective, imo.)
Recorded in Hollywood in 1998, the ensuing Painted From Memory album was orchestrated by Bacharach — with the exception of the title track that was arranged by Johnny Mandel.
Regarding the six Taken From Life tracks on Side D, the idea that the songs and lovelorn themes of Painted From Memory might be realized on the Broadway stage were perhaps an unlikely prospect, given that, as Costello puts it in his box set essay, such a show might feel like "Eugene O'Neill's Long Day's Journey Into Night, only with less tap-dancing."
Nevertheless, this was the belief of dedicated Painted From Memory aficionado and television comedy mogul Chuck Lorre, who, together with Tony Award-winning writer Steven Sater, set about threading a story through the original folio of songs, creating a tale and set of characters who essentially demanded Bacharach and Costello write more than a dozen additional songs for it.
In terms of writing lyrics for these new songs, Costello observed, "These reflect the stories and impulses of a group of people who are obsessive and vain, who are betrayed and become disappointed in life but long tenderly for a happier time, who are unfaithful, dishonest, destructive and turn out to be the inventors of a dangerous past, who are guilty, haunted and romantically deluded, desperate, vengeful and even cruel. In their musical form they are different kinds of dark love songs that anyone might sing if they happened to be an artist, his model, a wife, a fantasist, a lover, a philanderer or disillusioned daughter. You know, fun for all the family."
The "Taken From Life" title cut is a 2022 Elvis Costello & The Imposters recording produced by Sebastian Krys, who also co-produced that collective's quite fine October 2018 Look Now LP. The other startling, beautiful vocal performances of other songs from the Painted From Memory musical score include three by Audra Mae, highlighted by the truly tragic "I Looked Away."
Given the full breadth of the big box set itself, here's hoping all 16 Taken From Life tracks that reside in it — as well as the additional eight live Costello/Nieve performances, the one live Costello/Bacharach live rendition, and the eight Costello Sings Bacharach & David cuts — make it onto vinyl eventually, either unto themselves and/or via a fully comparable multi-LP Bacharach/Costello collection inclusive.
Finally, it is also worth noting that Costello's 10,000-word box set essay is illustrated by a number of photographs, including detail from (deep breath!) a shot of the entire company of the Royal Variety Performance of 1963, in which The Beatles (who themselves had recorded Bacharach's "Baby It's You" on February 11, 1963 at EMI Studios and can be found on Side 2 of March 1963's Please Please Me LP) are seen flirting with Marlene Dietrich, whose accompanist Burt Bacharach can be found in the third row back, just four places along from Costello's father, Ross MacManus, who was also heard at the famous "rattle yer jewelry" show, singing with The Joe Loss Orchestra. (Crazy, right??)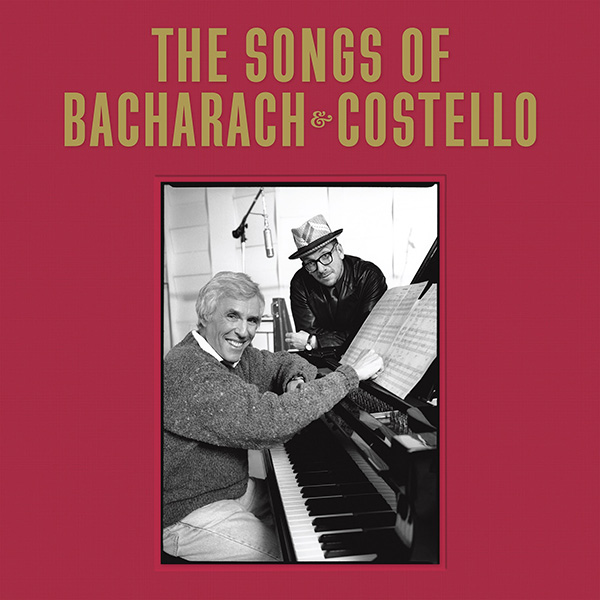 Growing up in England during the early 1960s, Costello (then known as Declan MacManus), spent much time listening to BBC Light Entertainment, on which Burt Bacharach/Hal David songs were first heard sung by Cilla Black, Dusty Springfield, and Zoot Money and The Big Roll Band before the original recordings by Dionne Warwick and many other American vocal artists ultimately made their way to the British airwaves and charts.
From his initial concert hall dates with The Attractions as part of the Live Stiffs package tour in 1977, Costello turned to the Bacharach/David songbook for "I Just Don't Know What To Do With Myself," the first performance of a tune other than his own to make it onto vinyl. Where can that be found on wax, you ask? You can find it on February 1978's Live Stiffs Live compilation from Stiff Records. (It's also on the bonus disc of Rhino's 2001 2CD Aim reissue, for any of you so digitally inclined.)
With all this in mind, The Songs of Bacharach & Costello really does seem like the full realization of an inevitable collaboration for the ages.
Ordering information/options for any and all versions of The Songs of Bacharach & Costello can be found here.
Me, I'm going all-in for the big box myself — and, rest assured, we will be reviewing the 2LP set specifically here on AnalogPlanet, come release time. Chime in with your own thoughts about the Bacharach/Costello connection, painted from memory and/or otherwise, in the Comments section below.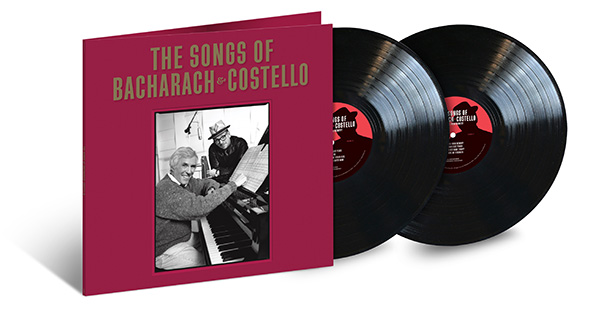 ELVIS COSTELLO & BURT BACHARACH
THE SONGS OF BACHARACH & COSTELLO
140g 2LP (UMe)
Side A - Painted From Memory
1. Elvis Costello & Burt Bacharach - In The Darkest Place (2023 Remaster)
2. Elvis Costello & Burt Bacharach - Toledo (2023 Remaster)
3. Elvis Costello & Burt Bacharach - I Still Have That Other Girl (2023 Remaster)
4. Elvis Costello & Burt Bacharach - This House Is Empty Now (2023 Remaster)
Side B - Painted From Memory
1. Elvis Costello & Burt Bacharach - Tears At The Birthday Party (2023 Remaster)
2. Elvis Costello & Burt Bacharach - Such Unlikely Lovers (2023 Remaster)
3. Elvis Costello & Burt Bacharach - My Thief (2023 Remaster)
4. Elvis Costello & Burt Bacharach - The Long Division (2023 Remaster)
Side C - Painted From Memory
1. Elvis Costello & Burt Bacharach - Painted From Memory (2023 Remaster)
2. Elvis Costello & Burt Bacharach - The Sweetest Punch (2023 Remaster)
3. Elvis Costello & Burt Bacharach - What's Her Name Today? (2023 Remaster)
4. Elvis Costello & Burt Bacharach - God Give Me Strength (2023 Remaster)
Side D – Selections From Taken From Life
1. Elvis Costello - You Can Have Her *
2. Audra Mae - Don't Look Now *
3. Audra Mae - I Looked Away *
4. Elvis Costello & The Imposters - Taken From Life *
5. Audra Mae - What's Her Name Today? *
6. Elvis Costello - Look Up Again *
* Previously unreleased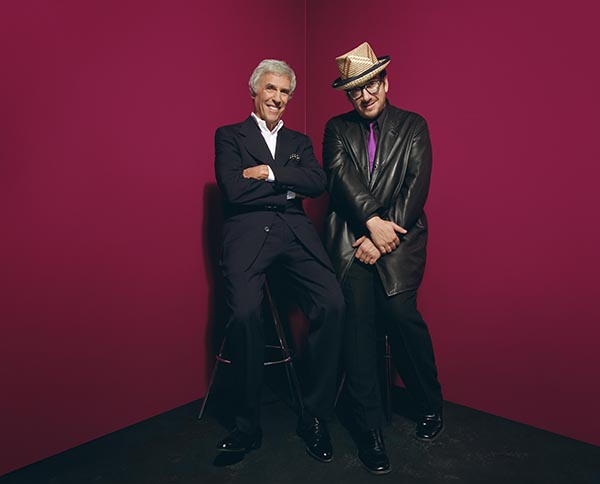 <!- ------------------------------------>