Frank Zappa's New, Concurrent 180g 2LP Zappa '80 Mudd Club and 180g 3LP Zappa '80 Munich Live Releases Offer Both Analog-Attained Pleasures and (Yes) Digitally Sourced Delights
The estate of Frank Zappa — the late, great composer, guitarist, musical mover, shaker, and cultural icon — has been doing a wonderful job issuing very high-quality music from the maestro on vinyl in recent years, culled both from his expansive back catalog as well as the massive FZ Vault archives. Earlier this year, I reviewed the excellent, updated 180g 1LP reissues of July 1972's Waka/Jawaka and November 1972's The Grand Wazoo — a combo review that you can read and/or refresh yourself about here — and now, the latest double-header 180g LP releases from Zappa Records and UMe are dubbed Zappa '80 Mudd Club and Zappa '80 Munich respectively.
Both of these multidisc releases offer fascinating periscopes into Zappa's sound at the outset of the 1980s, an era that found him playing with a relatively lean rock combo — as in, no vibes, no horns, and one drummer — and breaking out much new material.
Before I go much further into this combo review, I have to offer up a bit of kudos to Zappa's Vaultmeister, Joe Travers, a musician, engineer, and Zappa fan extraordinaire himself whose taste I've grown to trust over the years. Travers is on the frontlines with Zappa's recordings, and he maintains an ultra-intimate role similar to that of the late Dick Latvala, the man who pioneered The Grateful Dead's groundbreaking Dick's Picks series (one that continues to this day in different forms and nomenclature variations, as helmed by subsequent curators following Latvala's passing in 1999).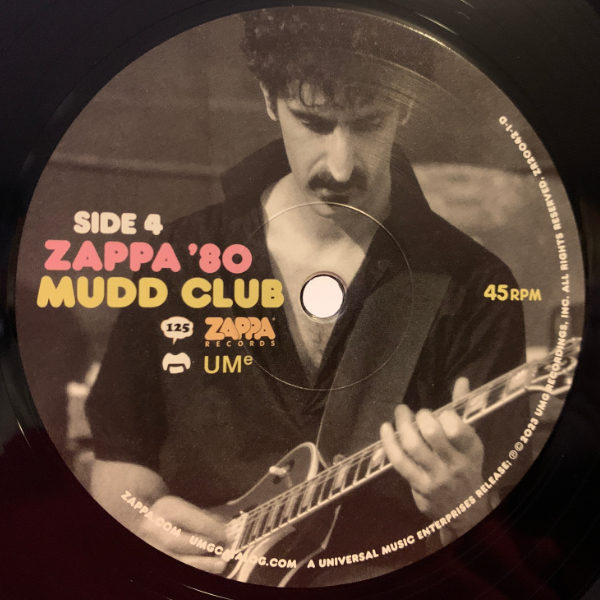 When it was announced that Travers was bringing forth music from a period of Zappa's career that I had generally glossed over back in the day, I raised an eyebrow or two, but I also knew to take him quite seriously — and, spoiler alert, I am not disappointed.
In fact, these two new releases have me reconsidering much of the music Zappa was making at this time with fresh perspective, as we now get to hear that next-gen Zappa sound in a raw, live form without a net. Captured on the fly without opportunity for remixing, these recordings are about as pure a snapshot of how the music was presented to audiences at that time as we are ever likely to get.
Recorded to 2-channel stereo tape, Zappa couldn't really remix this music, and thus the unique balance of instrumentation achieved in the moment is very appealing — at least it is to this pretty much lifelong Zappa fanatic and his assigning editor. One of the reasons I never liked the 1980-84 era of Zappa's music came down to the prominence of certain electronic synthesizer sounds that Frank apparently enjoyed. Now, I do like Tommy Mars, Zappa's keyboardist at this time, but what bothered me was how, on some of this period's studio albums, those synth sounds tended to dominate the mix. I get that Frank likely still had hopes to have his music played on the radio at the time so perhaps there were periodic needs for concession to the tonal flavors of the day, but I didn't particularly like it at the time.
All that said, while those synth sounds are present on these two new releases, they are happily not dominating the mixes, and thus, we can appreciate this music in all its stripped back, ripping rock & roll glory. In fact, in many ways, Zappa's guitar is what dominates these recordings, so if you are fan of hearing hot, overdriven, feedback-rich Les Paul guitar solos from one of the masters of sustain — well, then, these two new multidisc LP releases may very well be your jam.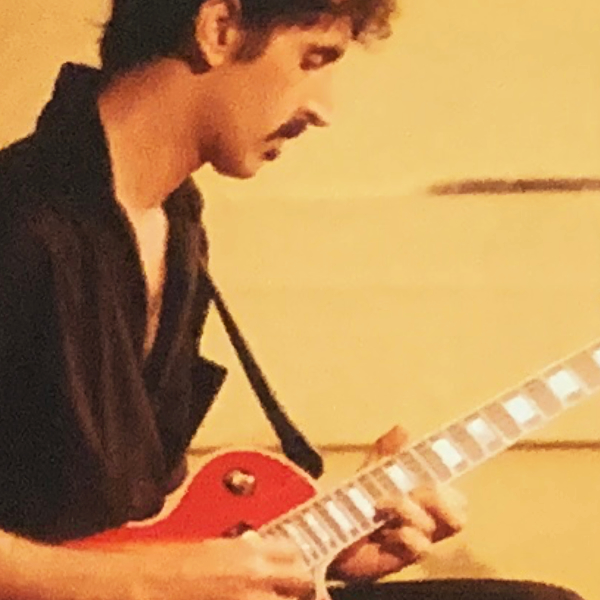 Effectively two sides of the same coin, both albums taken together offer interesting listening opportunities for audiophiles. But before we get into those details, here are the core vinyl pressing stats: Both of these new Zappa live albums were mastered for disc by audio legend Bernie Grundman of Bernie Grundman Mastering from hi-res digital files taken from the original tape sources, which were initially transferred by aforementioned Zappa Vaultmeister Joe Travers. Both albums were produced for release by Ahmet Zappa and Joe Travers, and these 180g LPs were pressed at Optimal in Germany.
The Zappa '80 Mudd Club 2LP set was mastered from 24-bit/192kHz WAV files of the original 1/4-inch 2-track Nagra analog reel-to-reel tapes. The original recordings were produced by Frank Zappa and recorded by Klaus Weidemann on the Nagra that was located "near the cash register behind the bar" (according to album liner notes).
Meanwhile, the Zappa '80 Munich 3LP edition comes via 24-bit/44.1kHz WAV files made from Zappa's PCM-1600 3/4-inch digital videotape master. The original recording and mixing engineer for this release was Mick Glossop.
The SRPs are as follows: $49.99 for Zappa '80 Mudd Club and $59.99 for Zappa '80 Munich. And now, let's review!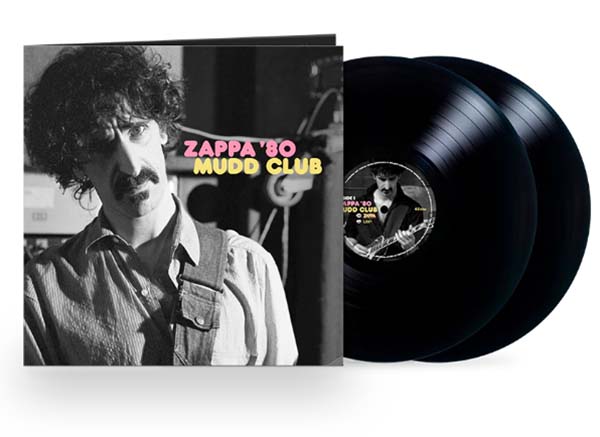 ZAPPA '80 MUDD CLUB
The 2LP Zappa '80 Mudd Club set is a fascinating document of a rare moment when Zappa played at the legendary downtown New York underground venue of the same name, a locale he frequented regularly back in the day. Made on Zappa's classic Nagra reel-to-reel that was, as noted above, "situated by the cash register" — probably the safest place to set up his gear in there! — this May 8, 1980 gig presents Zappa's combo rocking the tiny house for about 240 lucky fans, and the recording captures the vibe of the club perfectly.
I was initially surprised to read the album was mastered at 45rpm, but when I put it on my turntable, I understood. Borrowing some Deadhead taper terminology, this is effectively a pretty great audience recording, and that makes it about as pure a high-fidelity listening experience as could be hoped for here, even though the microphone locations were probably not optimal. One can only imagine what the SPLs were like in that tiny space, with this band firing on all cylinders! Given its analog/Nagra DNA, it made sense to have this vinyl spinning at 45rpm to deliver as much of that fat club ambiance as possible.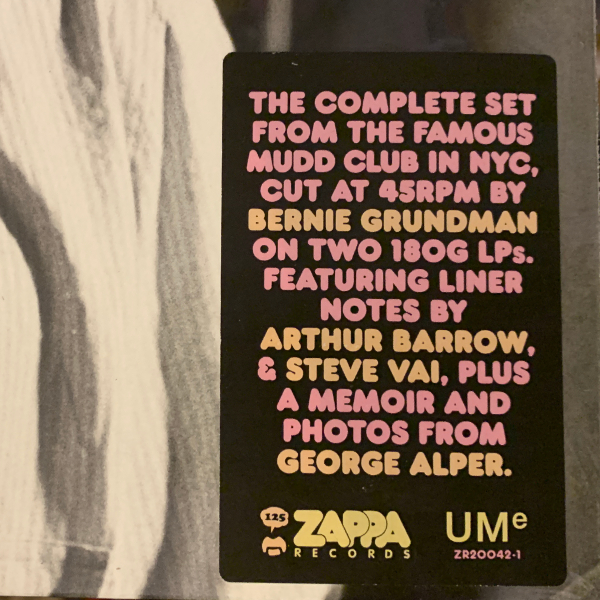 Audiophiles who appreciate this sort of ambiance-flavored recording will get a kick out of the natural feel of the instruments, the room-filling bass and the punch of the kick drum that cuts through as clearly as the hi-hat's sizzle. And, of course, Zappa's guitar tone is off the hook at points. When he kicks in for his solo on "Outside Now" at the end of Side 1 (originally from his epic November 1979 release, Joe's Garage: Acts II & III), I can only imagine the sonic blast the folks in the first few rows of the club must have felt!
Zappa '80 Mudd Club is a fun show documenting a special moment for Frank. As great as this release is, you'll note that I have graded the sonics on this one as a 7, which is a little lower than I might normally have done because it is ultimately an imperfect document from an audiophile perspective, even if it is one that I enjoy a whole lot personally, warts and all.
I wouldn't stress over that rating per se, but I do recommend you consider whether you like the overall ambient aesthetic of this type of recording. I know some people don't like audience recordings and prefer the precision of a well-mixed soundboard capture as properly mixed through a mixing board. For those listeners, the companion release from Germany I'm about to discuss may be a better choice.
ZAPPA '80 MUNICH
As great as the Zappa '80 Mudd Club show is, I am actually a bit more excited about Zappa '80 Munich from July 3, 1980, literally the last night of this part of the tour. Playing before the comparatively massive Olympiahalle arena audience in Munich, Zappa was riding the success of a hit single, "Bobby Brown," which was originally from his March 1979 2LP release, Sheik Yerbouti. As my interwebs research informs us, "Bobby Brown" was a No. 1 hit in Norway and Sweden and a No. 4 hit on the German charts, where it sold more than 250,000 units. "Bobby Brown" was much more successful in Europe than in the United States, likely owing to the fact that the song's pervasive sexual content made it relatively unfit for broadcast on U.S. radio.
Originally broadcast in part on the radio, Zappa '80 Munich presents the full concert in all its live-to-2-track stereophonic glory, spread across three lovingly pressed 180-gram black vinyl LPs. (Note: For those who are interested, an orange LP color variant is available directly from Zappa's official site, as is the bottle green LP Mudd Club variant, both of which will run you $5 more than the listed SRPs for the standard black-vinyl versions or each album).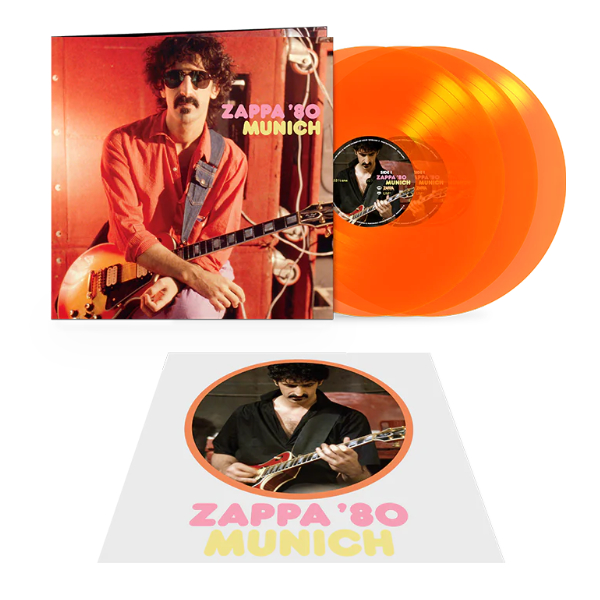 By the end of the tour, this new band — featuring fabulous drummer David Logeman, who was only in the band for about a year — was super-inside this music and, frankly, smokin' it! Wait until you hear Frank breaking out his then still pretty new bagpipe-flavored guitar soloing techniques on the epic version of "Pound for a Brown" on Side 2.
There are also plenty of fan favorites here, including a trio of oldies from Frank's Mothers of Invention days on Verve Records in the mid/late 1960s — updated for the times, of course. When you hear tracks like "You Didn't Try to Call Me" and "I Ain't Got No Heart" (originally from June 1966's 2LP masterpiece Freak Out!), as well as "Love of My Life" (from December 1968's Cruising With Ruben & The Jets), don't be surprised that they aren't quite the same arrangements as those early incarnations of The Mothers played them.
Zappa is at his bluesy best on the version of the March 1974 Apostrophe (') classic "Cosmik Debris" that opens Side 3, but the real wonder of wonders on this album is the version of "Easy Meat" that opens Side 4. A song Zappa started breaking out as far back as 1970 (and yes, there are Flo & Eddie-era versions in existence from that time period), the key factor for me appreciating this version goes back to my earlier comment about the balance of instruments. I do like Tommy Mars' synth playing and even the sound of the synth he was playing — which always felt a little cartoony-flavored, imo, but I digress — yet they dominate the music on May 1981's double-live Tinseltown Rebellion, where "Easy Meat" first saw its release. There, the sound gets off-putting for me, ultimately feeling more like Emerson, Lake & Palmer than Frank Zappa — or at least for a good portion of the tune.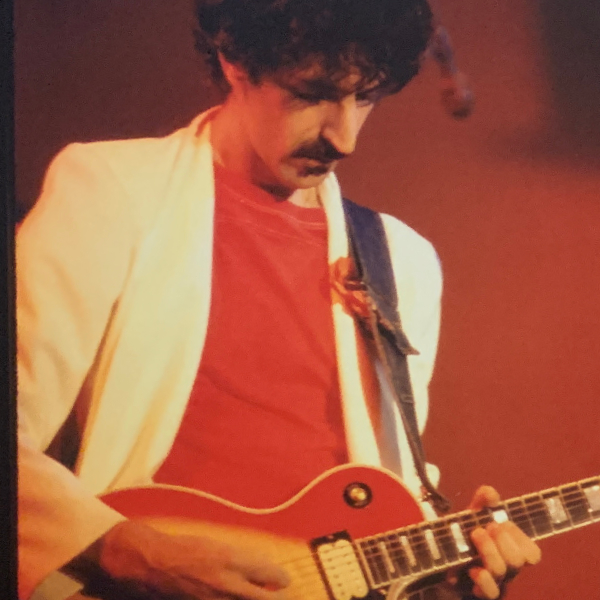 In contrast, on Zappa '80 Munich, we clearly hear Mars' synths, but they do not overtake the arrangement, nor the rest of the band. This version of "Easy Meat" rocks, and it features an utterly jaw-dropping solo from Frank — an almost-perfect version save for the transition back into the song after the solo, which is admittedly a little abrupt. Regardless, this is now my preferred take of the song.
Side 6 of Zappa '80 Munich also offers some neat treats in the form of a fun cover of the 1959 doo-wop nugget "Nite Owl" that was originally recorded by Tony Allen and The Champs circa 1955, and a somewhat more rocking version of Zappa's classic "The Illinois Enema Bandit." Regarding the latter, it is very interesting comparing this to the legendary December 1976 Palladium version that's on the March 1978 2LP release Zappa In New York, featuring Terry Bozzio on drums and a classic intro from original Saturday Night Live announcer Don Pardo. While that version was a swinging, bluesy masterwork, the Munich version takes features a more direct, steady, and a bit faster rock beat approach for what was the band's final encore. And you know what? It works in its own right, neither better nor worse than the Palladium take — just different.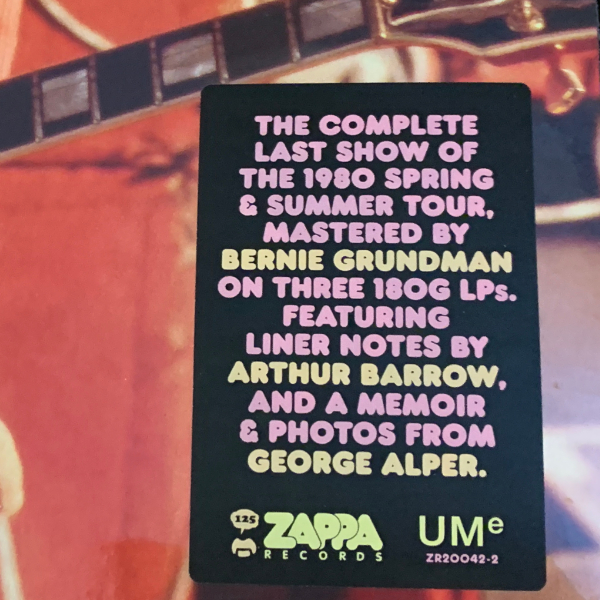 Now, let's talk about the sound on Zappa '80 Munich, because I am sure some of our digital-averse faithful are wondering how this could possibly even be such an enjoyable listen.
Well, as the first all-digital recording Frank Zappa ever made on tour — captured on Sony's then state-of-the-art PCM-1600 3/4-inch U-Matic videotape-based recording format — happily, this show sounds indeed quite wonderful, as basically we're hearing the native original recording that was laid down at that time.
So, yes, even though the music was captured at 16-bit/44.1kHz in the early days of digital — not coincidentally the standard for the eventual CD — you are hearing everything that was laid down at that time, and it does sound pretty terrific!
When certain audiophiles get up in arms about digital recordings made from analog masters, I can understand their concerns at times, especially if the transfers were not handled properly. I have heard many of those anomalies myself. But the thing to remember here is, there is no real "transfer" going on. Anything that was captured at that time is pretty much what you hear here, in all its glory. Ultimately, it are what it is! And they captured quite a lot of information at that time, all things considered.
Granted, there apparently was significant restoration work done to prepare this album for release, fixing many dropouts from various safety copies Zappa had made. A new 24-bit/44.1kHz digital master was created, and the final mastering and lacquers were cut, as I mentioned above, by Bernie Grundman. Grundman has done a great job preparing the music so it sounds rich and warm on vinyl, without any harsh digital edges apparent (if there were even any at the start). My best test was that I was able to turn this album up loud, and enjoyed it very much. I can't always do that with many poorly mastered digital recordings that tend to sound uncomfortably harsh, but that is not the case here.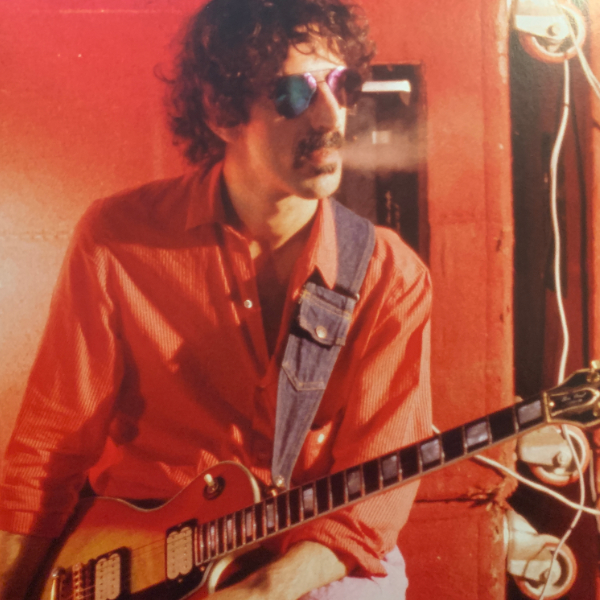 I also have to complement the wonderful album cover designs on these two companion live vinyl releases. Zappa '80 Munich in particular features great photos of Frank with his beautiful Les Paul. There is a casual cool to these behind-the-scenes photos, making the covers feel somewhat iconic.
I'll put it this way: if my inner 7th grader who was just discovering Zappa had seen this nice pair of Zappa '80 live albums available back in the day, he would have wanted to buy them just because they looked cool. And Munich is especially sweet as a tri-fold cover, featuring extensive liner notes and a great photo collage from the tour.
So, what are you waiting for? If you like/love Frank Zappa, you'll want to get one or both of these new releases ASAP. Taking a hint from Frank heard at the end of the Zappa '80 Mudd Club recording, "Turn the records on so you people can dance and have a good time!"
(Mark Smotroff is an avid vinyl collector who has also worked in marketing communications for decades. He has reviewed music for AudiophileReview.com, among others, and you can see more of his impressive C.V. at LinkedIn.)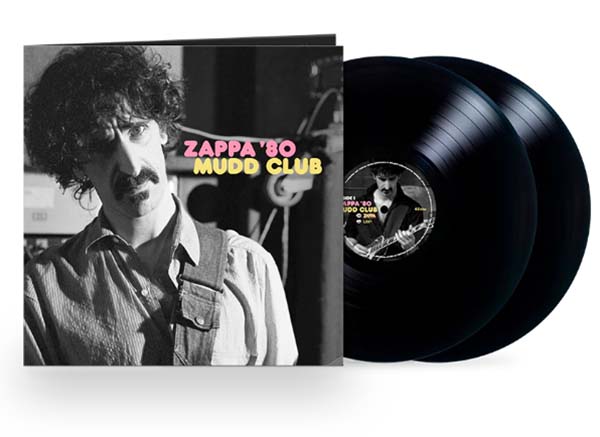 FRANK ZAPPA
ZAPPA '80 MUDD CLUB
180g 2LP (Zappa/UMe)
Ratings – Music: 8 / Sound: 7
Side 1
1. Mudd Club Show Start
2. Chunga's Revenge
3. Keep It Greasy
4. Outside Now
Side 2
1. City Of Tiny Lites (Edited)
2. Pound For A Brown
3. You Are What You Is
Side 3
1. You Didn't Try To Call Me
2. I Ain't Got No Heart
3. Love Of My Life
4. Easy Meat
Side 4
1. Mudd Club
2. The Meek Shall Inherit Nothing
3. Joe's Garage
4. Why Does It Hurt When I Pee?

FRANK ZAPPA
ZAPPA '80 MUNICH
180g 3LP (Zappa/UMe)
Ratings – Music: 9 / Sound: 8
Side 1
1. Munich '80 Show Start
2. Chunga's Revenge
3. Keep It Greasy
4. Pick Me, I'm Clean
Side 2
1. City Of Tiny Lites
2. Pound For A Brown
Side 3
1. Cosmik Debris
2. You Didn't Try To Call Me
3. I Ain't Got No Heart
4. Love Of My Life
5. You Are What You Is
Side 4
1. Easy Meat
2. Mudd Club
3. The Meek Shall Inherit Nothing
4. Joe's Garage
5. Why Does It Hurt When I Pee?
Side 5
1. Dancin' Fool
2. Bobby Brown Goes Down
3. Ms. Pinky
4. Stick It Out
Side 6
1. Nite Owl
2. The Illinois Enema Bandit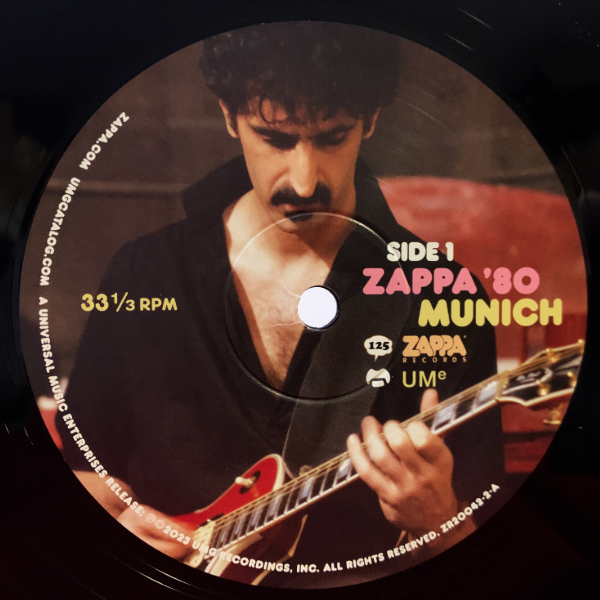 <!- ------------------------------------>