Monty Alexander's The Montreux Years Showcases Master Jamaican Pianist in a Modern Light on a Compelling, Deluxe MQA-Mastered 180g 2LP Set
A fabulous new retrospective collection being released via BMG on November 4 that celebrates Jamaican-born jazz pianist Monty Alexander is the latest offering from the Montreux Jazz Festival archives. Called simply Monty Alexander: The Montreux Years, this 180g 2LP set is a fine addition to this important archival series, which curates the finest performances from the Swiss festival's acclaimed, vast catalog of recordings between 1993 and 2016. To wit: This new Alexander collection has been sequenced lovingly into a genuine, freestanding, and compelling listening experience.
While I am admittedly a bit late to the party when it comes to my appreciation of Monty Alexander, Resonance Records' excellent November 2020 Record Store Day release of a 1982 live concert recorded in Fort Lauderdale, Florida called Love You Madly: Live At Bubba's made me a fan. When I heard the good folks from the Montreux Jazz Festival were coming out with an Alexander collection of their own as part of the Montreux Years series, I was immediately excited, and I reached out to them for a preview copy to share with you all (well, to share my review of it, that is, not the copy itself).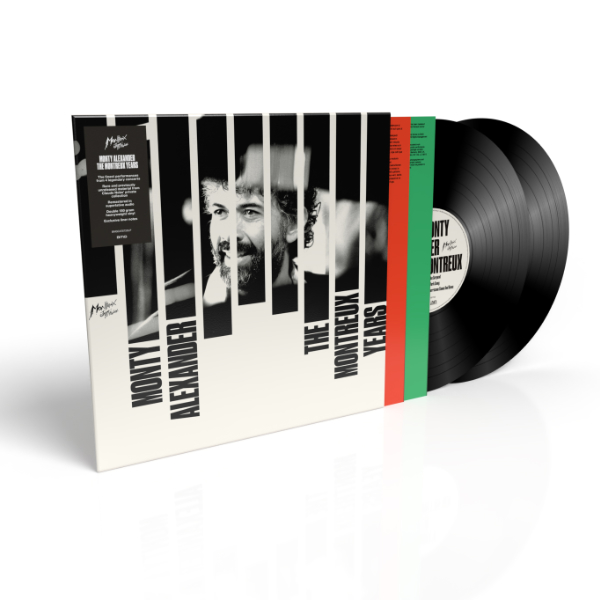 Monty Alexander: The Montreux Years continues in the high standard of this terrific series, crafting a compelling profile of the artist by cherry-picking choice performances from the festival's vast archives as curated by the festival's late, great founder, Claude Nobs. For those not familiar with Nobs and/or the festival itself, go here for my earlier review of Chick Corea's entry in the Montreaux Series for those details. The Montreux Jazz Festival — now in its 55th year! — attracts some 250,000 music fans annually from around the world.
Mr. Nobs' contribution to the world of recorded live music is a bit mind-blowing, to be honest. From the Foundation site run in his name, we learn (following here, in italics):
The Claude Nobs Foundation oversees the curation and conservation of Claude Nobs' audio & visual archives, which is one of the World's largest private collection of "live" music recordings — all of which was recorded at the Montreux Jazz Festival (Switzerland) since 1967. Having started with jazz in the early days, over the next 55 years, the collection has grown and enriched itself with new genres of music ranging from blues and rock, to rap, soul, Latin and many more. . . . Today the library has become one of the largest testimonies of live music in the World, with over 5,000 individual performances. The collection is unequaled and has a universal significance for current and future generations.
The Montreux Jazz Festival's archive breakdown is equally stunning. According to their site, said archive includes some 11,000-plus hours of video (5,000 hours of it in hi-def) and 6,000-plus hours of audio (two-thirds of it in multitrack formats).
There is much, much more, to be sure, but I think you get the idea this archive is very special, and quite important. And it is all the more amazing when you stop to consider how many artists are in those Montreux Jazz Festival archives, and that the consummate curators driving these releases are intimate enough with the recordings to be able to pinpoint the best performances — and the ones that also sound the best — for these beautiful albums.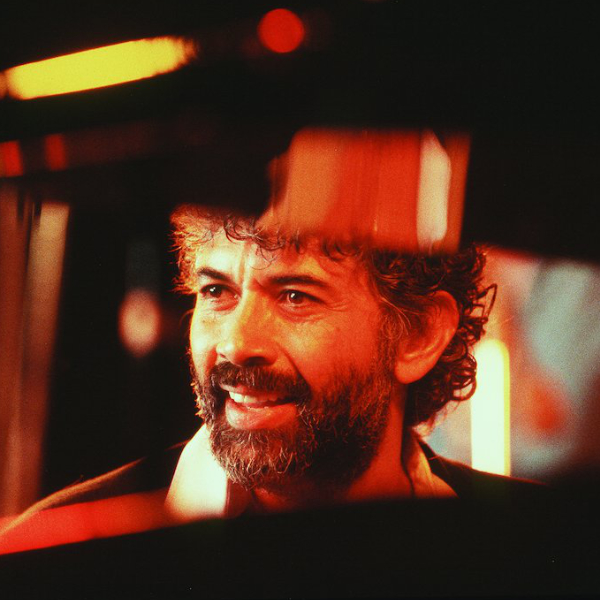 What I've found immediately wonderful about Monty Alexander: The Montreux Years is the sense of his personality and distinctive musical diversity coming through in the recordings. In one instance, Alexander pays tribute to a fellow native, noted reggae legend Bob Marley. His combo workout on Marley's "No Woman No Cry / Get Up Stand Up (Medley)" is a wonderful testament to the composer, as well as to Alexander's own arrangements. The name of his band — The Harlem-Kingston Express — is especially apropos here, as they crisscross musical boundaries via vintage jazz flavors like Nat Adderley's classic "Work Song" (co-written with Oscar Brown, Jr.) and a 1966 Quincy Jones soundtrack theme, "The Pawnbroker."
Alexander's originals on this 2LP set are often powerful, such as "Hurricane Come And Gone," with its searing, snarling electric-guitar soloing by Andy Bassford. The band's joyous interpretation of an old Jamaican folk song called "Linstead Market" is also wonderful and spirited.
It's worth noting the presence of a key member of Alexander's band on some of these tracks connects some key jazz musical dots — including no less than legendary drummer Ed Thigpen, whom many will recognize as a member of Oscar Peterson's classic trio from the early-1960s. It is great hearing Thigpen letting loose with a sense of joyous abandon on the calypso-flavored "Linstead Market," as well as on "The Pawnbroker" and "Renewal."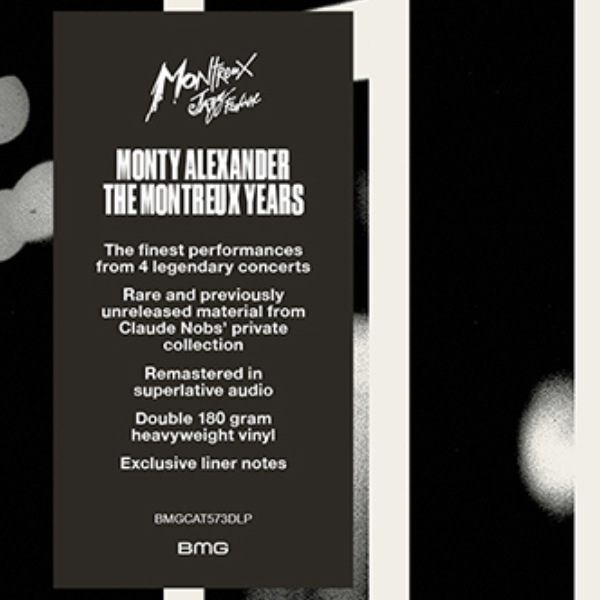 Once again, the sound quality on Monty Alexander: The Montreux Years is excellent, and the deployed MQA mastering technology has delivered a rich-sounding and consistent listening experience across recordings spanning many decades and different technologies. (Incidentally, I reported on MQA extensively in my aforementioned Chick Corea review, so rather than recap all those important details here yet again, I encourage you to go here to better understand all that.)
As with past albums in BMG's Montreux Years series, the production quality here is very high, with the whole package having been manufactured in Germany. The SRP is $37.99, and both discs in my set are dark black, thick, quiet, and well-centered 180g vinyl, so there is no problem there. The cover art is also excellent, and there are detailed liner notes by David Sheppard, including interview insights from Alexander himself.
Monty Alexander: The Montreux Years is a fine release for established Monty Alexander fans, as well as for those of you who are just beginning to get into his music. Actually, The Montreaux Years is an excellent starting-point overview of this man's many talents. Either way, you should take the time to embrace these fine Montreaux Years of Alexander's, and really listen to this 2LP set.
(Mark Smotroff is an avid vinyl collector who has also worked in marketing communications for decades. He has reviewed music for AudiophileReview.com, among others, and you can see more of his impressive C.V. at LinkedIn.)

MONTY ALEXANDER
THE MONTREAUX YEARS
180g 2LP (Montreaux Sounds/BMG)
Side A
1. The Serpent (Live – Montreux Jazz Festival 1995)
2. Work Song (Live – Montreux Jazz Festival 2016)
3. Hurricane Come and Gone (Live – Montreux Jazz Festival 2016)
Side B
1. Night Mist Blues (Live – Montreux Jazz Festival 2014)
2. Linstead Market (Live – Montreux Jazz Festival 1993)
3 Crying (Live – Montreux Jazz Festival 1995)
Side C
1. No Woman No Cry / Get Up Stand Up (Medley) (Live – Montreux Jazz Festival 2014)
2. Renewal (Live – Montreux Jazz Festival 1993)
Side D
1. The Pawnbroker (Live – Montreux Jazz Festival 1993)
2. A Nod To Bob (Live – Montreux Jazz Festival 1995)
<!- ------------------------------------>