New 60th Anniversary Craft Recordings Small Batch One-Step RTI-Pressed 180g 1LP for Vince Guaraldi Trio's Jazz Impressions Of Black Orpheus Is Well Worth the Freight
While everyone loves the man's jazzy instrumental music on the Peanuts TV specials — particularly the classic holiday soundtrack to 1965's A Charlie Brown Christmas (the expanded 180g 2LP reissue of which we reviewed here, back in December 2022) to really appreciate Vince Guaraldi's career one needs to go back to the early 1960s, when one recording pretty much changed the trajectory of his life. It was a trajectory without which there might never have been all that amazing Peanuts music beloved around the world.
Having seen the 1959 Academy Award-winning film Black Orpheus, Guaraldi created inspired arrangements of four songs from the movie by then-new composer Antonio Carlos Jobim. While Guaraldi's record label, Fantasy — which was on the cusp of ditching him — loved this new music, it was understood he needed more songs, so he fleshed out the self-produced (and self-funded!) album that was credited to Vince Guaraldi Trio with interpretations of popular songs of the day such as Henry Mancini's instant standard, "Moon River." Guaraldi also recorded a couple original tunes for the 1962 LP including "Cast Your Fate to the Wind," which turned out to be the hit-making break the pianist needed to take his career to the next level — and yet it almost didn't happen.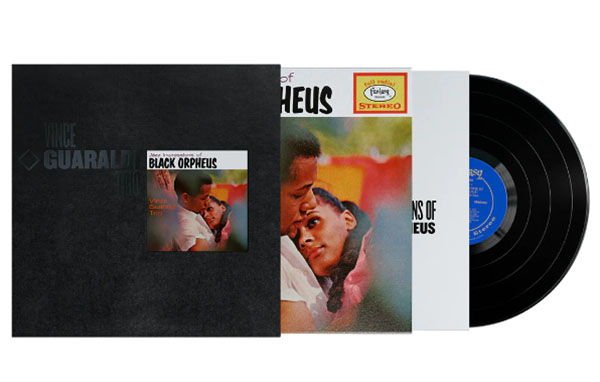 "Cast Your Fate to the Wind" was actually on the B-side on the single submitted to DJs in 1962, but it wound up being preferred over the A-side the label had chosen to emphasize ("Samba De Orfeu"). Guaraldi was fortunate DJs were interested enough to flip the single over! This kind of thing has happened to quite a number of artists over the years including The Beatles and XTC, to name but a few. As for the ultimate, er, fate of "Cast Your Fate to the Wind," it won a Grammy Award in 1963 for Best Original Jazz Composition, and it also reached No. 22 on the Billboard Hot 100 singles chart.

I actually have trouble remembering a time when I hadn't heard "Cast Your Fate to the Wind" on the radio. By the time I was 9 or 10 years old and listening to FM, I'm pretty sure it was Dennis Elsas on New York City's WNEW-FM who closed his sets every evening with the tune right before Alison Steele's "The Nightbird" show commenced. I listened to her show religiously, and thus always heard Guaraldi's "Fate" while waiting for Steele's night shift to begin. As I got deeper into jazz over the years, I finally made the connection between that song and the Peanuts TV series music. It was a big "Ah hah" moment for young me!

That eureka moment thankfully happened years earlier for producer Lee Mendelson, who heard "Cast Your Fate to the Wind" playing on the radio in the early '60s, leading him to track down and commission Guaraldi to write music for A Boy Named Charlie Brown, an upcoming TV special featuring Charles Schultz's popular Peanuts characters. This, in turn, led to the development of the above-noted A Charlie Brown Christmas, which ultimately saved Guaraldi's fate from potentially being cast to the wind. And it all started with "Fate" and this album at hand, Jazz Impressions of Black Orpheus.
All this is important background to assist in understanding why you might want to buy this super-deluxe Small Batch one-step RTI-pressed edition of Orpheus. First and foremost, if you have ever set out to find an original pressing of this very popular album, you'll know it is not easy finding a clean copy. And by clean, I mean one that has not been played to death on an automatic changer or other record player from a time period that had less-than-ideal alignment of cartridge and stylus (in turn resulting in groove distortion, especially on the inner grooves toward the label).

I can't tell you exactly how many copies of Orpheus I've had over the years, but it's taken me a long, long time find a very clean black vinyl copy. The stereo version of the album was originally issued on translucent blue vinyl (whereas mono editions were pressed on red vinyl). Many initial pressings often had a special sticker applied to the upper right corner of the cover, promising "Full Radial Stereo."

While those old pressings could sound good if they were in nice condition, finding genuinely "Mint" condition copies are remarkably elusive. This was a popular album of its day and it was played a lot, probably at parties and over drinks and/or other social imbibements of the day. Thus, it is common to find copies that are in what some of us collectors kindly call "well-loved" condition. (That doesn't necessarily mean well-cared-for, however!)

At the time of this posting, there were just two copies of Jazz Impressions of Black Orpheus available in the United States and listed in "VG-plus" condition. Five copies were listed as just "VG." I have yet to find one of the color vinyl editions that sounds as good as the black vinyl version. I get the sense the color vinyl didn't hold up as well on the average record players and turntables of the day vs. the black editions. (This is just speculation on my part, based on my own experiences.)

In the early 1980s, there was a Mobile Fidelity issue of the album that I suspect was quite nice (and no, I do not own one), but those editions mostly sell for upwards of $150 to $200 on Discogs in "near mint" condition. (There are two copies selling for $65-$75, but I suspect those will disappear in fairly short order.) Acoustic Sounds apparently issued a version of the album in 2003, and those go mostly in the $200 range on Discogs (though one listed for $75). The point of all this sleuthing is to underscore there is a clear need for a good, definitive, quality edition of this album.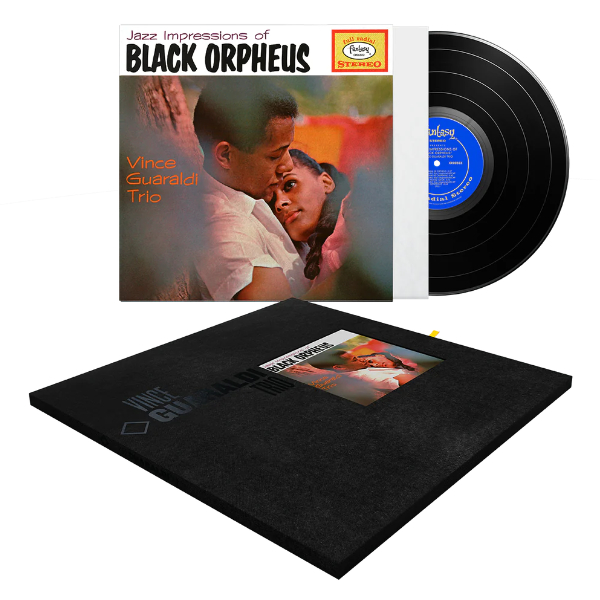 Enter Craft Recordings, and their special Small Batch series of one-step pressed premium vinyl editions. From their official site, we learn that:

"As with all Small Batch albums Jazz Impressions of Black Orpheus was cut from its original analog tapes by Bernie Grundman and pressed on 180-gram vinyl at RTI using Neotech's VR900 compound and a one-step lacquer process—as opposed to the standard three-step process—allowing for the utmost level of musical detail clarity and dynamics while reducing the amount of surface noise on the record. The limited nature of these pressings guarantees that each record is a true representation of the original lacquer and is as close as the listener can get to the original recording."

With an admittedly steep SRP of $109.99, this new deluxe edition of Jazz Impressions of Black Orpheus — which will be released on February 24 — indeed falls somewhere between the cost of one of the popular Acoustic Sounds (Verve, Impulse) and Tone Poet (Blue Note) reissues that are usually selling for about $40 to $50 in stores these days, and the higher-priced "OG" copies and earlier audiophile editions cited above.

[MM adds: You can preorder the Small Batch edition here. Craft Recordings is also offering a 3LP deluxe edition of this album that includes numerous bonus tracks, but it is already sold out on their site. That said, you might be able to find some copies of the 3LP set with a $75.99 SRP via the Music Direct link that appears below.]

Of course, you may first be wondering, but is it worth it? That is an answer only you can answer. That said, if you love Vince Guaraldi's music and have been frustrated trying to find an enjoyable, clean vinyl copy to listen to, this new Small Batch edition may well be worth it to you.

Sonics-wise, I am quite pleased with this Orpheus overall. After playing my original black vinyl copy, one of the first things I noticed was how the already fairly low noise floor virtually disappeared with this new pressing. This is one of the hallmarks of the Neotech VR900 vinyl compound, as cited in the Craft Recordings site quote above — and it is very apparent.

The other thing I looked for immediately was whether the album was well-centered. I can't tell you how many copies of this album in particular I've gotten rid of over the years because of very off-center pressings that caused the tonearm to sway back and forth, altering the music along the way. Especially on the Side B-opening track, the aforementioned smash hit "Cast Your Fate to the Wind," if the album is pressed improperly, it can make Guaraldi's precise piano notes waver in and out of tune to a point where it is pretty much unlistenable. Jazz Impressions of Black Orpheus is one of those records that must be as perfect as possible to enjoy it properly, and on this Craft Recordings edition, it sounds quite fabulous overall.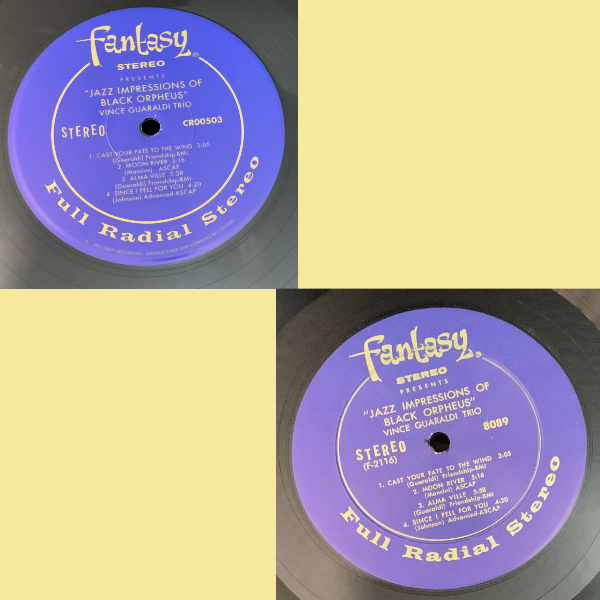 The only wee bit of wavering I noticed outwardly was on the Side A track "Manhã De Carnaval," as my copy of the reissue seemed a tiny bit off-center. (Hopefully my copy is just an anomaly, but I had to bring it up.) That said, I suspect some of that wavering may also be on the master tape, so I checked my original pressing and found there is indeed some of that going on there as well on those long, held chords. (I also spot-checked the recent deluxe-edition CD version, and heard slight variances going on there as well.) Thus, it is hard to point fingers just at the album-centering, in this instance.

All this does make me think that, at some point, it would be nice to hear Jazz Impressions of Black Orpheus put through the Plangent Processes treatment (something for which only the bonus tracks on the CD version was done). This would help to re-stabilize the music from potential tape-speed variances that may have happened as the recording was first made, as well as inevitable stretching that can happen to tape over time. (Going any deeper on all that is another story for another time.)

One of the other things I noticed was, even as good as my original pressing sounds, this new version sounds more natural and realistic overall. Guaraldi's piano sounds fuller, rounder, and less boxy, pretty much dead-center soundstage as if he was playing right before you. Monte Budwig's bowing of his bass (a.k.a. "arco," in musical notation terminology) on the verse sections is very audible and even more haunting on this new Craft Recordings Small Batch edition.

On my original pressing, the recording feels quite a bit more compressed compared to the new edition, which delivers more presence of the room and the feel of the musicians' instruments. This is not really surprising, given that back in the day, many hit records were mastered with the lowest-common-denominator consumer in mind, so frequencies were often reigned in to keep average turntables and automatic record changers of the day from mistracking (i.e., skipping).

Thus, while my original pressing sounds really very, very good, the new edition of Jazz Impressions of Black Orpheus as mastered by Bernie Grundman is much more open and airy, allowing the music to come out into the room in a more three-dimensional manner.
As for the numerical rating I am assigning here, that is based on comparing it to original copies as well as in context of other Vince Guaraldi recordings. I suspect some might wonder whether Jazz Impressions of Black Orpheus is somehow a better album than A Charlie Brown Christmas. I prefer to consider the recordings as two sides of the same coin. Again, without Jazz Impressions of Black Orpheus and "Cast Your Fate to the Wind," there might not even be A Charlie Brown Christmas. If you love that recording, you've probably going to really enjoy Jazz Impressions of Black Orpheus. But it does sound different, inevitably.

Back to the rating. Does an 8 mean the music here just doesn't sound that good? No! But it isn't quite as sparkling as A Charlie Brown Christmas. Why? Remember, Black Orpheus is an album cut in an overnight session at a TV studio — KQED TV in San Francisco — vs. the acclaimed Fantasy Records studios. Hence, we're talking about apples vs. oranges, really, as far as sonics go.

In some ways, it helps to consider Jazz Impressions of Black Orpheus as you might consider the raw first Beatles album Please Please Me from 1963 as compared with the last one they recorded together in 1969, the much more highly refined landmark production Abbey Road. Both albums are great in their own rights, but they are very different listening experiences. The bottom line is, if you already love Jazz Impressions of Black Orpheus, you may very well love the new Craft Recordings Small Batch special edition vinyl.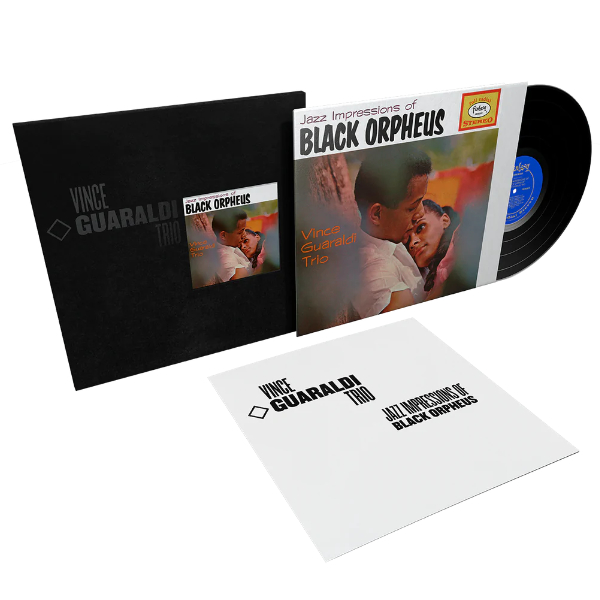 I'm once again generally very impressed with Craft Recordings' Small Batch pressings. This album comes with interesting, useful liner notes from noted Guaraldi historian Derrick Bang (if a little small to read, font-size-wise). The actual album cover feels very much like a record from 1962, and while it doesn't use quite the same laminated finish as my original has, it is still very close, and authentic-looking. I have seen many variations of the cover art over the years — some printed in a more color-saturated manner than others — and this one falls somewhere between that and my original copy, which has a less-vibrant color profile.

The new Orpheus comes housed in a lovely linen-wrapped, numbered limited edition outer-slipcase that includes a visually striking acrylic miniature inset of the album cover art. Only 3,000 copies have been made of this Small Batch edition of Vince Guaraldi's Jazz Impressions of Black Orpheus. On the one hand, 3,000 copies sounds like a large number, but when you consider how popular this album still is around the world, you'll realize it is indeed a relatively "small batch" pressing run. If you are on the fence about whether to get this release, don't wait too long to pre-order yours, as they will probably disappear soon enough!

(Mark Smotroff is an avid vinyl collector who has also worked in marketing communications for decades. He has reviewed music for AudiophileReview.com, among others, and you can see more of his impressive C.V. at LinkedIn.)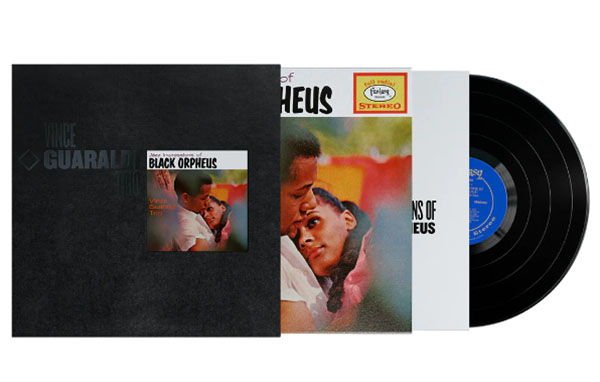 VINCE GUARALDI TRIO
JAZZ IMPRESSIONS OF BLACK ORPHEUS
180g 1LP (Fantasy/Craft Recordings)

Side A
1. Samba De Orfeu
2. Manhã De Carnaval
3. Nosso Amor
4. Felicidade

Side B
1. Cast Your Fate To The Wind
2. Moon River
3. Alma-Ville
4. Since I Fell For You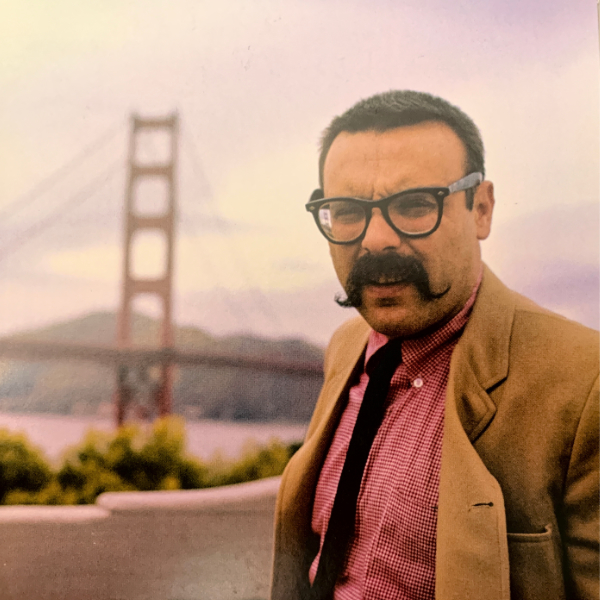 <!- ------------------------------------>