Rhino's Massive Use Hearing Protection: Factory Records 1978-79 Box Set – Worth It?
A lawsuit. A specific club night. Films that you'll never see. A stray cat. Extremely rare posters and promo items that probably ended up in landfill. An unrealized menstrual abacus egg timer. Several buildings.
Mentioned above are Factory Communications catalog items that frustrate completists; they're unobtainable. Sure, you can get pieces of the buildings, or a picture of the cat, or track down people with (drug-influenced) memories of the party. But if you weren't there, you really weren't there and can't go back. Only remnants of the Manchester label's catalog oddities remain.
Rhino's Use Hearing Protection: Factory Records 1978-79 box set solves a few of those issues. Released last year for the label's 40th anniversary, it replicates of the first 10 numbered Factory catalog items (records and objects), originals of which each cost around as much as this entire box set. In addition to those first 10 items, the Rhino box features a 60-page large-format paperback book, a 2CD restored Joy Division interview, and the record originally planned at FAC 3 (here cataloged as FAC 3-40). Optimal in Germany manufactured everything, and from hi-res digital files Frank Arkwright at Abbey Road Studios cut the vinyl. Late Factory mastermind Tony Wilson's children Oliver and Isobel executive produced the box, and Howard Wakefield taking cues from Peter Saville, designed the box-specific components. Use Hearing Protection, limited to 4000 units worldwide, retails for a whopping $225 exclusively at Rhino.com (out of stock on the US store, but still easily available at other countries' Rhino sites). This review assesses the individual components, focusing on the overall product more than the specific musical content. Everything in here save for Unknown Pleasures is in these reissue editions exclusive to the full box set. (Note: most images here sourced from the box set's official website are of original copies.)
The Box Itself
Use Hearing Protection's first striking aspect is the outer box's massive size. It's a 15" square soft touch lift-off box, despite none of the inside materials exceeding 12" square. The design is minimal: the "hearing protection" logo marks the front, and the Factory "safety tape" adorns the sides. The back is bare save for the (on my copy low-numbered) foil numbering. Inside, a cardboard insert compartmentalizes and stacks the items. It tries to invoke a feeling of value, and deceives well. Still, there's no reason it needed to be so big; it only fits with my Boys Don't Cry magazine and The Rise & Fall Of Paramount Records, Vol. 2's metal case, and for many might not fit on any shelf.
FAC 1: May/June 1978 40x30" poster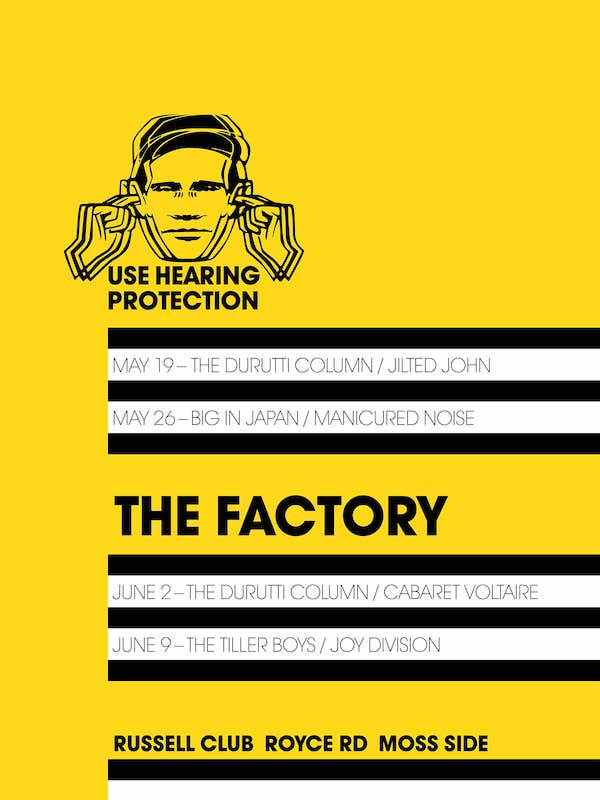 Designed by: Peter Saville
"It's just a poster, right?" Reserve that for the box set's other posters; the first poster, or FAC 1, well represents Factory's early history. Tony Wilson, an eccentric presenter on Manchester's Granada TV, in 1978 with local actor and artist manager Alan Erasmus launched Factory, a live night at the Russell Club in Hulme. The venture took off, hosting both touring acts and local post-punk bands including Joy Division, the Durutti Column, A Certain Ratio, Cabaret Voltaire, the Tiller Boys, and others. By '79, it succeeded enough for Wilson to start releasing records, therefore starting Factory Records/Communications (both names interchangeably used depending on the item discussed). Manchester Polytechnic art student Peter Saville designed the first poster for the May/June 1978 nights (two nights per month), but submitted it after the first night listed; he quickly gained a reputation for submitting nearly everything late (and costing Factory unnecessary money, yet they still kept him as their artistic director). At Saville's insistence, Wilson in 1979 retrospectively assigned catalog number FAC 1 to this first poster, its striking yellow and black color scheme becoming a common Factory motif. The designer said, "I was keen to distance the identity of the event from existing notions of pop and any aspects of 60s culture." (Erasmus, who named the club night after a "factory for sale" sign, was unaware of Andy Warhol's New York City 'Factory.')
The early Factory posters, manufactured in extremely limited quantities, now command extremely high prices if you can find them. The box set reproductions look very good, but were unfortunately folded. However, they'll satisfy those dying to have these posters in any form (if those people even exist).
FAC 2: Various - A Factory Sample 2x7" EP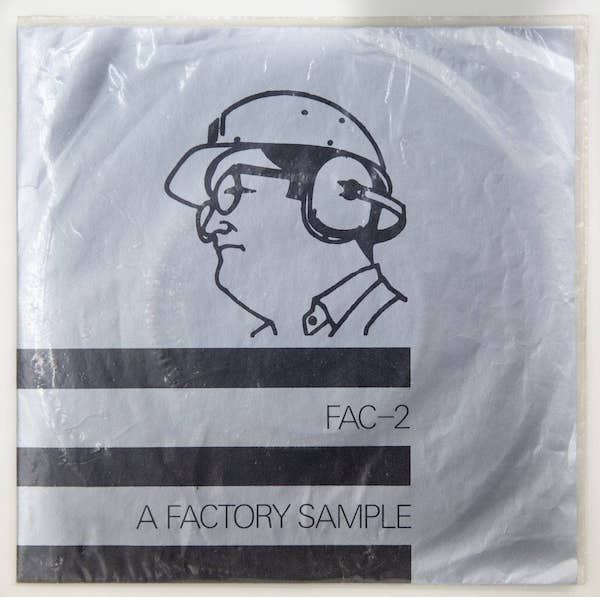 Produced by: Martin Hannett (Aside/Beside), Laurie Latham (Beside), C.P. Lee (Seaside), Cabaret Voltaire (Decide)
Engineered by: John Brierley (Aside/Beside/Seaside), Unknown (Decide)
Mixed by: Chris Nagle (Beside), John Brierley (Aside[?]//Seaside), Martin Hannett[???] (Aside/Beside???), Cabaret Voltaire[???] (Decide)
Sleeve designed by: Peter Saville
Music: 7
Sound: 7
With Factory club nights growing in stature, Tony Wilson organized A Factory Sample, a hand-assembled double 7" set limited to 5000 fast-selling copies. In addition to being the first Factory record, it also launched their long tradition of extravagant, costly releases, particularly in packaging. Hoping to financially jumpstart the release, Wilson approached experienced Liverpool club owners with the idea of "the first double 7" since Magical Mystery Tour." Financially, they saw it an ill-advised investment, leaving him to spend funds recently inherited from his mother. Each set had the two records, a silver-dyed rice paper gatefold sleeve (extremely susceptible to creasing; this packaging concept came from seeing on acid, Thai bootlegs), and a sheet of four stickers (one for each artist/side). Wilson estimated the process to take a few weeks; it instead took multiple people four months. Writer Jon Savage said, "[Wilson held] 'folding parties.' Everyone who attended would take 500 sheets of paper, 500 plastic bags, and 500 singles." The sides are marked Aside, Beside, Seaside, and Decide.
A Factory Sample showcased three local bands plus comedian John Dowie; the first band here is Joy Division. After some failed RCA recordings and the rough, self-released An Ideal for Living EP, they joined Factory as one of their earliest (and eventually most significant) signings. Initially a punk band, with Factory musical director Martin Hannett producing Joy Division adopted a more spacey, synthetic sound defined as post-punk. Frontman Ian Curtis' vivid, repeated, and somewhat vague lyrics about an impending end; Peter Hook's thick, distorted bass lines, Bernard Sumner's dynamic guitar work, and drummer Stephen Morris' steady beat define A Factory Sample's opener "Digital." Its lyrics' poignancy only increases with the knowledge of it being the final song Curtis ever publicly performed. In establishing Factory's tradition of the A-side/EP opener being significantly better than the B-side/following track(s), "Glass" is quite similar but less memorable.
Side B with The Durutti Column's "No Communication" and "Thin Ice (Detail)" is unflattering standard post-punk fare with a slight reggae influence. Glimpses of guitarist Vini Reilly's later ambient pop tones appear, but with actor/writer/vocalist Colin Sharp, he hadn't yet displayed the sound he desired. These tracks are good but forgettable. Reilly would later tighten his atmospheric instrumental pop on 1980's The Return Of The Durutti Column, of which the original sandpaper jacket edition is highly sought-after.
By far the most confusing side here is "humorist" John Dowie's (side 3). Struggling with finding a 4th act for the record, Tony Wilson got Dowie to contribute "Acne," "Idiot," and "Hitler's Liver." The writing is too dry for comedic effect – the whiny backing vocals on "Hitler's Liver" entertain more than the actual lyrics (about Hitler's liver being "liverously weird," whatever that means). Two years later, Dowie recorded FAC 19, the equally ridiculous "It's Hard To Be An Egg" single. Neither record is funny or replayable, therefore failing comedic music's requirements.
Cabaret Voltaire for side 4 recorded "Baader-Meinhof" and "Sex in Secret," two experimental sound pieces loosely categorized as songs. The electronic-based trio already had a single on Rough Trade, yet meshed well with Factory's Situationist ideals. They'd later evolve (1982's 2x45 blends both their industrial post-punk and new wave influences, while 1984's Micro-Phonies is full-on commercial synthpop) but here, lofi drum machines, pulsating synths, and nightmarish processed vocals mark their sound. There are far better experimental sound pieces, but their Factory Sample compositions make for an interesting listen.
Because it's a 33rpm 7" set with about 7 minutes per side, the average sounding [dry and digital] reissue cut is safe and clean. I can't comment on how authentic the packaging is to the original, though the outer plastic is PVC and not rice paper/thin plastic. All remaining copies of Wilson's hand-packed 1979 pressing have extreme ringwear; if you rarely handle the new one, it will likely stay mint.
FAC 3-40: The Tiller Boys - "Big Noise From The Jungle" white label 12" single
Produced by: The Tiller Boys
Engineered by: Unknown
Mixed by: Unknown
Music: 4
Sound: 7
A common sight at Factory nights, short-lived group the Tiller Boys recorded "Big Noise From The Jungle," their three-song first and only single originally intended as a Factory 12". Tony Wilson liked their music, but the release ultimately moved to New Hormones in 7" form. Listening to this reissue of what could've been, it's easy to see why; the music is simply mediocre. Bound to bore is an average punk band hammering out unrelentingly loud instrumental blues progressions for 5 minutes at a time, here known "Big Noise From The Jungle," "Slaves & Pyramids," and "What Me Worry?". Its redundancy begs you to turn it off. For those who might be actual Tiller Boys fans, the original 7" single, cheap in near mint condition, probably sounds better than this hypercompressed 12" single. What a waste of plastic.
FAC 3 & 4: October 20, 1979 & December 1979 Factory event 30x20" posters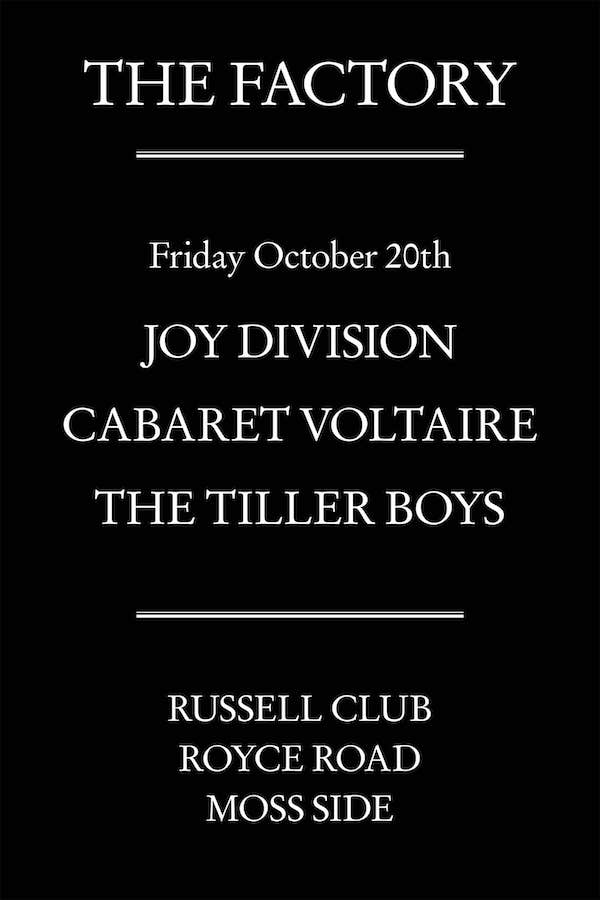 Designed by: Peter Saville
Thankfully the Tiller Boys' Factory 12" never happened, replaced in the catalog by Peter Saville's 30x20" poster for October 20, 1979's Factory night. With white serif type over a black background, it's nice but not particularly eye-catching. FAC 4, December 1979's poster, is the same thing with different type and text arrangement.
FAC 5: A Certain Ratio - "All Night Party"/"The Thin Boys" 7" single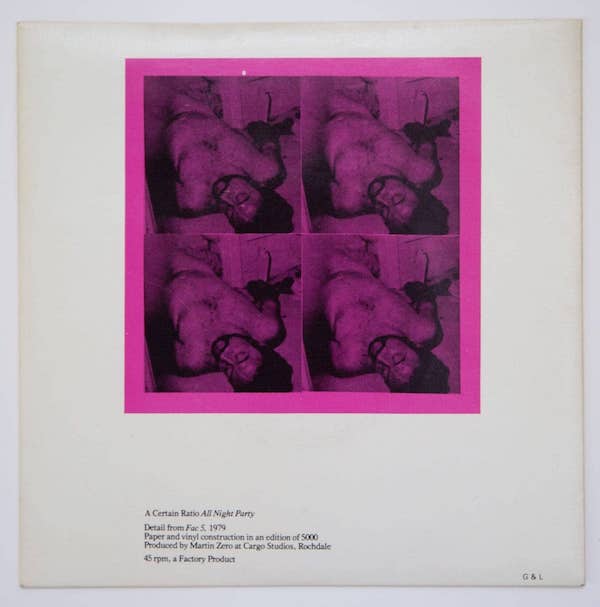 Produced by: Martin Zero [Hannett]
Engineered by: Unknown (John Brierley?)
Mixed by: Martin Hannett
Sleeve designed by: Peter Saville
Music: 7
Sound: 6 (reissue), 8 (original)
The label's least warmly received release of this era was A Certain Ratio's debut single, "All Night Party"/"The Thin Boys." Having formed only 6 months before this recording, ACR had a singer, two guitarists, and a bassist; but no drummer. The solution? Just record a single with no drums! Most critics weren't overwhelmingly positive about it, and FAC 5 sold slower than the rest of 1978-79's releases. The record is very good, but the criticism also understandable: ACR and Joy Division hailed from the same scene and had what many saw as a similar sound (developed separately), yet Joy Division did it better. Following its extended intro, "All Night Party"'s enveloping guitars and ringing bass back Simon Topping's weary lyrics then towards the end instrumentally meander. Flip side "The Thin Boys" is much of the same, though lesser. Unlike most of their contemporaries, A Certain Ratio after recruiting drummer Donald Johnson veered in a funkier direction, which on 1982's rarely discussed I'd Like To See You Again peaked. That record is simultaneously behind, within, and slightly ahead of its time, resulting in a dated but engaging listen.
I have the original "All Night Party" single (which on Discogs cost $20 in VG+ condition) to compare to the reissue, and the latter fares poorly. The original, a "Porky Prime Cut" (George Peckham mastering), dropped in two separate editions: the first 1000 copies with a "special limited edition of 1000 copies on poor quality vinyl" sticker, and a second pressing of 4000 without the sticker. I own the Orlake-pressed latter, which also has a second lacquer cut (both by Peckham and presumably with the same sound). Martin Hannett's production here is intentionally lofi, with the original pressing cut from the master tape sounding aesthetically veiled. Still, the guitars vividly surround you, the bass has texture, and the vocal is isolated while retaining space. In contrast, the Use Hearing Protection reissue flattens the soundstage, compresses the overall sound, and lacks the original's sparkle. Oddly enough, Peckham's cut is louder than Arkwright's yet doesn't have much distortion. It's hard to tell if the first run's "poor quality vinyl" sticker is accurate, as 40 years' age and light scuffing on my second run copy contribute to its present but not overwhelming surface noise.
The reissue's artwork also severely fails, even by the most forgiving art reproduction standards. Saville's (uncredited) sleeve design's front shows Lenny Bruce's dead body, and on the back has yellow monochrome pictures of the "band members" (they're actually film stills of actor Anthony Perkins). Below each side's images is text identifying the song, product/pressing details, and producer. The original has the song titles, catalog number, and on the back the band members' names italicized. The reissue's photo scans are comparatively grainy and lose contrast, especially on the labels; the side B photo is the worst scan I've ever seen (photo below shows original on left and reissue on right). Interestingly enough, Warner's graphics team saw fit to redo the cover text, changing "Martin Zero" to Martin Hannett, unbolding all of the text, and removing the back cover text's italicization. The original text arrangement is fine - why did they change it? If this set was supposedly assembled for profit, you'd think they'd skimp on the small design details. Instead, they messed up the replicas' least important part. (Maybe my dissatisfaction with just this one sleeve scan is because I own an original, but I mostly attribute it to the others being design-based without photographs.) Warner UK's reissue branch has done far worse, but this nevertheless utterly confuses.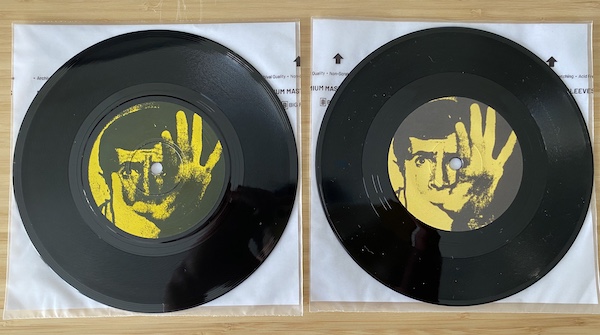 <!- ------------------------------------>