Rhino's Massive Use Hearing Protection: Factory Records 1978-79 Box Set – Worth It? Part 2
FAC 6: Orchestral Manoeuvres in the Dark - "Electricity"/"Almost" 7" single
Produced by: OMD and Paul Collister ("Electricity"), Martin Hannett ("Almost")
Engineered by: Paul Collister ("Electricity"), John Brierley ("Almost")
Mixed by: Chris Nagle and Martin Hannett
Sleeve designed by: Peter Saville
Music: 7
Sound: 8
Liverpool duo Orchestral Manoeuvres in the Dark's "Electricity"/"Almost" 7" single is an early Factory catalog anomaly. Signed for this one single at Wilson's wife's insistence, OMD's bright, Radio-Activity-reminiscent synthpop starkly contrasts Factory's otherwise dreary early releases. "Electricity" is melodic and uplifting, while with Hannett's production "Almost" is a slower ballad of sorts. The duo, dissatisfied with the Factory production style, moved to Virgin and for their self-titled debut LP rerecorded these songs. The original Factory single due to Peter Saville's sleeve design is now collectible, fetching around $150 for a VG+ copy. Inspired by a thermographic printing machine at Manchester Polytechnic, Saville experimented with black thermograph ink on black paper. The process wasn't ideal; Factory supposedly pressed 5000 copies of "Electricity"/"Almost," but three printer fires potentially resulted in a couple thousand less. As with the other vinyl reissues here, the sound quality is merely average. The reproduction single is adequate for non-audiophiles or those who like the sleeve design more than the actual 7".
FAC 7: Factory stationary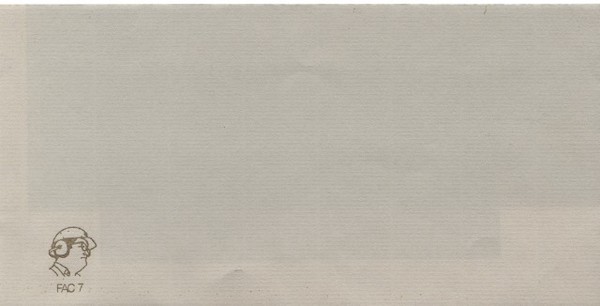 Designed by: Peter Saville
Text by: Tony Wilson
Another non-essential, collectors'-only item here is FAC 7, September 1979's "Newsletter And Shareholders' Analysis." Typewritten by Wilson on custom stationary and sent in a sleek Saville-designed envelope (which is really just the Factory Sample image on grey paper), it describes the first 16 Factory items. The former's typical dry humor is of course here, with sometimes made-up critic quotes and commentary on "when" the products will arrive to the general public. While nice, after a couple reads FAC 7 will "gather dust:" who seriously values this reproduction item? The same person who sits and listens to Joy Division interviews, apparently (more on that later).
FAC 8: Menstrual Abacus aka The Factory Egg Timer [included as sketch reproduction; product unrealized]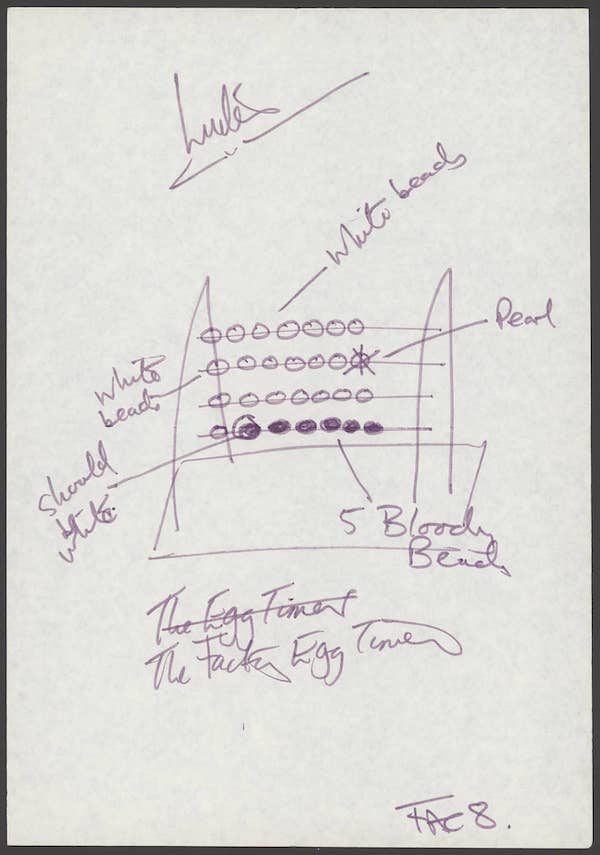 Conceptualized by: Linder Sterling
Perhaps the most confusing Factory item, comprehending the Menstrual Abacus Factory Egg Timer is impossible. Conceptualized by avant-garde artist Linder Sterling (who as the only woman in that era's Manchester scene studied at Manchester Polytechnic a year ahead of Saville), not even the box set's accompanying book explains how a Menstrual Abacus Egg Timer would even work. The book's compiled quotes highlight the egg timer part more than the abacus, yet the drawing suggests no such egg timer. It would've included five beads covered in menstrual blood, yet as Wilson claims in FAC 7, for FAC 8 there was no willing "manuFACTORor." It never progressed past the drawing board (just a single drawing), and likely for the best.
FAC 9: "No City Fun" aka "The Factory Flick" [8mm short film]
Directed by: Charles Salem
Written by: Liz Naylor
In Issue #3 of the City Fun fanzine, then-15-year-old Liz Naylor submitted the emotionally charged "No City Fun" piece describing isolation, poor mental health, and city dissatisfaction. Soon after, Charles Salem created an 8mm short centered on another woman typewriting the words, interspersed with images of Manchester malls, streets, stores, parking lots, and landscapes. The 13-minute film, which to produce cost £15, showed three times during London's Scala Cinema's Manchester night, then for 40 years sat vaulted before this DVD release. It's interesting to watch, but "interesting" doesn't mean "often desired." The box set's promo used the "soundtracked by Joy Division" note, except the "soundtrack" here is simply the first 13 minutes of Unknown Pleasures. I'm losing track of how many times Rhino's marketing team about this box misled consumers.
FACT 10: Joy Division Unknown Pleasures LP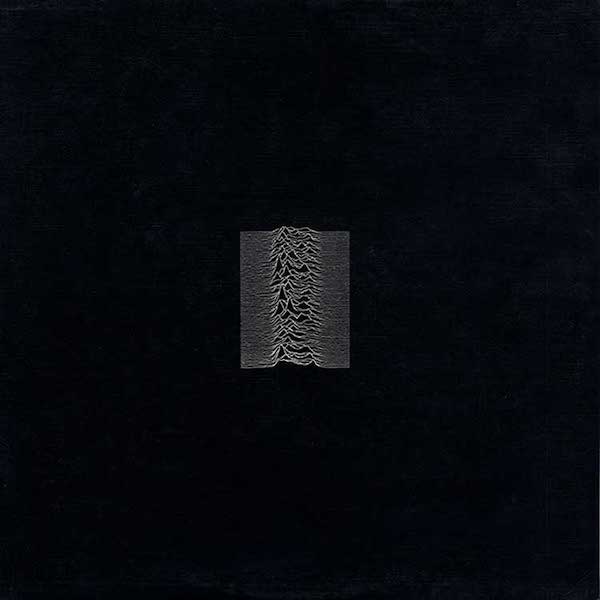 Produced by: Martin Hannett
Engineered by: Chris Nagle
Mixed by: Martin Hannett
Sleeve designed by: Peter Saville and Joy Division
Music: 10
Sound: 8
The music is better extensively analyzed elsewhere, although I'll say here that Joy Division's 1979 debut LP (and Factory's first full-length release) Unknown Pleasures is perfection like nothing else. Although not the most accessible (it took me three years to warm up to it), the band's abrasive sound paired with Ian Curtis' dark, depressive lyrics and Martin Hannett's spacious production to this day sounds wholly unique (even though Iggy Pop's The Idiot obviously inspired it). Upon release, half of the group disowned Hannett's heavy-handed, effects-laden production, although have since come around on his invention of "the Joy Division sound." Unknown Pleasures' follow-up the next year Closer featured a more approachable, sometimes synth-infused sound, and dropped two months after Curtis' death by suicide at 23 (in his final months he experienced a drastically increased number of epileptic seizures). Since then, both albums have gained in stature due to both the highly influential music and Peter Saville's iconic Unknown Pleasures album cover of white pulsar waves on a black background.
I don't have an original UK pressing to compare, but this reissue (the common 2015 pressing slipped into this 2019 box set) sounds merely good enough. Peter Hook in his The Haçienda: How Not To Run A Club book (review here) suggests that the tapes aren't in optimal shape: "The barrels [in a Haçienda storage area] were on a platform and to keep the platform level someone had shoved a quarter-inch tape box underneath it. I pulled it out. Covered in old beer and sweat and condensation, it was one of the master tapes of Unknown Pleasures." This storage space clearly wasn't temperature or humidity controlled, which even after a few short years damages tapes. Rhino/Warner, likely carrying the "nobody will notice" mentality (resulting in the UK branch's frequently botched reissues) ignored current and effective tape restoring technologies such as Plangent. Although Hannett's mix is already heavily processed, this reissue carries a grainy digital glare, a sign of an older, perhaps outdated digital transfer. Use Hearing Protection isn't necessarily an audiophile-targeted product, and this Unknown Pleasures remaster ($20-25 individually) likely suffices for those who can't afford a $150+ original. Still, if you can afford it, splurge directly for a George Peckham-mastered original and unless you're buying the box for its other components disregard the reissue.
60-page book
Designed by: Howard Wakefield (with thanks to Peter Saville)
Curated [edited] by: James Nice
By far the most deluxe piece of the box set is the 60-page large format paperback book, detailing each item (the promotional mockup showing it as a hardcover is misleading). Filled with pictures and quotes from those behind or related to each release, despite surely missing some information still informs and engages. It's a nice, quick read, although curator/editor James Nice's preference of quotes over actual writing (he only wrote the book introduction) feels indicative of the set's thrown-together-for-money nature. (Nice's many Factory reissue projects, often on the Factory Benelux imprint he now owns, have the same liner note style but are far more value-minded. For this project, he was recruited by Rhino/Warner and probably had no input on the high retail price.) Like the other non-music parts, the paperback is nice but not enough to justify the purchase.
To the Centre of the City: 2CD Joy Division/Tony Wilson/Rob Gretton interview
Interview conducted by: Mary Harron
Cassette restored and edited by: Simon Gibson and James Nice at Abbey Road
Sleeve designed by: Howard Wakefield (photography by Kevin Cummins)
A box set exclusive to attract completists, To the Centre of the City is a textbook example cash grab. It's an interview with Tony Wilson, Rob Gretton, and the members of Joy Division, conducted by Mary Harron for a Melody Maker feature. The 2CD set, restored from the original cassette tape, is an absolute bore to listen to. Who actually says "I'm going to sit down and listen to an 80-minute Joy Division interview tonight!"? Answer: literally no one. These CDs have no essential information not found elsewhere, and are merely box set filler. More intriguing is Harron's feature, reprinted in the book. It carries an overwhelming amount of pretension and skepticism: she says that "at least half" of Unknown Pleasures is "turgid and monotonous," calls "All Night Party" "a terrible record," and looks down upon ACR's self-seriousness. In new notes accompanying the original feature, she admits being embarrassed by it. Returning to To the Centre of the City, I respect its release for fan preservation but it shouldn't be a value deception item in an overpriced reissue box. A free download would've been more fair.
Conclusion
The more I dive in, Use Hearing Protection reveals itself a shallow box set conceived by the financial department. For $225, you get a lot of paper (some components better than others), 25 songs on vinyl sourced from mediocre digital transfers, a sleep-inducing interview, a short film, and the most pointlessly large media box ever seen. The price sets the quality expectations quite high, and for the actual sound quality falls flat. Despite the set being sold out in the US, it's still in stock at other countries' Rhino online stores (there were probably more copies allotted for Europe than North America), and isn't flying off the shelves; I chose to review this set because there's so little coverage on it. For non-audiophiles who want the physical items without paying hundreds of dollars for originals, the sleeve replicas are neat and the vinyl passable. An original Factory Sample in NM/VG+ condition costs $200, "Electricity"/"Almost" goes for $150, and an Unknown Pleasures "Porky Prime Cut" sells in the same price range. The $225 Use Hearing Protection box provides all of the first 10 Factory items reproduced for the cost of one of those originals and maybe some. Even then, it's hard not to feel ripped off. The set lacks in content and new perspective, the latter of which really makes for excellent reissues. As is, it should've retailed for $150 at most, or at the $225 price point included the first 15 Factory releases (that would add four more records and another poster). Unless you absolutely must have every Factory item possible, including the posters and the Menstrual Abacus Egg Timer, Rhino/Warner's shallow Use Hearing Protection: Factory Records 1978-79 box set can be happily left in their warehouses.
Afterword
While a few of these items were extravagant and expensive/difficult/impossible to manufacture, Factory in the early days still had limited overhead costs and made a profit (especially from Joy Division sales). That didn't last long; following the construction of their club, the Haçienda, the label's "24 Hour Party People" (a Happy Mondays song title and later that of a semi-fictional movie immortalizing Factory) lifestyle and increasingly expensive ideas sank them in debt. The straw that broke the camel's back was the Mondays' Yes, Please!. The band blew the recording budget on drugs and needed more money to finish the actual record, only for the LP to become a historic bomb. It only sold 1,000 copies (yes, one thousand), or less than 1% of the Mondays' previous record Pills 'n' Thrills and Bellyaches' sales. Factory, already millions of pounds sterling in debt, spiraled into immediate bankruptcy. They considered selling their recording assets to London Records, only to find that the artists owned their masters (which mostly ended up at Warner). Their legendarily stupid business decisions and design excellence often outweigh the label's musical curation quality, leaving collectors (mostly Joy Division/New Order fans) susceptible to "Reissue! Repackage! Repackage! Reevaluate the songs!" type scams like Use Hearing Protection.
<!- ------------------------------------>