UMe's New 1LP Reissue of Steely Dan's Seminal Hit 1977 Album Aja Indeed Has Merit for Those Seeking a New, Clean-Sounding Vinyl Edition Without Breaking the Bank
I'll say this right upfront about the new Geffen/UMe 1LP edition of Steely Dan's seminal September 1977 album, Aja: for an SRP of $29.99, it sounds pretty darn good, all things considered! But, of course, I realize that "pretty darn good" may not be enough for many of you seeking ultimate perfection for one of the ultimately perfect hit records ever made. You want Aja to sound "pretty darn great!" — I get it!
As we've learned from the prior releases in this current Steely Dan LP reissue series — Aja is the fourth such entry (and the first not strictly chronological entry, at that), following November 1972's Can't Buy a Thrill, July 1973's Countdown to Ecstasy, and February 1974's Pretzel Logic — the key stats for all of the new standard edition SD LPs, according to the band's official press release, are as follows:
"All albums are being meticulously remastered by Bernie Grundman from the original analog tapes. . . Lacquers for UMe's standard 33 1/3 RPM 180-gram version will be cut by Alex Abrash at his renowned AA Mastering studio from high-resolution digital files of Grundman's new masters and pressed at Precision. They will be housed in reproductions of the original artwork." (In case you're wondering, November 1980's Gaucho will be what's coming next in December, and then the series will circle back to March 1975's Katy Lied and May 1976's in 2024 — and, naturally, we will review them all.)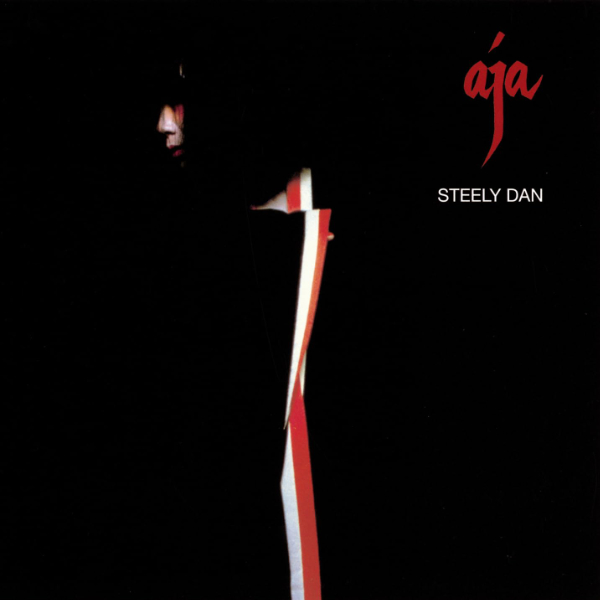 There is, however, something of a stick in the spokes to be considered here that makes this particular release of Aja different from the rest of the series, to date. Both the standard and the upcoming 200g 45rpm 1LP Analogue Productions UHQR version of Aja were sourced from a 1980 analog tape copy that was originally EQ'ed by the maestro, mastering engineer Bob Ludwig. (The latter, UHQR edition of Aja is now scheduled to arrive at the end of October.) So, if you really want to hear the "original" version of the album — which will thus be at least one generation closer to the first-gen master tape — you'll have to track down one of those 1977-78 ABC Records editions out in the collector's marketplace.

(An aside: This decision does make me curious why a new, effectively remastered tape copy was made in 1980 by Ludwig in the first place. Was it also used for the 1980 Mobile Fidelity edition, and/or perhaps the record club edition? Or perhaps it was to accommodate certain parameters of then-new parent company MCA Records, which soon enough offered a budget line of Steely Dan catalog reissues that admittedly cut many production corners. Just speculating here, as all that is another issue for discussion some other day, and/or in the Comments section below. For now, back to our regular album reviewing.)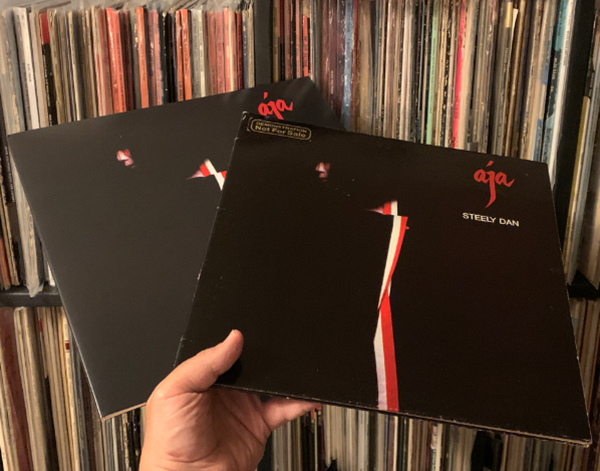 As with the earlier releases in the Steely Dan reissue series, the album cover art on this new 2023 standard edition of Aja is printed on basic oaktag-type stock, similar to the original album covers from 1977. The big difference is that the originals were crafted with an elegant, high-gloss, laminated-looking finish. These new editions, while not completely flat matte, are much less shiny and look comparatively a little washed out next to the original covers — see my photo of the two together above for comparison. But still, it is probably more than serviceable for most people.

At least the album labels look much nicer this time around, mimicking the late-'70s "rainbow" style design of the original LPs. Even with the newer Geffen logo there instead of the original ABC Records logo, it still feels kind of like the originals, whereas the earlier albums looked more like the older, darker Geffen Records labels than the ABC Records designs.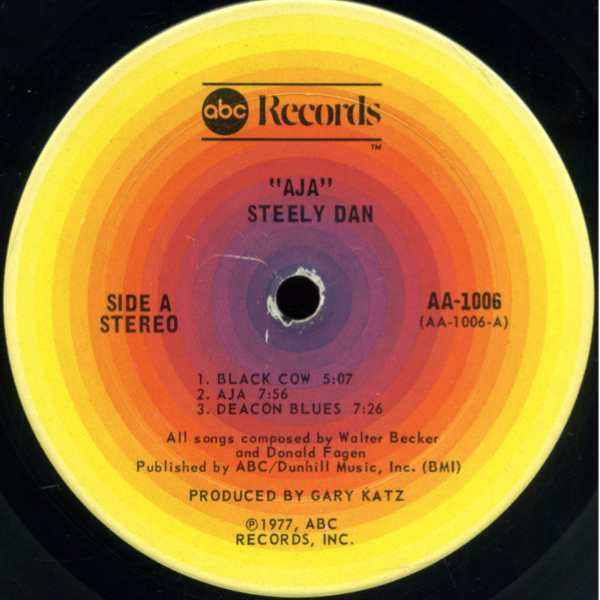 Now, some additional reality checks for those of you who are keen on finding an original Aja pressing. Steely Dan albums have become quite collectible in recent years, so good condition originals can be pricey — especially online. There are not many listed on Discogs at the time of this posting, and those in truly NM condition tend to go for upwards of $70-$100. (For further context, I did notice one NM 1980 MoFi edition selling for $75.)

As far as how this new Geffen/UMe edition of Aja sounds, I think that, for the given $29.99 pricetag, it's not all that bad. Yes, it is digitally sourced. And yes, I can feel and hear some of the digital edges to the mastering at points, especially as I turn up the volume on my amp a bit. But the dark black vinyl pressing is pretty quiet, and the disc is well-centered. It is worth noting here that certain original ABC Records pressings weren't the best to begin with, and they could be noisy at times. So, again, there are tradeoffs to be considered.

That said, my copy of this new standard edition of Aja seems to have some minor distortion-type issues toward the end of Side A, so please do take that into consideration as well — hopefully, my copy was just a one-off anomaly. Also, I did hear one little channel dropout at the line "I run to you" just before the final Steve Gadd drum solo bridge/ending section of the title track, "Aja" (Track 2, Side A) — and this is something that does not happen on my original ABC LP. That sort of thing is to be expected from not only a 45-year-old tape, but also a copy of a 45-year-old tape. Stuff happens, folks, and without the producers getting too deep into potential digital restorations and such, we have to accept that it just is what it is.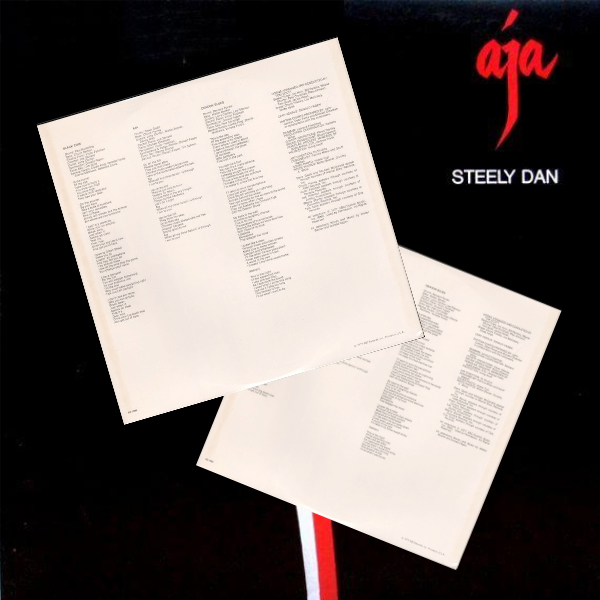 One production nit to pick here is that the new edition of Aja doesn't reproduce the original inner sleeve with the printed lyrics — and that feels a bit lacking, frankly. I mean, graphically, the lyric sheets were never anything super-special, but if you are trying to offer the consumer a good replica of what the original vinyl experience was all about, reading Steely Dan's often quizzical and obtuse lyrics while listening to this album especially is indeed part of that equation. (Just sayin'.)

So, what's a budget-minded Steely Dan vinyl fan to do? Well, if you don't mind a little surface noise and a click 'n' a pop or two, you can probably find a very serviceable used copy of Aja out in the wilds for a fair price, and probably less than what they are going for on Discogs. (For example, I saw one at Amoeba Music here in San Francisco just the other night selling for about $30.) But, if you must have a shiny new edition of Aja to play now, before deciding on whether to get the upcoming $150 UHQR Analogue Productions version, then this new Geffen/UMe release might be just the elixir you need.

(Mark Smotroff is an avid vinyl collector who has also worked in marketing communications for decades. He has reviewed music for AudiophileReview.com, among others, and you can see more of his impressive C.V. at LinkedIn.)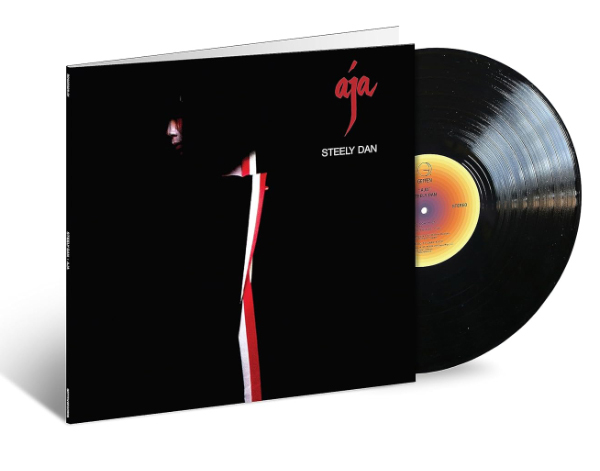 STEELY DAN
AJA
1LP (Geffen/UMe)

Side A
1. Black Cow
2. Aja
3. Deacon Blues

Side B
1. Peg
2. Home At Last
3. I Got The News
4. Josie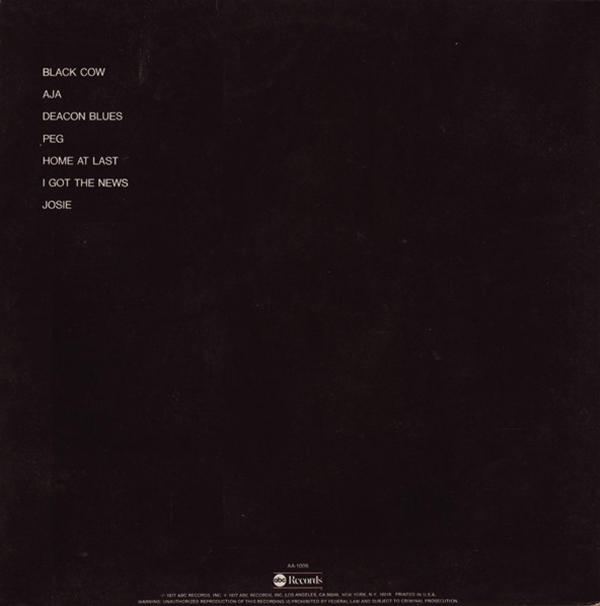 <!- ------------------------------------>