David Byrne's Complete Score From The Broadway Production Of The Catherine Wheel Is Worth Every Spin of This Expanded 2LP RSD 2023 Edition
David Byrne's The Complete Score From the Broadway Production of "The Catherine Wheel" has long been a favorite of mine, dating back to its first appearance on store shelves in December 1981. If you were like me at that time — and into artists like Talking Heads, Adrian Belew, King Crimson, and all things Parliament-Funkadelic — the news of this album spread quickly amongst your inner circle of friends (many of mine were also Deadheads, by the way).
When this album was released back in the day, I honestly had no clue what the actual dance-related elements were like or even about, as I was frozen away at a college in upstate New York at the time. And I was many hours away from any performance of The Catherine Wheel at the Winter Garden on Broadway in New York City, which premiered on September 22, 1981. (In those pre-interwebs days, it wasn't always easy to keep tabs on the finer details behind certain events and releases.)
From the official site of choreographer Twyla Tharp, we now learn the rather intense origins of the production's name. "The Catherine Wheel takes its title from a torture device used in the martyrdom of Saint Catherine of Alexandria. This device has lent its name to a number of familiar things over time — a spinning firework, a crochet pattern, a flower. Tharp's second Broadway production operates within a world of plurality wherein an archetypal family faces the implosive forces of domestic squabbles and abuse."
The site's post continues, "Tharp employs another reoccurring symbol with connotations that are at once beautiful and ominous. When one dancer hands another a pineapple, it is both a sign of hospitality and hostility. The shape recalls the Mk2 hand grenades of World War II, nicknamed 'pineapple grenades.' The dramatic tension builds until it finally explodes in the athletic, pure-dance finale."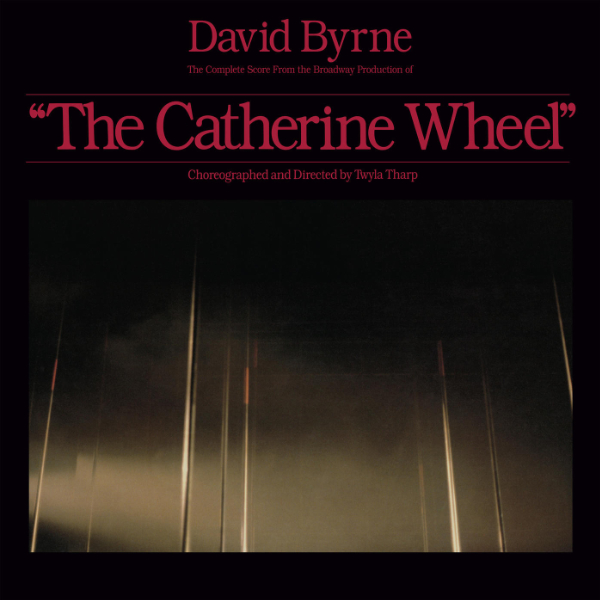 Heavy background aside, it is perhaps not a coincidence this new RSD 2023 first-time 2LP vinyl edition of The Complete Score From the Broadway Production of "The Catherine Wheel" — which was initially discussed in our RSD 2023 preview post here — more or less coincides with the upcoming and much-anticipated full soundtrack of Talking Heads' live 1984 masterpiece, Stop Making Sense, which is scheduled to be making its own expanded 2LP debut in the late summer. (As of this posting, it is currently projected to be an August release.) Stop Making Senseincludes songs from The Catherine Wheel the Talking Heads played in concert during 1982 and 1983, such as "What a Day That Was" and "Big Business." On those tours, the Heads were also breaking out other Catherine Wheel tracks like "Big Blue Plymouth (Eyes Wide Open)" and "My Big Hands (Fall Through the Cracks)."
Ultimately, The Complete Score From the Broadway Production of "The Catherine Wheel" is an essential puzzle piece in the Talking Heads universe. The album features backing by the likes of Brian Eno, the aforementioned guitar wiz Adrian Belew (King Crimson, David Bowie, Talking Heads), Bernie Worrell (Parliament-Funkadelic), Jerry Harrison (Talking Heads), and many others.
Before we go further down the rabbit hole in this review, here are some of the key stats about this fine release of The Complete Score From the Broadway Production of "The Catherine Wheel" (which you can find out how and where to order/obtain via the RSD site details here). This new 2LP edition was mastered at Sterling Sound by Greg Calbi, and the lacquers were cut there by Joe Nino-Hernes (a.k.a. JN-H). The original Catherine Wheel album was produced by David Byrne, and the new expanded edition was produced for this release by Jason Jones. The standard-grade black vinyl was pressed in the Czech Republic (likely GZ Media). We have yet to confirm whether the JN-H lacquers were cut from analog and/or digital sources, but we will add an update here accordingly once we do so. The SRP for this new 2LP set is $34.98. It is officially listed as an RSD Exclusive, and it has a run of 6,500 copies.
In general, I have been very pleased with the sound on this release. Full disclosure — the first 2LP copy I received of The Complete Score From the Broadway Production of "The Catherine Wheel" had some non-fill issues, but a replacement copy proved to be perfect, with the vinyl not only quiet, but also uniformly well-centered. Hence, I am characterizing my earlier copy as simply a one-off anomaly. Unfortunately, mistakes like this do happen at times with modern pressings, but hopefully, that was just an isolated incident.
At any rate, The Complete Score From the Broadway Production of "The Catherine Wheel" is both an important piece of dance music history as well as simply a great piece of music that falls in a unique space between David Byrne's solo work with Brian Eno, and his time working with Talking Heads.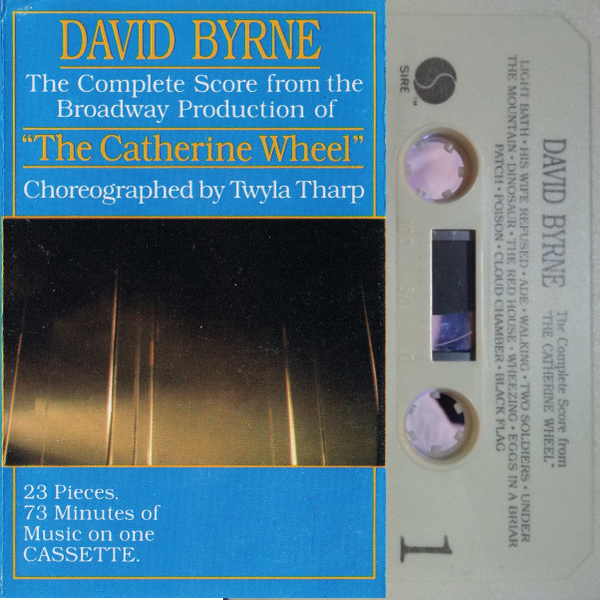 Back in the day, my friends and I were pretty deep fans, so The Catherine Wheel was on the turntable as much as Talking Heads LPs like August 1979's Fear of Music and October 1980's Remain in Light were. Actually, I should clarify that further by saying The Catherine Wheel was more often than not playing in our analog cassette players at the time, since the only way to hear the full 23-song score was to get the album on cassette, since the vinyl version was originally issued as an abridged 1LP collection of highlights. After CDs took hold, The Complete Score was eventually issued on that format circa 1990. I still have that CD in my collection — but, alas, my original cassette has long since disappeared.
In case you haven't figured this out yet, I am pretty thrilled The Complete Score has finally been issued on double vinyl. And while I love all its shifting moods and soundscapes, I especially love Side Four, which contains the epic sequence of "What a Day That Was" (Track 3) followed immediately by "Big Blue Plymouth (Eyes Wide Open)" (Track 4).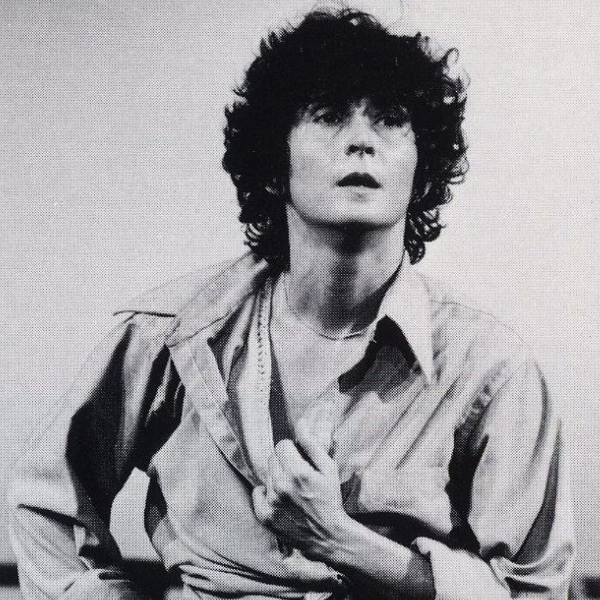 According to David Byrne's new liner notes, the aim of Twyla Tharp's The Catherine Wheel program was in part to make a statement that "dance and dance drama are just as accessible to audiences as the other musicals and plays in that part of town." Lasting only a month, the original show wasn't the smash-hit success they'd hoped for, but it apparently proved its point to the movers and shakers of Broadway, seeing how this production apparently set the stage for Tharp (seen above) to later choreograph the massively successful musical featuring Billy Joel's music, Movin' Out, which debuted in Chicago in 2002 before moving to Broadway.
Sometimes, labors of love are meant to be just that — important works that, in the grand scheme of things, become vital links in an artist's evolution. This 2LP RSD 2023 set is one such release — so if you are into David Byrne, Talking Heads, and other music of this nature, then you need to hear this release on vinyl because it is that good. In short, The Complete Score From the Broadway Production of "The Catherine Wheel" is essential listening.
(Mark Smotroff is an avid vinyl collector who has also worked in marketing communications for decades. He has reviewed music for AudiophileReview.com, among others, and you can see more of his impressive C.V. at LinkedIn.)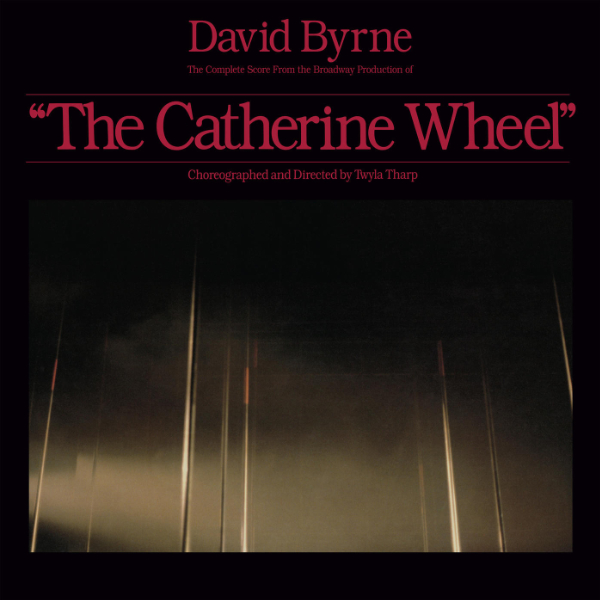 DAVID BYRNE
THE COMPLETE SCORE
FROM THE BROADWAY PRODUCTION OF "THE CATHERINE WHEEL"
2LP (Rhino/Sire)
Side One
1. Light Bath
2. His Wife Refused
3. Ade
4. Walking
5. Two Soldiers
6. Under The Mountain
7. Dinosaur
8. The Red House
Side Two
1. Wheezing
2. Eggs In A Briar Patch
3. Poison
4. Cloud Chamber
5. Black Flag
Side Three
1. My Big Hands (Fall Through The Cracks)
2. Combat
3. Leg Bells
4. The Blue Flame
5. Big Business
Side Four
1. Dense Beasts
2. Five Golden Sections
3. What A Day That Was
4. Big Blue Plymouth (Eyes Wide Open)
5. Light Bath
<!- ------------------------------------>