Ape House Reissues Excellent New Limited Edition 200g 2LP Version of XTC's Classic 1978 Sophomore Album Go 2 on LP1, With Rare Companion Go+ Dub Remixes EP on LP2
There seems to be differing levels of fandom when it comes to appreciating Swindon, England's virtually uncategorizable band, XTC. Many fans who boarded the XTC bus with October 1986's Skylarking and its sunshine-flowering technicolor follow-up, February 1989's Oranges & Lemons, have tended to limit their listening to those admittedly masterful recordings. Harder-core fans, however, were drawn into the XTCverse with a pair of back-to-back powerhouse rock releases, August 1979's Drums and Wires and September 1980's Black Sea. That was about the time I started getting interested in the group myself, and it was their one-two-punch of February 1982's English Settlement followed by August 1983's Mummer that sealed the deal for me. With those two LPs, XTC thus took a prime spot in the soundtrack of my life from that point onward, right alongside The Beatles, The Kinks, The Who, Frank Zappa, Yes, Neil Young, and Elvis Costello.
While all this is fine and good, the reality is many casual and newer fans often miss out on experiencing the riches of XTC's first two album offerings, January 1978's White Music and its October 1978 sequel, Go 2. (The latter LP reached No. 21 in the UK album charts that year.) Recorded with an earlier incarnation of the group when Barry Andrews (Shriekback, Robert Fripp's League of Gentlemen) was an active force on keyboards, those two albums taken together present a highly caffeinated preview of the musical journey XTC would take over the next several decades.
A swirling, churning, and a-burning sophomore slice, Go 2 expanded upon the sensibilities of XTC's angular, punk-fueled power-pop debut, offering more progressive song structures and broader sonic vistas that hinted at the masterworks to come.
Initially issued in the UK as a limited-edition release — one that included a bonus 12-inch, 5-song EP of dub remixes called Go+ that came with the first 15,000 copies of the album — many Americans only know Go 2 as a single LP. (Deeper fans would soon enough be able to score copies of the EP via import sections of favorite record stores.)
And now, Go 2 is available not only again on vinyl for the first time in the U.S. in many decades, but also as a limited-edition 200g 2LP set that includes that ever-elusive Go+ EP of dub remixes. That said, take note — just like the initial 1978 release, when this new edition sells out, the Go 2 album will revert to a single LP configuration, sans Go+.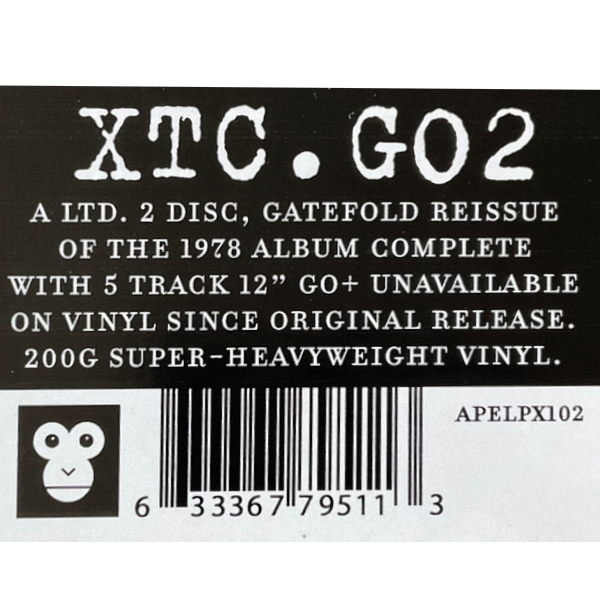 The following are the key specs for this new gatefold edition of Go 2. The album has been freshly cut from Andy Partridge-approved new masters created by Jason Mitchell at LOUD Mastering. We don't know for sure as of yet, but seeing how this release has such a rich, warm feel to it, I suspect it was likely cut from the original analog tapes. For one thing, Terry Chambers' drums are especially massive on this edition, which really pack some punch when you pump up the volume on your amp. (We will, of course, deign to get an official confirmation of the source material one way or another.)
Both discs in this new Go 2 set are pressed on 200g black vinyl. Originally recorded in August and September 1978 at Abbey Road Studios and produced/engineered by John Leckie (The Fall, Radiohead, Muse), the album includes the striking original Hipgnosis black-and-white artwork (with a few clever updates in tow that I won't spoil here).
Go 2 is reissued on XTC's own custom Ape House imprint, releases from which I've long found to generally be stellar. (Go here to see my mini-review of last year's top-shelf reissue of XTC's aforementioned Mummer, which made my Best LPs of 2022 list!) Accordingly, this new Ape House edition of Go 2 comes on thick, dark black vinyl that is mostly very quiet and well-centered. The discs were manufactured by Vinyl Factory in the UK. While brick-and-mortar retail prices tend to find the album's SRP hovering circa $50, you may be able to find it closer to $40 via certain online retailers.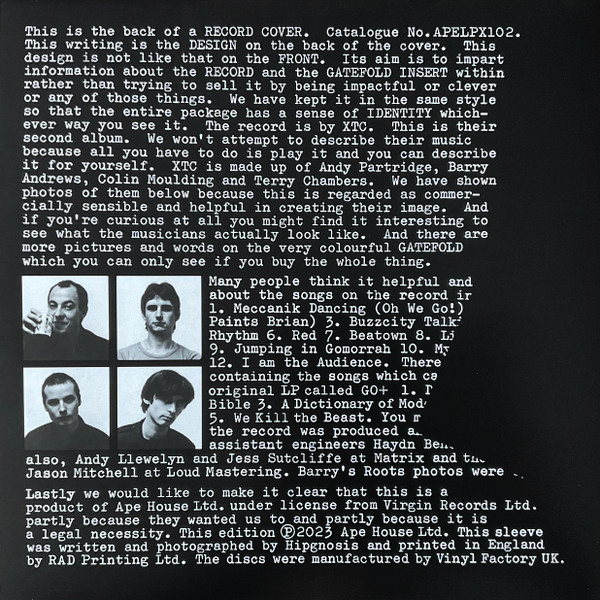 For a bit more insight into the band's mindset during the making of Go 2, XTC co-founder Andy Partridge was quoted on the official Ape House site as saying, "After the big bang of White Music, the rapidly expanding jagged, black and white universe of XTC grew apace. Colin [Moulding] was writing more, even Barry [Andrews] was writing, before he jumped swiftly into a parallel dimension, and left to join Robert Fripp's League of Gentlemen. We became gently besotted with dub techniques and allowing more and more colour onto our palette. This album is where our future started."
Indeed, Go 2 built — and expanded — upon the band's impossible-to-label sound. It was no doubt at times still spiky and angular on tracks like the Side 1 album opener "Meccanik Dancing (Oh We Go!)" and Track 2 on Side 2, "Jumping in Gomorrah." And yet, there was a more progressive vibe happening elsewhere on the record. Listen to Track 2 on both Sides 1 and 2 — "Battery Brides," and "Life Is Good in the Greenhouse," respectively — to hear XTC's deeper influences emerging.
Apparently, 'Battery Brides" was a tribute to Brian Eno, someone whom the group had originally wanted to produce them. (Eno declined, complimenting them by saying he felt they were good enough to produce themselves.) If you look closely at the label on the LP, the track is in fact listed as "Battery Brides (Andy Paints Brian)."
Bassist/vocalist Colin Moulding steps out on Go 2 with brilliantly infectious pop tracks like "The Rhythm" (Side 1, Track 5), one that foreshadows his string of brilliant songs crafted for the group over the years like "Making Plans for Nigel," "Generals & Majors," "Grass," and "King for a Day."
Overall, I'm super-pleased with this new XTC reissue. It definitely sounds richer, tighter, and more dynamic than my earlier U.S. Virgin pressing. And while I did occasionally hear periodic low-level surface noise between some tracks, it was nothing I would consider to be a deal-breaker in any way, shape, or form.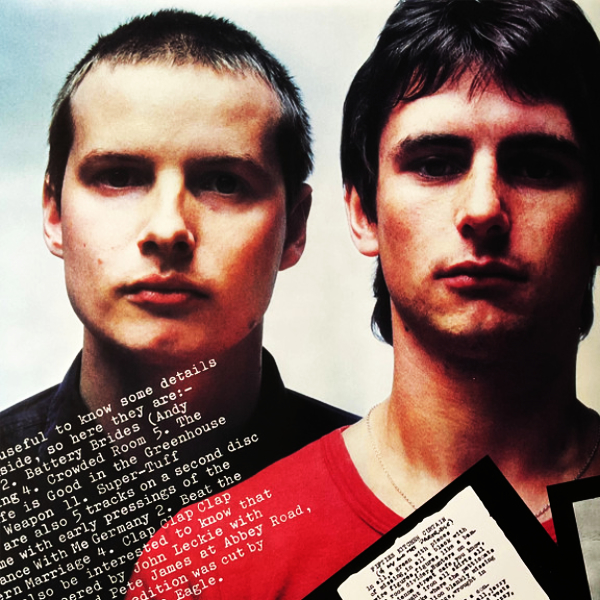 Perhaps my only little bit of disappointment was that the original insert sheet wasn't reproduced quite exactly as it appears with my original LP — instead, most of that imagery now appears in the gatefold. I know this is a minor nit to pick, but completists tend to hang onto these kind of details — which, of course, means I'll indeed be hanging onto my U.S. pressing alongside the new UK edition. (Ah, fandom!)
Still, you may be wondering if you really need to own XTC's Go 2 on vinyl. I'll be honest — this album is certainly one for deeper fans, but if you enjoy the harder-rocking side of XTC and want to have and listen to as near-definitive editions of all their music releases as possible, this new reissue is a smart option. For one thing, finding UK originals of Go 2 here in the States is not super-easy, while the Go+ bonus EP of dub remixes shows up only sporadically at used record shops.
For additional perspective, I checked around on Discogs and found that if you wanted to buy a clean original 1978 U.S. edition of Go 2 and the UK-only Go+ EP, you would end up spending upwards of $50-70 inclusive, when shipping and handling charges are added into the dollar mix. There are only three NM UK copies of the original 1978 two-disc release listed as being available as of this posting — all of them located in the UK, and selling for between (effectively) $60-100.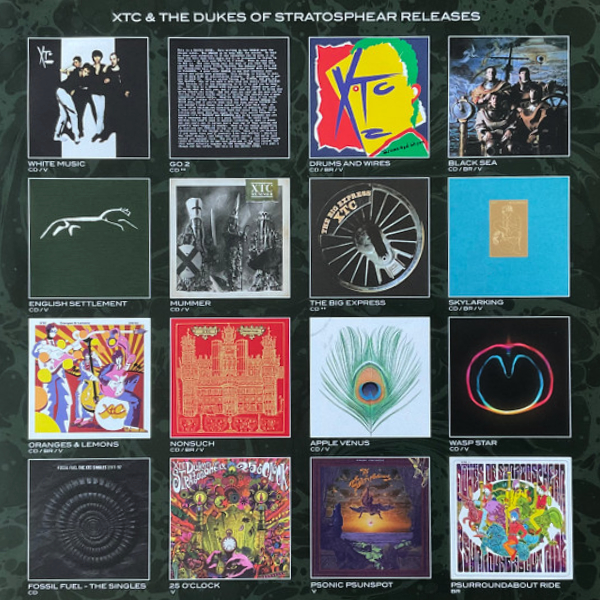 I purchased my new copy of the Ape House Go 2 2LP set at Amoeba Music locally for about $55 — so, for that price, you get all this XTC music shining in its best light. It is a fair deal, and you will also sleep better knowing you are supporting the band pretty much directly these days. (That latter detail matters, as XTC was notoriously kicked around by its original labels back in the day.)
If you love XTC, you'll want to get this new 2LP edition of Go 2 as a matter of course. In fact, this reminds me that I need to pick up the 200g Ape House reissue of Drums and Wires one of these days, even though I have the UK and US originals.
So, am I a deep XTC fan? You bet! Join me here in the XTC fold, and seek out your own copy of the 200g 2LP edition of Go 2 today.
(Mark Smotroff is an avid vinyl collector who has also worked in marketing communications for decades. He has reviewed music for AudiophileReview.com, among others, and you can see more of his impressive C.V. at LinkedIn.)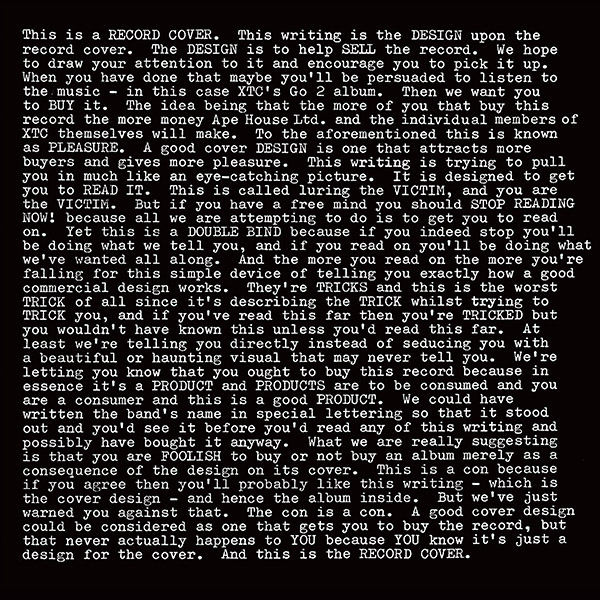 XTC
GO 2
200g 2LP (Ape House)
LP One, Side One – Go 2
1. Meccanik Dancing (Oh We Go!)
2. Battery Brides (Andy Paints Brian)
3. Buzzcity Talking
4. Crowded Room
5. The Rhythm
6. Red
LP One, Side Two – Go 2
1. Beatown
2. Life Is Good In The Greenhouse
3. Jumping In Gomorrah
4. My Weapon
5. Super-Tuff
6. I Am The Audience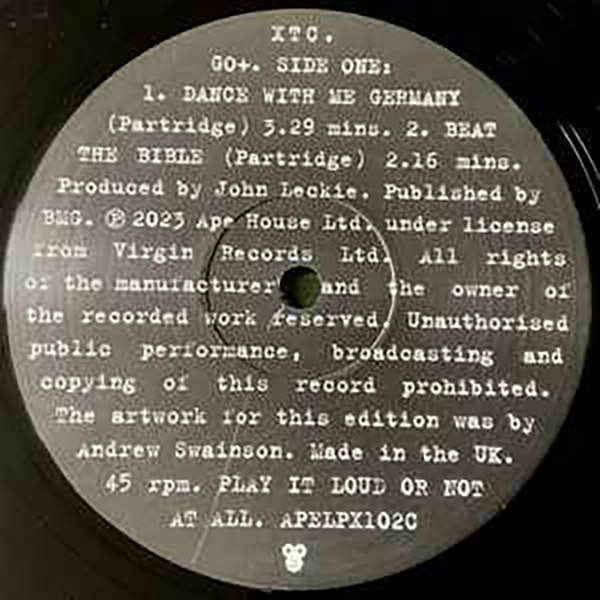 LP Two, Side One – Go+
1. Dance With Me, Germany
2. Beat The Bible
LP Two, Side Two – Go+
1. A Dictionary Of Modern Marriage
2. Clap Clap Clap
3. We Kill The Beast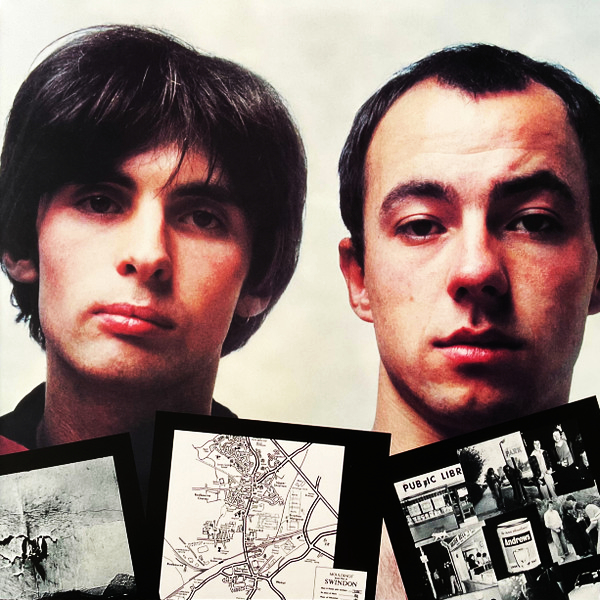 <!- ------------------------------------>