A $7.49 Illuminated Microscope Can Get You a Decent View!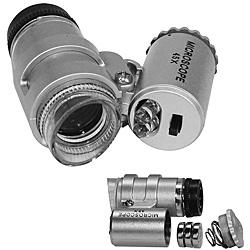 Maybe you don't want to spend a few hundred dollars on a digital USB microscope because that's more than you spent on your phono cartridge in the first place?
SRA is still important. So we were recently alerted to a 45X LED microscope that gets close enough and big enough to let you know if your SRA is at least in the ballpark.
We bought one and following the same instructions we provided for using a digital microscope, which you can find on this website, we placed a CD on the platter, moved it well beyond the platter's edge and lowered the stylus onto it.
You have to carefully approach the stylus with the eyepiece and its illuminating LED and after a few frustrating minutes you'll be able to locate the stylus sitting on the CD. Though the view will be fleeting unless you have really steady hands, it should be long enough to see if your SRA approximates 90 degrees (you want 92).
While you can't use this device to get a precise setting, by knowing if you're even in the ballpark is better than not knowing and you can then adjust from that starting position at least knowing if you're below or above 90 degrees.
You can get one for $7.49 at Overstock.com
<!- ------------------------------------>