Analogue Productions to Resurrect Deluxe UHQR Record Production With Two Bill Evans Classics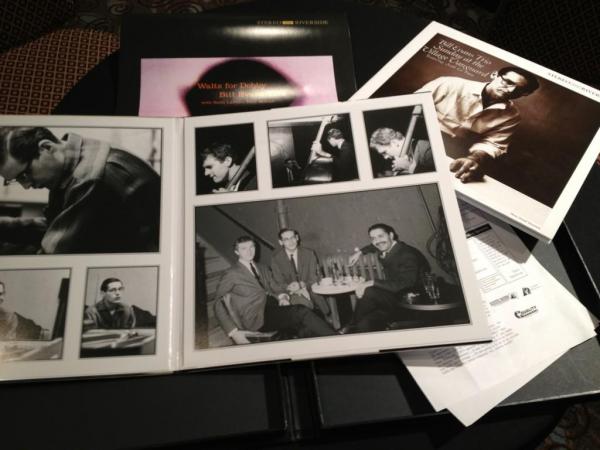 Analogue Productions will commence pressing UHQR records this year beginning with two classic Bill Evans titles:
Sunday at the Village Vanguard
and
Waltz For Debby
.
While AP has bought the rights to the trademark UHQR, the records will be UHQR in more than just name. These titles will get super-deluxe production.
First they will be "one step." That is, instead of the lacquer being plated to produce a father, then plated again to produce a mother from which stampers are produced, the plated lacquer will be used directly to press records. This means fewer records can be pressed since once the stamper is spent no more can be sourced from the "father" because it was used to press records.
Better sound is achieved by skipping a generation in the production process. As for the production process itself, each totally flat, 200 gram record will be pressed by hand in one of QRP's two Fine-built hand presses.
The packaging will be super-deluxe too, including individual numbering, information of the production process, extra special gatefold jacket with never before seen (by most of us anyway) backstage photos of the trio and probably a few things I'm forgetting.
What is the big deal about "flat" records? Were you to bisect a regular record you'd see that the grooves slope downward towards the center of the groove area and then upward towards the label area. Thus perfect azimuth is compromised as well as anti-skating. UHQR records are perfectly flat both at the outer lip and all the way across to the lead-out groove area
The cost for the boxed presentation will be $100.00 and Kassem told me at T.H.E. Show that the reaction to the announcement, particularly from overseas attendees was "incredible."
Is $100 expensive? Consider that Mobile Fidelity's UHQR LPs from the 1980s cost $50 and sealed copies of many today go for upwards of $1000 or more. Yes, those titles include Dark Side of the Moon and Sgt. Pepper's Lonely Hearts Club Band, but among certain music constituencies, these Bill Evans LPs are considered of equal musical status and landmark records for both music and sound. These reissues should be the "ultra" versions.
<!- ------------------------------------>