AXPONA 2022—Super Show or Super Spreader?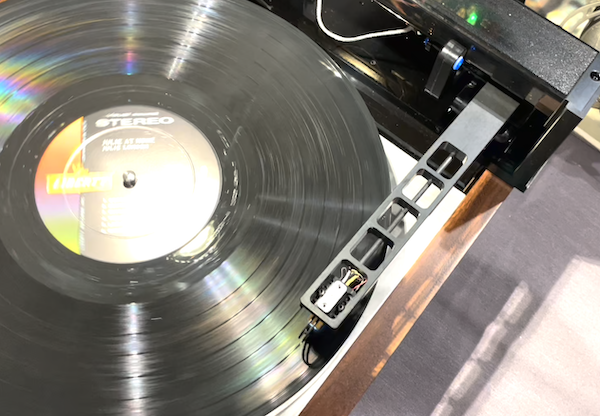 AXPONA 2022 was definitely a super show. Was it a super spreader? Time will tell. Few attendees were masked, proof of vaccination wasn't required, and crowds mingled as in pre-Covid days. I came "locked and loaded" with antibodies from having had Covid a few weeks before the show, picked up during a visit to the U.K. for the launch of SME's new Model 60. I had the worst possible Covid variant: OmicronMQA. You get Covid and it unfolds in your body measles and peyronie's disease. I've since recovered and everything's been straightened out.
In all seriousness it was another well-produced JDEvents show that ran smoothly and made most attendees—consumers and industry peeps— happy to be back. This year's AXPONA was somewhat smaller than the ones at the Schaumburg Renaissance Hotel in previous years, especially in the Expo Hall where the record vendors and other "hands on" exhibitors set up shop. A few scheduled to be there weren't, but overall, there was plenty to see and to buy. There was a full schedule of seminars and classes and a pair of evening concerts: left-handed Chicago bluesman Toronzo Cannon on Friday night and Lori Lieberman on Saturday night.
I participated in three seminar events. The first, moderated by Positive Feedback's Myles Astor speculated about the future of high end audio. The other panelists were Jeff Joseph (Joseph Audio), Angela Cardas, Walter Schoefield (Krell) and Angie Lisi (American Sound). When asked about the future of high end audio I said streaming and vinyl were the two drivers that would bring new people into better audio. Angie Lisi decided to punk me and disagreed about vinyl's influence but afterwards she told me she was just saying that to move the conversation along and a guy who works for Morgan Stanley approached to say that MS had done a major study and found that vinyl was even bigger than most people think. He forwarded to me an 81 page paper that I'll soon report on.
Later I was forwarded a toxic Facebook post by one of the more repellent people in the business who wrote "Angela is the future. The rest of the people on that panel won't be here in 15 years….Hahaha. But seriously…"
But seriously, this guy is anout of shape loser. I'll take my odds of being here in 15 compared to this clown.
Friday afternoon I hosted a "Fireside Chat" with recording engineer Jim Anderson and his work partner titled "Intro to Recording in Digital Xtreme Definition: A Fireside Chat With Jim Anderson and Ulrike Schwarz". Since it was a Fireside chat I introduced them as Franklin and Eleanor Roosevelt and then the conversation turned to DXD 352.8kHz/24 bit recording and Jim and Ulrike's collaborations with Patricia ("Patty" Jim calls her) Barber. It was a fascinating hour that everyone seemed to enjoy. I know I did.
While the show included few product debuts there were some including the new avantgarde Trio G3 loudspeakers with optional i TRON current amplification you'll see described in the video. Also I was shown but cannot show you, a prototype of a new Allen Perkins designed tonearm for Mobile Fidelity's upcoming top of the line turntable priced at approximately $6000 with arm that will hopefully be introduced at HIGH END Munich. The ingenious design (wouldn't expect anything less from Perkins) has much of the "DNA" of his Spiral Groove arm, though it's not a unipivot and it includes removable a head shell as well as all of the other features you'd want on a modern tonearm. For now the arm will only be available with the new 'table but who knows what the future will bring? Mobile Fidelity also announced that Andrew Jones has been hired to design a loudspeaker line for the company. I met with Ortofon's Leif Johannsen who told me it was okay to tell you about a brand new top of the line Ortofon MC cartridge coming soon.
Stereophile sent a full crew to produce detailed coverage so please visit the site for full show I hope you enjoy the Day 1 video.
<!- ------------------------------------>