Gearbox's Vinyl "Compact Disc" Player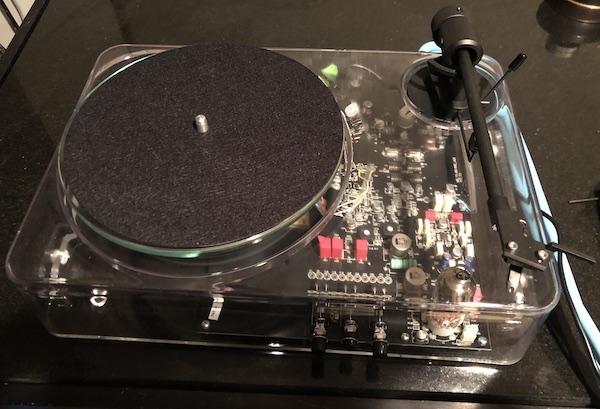 U.K. based Gearbox, best known for its restored vintage all-tubed Westrex mastering system (Haeco Scully lathe with Westrex RA1700 series amps, Westrex 3DIIA cutting head and Telefunken U73B tube limiter) and eclectic
all-analog
vinyl record catalog recently entered the hardware business with this cool "compact disc" player it calls
"The Gearbox Automatic"
though it's a manual player.
The mini-turntable mounted in a crystal-clear acrylic base that fully exposes the large circuit board features an integrated hybrid solid state/12AX7 vacuum tube MM phono preamp and is Bluetooth enabled.
If the arm and sub-platter assembly look familiar it's because Pro-Ject manufactures the turntable for Gearbox. The arm is a shortened version of the fixed counterweight one found on the Elemental turntable and is fitted with an OM series Ortofon cartridge that's set to track at around 2.6 grams or .2 grams heavier than the suggested tracking force of the $10,500 Ortofon MC Century. In other words its on the heavy side but not to worry.
The motor bearing and subplatter are familiar Pro-Ject components though the glass mini-platter is a departure from the company's norms. A set of RCA jacks mounted on the plinth rear allows for connection to a preamp line level input using the supplied set of cables that will be familiar to Pro-Ject owners.
At Munich High End 2017 Gearbox's Darrell Sheinman explained to me the turntable concept and that it was going to be Kickstarter campaign funded. That campaign failed but Gearbox chose to move forward on its own. The result is this somewhat more sophisticated turntable that retails for approximately $750. It's on sale now for just under $700.
A speed check indicated that the Automatic turned at precisely 33.3 and 45rpm—something some more costly turntables can't manage. The Automatic paired automatically and easily with nearby Bluetooth devices. After downloading and setting up the app (the instructions need some clarification), according to Mr. Sheinman the app is supposed to provide "… track tagging every time you play something recognizable in the Gracenote library.
"The app sends you a notification on your phone telling you which track is playing, with track artwork and the option to add the track to your Spotify playlist, allowing you to listen later in the world of streaming. We hope to have Apple Music playlists added soon. This tech is somewhat groundbreaking, and we have US and European patents pending on it. It is not audiophile like ripping a track directly off your vinyl via USB, but I don't think many people use a USB facility because it is too much hassle. "Also, from a license point of view, the rip track can only be used in a local computer…theoretically no sharing allowed. Many of our users are enjoying this facility, especially those who do a lot of digital listening and like sharing their vinyl purchases with friends. The track must have been digitally published already however. I was brought up in an era where we went round to friends' houses with a stack of records and sat and drank the night away sharing each others vinyl picks. So I felt this would be fun for the modern day listener who may have lost this art, but never-the-less likes to share their music taste with others…albeit in the cloud now!
There are further applications of this tech. We will hopefully in the future allow users to buy tickets to gigs playing near them according to the vinyl artist they are playing at that time, and present all sorts of production, master gin and artist metadata too."
Unfortunately, though I thought I set it up according to the instructions, the app never managed to identify the tracks I played and the only message I got was "we've not detected any plays from your Gearbox Automatic. Put on some vinyl and enjoy."
That's advice I took! It's possible I did something wrong and if not, whatever app glitch might have produced that result will surely be fixed soon if not already. Regardless, the set-up instructions could be better.
But it really doesn't matter. That's a secondary feature. More important is the sound and there the Gearbox Automatic scores really well, especially using its line level outputs. The sound produced by this turntable/phono preamp combo is rich and generously warm while also reasonably well-detailed. Rumble and noise were surprisingly well-suppressed, while bass performance was satisfyingly solid and reasonably well-extended. You'd never confuse the Automatic's sonic personality for anything digital.
But don't take my word for it! Watch and listen for yourself. Here, played back on the Gearbox Automatic is Brendan Croker and The 5 O'Clock Shadows from the eponymously titled 1989 RCA release (1209-1-1).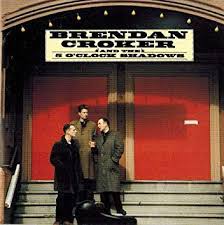 …..performing "This Kind of Life"—a song buried on side two featuring a familiar guest vocalist.
Conclusion
Yes, the Gearbox Automatic sounds good and the Ortofon cartridge tracking at 2.6 grams was taking good enough care of my records that I didn't hesitate to play collectibles. It's too bad I couldn't get the "tagging" system working but that could be my issue not the Automatic's. I streamed Bluetooth too, without problems. I'd get rid of the felt mat and try one of cork even if you had to cut it down yourself from a 12" version.
If I worked in an office where I could play music I'd have this on my desk. For a kid's room or a dorm room, or as something to bring to a party with a good Bluetooth speaker like the new Riva Concert (review coming) and a stack of second tier party records, the Gearbox Automatic is a no brainer. Or you could argue that streaming in those circumstances is the "no brainer".
<!- ------------------------------------>