Soundsmith Revamps Line, Including Updates to Strain-Gauge Cartridge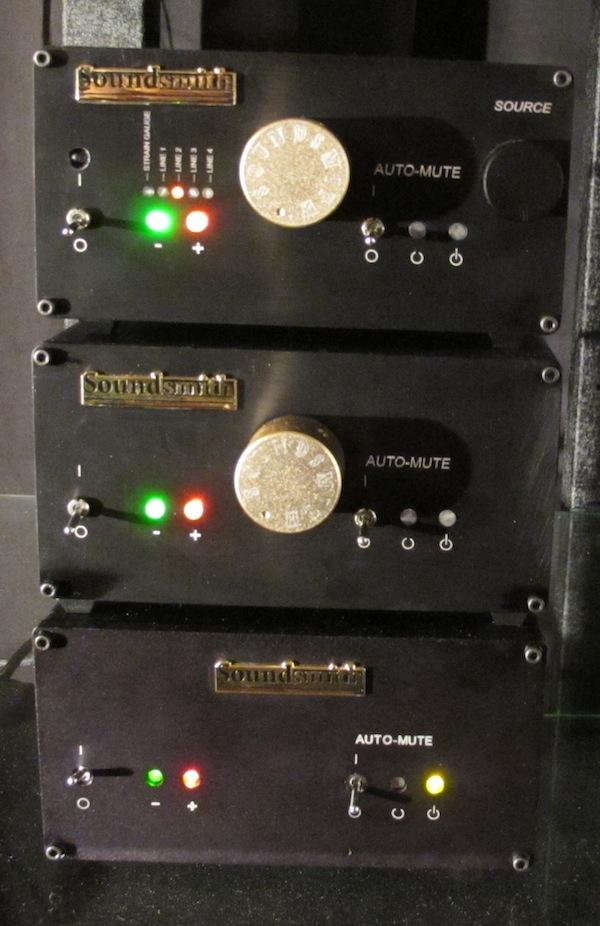 Sound-Smith's Peter Ledermann has been a busy fellow! At RMAF he announced, among other things, an upgrade to the sensational sounding Hyperion cactus cantilevered cartridge. The update to the $7500 cartridge includes an improved suspension said to produce superior separation and improved stylus control. The cartridge includes a ten year warranty and a re-tip when necessary.
Changes to the MCP-2 MC and MMP3 MM phono preamp circuitry are said to produce an "open, less veiled sound" to the already fine sound at reasonably prices produced by these units.
The MK IV fourth iteration of Sound-smith's strain gauge cartridge system improves frequency response characteristics.
The strain gauge cartridge system requires associated electronics (shown in photo) that have also been revamped to include new snazzy looks. The SG200 (bottom of stack) plus cartridge remains priced at $6500.
The new $7500 SG 210 (middle of stack) offers both fixed and +10dB variable output to directly drive an amplifier. A 50 ohm version is also available to drive longer cables. The $8500 SG 220 (on top) includes input switching, remote control and fixed and variable outputs. In other words, it's a full-fledged preamplifier with one input dedicated to the strain gauge cartridge.

LATEST VIDEO
<!- ------------------------------------>