The SSL 2+: A Home Studio Interface Also Useful For Hi-Fi Enthusiasts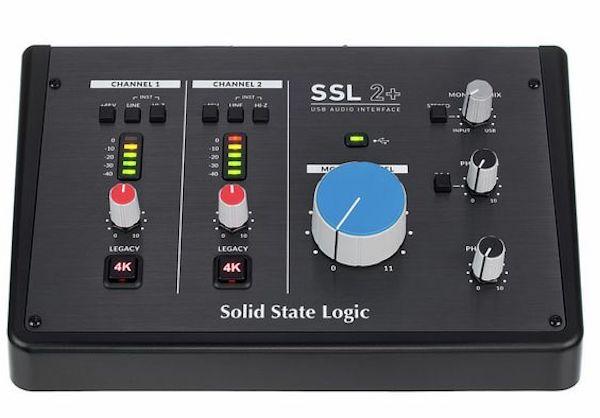 The worlds of recording equipment and hi-fi listening gear don't usually coincide; "pro audio" and home recording pieces are designed for measured accuracy (or as much as is reasonable for the price point), while hi-fi playback gear is tuned for maximum listening pleasure, even if not entirely accurate to the source. However, the hi-fi world nowadays seemingly ignores analog-to-digital converters (ADCs, or A/D converters) for digitizing records and tapes; by my count, the last notable audiophile-targeted A/D converter was the Korg DS-DAC-10R a few years back. That was a DSD and PCM AD/DA converter and headphone amp (also including a moving magnet phono preamp for vinyl digitization) that originally retailed for around $500, though it appears discontinued. Our sister publication
Sound & Vision
praised
its A/D converter's transparency and the device's overall performance, but noted the accompanying AudioGate software's limited editing features. (There was also the Schiit Jil A/D converter, though shortly after I received a defective review sample a couple years ago, it was removed from the market. I think there was a sample rate issue at least on my unit, though that's a story for another time and I hold nothing against Schiit.)
Therefore, hi-fi enthusiasts might find an AD/DA interface, usually marketed for home studio recording and monitoring, quite useful. Over the past decade, these small, usually affordable devices have flooded the market; Focusrite's sleek, red Scarlett interfaces are probably the most ubiquitous budget ones (I've used a Scarlett Solo a couple times and find its sound quite underwhelming), though Universal Audio's Apollo line has captivated the higher-end home recording market. (The Apollo interfaces notably unlock access to UAD's plug-ins, and have onboard plug-in processing. UAD also recently unveiled the more competitively priced Volt interfaces, which forgo the Apollos' plug-in processing. I haven't tried any UAD products myself.) Solid State Logic, the Oxford, England-based company best known for its mixing desks, to the home recording market arrived late but over the past few years unveiled some smaller (if not necessarily cheap) analog mixers, digital controllers, and the SSL 2 and 2+ interfaces.
Features
Respectively retailing for $270 and $350, the SSL 2 and 2+ both have two XLR and 1/4" inputs with gain adjustment knobs and SSL-designed microphone or instrument preamps, 192kHz/24bit AKM converters, balanced 1/4" monitor outputs, 1/4" headphone outputs, 5-stage level meters for each of the two inputs, monitor mix control, headphone and monitor output volume controls, and Legacy 4K analog enhancement on the inputs. To make recordings less sterile, most home recording interfaces have some sort of one-button analog enhancement; Focusrite interfaces have the "air" button (which adds pleasing but not greatly exciting top end air), while UAD's Volts 2 and 276 have analog emulations of 610 tube preamps and/or the 1176 compressor. According to SSL, the Legacy 4K effect incorporates the character of their 4000-series consoles, providing a high frequency EQ boost and subtle harmonic distortion. If you have it engaged during recording, you can't remove it later on though for recording your own material it's quite beneficial. The 2+ interface adds two unbalanced RCA outputs (the big "Monitor Level" knob controls the volume on those and the 1/4" monitor output), MIDI in/out, and an additional 1/4" headphone output not on the SSL 2. I found the extra features (mainly the RCA outputs) useful, so for $259 I bought a refurbished 2+ from an Amazon seller. All SSL interface purchases include vouchers for SSL Native Vocalstrip 2 and Drumstrip plug-ins, Ableton Live Lite, the Native Instruments Hybrid Keys virtual instrument and Komplete Start production suite, and 1.5 GB of Loopcloud samples. (There used to be a voucher for Avid Pro Tools First and Avid's Complete Plugin Bundle, though that offer is suspended. Pro Tools First is free with a few basic plug-ins, and I already pay $50 a year for the Avid bundle.)
Setup
The 2+ is USB-C bus-powered, and comes with USB Type C to C and Type C to A cables. It's class-compliant with Mac OS 10.11 and above, though for Windows you'll need a driver provided at SSL's "Get Started" page (where upon registering your interface you also get the software vouchers). Beware that the 2+ can drain your laptop battery, and of course make sure that you select the correct input and output configurations (especially with workstations like Pro Tools). For digitizing vinyl, I used some generic RCA to 1/4" cables connecting my Liberty B2B-1 phono preamp with the SSL; the cables are probably the weak link in my digitization chain, though they're adequate enough. I also connected the 2+'s RCA outputs with my Hegel H95 integrated amp, and using the Monitor Mix control I could either listen to the record being digitized or anything off my computer (or both, which can get weird—have you ever tried listening simultaneously to the Korean People's Army Song & Dance Ensemble's "We Adore You Single-Heartedly" and Sky Ferreira's Night Time, My Time?).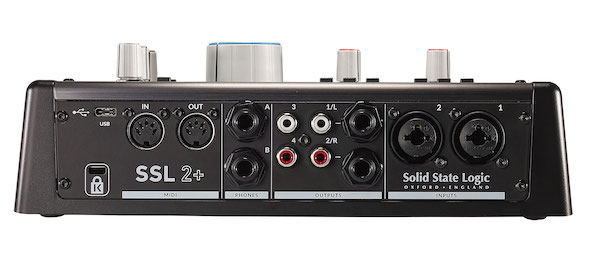 DAC Quality
Before getting into the 2+ as an A/D converter, it's worth mentioning its quality as a DAC. Pairing it with lossless files on Apple Music (whose hi-res lossless setting delivers up to 192/24 resolution), the 2+ delivered an honest sound with an airy top end, which I enjoyed through both my Audio-Technica M50x headphones and my full hi-fi system. While the flatter "studio sound" takes a minute to adjust to, I found it detailed and enjoyable, even if audiophile-oriented DACs are tuned to be more pleasing. On headphones, I preferred the SSL's expansive openness over my excellent but more forward sounding Astell&Kern A&norma SR15, though through speakers I most often prefer a disc on my Arcam CDS50 over both. As with any piece of audio equipment, your preferences will depend on the rest of your system as well as the material you're listening to, and the 2+'s DAC really reveals recordings for what they truly are. New Order's Power, Corruption & Lies (Warner Records 96/24 stream) had incredible space, the careful staging on Serge Gainsbourg's Histoire de Melody Nelson (Mercury 96/24 stream) shone through, the previously mentioned Sky Ferreira album (Capitol Records 96/24 stream) sounded appropriately energetic, and Dinosaur's "Kiss Me Again" (Warner Music 44.1/16 stream) sounded slightly warm but transparent. However, the 2+ also exposed the sonic mess that is Kanye West's new Donda 2 (44.16 files) and the fatiguing nature of Yoshinori Sunahara's new 96/24 remasters of Yukihiro Takahashi's solo albums. (Side note about the YT remasters: the compression reveals previously hidden details like the vocal reverb on "Drip Dry Eyes," though you can't even get through a five-minute song without suffering ear fatigue. I sometimes wish Sunahara would give those compressors a break.) When mixing and mastering in Pro Tools, the 2+ worked spectacularly well with the Audio-Technica headphones, its accurate rendering helping achieve a sound that translated well to other DACs. Hi-fi DACs will sound more engaging, but those on a budget or in search of a desktop DAC could do much worse than this SSL interface. At less than $300 for a perfectly operating refurbished unit or $350 for a brand new one, it's certainly more flexible than the similarly priced (and also great but very different) Audioquest Dragonfly Cobalt portable DAC, and it certainly sounds a lot better than the $199 Schiit Modius. For my AT cans, I set the SSL's headphone volume at less than halfway and it's plenty loud, so it probably drives a decently wide range of headphones.
A/D Conversion Quality
Despite my praise for its DAC, I mainly bought the SSL 2+ for home recording and vinyl digitization. For the previously rare occasion that I'd digitize records, I used an old Zoom R8. It only worked at 44.1 and 48kHz sampling rates, the conversion quality was far from stellar, and it was very noisy. The quiet 2+ works at up to 192kHz, though it takes time and effort to get it properly working. I doubt many people digitize records with Pro Tools, so for my review tests I used Audacity.
For our purposes, the 2+'s main shortcoming is how its two inputs are designed for instruments or microphones, rather than stereo signals from existing sources (despite a "stereo" switch adjacent to the Monitor Mix knob joining two mono inputs as one stereo track). The gain knobs aren't notched, and on my unit, even matching them to the same markers resulted in some disparity. The 5-stage level meters also have a slight delay in displaying transient information, so to match the levels I opened Audacity, pressed record on a mono record (usually a clean Beatles For Sale 1981 UK mono repress, but not for any particular reason), and using the Audacity meters carefully matched the levels. Is it perfect? No. But is there a noticeable disparity? Unless you have superhuman hearing, probably not. A mono cartridge feeding into a stereo phono preamp would make this calibration tactic more effective, though I did the best with what I have.
Once the channels are calibrated, the transfer is straightforward though make sure you don't use the Legacy 4K effect on your vinyl transfers; pleasing and exciting as it might sound, in the long run you'll probably prefer accuracy. The conversion quality, while not necessarily archival in a professional sense, is quite good. The generic RCA to 1/4" cables probably soften my transfers a bit, though transient attack and spatial depth still shine through, and the overall digitization is clear and clean (even if the source material isn't). Here's an excerpt from David Bowie's "Blackout," taken from an original Sterling-cut UK pressing of "Heroes" (Greg Calbi at Sterling cut lacquers for both the US and UK original pressings of Bowie's "Berlin Trilogy"). Despite some minor inner groove distortion, I think this transfer sounds much better than the 2017 remaster on streaming or vinyl, though I'll leave it at that and let you listen yourself.
Conclusion
For a budget digital audio product, the SSL 2+ is an all-around win, performing its many functions with simplicity and excellence. While it's not the type of product I'd typically review here, I found its usefulness in listening, monitoring, digitization, and recording more meaningful than any arbitrary product classification, and despite the channel calibration flaws, I'd recommend the 2+ without any hesitation. For the $300 give-or-take price, you get an excellent DAC, a solid headphone amp, RCA and 1/4" outputs, and a very good A/D converter. The more accuracy-focused DAC sound isn't for everyone, though even as just an ADC it's worth the cost. It's also aesthetically pleasing and well-built; I carried it around town in a stuffed backpack and the plastic knobs survived just fine. There are better DACs, better AD/DA interfaces, and better headphone amps, though for those you'll have to shell out a lot more money often for separate components. As someone who paid for the SSL 2+ myself, I'm well beyond satisfied with its quality and flexibility.
(Malachi Lui is an AnalogPlanet contributing editor, music obsessive, avid record collector, and art enthusiast. Follow him on Twitter and Instagram.)
<!- ------------------------------------>