Three Percussion Records You Should Own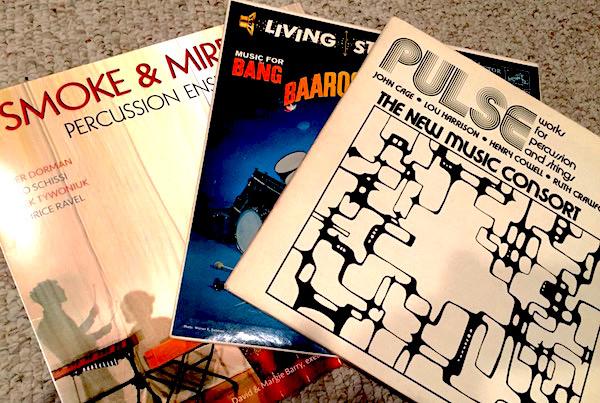 Pictured are three percussion records you should own—especially if you feel like banging your head against the wall. One is an "oldie" Living Stereo novelty that's back in print, one was originally released in 1984 thanks to a grant from The National Endowment For the Arts (today an endangered species) reissued in the 1990s and one is a current release.
The three records are Music For Bang Baaroom and Harp (RCA LSP-1866) by Dick Schory's New Percussion Ensemble, originally issued by RCA in 1958, reissued in the 1990s by Classic Records and just recently by Analogue Productions, Pulse, works for percussion and strings (NW319) by The New Music Consort originally issued in 1984 by New World Records and reissued in the 1990s by Classic Records and Smoke & Mirrors Percussion Ensemble (YAR17255-195V) a 2015 Yarlung Records release.
All three of these records will raise a glorious sonic racket, give your adrenal glands a massage and hopefully provide a unique form of "in the pocket" mental stimulation. If your system can produce wide dynamic swings, and super-deep bass, you'll have the audio time of your life.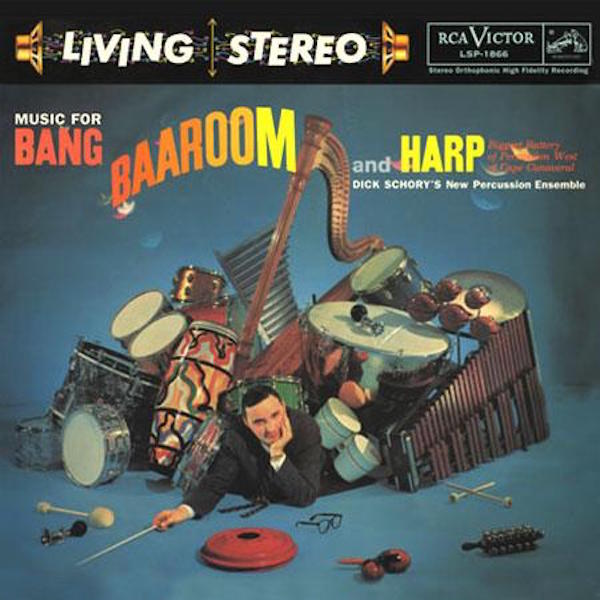 Music For Bang, Baaroom and Harp
"Stop Coddling Your Hi-Fi Set!" headlines the back jacket liner notes of this album recorded to three-track in Chicago's Orchestra Hall June 2 and 3, 1958 that from the first silly march track will blow your mind, if not your loudspeakers. You'll be left wondering where we've gone in the art and science of recording over the past fifty nine years—well until you listen to the other two records.
The spaciousness borders on cavernous, the perceived dynamics Atomic Age explosive and the arrangements mostly corny fun occupying the space between Ernie Kovacs and Mad Magazine, and not to be taken at all too seriously.
Side one has a march, a pair of exotica selections, trad-jazz, a polka and a few other non-serious selections. Side two opens with "Buck Dance" in which a pair of tap dancers heads off-stage, out of your living room and into your back yard neighbor's—and that's not an exaggeration.
Each track emphasizes a different aspect of stereophony with Dick Schory employing more than fifty percussion instruments including Celesta, Vibraphones, Xylophones, Marimba, Timpani "Chromatic Cowbells", eight Tom-Toms (four high, four low) and more cymbals, gongs and Temple Blocks than you can shake a stick at.
I'm not exaggerating about the sound quality: It's amazing nor am I overstating the "pure novelty" aspect of the arrangements. This is not "serious" music but it is serious fun and so 1950's kitschy that as time passes it becomes more treasured as a "moment in time" never to be repeated.
I have original and Classic Records reissues but more recently Analogue Productions has reissued this cut from the three-track original tape by Ryan K. Smith at Sterling Sound.
Originals still go for well over a hundred dollars (I snagged one years ago at Record Surplus, Las Vegas for three bucks) so the new reissue, which I'm sure sounds great and is pressed on 200g vinyl at QRP, is reasonably priced.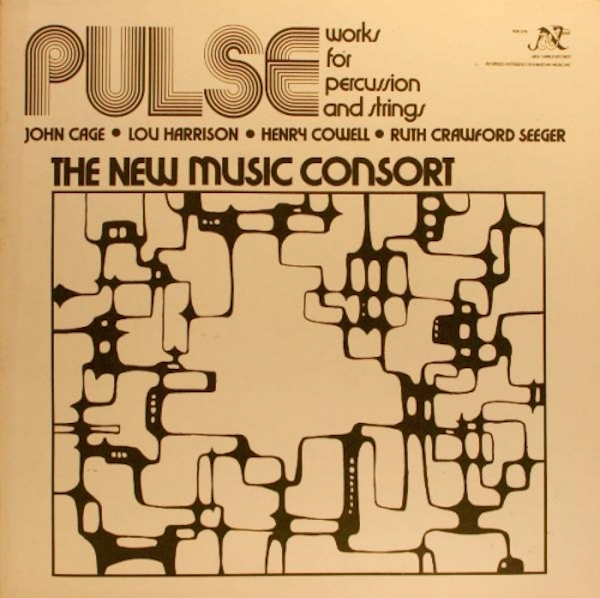 Pulse works for percussion and strings
This is a more serious collection that's no less fun, but far more thought-provoking, particularly the moody pieces on side two, especially the title tune by Henry Cowell, which epitomizes for me 20th century cold war classical music that can often sound like the anxiety-ridden soundtrack to episodes of "The Twilight Zone".
The "humdinger" is side one's opener, the nearly ten minute long "Third Construction" by John Cage. As the extensive liner notes by Perry Goldstein suggest, Cage "...composed music about music, about the nature of sound and our prejudices about sound".
Cage's piece features some ungodly sounds created by rubbing and/or blowing into a conch shell that may have you jumping from your listening chair. The rest of the controlled chaos is equally ear-opening, teeth-gritting and percussively challenging, set within an enormous three-dimensional soundstage. When it's over you're likely to give out a big "wow!"
Side two's mostly string pieces well-reflect my feelings about this "unusual" period of time. Your feelings may differ.
Though the spacious sonics suggest a concert hall venue, this was recorded in RCA Studios, New York (later to be demolished to make way for an IRS office) and engineered by RCA classical music engineer Anthony Salvatore. Bob Ludwig cut lacquers at Masterdisk in New York City.
The New World label was an academic enterprise so the notes are well-written and informative and there's an extensive bibliography and discography on the back jacket. I preferred the sound of the original to the Classic Reissue cut by Bernie Grundman, but both will knock your socks off in a good way.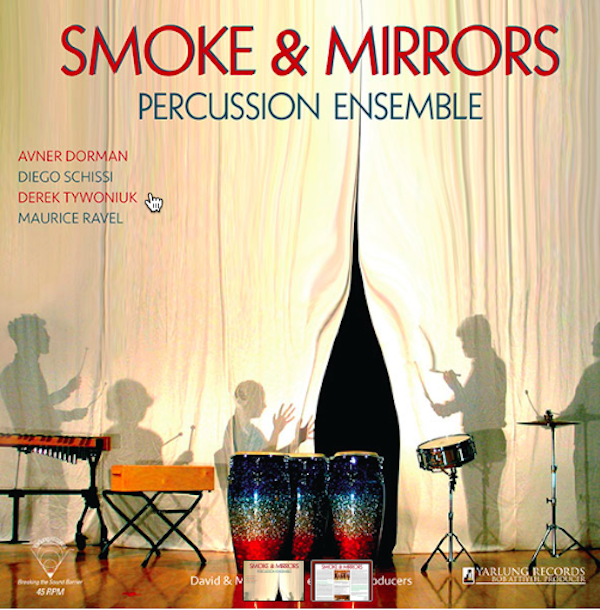 Smoke & Mirrors Percussion Ensemble
Smoke & Mirrors is another collection of "serious" (yet fun) works for percussion recorded in Zipper Hall, Los Angeles, June 7-10, 2011 and June 3-5, 2012. I think they had to wait a year to finish up after the first recording session in order for the hall reverberation to stop! This was recorded to analog tape using a single AKG C24 tube microphone and features the ensemble playing their own tunes plus one by Maurice Ravel.
The sonics here are spectacular, in some ways the best of the three records covered here, and presented at 45rpm because the 33 1/3 test pressing proved too difficult for most tone arms and cartridges to track. At 45rpm you should have no difficulty.
These performances were recorded live to tape with no editing by the seven members of Smoke & Mirrors. The power of their playing will immediately become evident upon the first drum "thwack" behind the hypnotic bell-toned overlay of the opener "Udacrep Akubrad" which is backwards for "Percadu Darbuka". Meaningless in both directions unless you know that "Percadu Darbuka" is a "machismo Israeli percussion duo, for which this piece was composed back in 2001. You'll immediately get the middle eastern vibe (that's a play on words).
The meaning of "Percadu Darbuka" is explained in the liner notes, which are as disorganized as the recorded sound is well-organized. The notes should but don't start with an introduction to the group Smoke & Mirrors, especially since the cover doesn't make clear if that's the album title or the name of the group! Nowhere in the notes are you told what each of the seven members plays, or anything about them. The label doesn't identify which side is which. Kind of messy. And I write that even though I'm generously quoted on the jacket directly after a description of the opening track (based on the test pressing I'd been sent).
No matter, the music does the talking and it's as invigorating as the recorded sound. "Juego de Relojas" ("Game of Clocks") is particularly light-hearted and even without the translation you'd get the idea.
The recording is superbly transparent and well-captures the hall's natural reverb. I can't imagine you won't thoroughly enjoy listening repeatedly to this record.
Unfortunately the two final production copies I was sent were among the worst Pallas pressings I've ever gotten. Both were eccentric and featured a warp in the middle of the record that not even vacuum hold down could tame, so before you order this make sure to ask if they've had this problem and find out what they've done about it, because if two copies have it, no doubt so do others.
If you want to support the arts, great modern day analog recording and an adventurous classical music label, here's a great opportunity. This recording has all of the attributes of the great recordings of the "golden age" of recording: spaciousness, image three-dimensionality, timbral and textural accuracy and wide dynamics. Crank it up and enjoy!
Crank up all three and receive triple the pleasure.
<!- ------------------------------------>