Is Audio Intelligent's Enzymatic Stylus Cleaning Fluid Safe For Your Ortofon Bonded Stylus?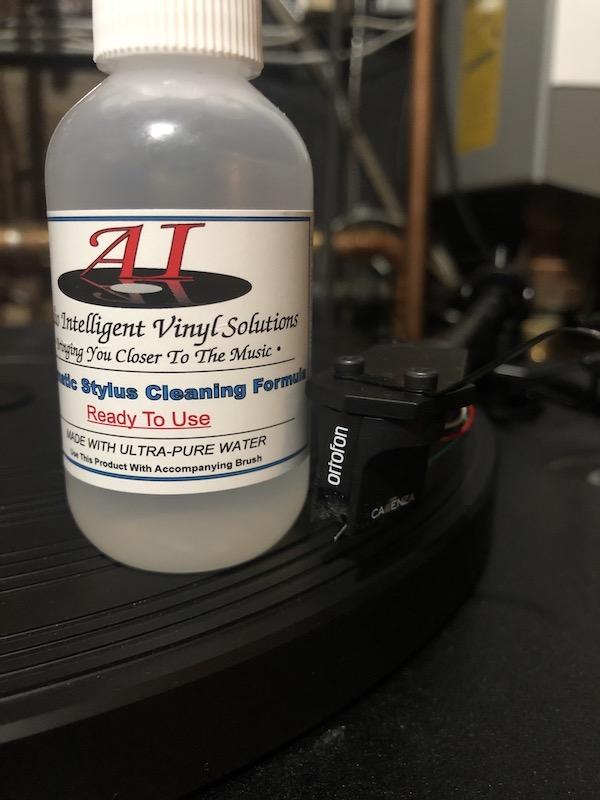 Audio Intelligent's recently introduced
AIVS Enzymatic Stylus Cleaning Formula
is an enzymatic stylus cleaning solution that's alcohol-free and claimed to be 100% safe for bonded type styli like Ortofon's.
When I spoke recently to AI's Jim Pendleton he assured me that the new stylus cleaner's formula was 100% safe for bonded styli. He bases his confidence on leaving more than a few bonded Ortofon cartridge styli submerged in the stylus cleaner for months and finding no bond weakening or disintegration.
A bottle containing sufficient fluid for up to 1000 cleans costs $40.00 (including free domestic ground shipping) and includes a stiff applicator brush. The order page at the hyperlink above says "See our Audio Intelligent Vinyl Solutions Product Information web page for more information. However, finding that page is not so easy so here's the link.
I have used the fluid repeatedly on an Ortofon Cadenza Black among other bonded styli cartridges and all are as intact as our Cardigan Welsh Corgi show dog! Plus the digital microscope shows the fluid to be an effective stylus cleaner.
That said, it's important to use sparingly any liquid stylus cleaner and avoid getting any into the cartridge body. Less is more with any liquid stylus cleaner.
<!- ------------------------------------>