Analog Corner #4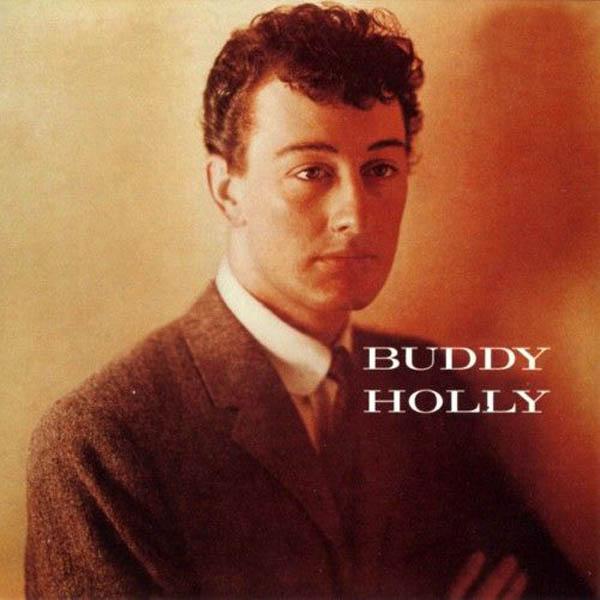 (Originally published in Stereophile, October 12th, 1995)
This was originally going to be a piece on air-bearing tonearm design; but last night I had a religious experience, and if I don't get it out of my system, I won't be right.
I've been a Buddy Holly and The Crickets fan ever since "That'll Be the Day" was released back in 1957 (it was recorded in Clovis, New Mexico on February 25 of that year). Holly's the original skinny-necked, thick-eyeglassed "geek rocker''—the whole image David Byrne and Elvis Costello later aped. But Holly really was that.
And what about those wacky vocal affectations? The hiccups, the drawl, the yelp, the split syllables, the sticky female whining he affected on "Peggy Sue." Where did that stuff come from? How did he have the guts to do some of those things back then? I don't think it's ever been explained to anyone's satisfaction.
Then there's the purity of the music. The chording, the dusty rhythm guitar, the bright scorching lead lines, and the almost reverential percussive undercarriage—all of which helped define rock'n'roll on its most basic level. Dig below most of today's "alternative rock" and you'll find Buddy's music. It rides the surface of much of the Beatles' catalog. Maybe rock drew from R&B, and clearly Holly was listening to Bo Diddley, Mickey Baker, and the others, but this was white-boy music any way you took it apart. But it sure wasn't white bread.
Little footage of Holly performing exists, but the famous Ed Sullivan snippets from January 26, 1958, are ghostly and mysterious. Holly looks like E.T., with his head cocked and that peculiar smile on his face. What he gave in that performance—the combination of puppy-dog craving for acceptance and a bold defiance that screamed, "I know what I look like, but catch this!''—is forever seared in my brain, both from having seen it live as a youngster and from repeated viewings ever since.
I remember where I was when I heard Kennedy was shot, when Ernie Kovacs died in a New Year's Eve car accident, when Lenny Bruce O.D.'d on persecution, and when Buddy Holly's plane went down. He was 22. I was 12. Don McLean overstated the tragedy somewhat when he characterized it in "American Pie" as "the day the music died."
Listening to Buddy Holly is a big problem. Original LPs are hideously expensive. Goldmine's indispensable Price Guide to Collectible Record Albums, Fourth Edition, by Neil Umphred, lists a mint copy of That'll Be the Day (Decca DL-8707) at $2000! Buddy Holly (Coral CRL-57210) goes for "only" $300. Most of the others are also in the three-digit category. And good luck finding them if you do have the shekels to drop.
The early-'70s' A Rock & Roll Collection (Decca DXSE-207) twofer features washed-out, electronically reprocessed sound. The British double-LP collection, Buddy Holly Legend (Holly was actually more popular in England than in the States; MCA Coral CDMSP 802), pressed by EMI, at least gives you true mono and detailed liner notes; but the sound is second- or third-generation tape or worse, and it's EQ'd up the ying yang.
In 1985, MCA issued a Steve Hoffman digitally remastered double set, Buddy Holly Legend (MCA2-4184), which was generated from the original master tapes; but the bass is rubbery and, well, digital ca 1985. Feh!
Two years ago, MCA released a two-CD, 50-track Holly set, The Buddy Holly Collection (MCAD2-10883). Remastered by Erick Labson, it struck me as the best-sounding Holly yet. Then, never shy about milking a cash cow, MCA issued a gold CD of Buddy Holly: Greatest Hits (MCAD-11213), giving Masterfonics' Glenn Meadows a shot at 18 tracks.
Unfortunately, the veteran mastering engineer got so carried away with his CEDAR "clean up" of background noise that he dialed out the famous real crickets chirping in Norman Petty's echo chamber at the end of "I'm Gonna Love You Too." Bad move, Glenn!
Aside from that faux pas (hey, if the French can outlaw English phrases, we should be able to retaliate), Meadows' mastering was a bit bright, yet extremely detailed and smooth. I thought this was another interesting take, but it really didn't give me a sonic rise. No Holly I'd heard did, but I always believed something special must have resided in those tapes.
The problem was, never having heard Holly transferred analog from the original master tapes, I couldn't be sure. These CDs sounded fine, but instead of good '50s mono, I was hearing good '50s mono processed through "modern" digital technology.
Mickey gets religion
So how did I get religion last night? Someone at MCA, bless them, got a bright idea: Why not enter the burgeoning audiophile record market? Were they excited audiophiles like, say, the Classic guys? I doubt it, but who cares? The point is, MCA has released four 180-gram pure analog LP reissues, all mastered by Kevin Gray at Future Disc Systems, and if enough people buy them, there'll be more.
One of them is Buddy Holly. I have yet to hear the finished record, but last night I played a test-lacquer MCA was gracious enough to send me, and that's how I got religion. Ah! I love the smell of cold lacquer in the morning!
Every time I doubt my belief that listening to digitally sourced sound is a fundamentally different experience from analog, something like last night happens and restores my confidence.
Look, Norman Petty's studio wasn't RCA Nashville, but the producer/engineer/musician knew what he was doing; and if you listen carefully to the little things (keeping in mind the serious technical and instrumental limitations in recording and playing pop music at the time), you'll soon realize that Petty was to Holly what Martin was to the Beatles—although credit for the innovative rhythm tracks must go to the much-underappeciated drummer Jerry Allison.
The first few seconds of the lacquer version of "I'm Gonna Love You Too" caused a shock to my system, followed by the realization that finally the long-distance sound of third-hand–sourced LPs was gone. Finally, the glazed, electronic, dimensionless sound of digitized versions had also been eliminated, and what a difference that made. You ain't hearin' it on the CDs. Sorry.
Before me now was an almost voyeuristic look at the live recording session. The intimacy and immediacy with which each instrument and voice appeared was eerie and ghostly. Instead of a mush, each participant lived and breathed individually in space. True, without stereo there was no lateral spread; but front-to-back depth was "Viewlex''-like in its three-dimensionality. Wow!
When Allison hits those skins, it sounds like skins. The springy feel of the sticks bouncing off the drum doesn't translate on the CD. The clean splash of the cymbal—each hit differing subtly from the preceding one—so obvious on this record, doesn't stand a chance on the CD.
On the LP are guys humming a subtle backing vocal line (The Picks? or perhaps Holly himself double-tracked, as he is on the "ah, a-ha" parts?); previously obscured, now it's easily audible. You can effortlessly follow these elements throughout the song. Holly's voice is hauntingly clear and free of electronic impediments—you can picture his face and follow his breaths. Yikes! This is great!
Most importantly, and most difficult to explain, you can see the context of the performance, you can sense an acoustical space, a studio, air, humidity, a sense of it being a night recording (was it? I don't know)—none of which are communicated on the CDs. Even if all of this stuff is in my head, who cares?
The CD doesn't incite the imagination; the LP does. So does great music. The double shot you get from this LP—transcendent music and an eloquent recording honestly conveyed—is overwhelming. Like listening to Roy Orbison on vinyl. This is the kind of thought that drives the audio "flat-earthers" crazy. As will the audible technical recording blemishes—particularly the hiss and noise on the tape. There's lots of it. You won't care.
I hope the final LP captures and conveys the magic on this all-too-brief record—and the little details that make it sound real instead of canned. Like the sound of flesh on "Everyday," as Allison slaps his thigh. On CD he might as well have been playing with a set of click-clack blocks.
I'm optimistic about the final product, because I did compare a test-lacquer and a test-pressing of another title—the Out of Africa soundtrack—and the final product is surprisingly faithful to the lacquer. Out of Africa????? Yes. MCA is kind of fishing around for a musical spot to drop anchor with this series.
Not being sure what will sell, they've chosen a lush soundtrack, the Holly title, Alone Together—Dave Mason's '70s classic—and a vintage Buddy Guy album. Oh, yeah—and Who's Next, never before reissued on audiophile vinyl or gold CD because the master tape couldn't be found.
Recently surfaced was a one-off-the-master straight transfer, run off by engineer Glyn Johns when the original was fresh. Mama mia! Need an excuse to buy a turntable? If you want to read my take on the rest of these records, you'll have to pick up a copy of The Tracking Angle.
<!- ------------------------------------>