Analog Corner #46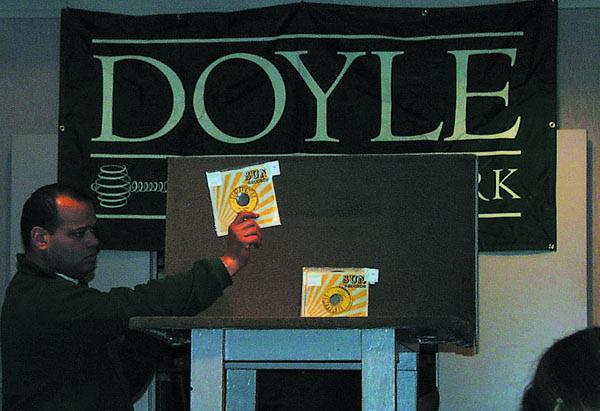 (Originally published in Stereophile, April 12th, 1999)
Sell my record collection? You'd have to hit me upside the head with a blunt instrument. That's pretty much what happened to Thomas Margellar Jr., whose collection went on the auction block recently.
The former Motor City DJ, known professionally as Tom Knight, had amassed a 50,000-piece collection of LPs, CDs, 45s, and assorted music-biz ephemera, all stored in his climate-controlled basement. One day two years ago he got into a fight with his wife. Unfortunately for the 47-year-old collector, his brother-in-law was on hand to intercede on his sister's behalf.
Margellar/Knight ended up dead with a crowbar to the head, and his wife and brother-in-law ended up in the klink. The collection ended up at NYC's William Doyle Galleries.
I've always wondered how long it would take before someone in the auction/collectible business got hip to record collecting. How many obits have you read of famous art collectors, stamp collectors, and book collectors? Plenty. How many of record collectors? None. Except for the fact that books have been around longer, there's not much difference between book collecting and record collecting. Yet until now, record collectors have gotten no respect.
So while this column was supposed to be about other things analog—vintage tuners and radios, cartridges, VPI's new SDS motor controller, some new "Wally" stuff, a new "budget" Simon Yorke turntable ($5500 with tonearm), Thorens' TD 295 Mk.2, and even a remote-controlled device that allows you to change phono absolute polarity from your listening chair—those things will have to wait. What I really must tell you about is the auction at the William Doyle Galleries. I hope it will be the first of many..
Ghoul Aid
Speaking of obits, how many times have you read one and ghoulishly been tempted to phone and ask about records? Happened to me when legendary RCA producer John Pfeiffer passed away a few years ago, and more recently when recording engineer Anthony Salavatore went to that great spaced pair in the sky. He'd lived in Hasbrouck Heights, not far from me. Why don't you just mosey on over there, Mikey? I thought to myself. Nah. Couldn't do it.
I did once commission the talented cartoonist Golliver to draw one of my ideas: a graveside burial service, the casket's being lowered, and a guy is whispering in the new widow's ear: "Any records?" That's as far as I got in the vinyl grave-robbing business...though a few years ago I did help Albert Shanker's widow dispose of her late husband's large collection of classical and jazz LPs. She called me. (Shanker, the head of the United Federation of Teachers, was immortalized in Woody Allen's Sleeper.)
Obviously, the folks in the auction/gallery business do it for a living--they have no shame in that regard, and that's how the William Doyle Galleries came upon Margellar's collection. A midwestern agent for the gallery read about the crime and made some phone calls. The family was amenable, and all 101/2 tons of the collection was shipped off to New York City for the auction.
Once appraiser Chester Prudhomme (a reader of Stereophile and The Tracking Angle) had gone through and priced everything, the gallery put the lots out for a three-day pre-auction inspection that your correspondent felt duty-bound to attend. Doyle named the event "Rockin'/Rhythm'n'Blues: The Fine Vinyl Auction."
The Inspection
What I found when I entered the William Doyle Galleries' smaller, East auction room resembled a record convention more than an auction. On top of and under tables were boxes and boxes of LPs, 45s, CDs, memorabilia, reel-to-reel tapes, and music-related books—each box with an identifying lot number. The good stuff, separated into much smaller lots, was in the back, on shelves that once belonged to Mr. Margellar.
The catalog prepared by the auction house listed 832 separate lots, most labeled "Miscellaneous''—meaning you'd have to go through each lot yourself to know exactly what you'd be bidding on. For most of an afternoon I did just that.
I wasn't interested in any of the 45s, which comprised a large portion of the catalog, but some really choice ones ended up fetching really big bucks. Don't let anyone tell you—and don't tell anyone yourself—that 45s have no value. The right ones do!
The LP collection was a curious mix of ultra-collectible r&b, large dollops of Elvis and Beatles, and undifferentiated garage-sale detritus. Way under-represented were British Invasion and other limey rock, and missing entirely was '60s and '70s psychedelia. The more I rummaged, the more I realized my wallet had been spared!
But there were some amazing items—like the ultra-rare stereo version of Del Shannon's Runaway album, lots of Sun Records 45s and some 78s, white-label promo copies of original Motown LPs, original Gene Vincent and the Bluecaps LPs, Ronnie Hawkins and The Hawks (aka The Band) LPs, and all of it appeared to be mint-minus or unplayed.
I noted the lots I would bid on (and probably never win)—like the one containing three mint Gene Vincent albums (estimated to go for $400–$700)—and then moved to the tables where sat the 100-records-to-a-box lots. Some very curious mixes. The records were in roughly alphabetical order, and each box contained mostly $1 garage-sale records: '70s pressings of older releases, commonplace reissues, and other fairly mundane uncollectibles, albeit in mint condition.
But I also noted that each lot included a few very collectible records that, alone, would make the entire lot worth purchasing. For instance, one alphabetical lot, "$Bsu-th," contained a mint copy of the Teddy Bears' The Teddy Bears Sing!. This was Phil Spector's first group. Book value for the mono version of the album, which includes the hit single "To Know Him Is To Love Him" (which, I believe, is inscribed on Spector's father's gravestone), is over $300. Another box contained a stereo copy of Jack Nitzsche's The Lonely Surfer ($150). And so on.
Other boxes contained some original Dylan, some Stones, some Buddy Holly, and some Kinks—most not particularly rare or collectible, and all of which I already owned. But none caught my attention like the box marked "$Borb-pa."
Five red spines told me there were five original Monument Roy Orbison LPs in the box: Orbisongs (mono and stereo), Roy Orbison's Greatest Hits (mono and stereo), and More of Roy Orbison's Greatest Hits (mono). All unplayed. Plus, stereo and mono copies of The Classic Roy Orbison, and a stereo copy of There is Only One Roy Orbison, plus five other MGM Orbisons, a sealed Rhino compilation, and Mystery Girl. I didn't even bother looking through the rest of the box. This one, I'd bid on.
Let's See Auction!
Tuesday, February 16th, I strolled into the gallery around 1pm—three hours after the auction had begun. I wasn't interested in the first 68 lots (CDs), or the hundreds of lots of 45s, though there were some eagerly sought collectibles among them. I was as much interested in the attendees as anything else.
Who and how many would come out for such an auction? A nice writeup in the "Arts and Leisure" section of the previous Sunday's New York Times couldn't have hurt, but while the room was crowded, there were many empty seats throughout the day. I spotted some familiar faces from record conventions, but most were strangers to me. There were the usual '50s and '60s rock types outfitted in black, but there were also a few well-dressed, distinguished-looking guys. It wasn't difficult to distinguish the true enthusiasts from the moneyed types.
As the auctioneer moved rapidly through the lots, approaching those of interest to me, I noted the winning bids and compared them to what the appraiser had estimated. A lot of four Buddy Holly singles (including "Maybe Baby," "Rave On," and "Blue Days, Black Nights'') in their original sleeves, predicted to fetch between $250 and $350, brought in $400. But a set of Elvis EPs expected to go for $300 to $500 did a paltry $110.
And so it went for the next few hundred lots, some doing much better than expected, some drawing so little action they had to be withdrawn. One lot of 150 rock, pop, and r&b 45s from the '60s, expected to bring between $100 and $200, saw ferocious bidding, including some wealthy guys phoning theirs in. When the dust had cleared, the lot had sold for $650! I never did determine what was in there that everyone wanted.
Another anonymous set of 150 45s, this one estimated to bring in $200 max, brought in $750. A set of six Sun Records 45s by obscure (to me) artists like Barbara Pitman, Billy Riley and His Little Green Men, and Eddi (sic) Snow, brought in $650—$150 more than the top estimate.
As the Orbison box drew closer to the block, my heart began to race. A lot containing some original Vee-Jay and Philips Four Seasons albums, with a max estimated value of $200, closed at $250. Not a good sign. But a box containing many mint Atco, Atlantic, and Capitol Bobby Darin albums couldn't draw an $80 bid and was pulled. (Remember, the boxes remained in the back; only those who'd inspected them in the days before the auction know what was in them.)
The box containing the Dylan LPs closed at $90—way below the estimated value. A box of Christmas LPs drew an $80 bid, and then Roy was up. "Lot 487, miscellaneous group of rock, pop, and country, 1960s and '70s," the auctioneer spieled. "80 dollars, I have 80 in the back." My paddle shot up. "90 in the front. Do I have 100?" Amazingly, no one upped my $90 bid. "Going once, fair warning, sold."
I'd won the Roy LPs, along with about 80 other records I hadn't bothered to look at. The Teddy Bears box went for $300—no thanks. The really valuable smaller lots were still to come. I bid on mint originals of Elvis' Greatest Hits, Volume 3 in both mono and stereo, but stopped at $90. $100 won for the two. The Beatles lots—plain American pressings—were overpriced and went for too much. For instance: stereo copies of Meet The Beatles, The Beatles' Second Album, and a Beatles picture disc, went for $320. That's nuts!
I bid on a three-LP Orbison lot containing stereo copies of Crying and Early Orbison, and a mono copy of the biggest prize, Lonely and Blue. Book value of the trio is about $600, I pulled out at $120, and the lot sold for $160—still a bargain. Had Lonely and Blue been in stereo, I was prepared to go to $400 or more.
The three Gene Vincent LPs went for $700, the stereo Del Shannon for $900! The Miracles' first album, Hi, We're The Miracles—a white-label promo copy—went for $325. Shirley and Lee's Let the Good Times Roll drew a breathtaking $525, The Fendermen's Mule Skinner Blues $460, and the Billy Ward and His Dominoes LP, featuring Clyde McPhatter, brought $600, though estimates had ranged from $1000 to $2000.
What have I done???
After paying up, I claimed my box of records and hauled them over to the parking lot (thankfully, right across the street). Ninety records is a heavy load! When I got them home, I took my first good look. What other records do you imagine were in the "O-P" box?
You got it! Osmonds! Donny and Marie Osmond, Donny Osmond, Marie Osmond, Donny and Marie Osmond. Eight in all, but none of the ones listed in the Goldmine guide as being worth $25 and $30 (to whom?).
Moving right along in the O's: every friggin' Tony Orlando and Tony Orlando and Dawn album ever made! Well, six anyway—including Bless You, a real gem. It contains the title hit and "Halfway to Paradise," one of the best unrequited teenage love songs of the '60s, written by Carole King and Gerry Goffin.
One of the great things about vinyl collecting is finding records like this—something I'd never seek out, but that was dumped in my lap. The album, produced by Al Nevins and Don Kirshner (later the host of the cheesy Don Kirshner's Rock Concert), is a fascinating early-'60s Brill Building snapshot. The immediately recognizable string-drenched and heavily syncopated, shuffle-rhythmed arrangements are by Alan Lorber and "Carole King, the pretty 19-year-old blonde...'' Think of the Shirelles' "Will You Still Love Me Tomorrow" and you'll hear it in your head.
Like Rod Stewart, the early Tony Orlando was heavily influenced by Sam Cooke. Will I ever play Bless You again? Probably not, but it sure brought back memories.
What else did I get in Lot 487? Both Outsiders albums (hit song: "Time Won't Let Me'') on Capitol (book value: $55 for the pair), three great original Orlons albums (Don't Hang Up, Wah Watusi, South Street) on Cameo (book value: $225), Orleans (still not the ones!), every Alan Parsons album (great sound, bad/pretentious music, must be "audiophile" fodder), Gilbert O'Sullivan, Patti Page (the old Mercury greats too), Robert Palmer, Dolly Parton (way under-appreciated!), the great Bakersfield sound of Buck Owens (I've Got a Tiger By the Tail, and a rare one on La Brea Records—in the book at $100!), Pablo Cruise (echh), more Ray Parker, Jr. albums than you ever thought existed, and, unfortunately, only one Parliament (Motor Booty Affair) and one Johnny Otis (a fantastic gatefolded Charly reissue of The Johnny Otis Show, the Capitol original of which is valued at $200).
I'll spare you the good, bad, and ugly of the rest of the box, but when I was done counting, the approximate book value of the set was over $900! I'll end up with dozens of great records, and at least all of my money back. And there are still audiophiles deciding whether buying a turntable in 1999 is a good investment?
Aftermath
A few days after the auction, I called Tara Ann Finley, Director of Collectibles at William Doyle, for a post mortem. According to Finley, 91% of the collection was sold during the one-day auction, which attracted 157 registrants, 102 of whom showed up. The sales were estimated to bring in anywhere from a low of $152,260 to a high of $256,105. (The actual total was closer to the low end of the scale.) Finally, if bidder number 900, who phoned his in and who spoiled the day for many less–well-endowed (financially) record collectors, is reading this: you suck!
Despite the labor-intensive nature of the auction, and the ten and a half tons that had to be shipped across the country and stored in cramped NYC quarters, Finley told me Doyle would "Definitely do it again," and hopes to have many more record auctions in the future.
Next month, back to our regularly scheduled subject matter.
Oh—the unsold 9% of the collection? You'll have to excuse me, I have a phone call to make...