Analog Corner #51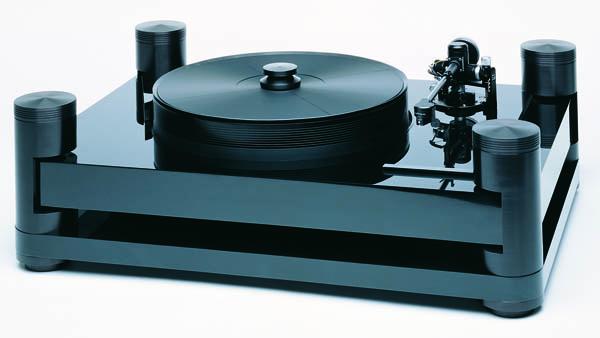 (Originally published in Stereophile, October 12th, 1999)
A family came to pick up a puppy we'd bred. The 11-year-old son entered my listening room, and I asked him if there was something he'd like to hear. "Nirvana," he requested, so I got out the Mobile Fidelity LP of Nevermind. "I've never heard a record in my life," he said, as I slipped it on the Basis Debut, currently being reviewed. When "Smells Like Teen Spirit" ended, he turned to me: "You have a really great stereo! I've never heard half that stuff."
"Would you like to hear the CD version?" I asked.
"Sure."
So I played him MoFi's gold CD on the Bow-Tech ZZ-8, no slouch of a CD player. When it was over, he turned and said, incredulously, "How come the record sounded so much better?" Before telling him, I asked him to tell me in which ways the LP sounded better. "The CD sounded flat," he said. "The record sounded like the band was right in front of me like I've never heard."
I told him why the LP sounded better. "You see, son, you've grown up used to the distorted sound of the LP. It will take some time for your brain to adjust. As for all of that depth and realism, it's really just a form of distortion called false L–R information—but seeing as how you're a few years from puberty, we'll leave that discussion for a later listening session."
Buy or die
Back in the early 1980s, with a great deal of hoopla, Toshiba-EMI reissued the mono mixes of the first 10 Beatles albums on the EMI Odeon label. The records and packaging duplicated the original Japanese issues, which were pressed on thick, translucent red vinyl. Everything about these reissues was impressive: the clarity and honesty of the transfers; the quiet, well-finished vinyl; even the printing and color separations of the jackets. This was a set of records worth owning.
As some of you may recall from an earlier column, I had the opportunity to play the Sgt. Pepper's Lonely Hearts Club Band reissue for Beatles engineer Geoff Emerick, who was favorably impressed. He felt the transfer had been absolutely faithful to the tape, and to the sonic intentions of all involved. This was not his reaction to the Mobile Fidelity UHQR version, which I also played for him. He hated that, saying the highs had been grotesquely boosted.
The Beatles and George Martin lavished a great deal more attention on the mono mixes because, back then in the UK, that is how the vast majority of fans had heard the group—either on the radio or on a "record player." Despite the lack of lateral separation and "soundstaging," the mono mixes possess a solidity and sonic integrity missing from most of the stereo mixes, though most of us prefer listening to Beatles albums in stereo.
The Japanese mono reissues were expensive: single LPs cost 2300 Yen, or about $16—about twice the price of domestic LPs at the time. Despite the cost, this all-analog set presented collectors and fans with an excellent opportunity to own the Beatles' mono catalog and hear the group as it and George Martin had intended.
Today, the chances of getting the mono mixes on CD are slim, even though they'd probably sell well. [On CD, the first four Beatles albums are available ONLY in mono.] I asked Emerick why EMI wasn't planning on reissuing both mixes, and he told me that the "suits" didn't think anyone would buy mono. Well, what are they supposed to know about music?
I bought the mono Sgt. Peppers' but passed on the others. How could I be so stupid? I had this ridiculous idea that they'd be around—mine for the buying whenever I wanted. I remember thumbing through the set at Aaron's Records in Los Angeles, back when it was a record store on Melrose Avenue, and thinking, "These are too expensive. I don't have the money.."
I could have sold a few hundred crappy records I still haven't played and owned the lot. A few weeks after they appeared in the bins, they were gone. You want a copy today? You can find them for between $75 and $100 apiece, though the two-LP The Beatles (aka "The White Album'') is going for around $250—if you can find it.
Of course I had the money. I was just being financially retentive. As I was when the MoFi Beatles box came out and I paid for it by selling my entire '70s-issued, Japanese-pressed EAS series, something I never should have done. That series sounds better than the MoFi box, in my opinion, and is bettered only by the original British Parlophones. At least I had the good sense not to sell those!
I bring all this up because, right now, there are hundreds of essential LPs in print and available that you're probably not buying because you "don't have the money" or because they're "too expensive." Guess what? They won't be around forever, and you probably do have the money for some of them. If I were you, I'd free up the cash and buy 'em while I can.
What got me thinking about all of this is the recently launched and ongoing limited-edition—no more than 500 copies of each—Classic Records 45rpm series. Expensive? Yes. [what are the prices?] Worth it? Clearly. These records and boxed sets will not be around forever, or even for long. As time passes and they appreciate in value (as they surely will), many of you will be wondering, "What was I thinking by not buying a few?" Count on it.
What's the big deal about these sets? When you master for 45rpm playback, you can stretch out the length of the groove undulations. This reduces the severity of the peaks and valleys, making it much easier for your cartridge to trace them. Dynamics are pretty much limited only by what's on the tape, and distortion is greatly reduced, especially at the inner grooves—which, on this series, don't go all that far in. And Classic's 45rpm series features one-sided records for better platter/LP contact.
The downside is the limited amount of information you can fit on a record side at 45rpm. What can fit on one two-sided 331/3 LP can require four or five single-sided 45s. So, yes—when you play these sets, you'll be getting up more often, and this can be potentially spell-breaking, particularly with classical music. It's a step back in many ways, at a time when you can sit down and listen to an entire symphony on one CD—except that you'll lose interest after 10 minutes.
Bottom Line: The sound of these 45s is so spectacular, you won't mind getting up.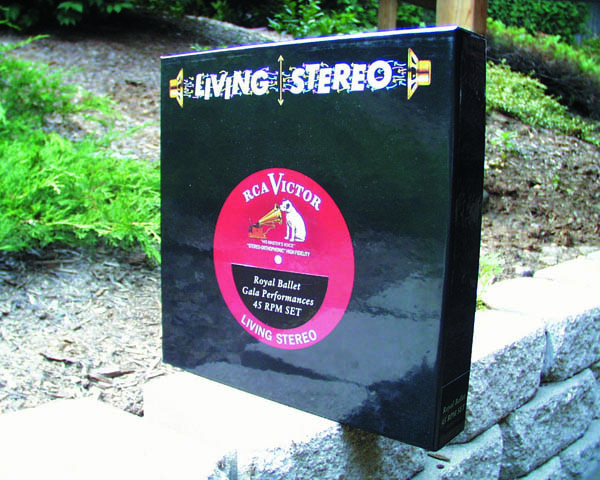 For Instance...
Why is it that, more than 40 years after the performance, Belafonte At Carnegie Hall is still interesting to anyone? It's so easy for cocky shits to dump on Belafonte and those who enjoy this slice of recorded history. No, Belafonte's not Eddie Vedder or Fred Durst, and he's certainly not Sonny Rollins—and that's fine. Perhaps Belafonte was/is not an "artist" but merely an "entertainer." So what? His command of stage and audience that spring evening in 1959 is still awe-inspiring and, yes, entertaining.
What's more, the live recording is among the finest you'll ever hear—especially at 45rpm. It's sick how much better the high-speed version is, how much more detail you'll hear, how much more space you'll feel, how much bigger, cleaner, richer, and more relaxing is the overall presentation.
Eight records in a handsome black box (LSO 6006-45) will set you back over $80, but if you're a fan of this performance and recording, do yourself a favor and drop the cash. DSD and DVD-Audio notwithstanding, this is as close as you'll get to the sound of a master tape, of being transported back in time and reliving the event as if was occurring live in your listening room.
I don't care how many times you've played the original, or even Classic's 331/3 reissue—you'll hear it a new way at 45rpm. Stage depth is greatly increased, and as Belafonte walks around to kibitz with the musicians and work the audience, you'll be amazed at where he ends up on the stage and in your listening room. Good as the 331/3 version is, it will sound congested and compressed in comparison. Sibilance you may have thought was part of the recording will be gone, leaving the most lifelike, three-dimensional apparition of Belafonte you've ever heard.
Of course, if Belafonte isn't your bag, who cares how good the recording sounds? Classic's got another title critics love to hate: Dave Brubeck's Time Out (CS 8192-45). Perhaps Brubeck is to jazz what The Boston Pops is to classical music, but there's always Paul Desmond's lyrical sax and Joe Morello's drumming. No hard sell will convince any jazz aficionado that the Brubeck Quartet made meaningful music, but Time Out is a classic, and that's the name of the label.
The 45rpm edition of Time Out is worth owning just for "Take Five" and the other crowd-pleaser, "Blue Rondo A La Turk." Again, the sound is so physically big, so incredibly dynamic, you'll find yourself sinking in and enjoying this disc just for the sheer physical pleasure of it. Morello's cymbal crashes and bass-drum explosions are entertainment enough, but Desmond's airy sax creates a sonic soufflé that's positively intoxicating. And if you haven't heard it before, the tape edit on "Take Five" will jump out at you like a jack-in-the-box.
This is the kind of prose that makes people hate audiophiles. Who cares?
Sonny Stitt Blows the Blues (MG VS 6149-45) features the hard-blowing, Bird-like alto saxophonist in a single-session L.A. pickup date with Mel Lewis, Leroy Vinnegar, and Lou Levy—not a set that changed the world, but damn enjoyable and very well recorded, though the separation is excessive. Classic's 331/3 reissue is good, but the 45 is so much better, especially dynamically. Vinnegar's bass has much better focus, definition, and extension, Lewis' cymbals are more biting and detailed, Levy's piano is cleaner, and Stitt's sax is BIG and round between the speakers. A great set for late-night listening.
Classic's Classical 45s
With originals of Fritz Reiner and the CSO's legendary 1954 stereo recording of Strauss's Also sprach Zarathustra (RCA Living Stereo LSC-1806) going for $500 and up, Classic's original 331/3 reissue was much anticipated, and very disappointing to many. Of course, if you didn't have the original, you didn't know what you were missing, but for those few lucky enough to own the original, the reissue was sufficiently off the mark sonically to preclude recommendation. The strings were a particular letdown: hard and dry compared to the original's lush and silky tone.
Now Classic has gone back and found a second production master—not the one it was originally given by the late Jack Pfeiffer—and cut it at 45rpm (LSC 1806-45). Apparently the original 30ips two-track master had been spliced into a stereo demo reel played for executives at a meeting and was subsequently lost. Two 15ips production masters survive, and while Pfeiffer preferred the one he provided, the one used for this issue is clearly warmer, and closer to the 1954 LP—it's the very same tape used to master the original pressing.
The difference is more than simply the speed increase: I have a 45rpm test pressing of the other tape, and this one is much better. In terms of detail, presence, dynamics, and size, this 45rpm version rules, though some diehards will still prefer the original's warmth even though it comes at the expense of high-frequency extension, clarity, and dynamics. But good luck finding a copy—and do you really want to spend $500 or more when you can have this superb-sounding reissue?
So in the "I could kick myself" department, if you've got money for only one Classic 45rpm reissue, don't miss Zarathustra. Even if you don't like classical music, get this—you'll grow into it like your older brother's suit.
Classic has also issued a 9-disc 45rpm boxed set of one of the rarest and most-sought RCAs: The Royal Ballet: Gala Performances (LDS 6065-45), originally part of RCA's opulently packaged Soria series. This set, licensed from British Decca and recorded in famed Kingsway Hall by Kenneth Wilkinson, features spectacularly natural sound with some of the cushiest strings ever put on tape. I haven't heard the original 2-LP set, and you have to ask yourself if you really want to listen to excerpts from Swan Lake, The Nutcracker, et al in what I gather are not the most inspired readings. Nonetheless, the sound on this set is absolutely ravishing, and it will surely become a collector's item.
Classic has been listening to its customers; the other recent classical titles issued at 45rpm include the indispensable Pictures at an Exhibition (LSC 2201-45), Scheherazade (LSC 2446-45), Gaîtè Parisienne (LSC 1817-45), Witches' Brew (LSC 2225-45), Lt. Kije and Song of the Nightingale (LSC 2150-45), The Pines of Rome and The Fountains of Rome (LSC 2436-45), and The Reiner Sound (LSC 2183-45). The originals of these are all highly prized by audiophiles, RCA collectors, and just plain music lovers.
There will be more classical and jazz titles coming as well on 45, including Ella Fitzgerald's Clap Hands, Here Comes Charlie! [V6 4053-45] and Let No Man Write My Epitaph [V6 4043-45] (both on 2-disc sets, featuring selected cuts), as well as Mingus Ah-Um (CS 8171-45) in its entirety.
The time to buy these limited edition LPs is not later, but now. There won't be a later. By the way, the RTI pressings were uniformly flat and dead quiet. I played through every sealed set Classic sent me to audition, and there were four or five pops and ticks in total. That's impressive.
Website Alert
[Ed. - This was written in Oct. 1999. Some links my now longer be active.] A while back I promised a list of good vinyl websites, and I've been compiling them ever since, but a few weeks ago someone sent me the mother of all vinyl websites, the one that lists all or most of them in one place: www.helsinki.fi/~tuschano/records/. Go there and don't look back! There are hundreds of sites where you can buy and sell vinyl and learn about other collectors' fetishes.
An example of what I found is www.yokono.com/collection/beatles/uk/lp/uk_lp.html. If you have a reasonably fast modem, you'll learn about and see everything you wanted to know about collecting original British and Japanese Beatles albums. It's a fantastic resource with great color jacket and label scans, and examples of what separates first, second, and later pressings, etc. Very cool site.
Another one I found on the "helsinki" site is www.alphalink.COM.AU/;Tsfy/RT/FC/FHalbum.html. That's a Richard Thompson/Fairport Convention archive with great color scans of original British LPs, song listings, links, etc. Tim Buckley fans might want to check out www.alphalink.COM.AU/;Tsfy/RT/FC/FHalbum.html.
And so it goes. You can spend the rest of your life surfing the Web for vinyl. Believe me, an hour passed between these two paragraphs!
I was in Chicago recently and stopped in at Hi-Fi Records, a neat new/used record and CD store on North Rush Street. I found the first of three 2-LP sets (Captain Beefheart and His Magic Band Grow Fins Vol.1: Just Got Back from The City/Electricity, Xeric XER-LP-98) that will comprise (Grow Fins), the 5-CD Captain Beefheart boxed set just out on John Fahey's Revenant label. The LPs are being issued by Table of the Elements in Atlanta, and both the gatefold packaging and the pressings are first-class. Included is a full-sized (113/4" square) 24-page booklet with interviews, essays, and cool photos.
All of the music on these two discs is unreleased Beefheart demos and live recordings. If you're a Captain fan, it's a must-have. If you're not familiar with his brand of psychedelta blues'n'hollers, punk rock, and whatever else, this set isn't a bad place to start. A surprising amount of it sounds like the Stones' Out of Our Heads album. These vinyl editions are sure to become collector's items, so...you know the drill.
And finally, in this all-software column (that's what happens when you move and your system sits in boxes for three weeks), I finally got the finished 180gm, gatefold-jacketed Byrds albums from Sundazed (www.sundazed.com). If you're a Byrds fan, you'll want these first four issues. The price is right: $12.98 each!
Department of Corrections
In my review of the Conrad-Johnson Premier 15 phono section in the July '99 issue, I wrote about a demo I saw in Germany where I recalled "seeing the Clearaudio/Souther, Immedia RPM-2 and arm, VPI TNT Mk.IV/JMW Memorial, Basis 2500/Graham 2.0, Oracle/Graham, Linn LP12/Ittok, SME Model 20/SME V, and some others...'' Well, my German correspondent—who shall remain nameless, but who helped set up that demo—tells me that my memory was quite faulty. Almost none of that stuff was in the demo. Sorry about that.
Another German faux pas: The Pagode stand I raved about in that same issue's "Analog Corner" is manufactured by Finite Elemente, not Infinite Elemente. Duh.
Last but not least: In my Show report in the August issue, two Thorens turntables were priced incorrectly. The 2001 Isotrack costs $3600, not $2600. The Ambiance costs $8000, not $9000. So on average, I had everything correct!
In Heavy Rotation
Nothing. My system was down for three weeks while I moved.

LATEST VIDEO
<!- ------------------------------------>