Analog Corner #55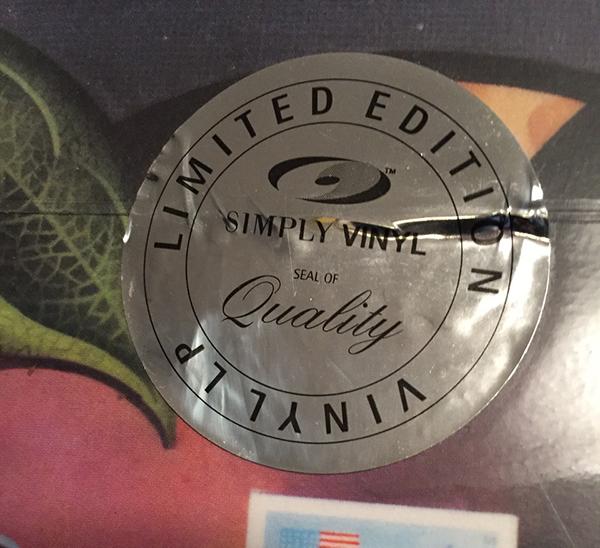 (Originally published in Stereophile, February, 2000)
Sorry about starting an "Analog" column with an HDCD recommendation, but I was going through a pile of new CDs when the sound of one---Evolution, from Modern Jazz Quartet veteran John Lewis on Atlantic---almost immobilized me. The sonic presentation on this solo-piano set, recorded in January 1999, is exceptionally natural: a well-organized, harmonically and physically convincing, three-dimensional picture of a piano within the reverberant field of a real performance space. Clearly, a minimally miked analog job, and spectacular in its simplicity.
I tried to guess who might have engineered this. Jim Anderson? Jon Rosenberg? Joe Ferla? Kavi Alexander? John Atkinson? But when I saw the credit, I thought I was hallucinating: E. Alan Silver. I thought he was dead.
E. Alan Silver and Abe Vigoda are very much alive. For those unfamiliar, Silver was the recording director of the Connoisseur Society label, which, in the mid-1960s, produced and issued some of the finest-sounding LPs of that or any time. Silver produced sensational recordings of flamenco guitarist Manitas De Plata and Czech pianist Ivan Moravec, among others, but as far as I know he didn't engineer any of them; David B. Jones did that. Silver the engineer? Who knew?
The music---just the introspective, understated Lewis pouring out a lifetime's worth of keyboard invention---is worthy of a great recording. MJQ fans will dig the solo take on "Django," which eerily seems to leave the spaces for drums, bass, and vibraphone. A great disc, musically and sonically.
Simply annoying
Have you heard any of Simply Vinyl's 180gm LPs? This British reissue label has almost 80 LPs in its catalog, and, according to its website (www.simplyvinyl.com), makes a big issue out of quality control in the lacquer-cutting, pressing, and packaging processes. It's paid off---in my experience, Simply Vinyl pressings are impeccable.
But there's not one word about the "quality control" of the most critical ingredient: the source material. That's like choosing a restaurant because it makes a big deal about china and silverware. What about the food?
Instead of a record cut from a CD or DAT in a perfect facsimile of the original gatefold jacket, I'd rather have a well-pressed record sourced from a master tape, or even a copy of a master tape. I wouldn't care if was packed in a brown paper bag. Would you?
When, a few years ago, a vinyl dealer sent me a copy of Simply Vinyl's reissue of The Byrds' Younger Than Yesterday to audition, it sounded so unlike the original pressing---so hard, bright, and flat---that I e-mailed Simply Vinyl to ask about the source. I received no reply.
But there's almost no way Simply Vinyl gets master tapes for their reissues of original American LPs, of which they've released many. Their many Byrds reissues certainly weren't from masters. Stateside, Sundazed used the same original masters for their vinyl reissues of the first four Byrds albums that Sony did for its CD reissues. Both editions were produced by the meticulous Bob Irwin.
And what about Simply Vinyl's reissue of Dylan's Blonde On Blonde, fer chrissakes---there is no two-channel master tape. It's lost. Sony has gone back twice to remix it for CD: once for the abortive Master Sound gold CD series (Dylan hated it), and, more recently, again for a CD/SACD release, which should be out by the time you read this (and which vinyl fan Dylan, my sources tell me, does approve of).
So what did Simply Vinyl use? Did they have access to the first-generation dupes Columbia sent British CBS back in 1966? If so, that would be a real coup, one you'd expect them to trumpet. Given the much smaller press runs in the UK, the tape would probably be about as close to the sound of the lost master as you could get. And "fastidious" is the UK's middle name---especially in its record biz, as any fan of British pressings will tell you. The UK dupe was probably used carefully and stored correctly---but there's nary a word on the Simply Vinyl jacket, or anyplace else, about the source for that LP or any others in the series.
A few years ago, JVC's XRCD label announced it was going to reissue The Band's second, eponymous album, but it never did---no one could find the master tape. Recently, EMI UK issued The Band on vinyl as part of its First Centenary series. The label says "Analog cutting from analog tapes." No doubt EMI used the first-generation dupe Capitol sent it in 1969. While the reissue is not quite as good as a mint Bob Ludwig green-label original, it's still very good, and sounds very analog.
Recently, I auditioned three more Simply Vinyl reissues: John Martyn's Solid Air (British Island ILPS 9226), Nick Drake's Bryter Layter (British Island ILPS 9134), and Free's seminal Fire and Water (British Island ILPS 9120). Even though the originals were pressed in the UK, if you look on many pink-label and "sunray" originals, you'll see the Sterling stamp and "LH" on the vinyl lead-out spiral. Those were mastered in New York by Lee Hulko. There must have been something special about the plating and pressing in the UK; the American versions with the same stamp sounded pretty awful.
In any case, assuming Island head Chris Blackwell got the tapes back when Hulko was finished, you'd think Simply Vinyl would have had access to the original masters for those releases, and for others sourced from British labels. Yet, again, nothing anywhere about sources. At his invitation, I e-mailed Virgil Waxman---Simply Vinyl's A&R guy, QC guy, and all-around head guy---and asked about the source material used.
Well, Waxman hadn't invited me personally, but a message on the website had: "Finally, since we appreciate feedback from vinyl fans, please feel free to contact Virgil anytime about, well...anything, really!" I took the bait. So far, no Virgil.
So I sat down the other night and compared the new Simply Vinyl reissues to an original pink-label Fire and Water, an original "sunray" Solid Air, and a later, orange-and-blue-label Bryter Layter. Tonally, the reissues are all very honest renderings of the originals. But---and it's a big one---all three LPs were spatially flat and sounded kind of "thick," with none of the focus, air, fine detail, and resolution found on my originals (or, in the case of the Drake, a third pressing). And those particular attributes are what I (and, I suspect, you) prefer about analog! There's more there there, more detail, more depth and instrumental layering, more information, more to listen to, and much better organization---especially when the music gets complex. Though some are better than others, overall the Simply Vinyl reissues deliver less of all of those attributes than do the original pressings.
So, Virgil, your company's conspicuous silence regarding its source material seems to translate as "Whatever we can get." If I'm wrong, please correct me.
"What's the big deal?" I hear some of you saying. "Thanks for alerting me, I won't buy any." Or maybe you're saying "So what? I can't find any of the originals, so these well-pressed, well-packaged, decent-sounding facsimiles will do just fine."
Well, think of this: How many of the 80-odd titles in the Simply Vinyl catalog that you might like to own were actually mastered from original analog tapes---say, Van Morrison's Astral Weeks or Moondance, or Neil Young's After the Gold Rush? Now that the market has been muddied with vinyl cut from who knows what, how likely is it that someone else will take a shot at those titles using certified original tapes? That's why I have a problem with Simply Vinyl. The good news is that Classic Records will shortly be issuing the Led Zeppelin catalog using lacquers cut from the original analog master tapes. They're supposed to be awesome-sounding.
Speaking of alerts: Avoid like a dirty needle the recent 180gm Stones LPs issued by Capitol and pressed at RTI, including Sticky Fingers and Exile on Main Street. Mud, baby, M-U-D. And don't buy the excellent new Foo Fighters set on LP either: more mud. Buy the CD (a new first for this column).
Bob Ludwig was responsible for the remastering of these LPs, so I e-mailed him about what I heard. He's checking out his cutting system out.
Temper Supreme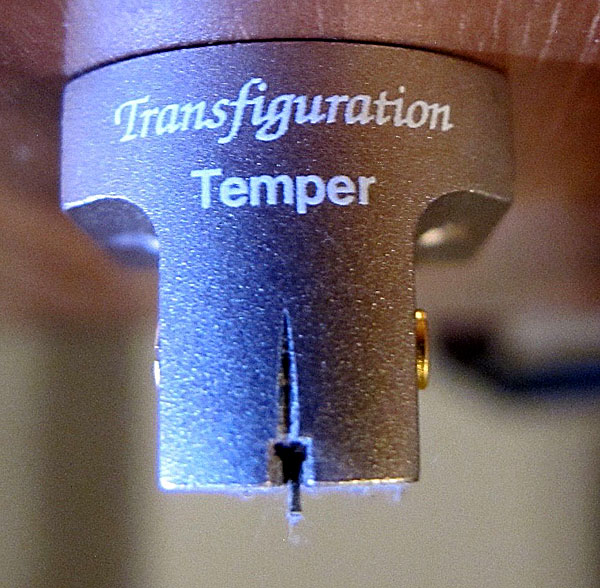 Back in July 1996 (Vol.19 No.7), I reviewed the $3800 Transfiguration Temper moving-coil phono cartridge from Immutable Music: "Tonally, the Temper was neutral. It was neither warm, nor cool, nor glassy bright, nor dull, nor was it sluggish or fast or anything easily identifiable." Its "ability to resolve the timbral, textural, and dynamic character of low-level detail was unsurpassed in my experience." (Immutable Music is distributed by Musical Surroundings, www.musicalsurroundings.com.)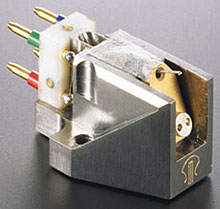 Two years later, in the October 1998 issue (Vol.21 No.10), I reviewed the Lyra Parnassus D.C.t, which, while perhaps a bit more aggressive and not quite as neutral as the Temper, certainly surpassed it in its "ability to resolve the timbral, textural, and dynamic character of low-level detail..." That's progress.
Working with Graham Engineering's Bob Graham in the design and development of Graham's Nightingale---an integral armtube/cartridge combination---Immutable Music's Seiji Yoshioka has rethought his Temper design, and now sells the update as the Temper Supreme. The price is still $3800.
The update includes silver coil windings, plus a number of refinements to the yokeless construction. Thanks to a square, laser-cut hole, the former/coil assembly sits directly inside the core of a ring magnet. This intimacy allows for accurate, efficient coupling of the magnet and coil, which means fewer windings are needed to generate an equivalent voltage, which means a lower moving mass for the entire system.
The Temper Supreme is still the most neutral-sounding, "characterless" MC cartridge I've yet encountered, but the changes have yielded far greater dynamic performance, with more punch and overall sonic excitement. The Supreme offers blacker backgrounds and improved image dimensionality without sounding edgy or "hi-fi"–ish. You get the outstanding detail of a great moving-coil with the relaxed feel of the finest moving-magnet and moving-iron designs.
With its 250µV output, you'll need a quiet, high-gain phono section, but anyone contemplating spending $3800 on a cartridge will probably already have one. The Supreme tracks extremely effectively at 1.8gm, and should be in anyone's short list of the finest MC cartridges you can buy. The Supreme's tonal neutrality and freedom from edginess and artificiality, while still delivering incredible detail and low-level resolution, are unique in my listening experience.
You can trade in your Transfiguration for a Supreme, but it'll cost you $1600. While you'll appreciate the improvement, I'd wait until I needed a retip before making the move...unless, of course, cash isn't a concern.
For a more in-depth description, read my original Transfiguration Temper review---the differences between it and the Supreme are not profound, but the improvements are easily audible. If you audition the Temper Supreme and it doesn't move you as it did me, you might consider the Lyra Parnassus D.C.t, which sounds a bit more vivid. According to the October 1999 "Recommended Components," my friend Paul Messenger apparently finds it a bit too "hi-fi." I don't. I don't see how anyone could be disappointed with either one.
The EMT cartridges
Perhaps after hearing a few of these exotic, bodiless designs from Germany (footnote 1), you'll reconsider the desirability of "neutrality." While these EMT cartridges are not dead neutral, their subtle deviations yield some of the most pleasurable, intoxicating listening I've experienced in quite some time.
I've spent a few months shuttling among four versions: the medium-gain (150µV) TU-2 with Super Fineline stylus, the ultra-low-output TU-2S (110µV) with van den Hul stylus (both with aluminum cantilevers), and two low-output (210µV) TU-3 models, both with boron cantilevers. One version features the Super Fineline stylus, the other a special Swiss-sourced Geyger S stylus made of sapphire instead of diamond, and which undergoes multiple polishings before being attached to the boron cantilever.
All of these hand-built "nude" cartridges share a basic design based on the classic Ortofon SPU, and all use a cross-coil, soft-iron-magnet generator wound with copper wire. The aluminum body---what there is of it---is not milled but die-cast, which the manufacturer claims is more difficult and costly to do, but offers better sound with fewer resonances.
The mounting flanges are not tapped, so you have to use nuts. This makes installation---and even removal from the wooden box---tricky and somewhat dangerous, given the very strong magnetic field. Speaking of which, the recommended tracking force for all of these cartridges is 2–3gm. That doesn't stop Clearaudio fanatics from spending $7500 on an Insider and tracking that heavily, so I didn't let it stop me either. After all, valuable, vintage, out-of-print LPs can always be replaced. (Just making sure you're paying attention.)
The blue-bodied, higher-output, basic TU-2 sells for $1795 and didn't sound particularly impressive. It lacked the kind of detail and resolution I consider essential---especially at that price---but its frequency balance was lush yet detailed, and it produced a really big soundstage.
Switching to the ultra-low-output van den Hul version of the TU-2S ($2195; also available with a Super Fineline stylus) greatly improved detail and resolution while maintaining the big stage, but you'd better have a high-gain, ultra-quiet phono stage. The TU-2S has a 1dB dip extending from around 500Hz to 5000Hz, and then a typical MC boost rising almost 4dB from the dip at 15kHz. But the TU-2S sounds neither warm and soft like an original Koetsu, nor bright like some MCs with steep, rising top ends---even unloaded at 47k ohms. This analysis is not only the result of acute listening: each cartridge comes with an individual print-out.
With the TU-2S you get deep, full-bodied, very solid bass; lush, sweet mids; and outstanding detail and snap on top without brightness or edge---all on a noticeably wide, deep, airy soundstage. There is an overall feeling of liquidity to the sound, and a soothing background quiet that creates a buoyant, gliding sensation. Like many great loudspeakers, this truly interesting-sounding cartridge trades a bit of analytical perfection for intoxicating "musicality"---yet its ability to deliver inner detail and delineate instruments from within complex arrangements was outstanding. And despite the ultra-low output, if you've got a high-gain, low-noise phono section, you'll find you're not trading dynamics for detail.
The TU-3 adds $555 (with Fineline stylus) or $800 (with Geyger S) to the $2195 price of the TU-2S, as well as almost doubling the output. TU-3 coil windings are hand-picked. Based on their traces, both of these cartridges are somewhat flatter than the TU-2S, the 1dB dip falling between 2kHz and 6kHz. Both also feature 3dB rises between 15 and 20kHz relative to the mid/mid-high dip. Yet neither TU-3 sounds bright, and both sound like more refined versions of the TU-2S, with greater midbass solidity, overall three-dimensionality, and high-frequency clarity without added edge.
The Geyger S version was a sonic knockout right out of the box. I played a Living Stereo version of Puccini's Turandot, recorded in Italy by Lewis Layton, and the cartridge's portrayal of individual and massed voices was absolutely stunning---as was the cartridge's capture of the hall sound and the distance between the chorus and the soloists. I listened to four out of six sides---and I don't particularly like opera (though I think I may be finally growing into it).
In either version, but especially the Geyger S, the TU-3 ended up being among the most enjoyable cartridges I've had the pleasure of auditioning. The "gliding" sense evident with the TU-2 was even more present in the ultra-relaxed yet extremely detailed, the TU-3 was as effective with the Clash's new live 2-LP set (From Here to Eternity, Columbia import) as it was with Classic's three new superb-sounding Heifetz reissues (Sibelius and Brahms violin concertos, Bruch's Scottish Fantasy).
How well the Geyger S stylus treats my precious vinyl when tracking at 2.5gm, and how many hours one can expect to get from a sapphire stylus, I don't know---but if I can convince the importer, Lauerman Audio Imports, to let me be their next guinea pig, I'll be happy to find out and let you know.
Next Month:
Crown Jewel SE (Follow-Up), Transfiguration Spirit, Grado Statement, VPI 17F vs Nitty Gritty 2.5Fi, and (I hope) a multi-cable DIN/RCA shootout.
1 Distributed in the US by Lauerman Audio Imports, 519 Noelton Drive, Knoxville, TN 37919. Tel: (423) 521-6464. Fax: (423) 521-9494.
<!- ------------------------------------>