Analog Corner #69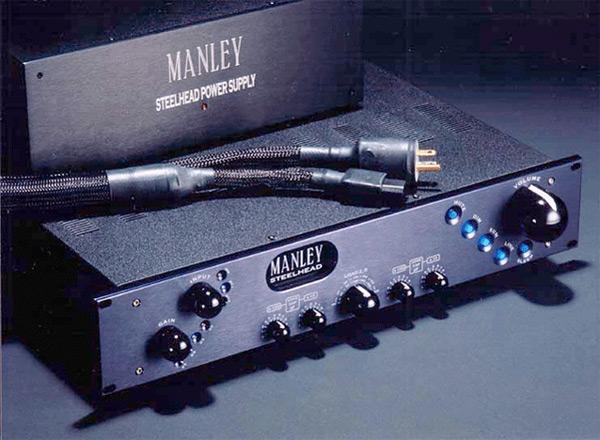 Every time I attend CES in Las Vegas, I wonder if this is the year the seemingly fragile analog bubble has finally burst. That day may eventually come, but not 2001. On Day One in the Alexis Park's ballroom booth area, where the record and accessory vendors hold court, I ran into
Music Direct
's Josh Bizar, who volunteered, "This December through the Christmas season we sold more turntables, more cartridges, and more vinyl than in any Christmas we've ever had. This is the biggest vinyl heyday we've had in our company's history."
Across the way, Chad Kassem of Analogue Productions had just received the new Direct2Disc LPs engineered by Stan Ricker at Chad's Blue Heaven Studios. Chad hadn't heard them himself at that point, but after the show he called to tell me that, due to some cutting problems discovered after he'd had a chance to listen, only two of the titles would be issued direct-to-disc. The other two will be re-cut at 45rpm from 30ips two-track tapes that were recorded simultaneously. Kassem told me the tape sounded "awesome"; he's confident buyers will be thrilled with the music and the sound.
It only got better. Manley Labs' EveAnna Manley had alerted me before the show about Manley's new vacuum-tube Steelhead phono section, and it was first on my list to see. It features moving-magnet and moving-coil RCA inputs, and a unique DIN input so that users of SME, Graham, and other DIN-connected tonearms can use DIN-to-DIN cables. The Steelhead offers variable, front-panel–selectable loading via a transformer, though if you want your low-output MC to see 47k ohms, no can do. However, the MM input has more than enough gain for the 0.5mV Lyra Helikon, so you might be able to get away with the MM input for many other cartridges. Gain is between 50 and 65dB, which should be enough for any cartridge. Capacitive loading is also front-panel–selectable, from 0 to 1000 picofarads in 10pF steps. There are also Dim and Sum switches—not to provide you with tender, steamed Chinese pastries at the push of a button, but to allow you to almost mute the signal (Dim by $*–20dB) and/or mix it to mono (Sum). The Steelhead's price is no laughing matter, but given what it can do and how well-built it looked, $3000 seems reasonable. Stereophile was promised the first sample off the line for review.
Next I visited the Musical Surroundings room, always an analog epicenter at CES, and this year there was plenty shakin'. A.J. Conti has put his multi-pivot Basis Audio Vector arm into production. It features an Immedia RPM 2–like silicone-filled cup with a unipivot bearing, but there are also a ball-bearing and guide arm down in the silicone. The tonearm is weighted to lean to the same side so it rides on the ball bearing, up and down in a plane parallel to the cantilever. There's no chatter, as the bearing is in the silicone; and no chance of azimuth shift, due to the second bearing point. Judy Spotheim's SpJ tonearm also features a dual pivot, but she accomplishes it with a ball that rides on a flat, diamond-polished surface. The Basis arm is available in black and a variety of hot colors.
Meanwhile, Bob Graham, who can't be thrilled with yet another tonearm entering the market and also distributed by Musical Surroundings, showed the new Graham 2.2 arm—essentially a 2.0 with significant modifications, some of which can be retrofitted to the 2.0. Most important is the heavier brass bearing cap, which replaces the 2.0's aluminum cap and has slightly different geometry. Graham says the changes in mass and geometry result in better bearing contact for more palpable mids, fuller midbass, and deep bass without bloat. Best of all, the retrofit for the 2.0 is a simple unscrew-and-screw operation. Other changes include a one-piece mounting base instead of the 2.0's two screwed-together pieces. Graham says that 2.0 owners who upgrade the bearing cap will have bought "most" of the 2.2's gains in performance; he doesn't recommend that they trade up to a whole new arm.
Graham also crowed about his budget Robin tonearm ($800–$850; the price hasn't been locked down yet), which began life as an arm similar to AudioQuest's PT6. The Robin is now very different, however, and features a base that makes it compatible with the holes drilled in the 2.0 and 2.2 armboards. The Robin features a Graham-designed counterweight, gimbaled bearing, removable headshell, and a cartridge-mounting system compatible with Graham's ultraconvenient 2.0/2.2 alignment jig, though the Robin will have a less expensive version. Graham also showed me an adapter for the Rega version of the Robin; this gives owners of Rega turntables a drop-in replacement option complete with VTA adjustability. Bob demoed this adjustment, pointing out the two spring-loaded ball bearings that keep the arm from falling when you loosen the screws to change VTA.
Musical Surroundings' Garth Leerer showed me three new Benz ACE-series cartridges. The acrylic-bodied, handbuilt Swiss cartridges, available in three output levels, retail for $550 apiece. Leerer and designer Michael Yee ran me through the battery power-supply upgrade for the Musical Surroundings Phonomena phono section; we'll soon have it in for review, along with the Basis 1400/Rega RB300 combo.
Dan Meinwald, who imports and distributes E.A.R. products in the US, had hoped to have a sample of the UK-built Helius tonearm reissue, but shipping problems held up the reintroduction until after the show. Two rooms, three new arms—not bad for the first hour of the show!
More tonearm news: Triplanar's Herb Papier had told me over the past few years that he was looking for someone to take over the company, as he was "getting on in years" and no longer felt up to the task of building the precision arm. Fortunately for him and for fans of the Triplanar, Papier has found Dung Tri Mai, who is young, dedicated, enthusiastic, and seems to be the kind of meticulous, idealistic person needed to keep the design alive. We're hoping to soon receive a review sample of the new Triplanar VI.
More good news for American analog lovers: Audiophile Systems, importer of dCS, Arcam, and Acoustic Energy, now also imports the exquisite-looking, UK-built Nottingham Analogue turntables and tonearms. Initially, AS will bring in three arm/'table combos: the Interspace ($1698 with Interspace arm), Space ($2498 with Space arm), and Hyperspace ($4398 with Space arm, $6198 with Anna arm). The 'tables and arms are available separately, as are four Nottingham Analogue cartridges.
In the Audiophile Systems room I was given a runthrough of the new dCS Grieg A/D converter/upsampler. Essentially, the Grieg combines a phono stage and an ADC with the dCS Purcell's upsampling capabilities. The Grieg can take any analog source (turntable, tuner, 8-track tape deck) and convert it to digital, then upsample it to as high as 192kHz, or even DSD (SACD), via special software and an IEEE 1394 FireWire interface. While you can't currently roll your own SACDs, the Grieg will supposedly allow owners of digital preamps to "seamlessly" integrate their analog sources into their digital systems. We'll soon be getting the Grieg for review.
In the Music Hall room, Roy Hall was showing a "concept" version of the MMF-5 turntable that featured a handsome new gray metallic finish, dynamically balanced platter, and upgraded cartridge. The package could sell for around $700, but "It's not in production," Hall cautioned. "It's just a concept, like the concept cars you see at the auto show."
Definitely in production is Hall's new MMF-7 turntable, which features a freestanding outboard motor, acrylic platter, a split plinth decoupled with Sorbothane, a Pro-Ject 9 tonearm, and a high-output Goldring cartridge (probably the $400 Eroica)—all for $999, or $850 without cartridge. Sounded great playing back Classic's fabulous LP reissue of Crosby, Stills & Nash.
Day Two
Day Two began for me in the Alexis Park ballroom, where Loricraft's Terry Sullivan ran me through a few changes he's made to the swell Loricraft record-cleaning machine (reviewed in the November 2000 "Analog Corner"). There's a new, sturdier platter, a new brass-pulleyed motor, and a heavy-duty belt-drive system featuring a 4" brass hub riding in a roller bearing and on a ball bearing. You wouldn't want to use a roller bearing with a turntable for playing records, but it's swell for cleaning them.
Also on display in the ballroom was a wooden version of the intriguing Schroeder tonearm from Germany. It uses a nylon-thread bearing à la The Well Tempered Arm, but magnetic repulsion instead of a silicone bath. I hope to get one of these for review.
Speaking of intriguing tonearms, over at T.H.E. Show, at the San Tropez next door to the Alexis Park, I was left speechless by the Golden Gate 250 and 350 tonearms from Sonority, distributed in the US by Audio Advancements—these oil-rig–like gizmos are designed by Randall D. Hedgebeth. I read in the New York Times that Dubya's librarian wife, Laura, keeps her books organized according to the Dewey Decimal System, and her LPs and 45s in mint condition on carefully built shelves. Now there's common ground I never expected to share with the Bush family! The $3600 Golden Gate is definitely the arm of choice for a former oilman's wife. Despite its novelty looks, it seems to be a lightweight, rigid, legitimate design. Who knows?
Also at T.H.E. Show, I had the privilege of meeting H.H. Mörch (pronounced Mare-ch, according to H.H.), whose line of tonearms has long intrigued me. He introduced me to his unique design, which features interchangeable armtubes and a variety of other options; it only reinforced my desire to get one for review, especially if I can get Stanalog's George Stanwick to send me back the van den Hul Colibre cartridge, which will probably thrive in the Mörch's low-mass armtube.
In another Show room, Immedia's Allen Perkins told me he was discontinuing the Immedia Revolution turntable, which turned out to be more difficult to manufacture than he'd expected. Perkins stands by the design and its performance, but getting the modular pieces properly manufactured to the extremely tight tolerances he demanded proved almost impossible. The few vinyl aficionados who were able to buy Revolutions ended up with a unique and perhaps collectible turntable.
The new design Perkins has come up with to replace the Revolution might actually be a revolution. He threw a few design tidbits my way only when I agreed to not report them, but I think it's safe to wave this cryptic scrap at you: The new 'table will have a feature vinyl fanatics want very badly, but haven't been able to get since another company stopped including it in their 'tables years ago. When you hear what it is, you'll agree that it's very cool and desirable...but can Perkins actually build it? Stay tuned.
Also in the category of the Exotic and Long-Promised was Roksan's TMS 2 turntable, shown in not quite finished form with an Artemis tonearm. The final version is promised by spring for "somewhere between $7000 and $9000." That kind of price spread always has me giving a product's debut an extra six months! We'll see...
T.H.E. Vibe
The vibe at the outboarding T.H.E. Show reminded me of what the High End felt like at audio shows in the early 1990s. There was a contagious sense of enthusiasm and excitement in the air (along with the usual bronchial contagions, which felled dozens), and a sense of community—probably due, in part, to the newness of exhibiting for some of the participants. There were so many companies I'd never heard of, it was really encouraging to think that people still want "in" to this supposedly obsolete industry.
Analog was big at T.H.E. Show. Highlights included the American debut of the new $3500 Dynavector DRT XV 1 cartridge (on a Roksan Xerxes 10 turntable), a new Lehmann Black Cube power-supply upgrade ($270), and a new $595 price for the basic Black Cube phono section. Also, the importer showed me the circuit board for a new phono section from Lehmann, tentatively called the Silver Cube, though it's not cubical. It will sell for $1350 and include an outboard power supply. There was also a $179 passive inverse RIAA Cube device for breaking-in phono sections.
Clearaudio had a few new interesting products, including the Basic MC phono stage with separate power supply; the self-loading design offers 60dB of gain. More intriguing was the Outer Limit, a stainless-steel ring weighing about 7 lbs that you place over an LP. The self-centering ring is designed to flatten the outer edge of a warped record and—due to its weight and placement—add a significant flywheel effect to the platter, for greater speed accuracy. Cost: $700. Clearaudio's Robert Suchy told me that one of the reasons for the steep price is that while they have to buy stainless by the pound, and the machining from solid creates a lot of scrap that can't be resold for anything near the original price. I hope to review the Outer Limit soon. Clearaudio also showed the reasonably priced and easily upgradeable Champion turntable: $1000 including outboard motor and Rega RB300 arm, or $900 with the RB250, in clear or black acrylic.
Also priced right was the Loth-X Othello turntable, which comes complete with arm, DC motor, and controller for $1500. And there's a new Audiomeca (Pierre Lurné) importer, Sanibel, which showed the $5595 J1. The Audiomeca SL5 turntable will set you back an additional $3995. And Atma-Sphere's Ralph Karsten had his heavily modified Empire turntable on display. Karsten tells me that, over the years, he's upgraded lots of Empires for satisfied customers.
Zanden Audio Systems, the Japanese company that makes the fabulous-sounding, MM-only, ultra-expensive ($15,000) Model 1000 tubed phono section (reviewed in October 2000), announced a tube upgrade that is supposed to make the 1000 sound even better. More important, a new MC step-up was announced at the show, which we hope to audition as soon as it's available.
Back at the Alexis Park...
Pass Labs introduced an upgraded version of their highly regarded XO phono stage. The new edition ($4200) features a much bigger power supply, a revised circuit board, and a few minor changes that the Pass folks said would alleviate the few minor problems (a lack of midrange "bloom") a certain analog reviewer had with the original.
VTL introduced the TP 2.5 all-tube phono stage (three 12AX7s, one 12AT7), which offers 45dB (MM) or 60dB (MC) of gain. It features a front-panel mute switch, optional rumble filter, toroidal power transformer, and an RIAA section with low feedback, low insertion, and low loss. With a retail price of only $1150, the TP 2.5 could be a real sleeper!
I also saw the Final Laboratory Music-4 phono stage, which offers optional battery operation. This also looks like an extremely interesting exotic design; we'll check it out as soon as possible. Another intriguing phono section was the Model 4712 Phonocube from 47 Laboratory—but there's not enough space left for the details, or to talk about the special Miyabi/47 Laboratory cartridge designed in collaboration with Mr. Hauo Takeda.
Home theater was big again this year, and much of the Las Vegas and Hilton Convention Centers "zoos" was filled with big-screen, LCD, and plasma HDTVs, projectors, home-theater speaker systems, furniture, receivers, and the like. It's also where a few familiar high-end companies like Sumiko staked out claims, which was good—it meant that mainstream CES attendees got to gawk at (but not hear) expensive and gorgeous Sonus Faber Amati Homage loudspeakers, high-tech SME turntables, budget-priced Pro-Ject vinyl spinners in a half a dozen or more colors, and a unique "cartridge tree." Sumiko had one of the most attractive displays in the Convention Center, and, according to the company's Stirling Trayle, signed up many new analog dealers. "Analog is selling," Trayle told me after the show. He wasn't the only one.
Best sound? The German LumenWhite speakers (ca $38,000/pair), driven by Vaic amps, sounded positively gorgeous. The new Audio Physic Avanti speakers sounded really dramatic, and Carl Marchisotto's $120,000/pair Alán IRS killers made marks on my ears—almost literally. I found myself mesmerized by the DVD-Audio multichannel remix of the Doors' "Riders on the Storm," in the Meridian booth.
Sony and Philips jointly demoed multichannel SACD using Philips' new player, B&W 801 speakers, and I forget what amps. A DMP recording of choral group Gaudeamus sounded spectacularly large and rich, but the multichannel version of Michael Oldfield's Tubular Bells (or "Tubercular Balls," as British sax player Lol Coxill calls it) left me thinking that two-channel is alright by me.
Finally, the Hovland room had their HP 100 preamplifier driving the new Hovland power amp and a pair of Von Schweikert speakers, to great effect. Two rooms that always sound good and didn't disappoint this year were those of Music Hall (Creek/Epos/MMF-7) and Merlin, the latter using a VPI TNT/JMW combo, Joule Electra electronics, and Merlin speakers. Classic's 45rpm edition of Led Zeppelin's "Stairway to Heaven" (get it now!) was fantastic!
<!- ------------------------------------>