Analog Corner #76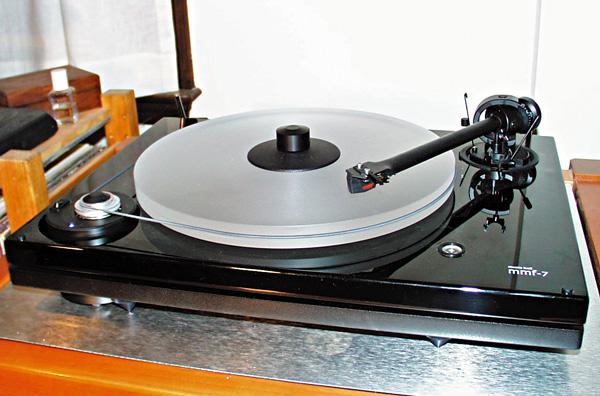 All four standard record speeds have now been covered in this column: 16 (2/3)rpm, 33 (1/3)rpm, 45rpm, and this is "Analog Corner" #78(rpm). Seventy-six columns and going strong. Hard to believe, considering that vinyl was declared "dead" a decade ago, and is still so declared by the digital hardcore.
Take my friend Ken Pohlmann, who teaches digital engineering at the University of Miami and writes for Sound and Vision. He wrote a sarcastic column in their September 2001 issue suggesting that the record industry counter decreasing CD sales and mounting financial losses due to free digital downloads by reintroducing vinyl—or "LP2," as he called it (as if vinyl had ever gone away). Why would that be a moneymaker for the biz? Easy! Since LPs wear out so fast, music lovers would be forced to buy their favorite recordings again and again. Not true, of course—and not even funny.
So I wrote a letter to the editor, and, to Bob Ankosko's credit, he ran it in the September issue. I have edited this version to save space because there's so much vinyl stuff to get to:
"Ken Pohlmann hits a trendy South Beach disco and the kids are dancing to? Vinyl! Dejected, he goes home to watch some tube. What's on? The Mercedes 'Noah's Ark' ad (where they save a stack of vinyl)! Outraged, he decides to surf the Net on eBay. What? Hundred-dollar bidding frenzies for used, 'worn-out' vinyl?
"Sickened, Pohlmann grabs some of his beloved CDs and goes for a ride. Finding himself on 163rd St. in North Miami Beach, he spies Blue Note Records. Ah! A store full of CDs! But wait? Why are all those kids crowding that other room? Oh no! It's full of vinyl! New vinyl! Springsteen Live in New York City on three LPs (cut from the 24-bit/88.2kHz master!) from...Sony? Hip new alternative rock on Matador, Sub-Pop, Thrill Jockey, Drag City, and other trendsetting labels. Beck? Eminem? Phish? Robyn Hitchcock, Prince, Beastie Boys, Pavement, Richard Thompson? Ramones? Dylan? Otis Redding? Don't these kids read my column? They don't make vinyl anymore. It wears out. It's analog. Feh!
"Pohlmann wakes up. Whew! It's fantasy. Well, his knowledge of this subject is anyway. It's all true, though. But how could Ken know any of this? After all, when I debated him on the CBS radio network a few years ago, he made the stunning admission that he 'skipped over' the LP era.
"It's still here, Ken, and my 30-year-old 'worn-out' rock and jazz LPs still sound better than the fourth or fifth CD remasterings of your old favorites."
S&V cut one line from the letter: "CDs last forever (never mind the three million unplayable CDs out there, according to the Wall Street Journal)." Hmm...
Pohlmann offered a weak response: My "demonizations" of him and of digital audio are "always so witty," he complimented me, "but repetitive, as though stuck in a vinyl groove." Ha-ha! He then went on to "burst my bubble" by informing me that vinyl sales have been "dismal" for a decade, citing RIAA statistics that show sales dropping a whopping 24.6% last year. Eighty-seven percent of unit sales are CDs, he stated, going in for the kill, with EPs, LPs, and singles amounting to a pathetic 0.6%. "Figures for sales of Edison cylinders were unavailable," he concluded; "best of luck with the zealotry thing, and above all, have fun beating your dead horse." Guess which ad S&V printed opposite my letter? Right! Paradigm's vinyl-strewn "A Love Supreme" ad! Either someone at S&V has a keen sense of humor or it was a fabulous coincidence.
Of course, Ken doesn't know (but we do) that few new vinyl sales are reported to the RIAA, nor are they computed by SoundScan, because most vinyl sales are made via the Internet—from places like RedTrumpet.com, Acousticsounds.com, Elusive Disc (mailordercentral.com/elusivedisc), Music Direct (amusicdirect.com), and Audiophile International (audiophileusa.com). Those sales fly right under the RIAA's radar. Nor are transactions at mom'n'pop stores counted. So of course—Pohlmann's stats prove about as much as CD's statistics prove that CDs sound "perfect."
What's really funny here is that, before sending the letter to S&V, I purposely did not call the Blue Note Records store to see if it was still in business. I hadn't been to the small indie outlet in six or seven years, but it used to be a great store, filled with new and used vinyl and, of course, CDs. Maybe it had closed. Maybe it was still open, minus LPs. But I was so confident it would still be there, selling LPs like crazy, that I took a chance.
After the letter ran, I called Blue Note. They're still there, and still doing great selling vinyl—but it had opened a second, two-floor building closer to the ocean, just for vinyl.
Vinyl's a niche product, but it's clearly doing great, Ken. Thanks.
When I debated him on the radio (around the time the Soviet Union collapsed), Ken tried to "get" me:
Pohlmann: I bet you're also one of those tube guys, huh? The Soviets use them in their MIGs, and look where it got them.
Fremer: Yes, but their planes sound so much better than ours!
A New Vinyl Reissue Label
4 Men With Beards? What's that? ZZ Top looking in the mirror? No. It's a new Berkeley, California vinyl reissue label, and so far, so good.
The jazz- and soul-oriented 4 Men With Beards company is licensing titles from Atlantic Records (through Rhino), and so far has released Aretha Franklin's I Never Loved a Man (The Way I Love You), Les McCann and Eddie Harris' Swiss Movement (the jazz crossover album that includes "Compared to What?"), Sonny Sharrock's Black Woman, and the Art Ensemble of Chicago's Bap-Tizum, which was recorded live at the 1972 Ann Arbor Blues and Jazz Festival. Eight more titles are due out before the end of the year, including Charles Mingus' The Clown, Art Blakey's Jazz Messengers with Thelonious Monk, The Great Otis Redding Sings Soul Ballads, the Art Ensemble of Chicago's Fanfare for the Warriors, and a pair each of Eddie Harris and Les McCann albums. The mix of popular soul, classic, avant-garde, and crossover jazz means there should be something in the 4 Men release schedule for everyone.
Before I had a chance to call and find out who's cutting, plating, and pressing, and from what sources, a package arrived containing three of the first four releases (the Sharrock was missing, unfortunately). All were gatefolded, even when the original had not been. The gatefolds contain extra photos and a new essay about the music, which is a very cool idea. For instance, the Art Ensemble essay is by political activist John Sinclair, who organized and booked the original Ann Arbor Blues Festival. The Les McCann essay is by the album's original co-producer, Joel Dorn. Unfortunately, the layout is really poor—the text runs across the full 12" and therefore induces headaches—but maybe the designer will come to his or her senses. And the label is 4 Men With Beards' own, not a reproduction of the original Atlantic.
But that's minor stuff. The really good news is that the four bearded men are committed to good sound: they're insisting on using original master tapes, lacquers cut by veteran mastering engineer George Horn at Fantasy, and plating and pressing by Uni in Gloversville, New York. The Horn connection makes sense—he's in Berkeley, and so is the label.
4 Men With Beards principal Pat Thomas told me he was happy with Uni's plating and pressing quality, and that the numbers were good. I guess RTI was considerably more expensive, given that the LPs have to go cross-country from Uni instead of just up the coast from Camarillo, had RTI done the work. In general, you get what you pay for, but with Sundazed Records' Bob Irwin riding herd over the Uni plant—it's almost in his back yard—4 Men With Beards gets to ride on Sundazed's coattails.
Uni is doing good work for Sundazed; witness their quiet, fabulous-sounding catalog of Dylan mono LPs. These 4 Men With Beards reissues are equally accomplished—though I've found RTI's pressings to be more consistently finished and quiet overall. The RTIs also end up costing more at retail.
I compared the Aretha to an original blue-green Atlantic "1841 Broadway," and to a second-pressing red-green with the same address. If you like your reissues to mirror the originals' tonality and texture but with quieter surfaces, greater transparency, and wider dynamics, the 4 Men versions will be for you. Aretha's career-building Atlantic debut—it includes "Respect"—sounded really rich, open, and relaxing. Very analog-like.
A comparison of the adventurous, most enjoyable, and you-are-there–sounding Bap-Tizum reissue with Classic's Ann Arbor Blues and Jazz Festival 1972 (featuring Muddy Waters, Howlin' Wolf, Dr. John, Bobby "Blue" Bland, Otis Rush, Freddie King, Luther Allison, Sun Ra, and a very young Bonnie Raitt) and an original was instructive. Both sets were recorded during the same weekend by the same team. Some audiophiles complain that Classic's reissues are bright. I don't hear them that way. What I reconfirmed from this comparison was that Bernie Grundman's mastering chain for Classic has a character that some would call "clarity" and "focus" and others "edge." Horn's chain sounds lusher, richer, definitely more "relaxed," and that will appeal to those who have a problem with Grundman's sound. I think Grundman's chain is better suited to rock (the Led Zep catalog, for instance) and some jazz than it is to classical.
No doubt Classic's Mike Hobson will not be happy with this assessment, but that's not my problem. Compare the Bap-Tizum and Ann Arbor reissues and you'll hear what I mean. Both are recommended for sound, and especially for music, but the sonic differences are telling. Meanwhile, 4 Men With Beards Records is quite happy with their first issue: all four titles (1000 copies each) have sold out. You can probably still buy them at retail, but the warehouse is empty.
When I Paint My Masterpiece
Dylan's song kept running through my head as I set up Music Hall's new MMF-7 turntable ($999). Since it comes already fitted with a cartridge—a Goldring Eroica H high-output moving-coil—setup took all of 10 minutes.
Music Hall turntables are built at the same Czech factory that turns out the Pro-Ject line. Roy Hall visits the factory and, like a car buyer, has the 'tables built to his wishes, based on available options. For the top-of-the-line MMF-7 Hall went for a split plinth, an external motor, a Pro-Ject 9 tonearm, an acrylic platter driven by a perimeter belt, and a felt mat and screw-on record clamp.
The freestanding 12V AC motor and dual aluminum pulley assembly sits in a plinth cutout diagonally situated from the tonearm. The assembly rests on a rubber-footed puck that raises the motor to the correct height and provides some isolation. The upper element of the split plinth, finished in high-gloss piano-black lacquer, features four hemispheric suspension/isolation elements of Sorbothane, and an integral spirit level for adjusting the three spiked feet attached to the lower plinth. Spike cups are provided to protect your mounting platform. The bearing cup is attached to the lower plinth.
Pro-Ject's 9 tonearm is 9½" long and features a one-piece aluminum arm/headshell supported by hardened stainless-steel bearings, a decoupled counterweight, adjustable VTA, and high-purity copper internal wiring terminated with external phono jacks attached to the lower plinth. A high-quality set of interconnects is included, but buyers can add their own.
Setup is simple: Remove the three shipping screws, put the platter over the subplatter, level the 'table, add the counterweight and antiskating string and weight, and apply the tracking force using the calibrated counterweight. Drop the motor into the cutout (after sliding the motor support in place), place the square-section rubber belt around the platter and pulley, and plug it in. You're done.
The Goldring Eroica H is a credible high-end MC cartridge with a list price of $400 (it's often discounted to around $325 when sold separately). It features a low-mass Gyger II stylus and tracks at 1.75gm. The 2.5mV output puts the Eroica H in the gray zone between the usual 5mV-output MM cartridge and a 0.5mV low-output MC, but it should work fine with most MM phono sections. Depending on your phono section, you might want to try the MM and MC inputs. The Hovland HP-100's MC-only input worked fine, as did the Pass XOno's MM input.
Sonic problems at this level of analog playback performance are usually subtractive, and that was the case with the MMF-7, which was easily the best of the Music Hall turntables I've auditioned—though much of the difference between the MMF-5 and '7 is probably due to the better cartridge. There was a "cute" quality to the original MMF 'table (now the MMF-2.1, $299), which offered far better performance than it had any right to for that piddling amount of money, complete with cartridge. But it had a somewhat hollow sound, lacked bottom-end control, and focus and image solidity were only so-so.
But Music Hall's entry-level 'table was and is "okay"—a great place to start. For many vinyl fans, the MMF-7 will be a great place to end up. It was that good. It ran precisely at speed (though that's dependent on belt tension, which depends on motor placement within the cutout—be sure to get a strobe disc), and presented the music against a serenely quiet background. The overall sonic presentation was on the slightly warm side, with an impressively solid, well-timed bass foundation. I got greater midbass control and, therefore, improved tonal neutrality with the bass-firming Ringmat (highly recommended in place of any felt mat).
While resonances often show themselves as bloat and rhythmic lethargy, speed instability often results in grain and brightness. The MMF-7 exhibited none of those problems. Combined with what is obviously a smooth-talking cartridge, the MMF-7 glided as gracefully through the music as a skater on fresh ice. If the 'table-cartridge combo erred at all, it was on the side of warm and rich, which is far preferable to bright and hard. That could have been a function of the solid acrylic platter—not my favorite platter material.
The competition at this price point (with the same cartridge) would be the Rega P3, which costs $750. Add the Eroica H for about $330 and you're in the ballpark. I haven't done a direct comparison of the Music Hall and the Rega; that's the kind of decision buyers must make for themselves. I suspect the Rega-Eroica combo would sound somewhat "snappier," but that's a guess.
All I know is, I spent a month listening to the MMF-7 and it was a fine all-around performer, aided and abetted by Roy Hall's generous choice of cartridges. If you're looking for something you can take out of the box and play within 15 minutes—no special setup skills required—the Music Hall MMF-7 is a good choice. It's the kind of reasonably priced, well-balanced product that will deceive you into thinking you're getting it all—until you compare it to something far more expensive. Roy Hall has painted his masterpiece.
Kontrapunkt A: A $600 Winner from Ortofon
I've never heard Ortofon's far more expensive Jubilee cartridge, said to be the mechanical and sonic inspiration for the two new Kontrapunkt models (the other is the $950 Kontrapunkt B), but I can tell you that I finished listening mistakenly thinking the Kontrapunkt A cost $950. Even then, I was prepared to write that it was "a superbly musical performer" and "a genuine bargain." Have a look at the fit'n'finish of its injection-molded stainless-steel body and you'll understand how I overpriced it.
The Kontrapunkt A features a thick aluminum cantilever (that should have been the price giveaway) fitted with a nude Fine Line stylus (the B's is ruby with Gyger 80 stylus), with coils wound from 99.9999% pure silver wire. Output is a generous 0.45mV, recommended tracking force is 2.5gm, and the recommended load impedance is 50–500 ohms. I ran the Kontrapunkt into the Hovland HP-100's built-in 7x MC transformer where the load ends up being around 450 ohms, and into the Pass XOno MC input, where I was able to experiment with loading via the internal DIP switches.
An interesting feature of the Kontrapunkt A is the hard, rubbery ridge running between the mounting holes. This ridge allows you to adjust azimuth by varying the tightness of the screws. This is similar to a scheme someone suggested to me: you place a piece of pencil lead between the headshell and cartridge and, depending on where you locate it, you can shift azimuth. I think rigid mounting is more important, but you might disagree. In any case, the Immedia RPM's unipivot tonearm allows for azimuth adjustment; I ignored the ridge and tightened both sides equally until the ridge was squeezed out of existence.
The Kontrapunkt A exhibited none of the bright, thin, hashy sound you sometimes get from inexpensive MC cartridges, or the dull, lackluster performance you can sometimes get. Instead, what I first noted was rich, extended bass that was very well controlled and tuneful as hell. For that reason, I'd be careful about using this cartridge on a cheap arm or 'table. The Kontrapunkt A swung, and boy, was it well-focused and coherent, with energy to spare and without sounding bloated. I was quickly reminded of a budget version of the super-expensive Audio Note Kondo IO-J/silver I reviewed in November 2000, and of the Crown Jewel SE. The mids and trebles were somewhat understated but not at all soft or ill-defined.
Punchy, in control, and with a rich but well-balanced frequency spectrum, the Kontrapunkt A produced ultra-solid images and fast transients. It yielded to more expensive cartridges in the areas of depth and resolution of low-level details, but when I paired it with speakers like the Audio Physic Avanti IIIs, which are detail freaks and can be somewhat reticent in the midbass, I ended up with an absolutely magical combination. The month I spent with the Kontrapunkt A in a system comprising the Immedia RPM tonearm, Simon Yorke turntable, and Vibraplane isolation base (when I wasn't listening to the MMF-7) didn't have me yearning for one of the ultra-expensive cartridges I had waiting at the starting gate. A great cartridge at the price—or twice the price.
Odds & Ends
As I was doing my final editing on this column, I learned that former Mobile Fidelity Sound Lab head Herb Belkin had passed away in late August while on a fishing trip in Alaska. To do Herb justice requires far more space than I've got left in this column. I first met him in 1979, when I was a civilian in the audiophile wars. We often fought—especially over what titles MoFi should reissue. Herb told me that if I wanted to pick titles, I should start my own label. It was Herb's chutzpah that got the first label dedicated to reissuing audiophile vinyl started, and it was his unwillingness to listen to the opinions of others that helped sink it. But MoFi was all Herb, and he wouldn't have it any other way. I'll miss him.
I've also just learned that Joe DePhillips' Discovery Audio is the new American distributor of Immutable Audio, which makes the highly regarded Transfiguration line of cartridges and will soon announce some new models.
Next month, I'll report on some European hi-fi shows; the month after that, a major-league survey of phono preamplifiers.
Sidebar: In Heavy Rotation
1) Bob Dylan, The Times They Are A-Changin', Columbia/Sundazed 180gm mono LP
2) Mott the Hoople, All the Young Dudes, Columbia/Absolute Analogue 180gm LP (test pressing)
3) Aretha Franklin, I Never Loved a Man (The Way I Love You), Atlantic/4 Men With Beards 180gm LP
4) Art Ensemble of Chicago, Bap-Tizum, Atlantic/4 Men With Beards 180gm LP
5) Led Zeppelin, Houses of the Holy, Atlantic/Classic 180gm LP
6) Led Zeppelin, Physical Graffiti, Atlantic/Classic 180gm LPs (2)
7) Love, Forever Changes, Elektra/Sundazed 180gm LP (test pressing)
8) Art Blakey and the Jazz Messengers, Impulse!, Speakers Corner 180gm LP
9) Saint-Sëns, Symphony 3, Classic 180gm LP, JVC XRCD CD
10) Elvis Costello, All This Useless Beauty, Rhino CDs (2)
<!- ------------------------------------>