Analog Corner #81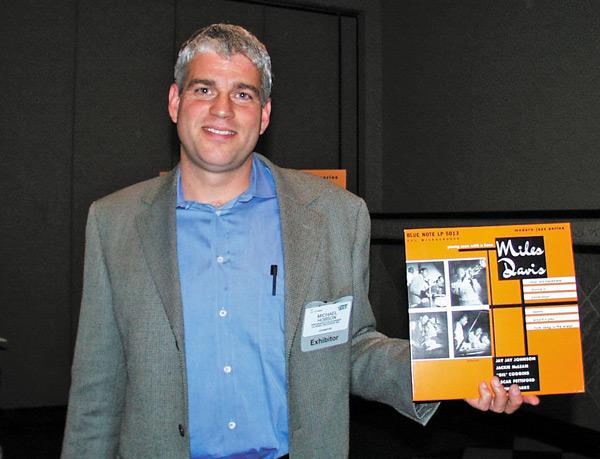 My assignment: to cover analog at the 2002 Consumer Electronics Show. Want the bad news first? There wasn't any bad news. The good news started with a flood of new software. Fresh vinyl will help drive hardware sales while preventing the industry from trading solely in nostalgia.
SACD, DVD-Audio, MP3, vinyl: profit-maximizing "niche marketing" is the mantra of the corporate asset managers running the record biz today. They're happy to resell back catalog in whatever format small or large segments of the public desire. Want to release The Buddy Holly Story on 8-track? The original-cast recording of Hair on a wire recorder? No problem if you pay the going rate. The industry desperately trying to reinvent itself as a dispenser of bitstream-controlled, copy-protected digital at the front door is apparently more than willing to deal in totally unprotected analog out the back. What we see as black gold it sees as sloppy seconds. Good for us! Keep that vinyl coming.
Never mind that most of the catalog they're sitting on is analog to begin with. They'll give you that, but once it's been digitized it becomes some kind of pure, sacrosanct musical DNA in need of protection. As if kids salivating over MP3 sound will somehow recognize and reject music emanating from a CD player's analog butthole! When lawyers talk, logic walks.
Mobile Fidelity Gears Up
Music Direct's Jim Davis, owner and president of the new Mobile Fidelity Sound Lab, and John Wood, MoFi's director of new technology, announced MoFi's new GAIN 2 ultra-analog vinyl-cutting system, designed by Tim de Paravicini and soon to be installed at MoFi's facilities in Sebastopol, California. It will complement the new de Paravicini/Meitner GAIN 2 DSD mastering system used for the company's new line of SACDs, beginning with Patricia Barber's Modern Cool, Café Blue, and Nightclub.
MoFi announced that the Kinks' Muswell Hillbillies will be one of the first vinyl titles issued, followed by other Kinks kuts. I advised them to steer clear of the later, uneven Kinks albums and concentrate on the earlier stuff, especially the first bunch, in mono—although Castle UK, which controls the material, has already issued vinyl. The Castle LPs were sourced from digital, and while not bad, they aren't that good either. Cutting and prep will be handled by the formidable team of Paul Stubblebine and MoFi veteran Stan Ricker.
MoFi also announced a licensing deal with Fantasy. Another deal with another big label was not yet ready for public disclosure, but I can tell you that so far that label will not allow master tapes off their premises, and MoFi is not interested in working from copies. Let's hope this can be worked out, because it's a deep catalog with many titles you'd want to own on new AAA vinyl.
AcousTech Mastering Regroups
Analogue Productions Chad Kassem announced that his AcousTech Mastering, located in the Record Technology Inc. pressing plant, has been completely refurbished under the direction of former Future Disc mastering engineer Kevin Gray, who, along with Steve Hoffman, was responsible for cutting DCC Compact Classics' line of 180gm LPs. Parts from three lathes were combined to create one "super" lathe, according to Kassem, while the room and all associated gear have been substantially upgraded. Gray has been cutting the Verve jazz titles for Speakers Corner, including the recent, deluxely packaged boxed set of Ella Fitzgerald's The Gershwin Songbook.
Rockers will soon hear what Gray can do with the new room: five Creedence Clearwater Revival master tapes are currently at AcousTech, licensed from Fantasy, and scheduled for vinyl issue before summer. More AcousTech-mastered titles will be announced soon, and Analogue Productions will continue issuing 180gm editions of Fantasy OJC jazz titles using metal parts. The first batch were "very successful," he told me at CES.
Back to Mono for Classic Records
Classic Records held a well-attended press conference at their Alexis Park booth, where Mike Hobson announced a 15-LP release of classic Blue Note albums in the original mono configurations much preferred by collectors. Classic has been testing various pieces of associated gear to try to duplicate the look and sound of the highly sought-after originals, including reproducing the "deep groove" record label and flat lead-in area (without "groove guard").
But more important than authentic looks (including original label art and paper-on-board jackets) is the sound. Classic had Bernie Grundman's Studer A80 playback tape deck fitted with a mono playback head. To complete the chain, a Westrex 2A mono cutter head was rebuilt and fitted to the Scully lathe by History of Recorded Sound's Len Horowitz and Bernie Grundman Mastering's master tech, Beno May. Test lacquers cut with the stereo and mono heads demonstrated that mono was the way to go. Mastering will be all-tube, using playback electronics from an Ampex 300 recorder and a restored Western Electric mono cutting amp. Classic whetted appetites by giving out copies of Miles Davis' 10" Blue Note debut, Young Man With a Horn (BLP 5013).
Classic also announced 16 titles from Vanguard's superb-sounding Stereolab classical series, many featuring Maurice Abravanel and the Utah Symphony Orchestra, as well as some swell new jazz titles including Count Basie and Tony Bennett, Duke Ellington and Louis Armstrong, and, in mono, Atomic Basie.
Other Vinyl News
Cisco Music, distributor of King Super Analog Discs, debuted two 180gm classical reissue LPs of its own at CES: Prokofiev's Symphonic Suite of Waltzes and Gypsy Fantasy, with Hans Schweiger conducting the Kansas City Philharmonic, recorded direct to two-track in 1959 and issued on Urania; and Mozart's Symphony 35 and Friedrich Witt's "Jena" Symphony, with Schweiger conducting the Brussels Radio Orchestra. Cisco's Robert Pincus told me he'd found the original of the Mozart (Hammer Records SD-150) at a thrift shop and bought it on impulse. He was floored by the sensational sound and, after a Web search, tracked down the engineer—who had the master tape in his garage! Cisco bought the tape, which was recorded direct to two-track using a pair of spaced AKG 451 omnis with no compression or EQ. Both records were mastered by Kevin Gray at AcousTech.
Pure Audiophile, another new label, issued a smartly packaged two-LP (180gm) edition of Karrin Allyson's Grammy-nominated Ballads: Remembering John Coltrane, originally on Concord CD: cutting-master prep by Paul Stubblebine, half-speed mastering by Stan Ricker, plating and pressing by RTI.
Yet another new label, Water, was announced via e-mail when I got back from CES. Water is the folks who brought us 4 Men With Beards Records, and their first four titles, on LP and CD, are from the Sun Ra Arkestra. There will be CD-only titles as well, including the The Moray Eels Eat the Holy Modal Rounders, originally on Elektra.
And there was a happy ending to the sad news that Warner-Elektra-Atlantic was going to shut down the vinyl-pressing facility at its Olyphant, Pennsylvania plant, even though it was busy around the clock and making money. The asset managers decided it wasn't making enough money, and that DVD production would yield higher profits. Fortunately, one of the biggest paying customers, Ira Cohen of Music Connection (I don't have details on exactly what that is), bought the equipment and is in the process of moving it to Dunsmore, PA, close enough to the original site for all the veteran vinyl workers to keep their jobs. Right on, Ira!—even if all you do with it is press 12" dance singles.
Hardware Wars!
It's one thing for a journalist to talk up analog—it's an investment in words only. The folks showing up at CES and T.H.E. Expo (the un–CES-sanctioned outboarder show run by Mike Maloney) with new analog gear have put their money where my mouth is. The volume of new analog products was simply astounding.
I counted 17 new phono sections, including the most drool-inducing one, Boulder's 2008 ($29,000)—a two-box, fully balanced affair aimed at owners of Boulder's 2000-series cost-no-object amps and preamps who have been clamoring for a matching phono section. The unit includes three balanced inputs, each with a replaceable "personality card." You can set gain, loading, capacitance, even EQ curve (RIAA or otherwise). Though there are three inputs, you can have more than three cards should you need them for multiple EQ choices—for instance, if you have a large collection of older, pre-RIAA LPs. There's even a demagnetizer input so you can permanently connect your demagnetizer and, at the push of a button, demag your MC cartridge without taking your phono connection apart. (The Prevent feature keeps you from accidentally demagging your MM cartridge.) The circuit features sealed relays, three separate power supplies, full logic, and much more. According to Boulder, dealers bought ten 2008s at the show.
Lamm Industries debuted the tube LP-2 phono stage ($6690) at T.H.E. Expo, in a system that included Lamm M1.1 amps and an L2 line stage. Vinyl playback was via a Walker Audio Proscenium Gold Signature turntable ($23,000). Speakers were the Kharma Extended References ($95,500/pair). I hit Lamm's large room the morning of Day 1, which was a few days after the concrete had been poured for the floor of the room (the hotel was brand new) and before there was decent electrical service; a generator outside was providing the juice while the fire alarm warning light flashed and a recorded voice advised us to vacate the premises. So don't expect me to comment on the sound! The Walker turntable, however, looked much improved visually and mechanically, as tinkerer Lloyd Walker never rests. The tonearm parts no longer look like plumbing fixtures, and the bright brass plating has given way to a cooler brushed look.
Lamm and Walker were also to be found at the CES's "official" high-end audio venue, the Alexis Park hotel. Lamm spun LPs using a magnificent-looking, industrial-grade EMT Studio 927 turntable fitted with a 12" SME 3012 tonearm and another arm I couldn't identify. No, the EMT is not back in production—it was bought from a European radio station. Walker's fully tricked-out Proscenium Gold Reference 'table with Ultimate phono section and motor controller, both with point-to-point wiring, will set you back $39,000. The phono section can be had hardwired to the tonearm leads and features a single eight-pin, ultra-low-noise, "weapons grade" ceramic chip made for NASA—it's no longer available, said Walker. He told me that there's only one resistor in the signal path. Since the phono section has to be returned to Walker when you change cartridges (DC offset needs to be hand-tweaked), Walker told me that only "true fanatics" go for the hardwiring. "Normal" buyers get cryogenically frozen silver-plated RCA jacks and plugs.
In the Immedia suite at T.H.E. Expo, Audio Physic's Joachim Gerhard showed me the new AP Strada phono section ($2500), a battery-powered, DC-coupled, single-ended class-A design in a wooden case. The battery goes into charge mode automatically when you lift the stylus off the record. I didn't get to hear it because of severe RF interference which had not been apparent in Germany. I was promised a unit for review once a cure has been found.
Immedia's Allen Perkins told me that while he'd planned to stop making the difficult-to-make Revolution turntable, orders for a dozen of the expensive design had shown up from Japan alone; he'll continue building them to order. Perkins is still working on the new, easier-to-machine 'table he first told me about at Home Entertainment 2001. Meanwhile, the less expensive ($3000–$5500), upgradeable Immedia RPM-1 is still in production and was in use in all three Immedia rooms and elsewhere at the show. On one RPM-1, Scan-Tech's Jonathan Carr had mounted a prototype of a new top-of-the-line cartridge ($5500). This replacement for the Lyra Parnassus, tentatively named the Titan, is essentially a titanium Helikon, he said, but would require more critical setup. (The popular Helikon was designed to be "user-friendly" and therefore somewhat "off the leading edge" of what's possible.)
Just as I wrote that last sentence, the latest installment of Phonogram Digest appeared in my e-mail inbox. It included a sad note from Jonathan Carr:
"This morning we received the sad news that Yoshiaki Sugano of Koetsu passed away on Sunday, January 20, 2002, Japan time. Sugano was the forerunner of the audio industry in hand-crafting and marketing high-quality MC phono cartridges, and set the industry benchmarks, not only in his continued use of the latest high-tech and exotic materials, but also in his high standards for sound, aesthetics, and personal craftsmanship.
"Sugano was also a friend and mentor for Stig Bjorge, my business partner and founder of Scan-Tech. Sugano is consequently a direct 'reason' why Scan-Tech is in the cartridge business today, and over the years, he gave us many business introductions and pieces of advice that shaped our own evolution as a cartridge manufacturer.
"His dedication as an artist and his generosity as a human being will be sorely missed."
Down the hall, HyEnd Audio's Leo Massi wanted to show me the brand-spanking-new Lehmann Silver Cube phono section ($2195), but couldn't: It had been "lost" in shipping after having been logged in as landing in Las Vegas. When I asked Leo how it sounded, he said he didn't know—it was so new that he'd never heard or even seen it. The Lehmann Black Cube ($599) and a new, optional PSX upgraded power supply had arrived, along with a new line of Blue Note analog gear Massi is importing from Italy. He ran me through the Blue Note turntables, which start at $595—the Deck Basic. This least expensive model features a platter driven by a ceramic-impregnated belt and a 24-pole synchronous motor. There's an intermediate model ($735), the Bellosguardo ($1295), and the top of the line, the Belvedere ($2495). The latter two feature Michell Gyrodec–like brass cylinders attached to the bottom of the platter. Blue Note also makes a $395 unipivot tonearm and one for $1595. Then Massi showed me three Blue Note phono sections: the Phono 1 ($395), which can be had as MM or MC; the vacuum-tubed Alpha ($849); and the top of the line, the solid-state Cylinder ($1775). Blue Note also has three cartridges, priced from $395 to $1595. All this from a country everyone tells me is not into vinyl.
Speaking of the Michell Gyrodec: Artech's Dave Lang, Michell's importer, chose not to bring one to CES this year. He told me there was no point: he can't get them in fast enough because he's selling more Gyrodecs than he did in the 1970s. And speaking of numbers...as he showed me his latest turntable, the MMF-1 ($199), which comes complete with a Musical Magic version of the Goldring Élan cartridge, Music Hall's Roy Hall claimed that he'd sold more than 2000 MMF 'tables in 2001.
Most intriguing was the Halcro room, where I got to hear designer Bruce Candy's prototype preamplifier with built-in phono section. Something had malfunctioned in the MC stage, so I was "forced" to listen to the MM section amplifying a Clearaudio Reference Insider on the Clearaudio Master Reference turntable. I have to admit that the playback of Classic's 33 1/3 edition of Dave Brubeck's Time Out was about the best I've ever heard in terms of low-level resolution, quiet background, and liquidity. The rest of the system was the striking-looking Halcro monoblocks and Revel Salon speakers. Across the hall, Halcro electronics had the Wilson Audio MAXXes sounding absolutely spectacular. Halcro is a new premium audio company worth watching; it's definitely not about looks alone.
Over in the Stanalog Audio room at the Alexis Park, van den Hul importer George Stanwick had some news: the vdH Ultimate phono preamp ($5000). No cartridge news from vdH—at least Stanwick didn't tell me any—but Joe DePhilips of Discovery, the new Transfiguration importer, showed me the latest cartridge upgrades from Seiji Yoshioka: the Temper Supreme Mk.V ($3800) and a brand-new Spirit ($1500), a sample of which he gave me to review. The Supreme Mk.V marks a return to copper coils and uses a new high-precision winding mechanism.
The Rogue Audio boys, best known for their tube amps and preamps, have gotten into analog in a big way: they now distribute the swell-looking and beautifully built Avid turntables in America, and showed two new Rogue phono sections, the solid-state MM/MC Stealth ($795) and the hybrid MM/MC Stealth Reference ($1795). The Reference is a neat-looking design with enough gain in "pure tube" mode for 0.9–1mV cartridges, with up to 30dB of solid-state boost adjustable in 5dB increments for lower-output MC cartridges. Of course, it features adjustable resistive loading and capacitance for MM cartridges.
I apologized for not recognizing Avid's designer, Conrad Mas, who reintroduced me to the Acutus ($10,000) and Volvere ($4000) turntables. A new Avid tonearm will be introduced in June. Mas was happy to tell me that a New York City dealer had sold enough Acutuses to keep him "very busy" for some time.
In the Cardas Audio room I was surprised to see, from the irrepressible Judy Spotheim, a new and unusual-looking tonearm sitting atop an SPJ La Luce CS Centoventi turntable ($12,000), which features a platter 120mm tall. The new unipivot arm can be fitted to any turntable and sells for $5000. (Spotheim's original arm cost $8500.) George Cardas told me he'd sold 10 of the original SPJ La Luce turntables—a number that surprised even he. I requested a chance to review the new 'table/arm combo (even though JS reviewed the original!).
Acoustic Signature displayed its Final Tool line of turntables, sold direct by Needle Doctor (www.needledoctor.com), including the three-motor Impact ($3000). Three-motor designs are popular in Germany but not with me—I contend that three motors equals three times the noise, among other disadvantages. Designer Gunther "give the people what they want" Frohnhoefer was on hand to explain why the Impact's three motors are fixed rather than freestanding, but did not disagree with me. He claimed that the advantage of three motors can be gained only by precise placement—almost impossible without being fixed. More interesting to me were the Samba ($1600) and the Analog Mk.3 ($3500). These 'tables strike me as being among the best buys out there today, partly due to the direct distribution, and partly due to the quality of design and machining. Got mass? These 'tables do! Acoustic Signature also showed the Tango MC/MM phono preamp ($400), with outside adjustable gain and loading and outboard power supply.
Even Thorens has been resurrected. I was supposed to meet with the company's Heinz Rohrer, but every time I showed up he wasn't there. Though there were a few Thorens 'tables, most of what I saw was either the simultaneously resurrected Dual line, which will be familiar to many Stereophile readers, or Dual-looking 'tables with Thorens badges on them. How real is the Thorens resurrection? I hope to get the story soon.
But Wait! There's More!
Two analog hotbeds were the Musical Surroundings and Axiss Distribution rooms. At Axiss, Art Manzano announced the reintroduction of the legendary Audiocraft tonearms from Japan. This is major news, as anyone familiar with these arms will tell you. The 9" model 3300 will set you back $3000, while the 12" model 4400 retails for $4000. There are "light" and "heavy" versions of each, respectively optimized for suspended and unsuspended turntables. Both feature adjustable VTA on the fly, dual-point pivots, oil damping, three diameters of interchangeable armwands, and even an $wS-shaped arm with detachable headshells. After hearing about the Audiocrafts for so many years, these I gotta hear.
Axiss is also importing, from Germany, Trans-Rotor's extensive line of turntables. As with their competitive cousins from Clearaudio, going over the line and all of the options would take an entire column. I got a tour of the exotic Tourbillon, a three-motor design ($22,000); the entry-level Leonardo ($2000), complete with modified, VTA-adjustable Rega tonearm; a $3500 step-up for the Leonardo called the Doppio (why not the DiCaprio?), which adds a second plinth, a 60mm platter, and an isolated motor; the Pianta ($5995), which has the belt driving the bearing, not the platter rim; and the Orfeo, with its 80mm platter ($8500).
Over at Musical Surroundings, the distributor told me that business was up 50% since they'd taken on Clearaudio's lines of cartridges, turntables, and accessories. New and on display were the upgradeable Champion and Solution lines of Clearaudio 'tables, including the Solution ($1600), the Master Solution ($3200, based on the plinth design of the top-of-the-line Master Reference, also on display), and the Maximum Solution ($6500). The three Champion 'tables range in price from $1000 to $2200. Clearaudio's Classic line of 'tables was also displayed.
Clearaudio also debuted its new Unifi unipivot arm with carbon-fiber armtube, expected to retail for $925, and a neat strobe record ($40–$50) that lets you account for stylus drag by setting speed with the stylus in the groove. Clearaudio's Robert Suchy showed me the Basic MM-only phono section ($400) and the MC-only Balance MC phono stage ($1350), which features both balanced and single-ended outputs.
Musical Surroundings also showed me the new Benz-Micro LP, an ebony-bodied, top-of-the-line cartridge expected to sell for around $5000 and available in three output levels, 0.3mV being the lowest. Aesthetix designer Jim White showed me a prototype of the new modular Saturn electronics, which includes the full-function Janus preamp as well as separate Rhea phono and Calypso line stages with dedicated power supplies. The fully balanced Rhea has selectable gain up to 70dB, and nine-position loading adjustable via the remote control.
Graham Engineering's Robin tonearm ($795) is finished and available for Rega or Graham mounting, so you can upgrade when ready. Bob Graham also introduced the 2.1 Basic tonearm($1995), which features an aluminum version of the 2.2 bearing cap, brass side weights, and output cabling from the Robin series. It can be upgraded to full 2.2 status for the difference in cost, which means when you've spent a total of $3200, you're there.
Also on display in the Musical Surroundings room was a preproduction version of the new WKarlson tonearm from Norway, which should retail for around $5000. Strictly for the adventurous, I'd say. I want to thank Phonomena phono-stage designer Michael Yee for his graciousness, despite my less-than-glowing review of his design (in the January "Analog Corner"). "Sorry it didn't work in your system," he said. But based on sales, it must be working fine in other systems. Fair enough!
Next door, I found A.J. Conti with the complete line of Basis turntables and the intriguing Vector tonearm ($2475), which is finished and shipping. Though its bearing-cup configuration resembles the Immedia arm's, the Vector is a duo-pivot design with the second bearing bathed in silicone and angled so that when you change azimuth you're not changing the stylus' relationship to the groove walls. The only other arms that do this are the Spotheim and those with rotating headshells. To describe all of the engineering would take half a column; I hope to do that sometime soon.
Rega showed an updated version of its top-of-the-line P9 turntable (ca $3200). The new P9 features a wider, more rigid plinth frame, the mass of which has been reduced by a center cutout. The plinth material has been improved for better energy evacuation, the power supply has been upgraded, and there have been some significant changes to the P9's RB 900 arm, including a total redesign of the vertical bearing-housing base, which is now made from a single piece of stainless steel. The cueing mechanism is now stainless as well. Effective arm mass has been decreased "a great deal," and the bearing assembly has been extensively reworked, including the use of an engineering adhesive filler to fill gaps where there are high spots on the ball bearings. Far greater rigidity is claimed for the RB 900, which is now wired with one continuous run of wire. That's one joint I'm glad to see gone!
The Japanese Zanden company makes some expensive, superb-sounding tube phono sections, including a $15,000 MC I'm currently auditioning. They took a room at the Alexis Park, but a death in the family prevented the principals from attending. Hundreds of people still got to hear the phono section, though: I went around the show with a CD-R I had burned using the mono Helikon cartridge, the Graham 2.2 tonearm, the Simon Yorke turntable, and the Zanden phono stage, and it wowed 'em—especially some early Columbia Duke Ellington tracks played back with Columbia's EQ, which the Zanden offers. I predict more phono stages offering alternative phono equalization curves so vinyl fanatics can get the most from their precious old records.
The massive, beautifully built, highly regarded, German-made Brinkmann Balance turntable was displayed. Owner-designer Helmut Brinkmann told me he was looking for an American distributor. Since then he's found one, and soon all three Brinkmann turntables—the LaGrange ($8000), the Balance ($9000 in brass), and the Balance stainless ($10,000)—will be available here, along with the Brinkmann tonearm ($3500) and the Brinkmann EMT-based MC cartridge ($2100). The Balance's bearing is heated to maintain temperature and tolerances at all times.
Back at T.H.E. Expo, three of the amazing-looking V.Y.G.E.R. air-bearing linear-tracking turntables were in use. The quality of the machining has improved enormously, and the armtube and headshell design have evolved to the point where I'm about ready to ask distributor Fanfare's Victor Goldstein to schlep one over for me to review.
Other tonearm news: I saw the ingenious Schröder in some room or other. The design uses magnetic repulsion as part of its bearing strategy. Audio Advancements' Hart Hutschens is the new American importer. He brings in the Mörch Unipivot line as well, which I hope to have for review sometime this year. Hart e-mailed before the show to tell me that, for the first time since 1986, he wouldn't be attending—he was too busy. Also too busy was Hans Henrik of Mörch, whom Hart told me has had trouble keeping up with the demand for his tonearms.
Sumiko displayed in the new 1,000,000-square-foot Las Vegas Convention Center South Hall. The company's Jim Alexander ran me though the new line of Pro-Ject turntables, including the RM9 ($1500), which has an MDF base, acrylic platter, carbon-fiber armtube, standalone motor, and heavy clamp. The bearing uses an inverted ceramic ball. Also in the line are the RM4 ($495), the Wood Classic ($749; probably sells to Buick owners), and the Perspective ($995), which Alexander told me was the second-best seller behind the inexpensive 2.1.
Alexander also told me about the cartridge Sumiko will soon have for "around $750"—a high-output (2.5mV) moving-coil design with a boron cantilever. Its working name is the Blue Point Reference, but I told them that at this price they should shuck the oysters and go for a new name.
More Analog
Dynavector importer Mike Pranka showed me the brand-new, low-output (0.23mV), semi-open-bodied XX-2 cartridge, which uses alnico magnets, a boron cantilever, and a line-contact stylus—all for $1650. Red Rose Music has a new two-piece MM/MC phono section called the Rosette 2, Conrad-Johnson has a Series Two version of its superb-sounding Premier 15, and Loricraft, which rebuilds Garrard turntables and offers a swell LP-cleaning machine, has a series of phono sections as well.
Audio Note Japan showed a prototype Kondo M7 MC phono section with matching power supply and a new step-up transformer. Both are sure to be expensive, and I bet they'll sound great. I heard something about a new $800 cartridge, the Shelter 501 Mk.2, being imported by Wavelength Audio's Gordon Rankin, but didn't get to see it—or the Tangent battery-powered phono section, or the RS Labs A1 tonearm Rankin is bringing in and keeping hidden from me. Oh well.
I sat down at the Show with the enigmatic Wally Malewicz, who told me he's now devoting himself full-time to producing Wally setup devices, such as the Wallytraktor alignment gauge. He promised on-time delivery for all orders and showed me two precision electronic stylus-pressure gauges he'll be marketing starting at $150.
And finally, this: at a DTS press conference, Graham Nash announced that Classic Records' LP edition of Crosby, Stills & Nash marks the first time the master tape has been used. By the time the album was first released, the music veterans making up the supergroup were so wary of record-company chicanery that they kept the master out of Atlantic Records' hands.
Best Sound at Show?
I was so busy chasing analog leads that I didn't get to hear as much as I would have liked. I flat-out had to skip rooms I really wanted to hear, but couldn't because I knew they contained no analog. Of what I did hear, easily the best sound was in the Rockport Technology (speakers)/Tenor Audio room. Second was the Halcro/Wilson Audio MAXX display, third the Halcro/Clearaudio/Revel Salons, fourth the Immedia RPM-1 'table/Helikon cartridge/Audio Physic Avanti III speaker/Audio Physic monoblocks room, fifth the VPI TNT/JMW 12.5/Joule Electra/Merlin room (what else is new?), and sixth the Rega room (which surprised the hell out me), featuring four Axon monoblocks and the Cursa preamp, Jupiter CD player, and Ela speakers. At about $8000 without the P9 turntable, the Rega system wasn't cheap, but it sounded like the "poor man's" tricked-out NAIM system.
Beyond those, though there were some other fine-sounding rooms, it all turned into a blur for me—as it probably has for you, having read this report!
<!- ------------------------------------>