Analog Corner #83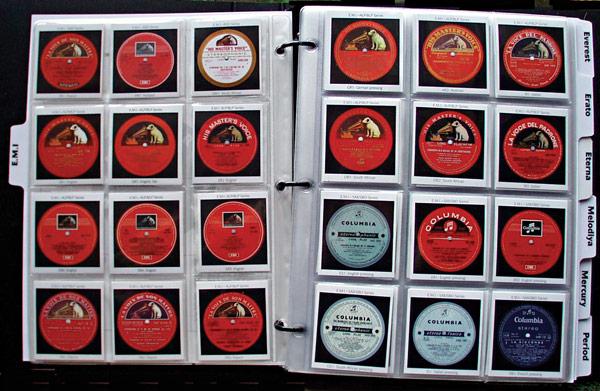 A recent bid on eBay won me mono copies of Nat King Cole's
Love is the Thing
and
Nat King Cole Sings/George Shearing Plays
. The descriptions said that the records had some "marks" but that they "shouldn't affect play." The rest of the wording led me to suspect that the seller knew nothing about vinyl, but since the winning bid was $3.15 ($5.65 with shipping), why not take a chance? I have some mono records that look unsalvageable but play fine—especially using the mono Helikon cartridge.
What arrived were two LPs that the ladies at the local Goodwill would have been ashamed to put out for 10 cents each. These battle-tested records were scarred with multiple visible radial gouges that a dock worker's gloved finger could have easily detected. I was actually amused that such a high-tech transaction could yield such a stack of crapola, and, in an uncharacteristically mellow tone, e-mailed the seller to tell him that he really shouldn't be describing trashed records as being in "good" condition.
His response: "My sincerest apologies. I do not have a phonograph and couldn't play them, could only eyeball them and guess." Score one for honesty, at least. By return e-mail I told him that it was pointless to send the records back, so instead of refunding my money, why not put $5 in one of those ASPCA pushkehs (Yiddish for a little coin box) for abused dogs they have on the counter at the 7–11?
"Keep the records for your trouble," he replied. "I'll still refund your costs. It would be too much to send them back....I grew up saving to buy a Harley like my Dad's, didn't go in much for music."
That was worth $5.65 for sheer entertainment value!
Two Superb Reference Guides for Vinyl Fanatics
Anton Svec, a Swiss gentleman with plenty of time on his hands, has come up with The Record Label Guide U.S.A., a reference labelography for American popular music (and some classical) issued on vinyl. The 800-page bound looseleaf book includes more than 2400 color shots of almost every label and label variation. For example, 30 different Mercury pop label variants are shown. Each label's section includes a short informative history, the dates during which each variation was used, and a collage of great album-cover art.
I found a few omissions (no Rounder Records, for instance) and some factual errors. I don't believe Svec has a clear corporate timeline for Warner Bros., for example, and how that affected the label art, but overall, the information is quite reliable and Svec is amenable to being corrected. He invites buyers to send him digital images of labels he's missed, so the project will grow only more complete and authoritative over time.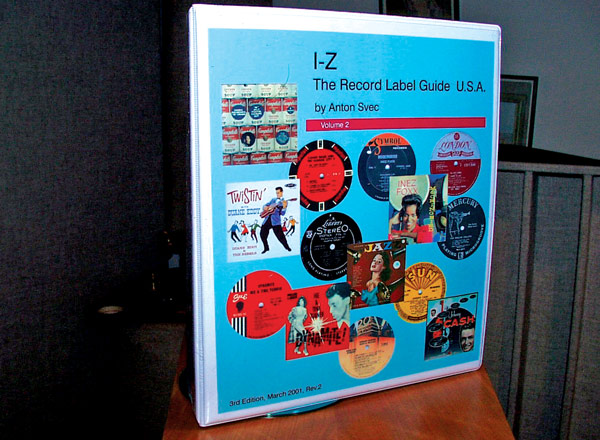 The paper quality is so-so. To keep pages from tearing out of the overstuffed binder you might find yourself licking those stick-on reinforcement rings you probably haven't used in 20 or 30 years, and it's all run off a color laser printer, but so what? It's still extremely well-done, and, in my opinion, invaluable. How a guy in Switzerland gained access to all this information I'll never know. In any case, I recommend this labor of love to every serious record collector. The third and/or fourth editions are now available for about $100 each plus shipping from Schopper AG in Switzerland. Highly recommended! Like a great novel, you won't be able to put it down.
The classical labelography Mikrokosmos has just issued its third and fourth editions. Another labor of love—this one from a Canadian, Peter Fülöp, with a great deal of help from record collector extraordinaire Richard Foster—Mikrokosmos is a far more sumptuous affair, with high-quality, plastic-reinforced, looseleaf label delineators, and much-higher-quality baseball card–like full-color printed labels, which you insert into clear plastic pockets.
The label variations are mind-boggling: 11 for British Decca's SXL series, 12 for Columbia Masterworks, etc. To hold in your hands and be able to leaf through almost 50 years of the history of classical vinyl inspires awe. The work that went into putting this together must have been excruciating. Every serious classical music record collector should own this serious and colorful reference work. Volumes 1–4 cost $136 plus shipping, including a handsome custom looseleaf binder, index tabs, plastic label sheets, and labels. Mikrokosmos is available directly from Peter Fülöp at 314 Churchill Avenue, Toronto, Ontario, Canada M2R 1E7, www.mikrokosmos.com.
Zanden 1200 moving-coil phono section
I don't know if the MC version of Zanden's ultrasleek 1200 (originally called the MC1000) is the best moving-coil phono stage in the world, but it's certainly among the top few, with an absolutely mesmerizing presentation from the midrange to the high frequencies (footnote 1). (See the October 2000 issue, Vol.23 No.10; everything I wrote there about the sound of the moving-magnet version holds true for the MC version as well.) The Zanden exuded liquidity, delicacy, air, and transparency while delivering convincingly sharp and fast transients free of mechanical residue—a balancing act few, if any, of the phono sections I've auditioned pull off quite as well. Despite using tubes and transformers, the Zanden sounded like neither. It was dead quiet, super-dynamic, just plain not there. It sounded equally convincing on the hardest rock and the most delicate violin solos, allowing musical lines to flow with an unforced, harmonically complex grace that set it apart from the musical presentations of all the other top-shelf phono sections I've auditioned—and I've heard some great ones recently.
Though it's not nearly as flexible as my reference, the $7300 Manley Steelhead (reviewed in my December 2001 column), the Zanden 1200 does offer two transformer taps (Low, High), which will maximize power transfer from most low-output MC cartridges. And with three equalization curves (RIAA, Columbia, Decca), it's the logical choice for well-heeled owners of ultra-low-output MC cartridges seeking to get the most from their pre-RIAA LPs, as well as for owners of large collections of British Decca classical LPs.
The 1200 lost out to the Steelhead (which costs about half as much) in one department: bass dynamics and solidity—but then, so does every other phono section I've auditioned so far. Unfortunately, the Zanden 1200 costs $15,000, so back it goes. But if you've got that kind of money to spend on a phono section, do try to hear the Zanden, especially if you listen mostly to classical and jazz.
The 1200's been keeping me company for a few months of total musical bliss. Of course, the Lamm phono stage is waiting in the wings, along with the $28,000 Boulder and the Connoisseur 4.0...
Affordable Phono Sections
Good News at $200! Enough about phono sections few of us can afford. Back in the real world, there's some really good news. Though the Zanden 1200 beckoned, I spent most of my working time this month auditioning five affordable MM and MC phono sections, and either all of them were surprisingly good, or I was in a really great mood. Actually, it was both. All phono sections were broken in using the indispensable Thor Phono Burn.
I conducted my little survey using the Simon Yorke turntable and Rega's new P9 tonearm fitted with a Rega Exact MM cartridge. I also used an Adcom Crosscoil XC/LT high-output MC cartridge, rebuilt by Australia's Garrott Brothers (the brothers are no longer with us, but their company lives on), mounted on the Graham 2.2 arm, and, for the units that could handle low-output MCs, a combination of the Helikon SL cartridge and the Immedia RPM-2 tonearm/turntable. Making this survey soooo much easier was the Alesis Masterlink, a 24-bit/96kHz, hard-drive–based digital recorder. I was able to record, reference, and compare each phono section's performance with the push of a few buttons.
LPs used included Tony Bennett's Live at Carnegie Hall (Columbia C2S 823), Classic Records' superb reissue of Pete Townshend and Ronnie Lane's Rough Mix (Classic; I highly recommend this for both music and sound; it's the archetypal precursor of MTV's "Unplugged" series, with Eric Clapton, Charlie Watts, John Entwistle, and others), Jacintha's Lush Life (Groove Note), Sundazed's reissue of Fred Neil's Bleeker Street and MacDougal (Sundazed LP 5107), an original and reissue of Sonny Rollins' The Bridge (RCA/Classic LSP-2527), and a plum Victrola reissue of Arthur Fiedler and the Boston Pops' legendary 1954 recording, Gaité Parisienne (VICS-1012)
To maintain consistency and avoid confusion, I first auditioned the phono sections that were capable of both MM and MC amplification in MM mode.
Gram Amp 2 SE: If you've got only $219 to spend and you're running MM, you can't go wrong with the surprisingly accomplished Gram Amp 2 SE, handbuilt in the UK by Graham Slee Projects (www.audiocontrol.co.uk) and imported by Elex Atelier (www.elexatelier.com, a great source of turntable belts and other analog accessories). Based on an obviously fine-sounding Philips op-amp, the Gram Amp 2 SE is built into an inexpensive plastic project box and powered by a wall wart. Stick-on lettering spells out the product's name. The unit's looks won't impress your friends, but they'll be amazed by its sound.
Unlike some other ultra-inexpensive phono sections, the Gram delivered genuine weight and solidity in the midband and midbass. It was quiet, and free of the thinness, edge, and grain you usually get at this price. It reminded me of the surprisingly fine-sounding Rega Fono MM phono section ($295, October 2000), but for $75 less. Looking for a way into analog on the cheap? Here it is. Don't expect miracles, just pleasant listening.
"So what happens when you go from $219 to $15,000?" I found myself asking after listening to the Gram do its thing with the Adcom Crosscoil. I played the opening track of Tony Bennett's Live at Carnegie Hall on the cheap, then immediately through the Helikon/Zanden combo. The budget presentation was surprisingly listenable, but switching to the expensive rig took Bennett from a close-to-the-stage seat in a small club populated by a few hundred people to a mid-row seat at Carnegie Hall. It was like switching from a low-pixel-density picture to HDTV.
J.A. Michell/Trichord Research MM/MC Dino: The stylish $595 Dino, from J.A. Michell and Trichord Research, is smaller and half the price of Michell/Trichord's Delphini ($1295, Vol.23 No.10), but uses a similar circuit and shares many of the Delphini's high-quality parts. The unusually flexible resistive and capacitive loading and gain (up to 74dB) DIP switches are conveniently located on the chassis bottom; also standard is a substantial power supply based on a toroidal transformer. The Dino+ power-supply upgrade is available for an additional $450.
The Dino in MM mode was a substantial step up from the Gram Amp 2 SE in speed, LF extension, and resolution of inner detail, but it also sounded harder, more forward, and somewhat less engaging in either MM gain position. It might play better with the somewhat reticent-sounding Shure V15VxMR or some of the less expensive high-output Grado cartridges, but for many other moderately priced MMs, I wouldn't spend the difference between the Gram and the Dino if I were going to use it solely for MM amplification—I'd be paying for stages I wouldn't be using, and I wouldn't enjoy the sound over extended listening, even with the Dino+ power-supply option. (But stay tuned for the Dino in MC mode, especially with the Dino+!)
Lehmann Black Cube & PWX power supply: The still-excellent Lehmann Black Cube, originally reviewed back in October 1998 (Vol.21 No.10), has since been improved. Among other things, its loading and gain, like the Dino's, can now be switched without opening the chassis, and the price has dropped $96, to $599. Compared to the similarly priced Dino, the Black Cube is one ugly piece of gear, and doesn't offer the same flexibility of loading and gain. But in MM mode at least, the Cube offered more pleasing sound than the Dino, and a worthwhile improvement over the Gram 2 SE. There was greater image solidity, and better rhythmic authority without added hardness. There were soundstage depth and the beginnings of the kind of picture you get with far more expensive phono sections, especially with classical music. Gaité Parisienne was much improved through the Cube compared to the Gram.
Add the optional PWX power supply and the price goes up to $874 (you can upgrade an existing Black Cube for $275)—but the sonic benefits were tangible even in MM mode, particularly in the firmer, more substantial bass and overall rhythmic musical drive. If you're willing to spend $874 on an MM phono section, you'll get results for your money. The upgraded Cube in MC mode is another story.
Switching to Moving Coils...The moving-coil showdown between the Black Cube with PWX power supply ($834) and Dino with Dino+ power supply ($1045) reversed the standings in MM mode. The Dino combo, driven by the Helikon SL at 47k ohms (Helikon's recommended loading) or 100 ohms, proved a formidable performer, exuding a midband-to-top-end ease and dimensionality and harmonic sophistication missing, for some reason, in MM mode. The retrieval of low-level detail and ambient cues had the kind of easy assurance you usually hear from more expensive phono sections. Bass was extended, well-focused, and supple, adding weight to the hall space apparent in the opening of the Gait;ae Parisienne LP, with its distant-sounding wood blocks, triangles, and brass. The Dino+ sounded competitive with Camelot Technology's battery-powered Lancelot Pro, which also costs about $1000.
The Black Cube with PWX sounded harmonically constrained by comparison, and somewhat wooden and uptight, though its frequency extension, dynamic performance, and dimensionality were also impressive. The $599 Cube is still a great product and an easy recommendation, but I wasn't convinced that adding a $284 power supply was as worthwhile as forking over another $450 for the Dino+, with which the Dino seemed to come alive in MC mode. Although I couldn't do a direct comparison, I think I prefer the Dino+ to the Delphini, which costs almost $250 more. At the very least, they're comparable.
A Wild Card: Near the end of the audition period, Bertrand Audio sent me a Swedish Coph Nia ($1295), an MC-only phono section that, unlike all the others, packs its power supply, amplification, and EQ circuitry into a single enclosure. To adjust loading, you have to remove four fine-pitch threaded sheet-metal screws and remove the U-shaped cover of folded metal. After listening at the default 100 ohm setting, I removed the cover and switched to 47k ohms, but then had nothing but trouble getting the cover's screws to fit properly in their threaded holes without stripping them. No matter: the Coph Nia was the real sleeper of the bunch. While its bass response was somewhat soft (but well-extended), its mids and highs exhibited a gorgeously intoxicating tube-like liquidity.
The Coph Nia's overall presentation came closest to the extraordinary sound of the Zanden 1200. Don't get the wrong idea—the Coph Nia's not even in the Zanden's league—but it won my vote as "the poor man's Zanden." If you listen mostly to classical and acoustic music, you might find complete happiness with it. Unfortunately, the Coph Nia's documentation was not very good. There was no manufacturer listed, no address, phone number, or guarantee, let alone specs for gain, signal/noise ratio, or anything else. I just know that it had me sitting up and paying attention right away.
Too Bad: In an ideal world, I'd be able to go back and compare this crop of phono sections with previous ones, and I'd have a 6000-word monthly column so I could devote more space to each of them, giving you detailed descriptions instead of these thumbnail sketches.
But think of it this way: 10 years ago, who would have thought one would be able to devote even 3000 words to any new phono section, not to mention all of these! Quiet, versatile, musical, each of these phono sections offered fine performance and outstanding value for money. Combined with a basic turntable/arm/cartridge combo, any of them will kick the crap out of CD, I don't care how much the player cost. Don't ever forget that.
Late-Breaking News
Leo Massi of Hy End Audio, the Lehmann Black Cube's importer, has just sent me a flyer listing more new Black Cube products, including a twin phono stage ($1295) for users of two turntables (as opposed to users of Dual turntables) that can be powered by a single PWX. And there was a photo and product description of the new Silver Cube ($2195), which features a power supply worth writing about.
I'm out of space, but not out of things to write about! I wanted to tell you about the Garrott Brothers' work on the Adcom Crosscoil cartridge, about a swell-sounding, USB-based D/A converter from Ron Sutherland, a neat Windows-only (feh!) CD-cataloging program called CD Trustee (check it out at www.base40.com), and the sonic results of using an Outer Limit–like platter ring custom-made for my Simon Yorke 'table. There will be such rings in the analog futures of many of you!
---
Sidebar 1: In Heavy Rotation
1) Ella Fitzgerald Sings the George and Ira Gershwin Song Books, Speakers Corner 180gm reissue LPs (5)
2) Love, Revisited, Sundazed 180gm reissue LP
3) Spirit, The Family That Plays Together, Sundazed 180gm reissue LP
4) Louis Armstrong & Duke Ellington, Classic 180gm reissue LP
5) Bennie Wallace, Moodsville, Groove Note 180gm LP
6) Otis Redding Sings Soul Ballads, Four Men With Beards mono 180gm reissue LP
7) Mushroom, Compared to What, Weed remix EP
8) Les McCann, Layers, Four Men With Beards 180gm reissue LP
9) Jim O'Rourke, Insignificance, Drag City 180gm LP
10) Mozart, Symphony 35, [conductor/orchestra?], Cisco Music 180gm reissue LP
<!- ------------------------------------>