Analog Corner #93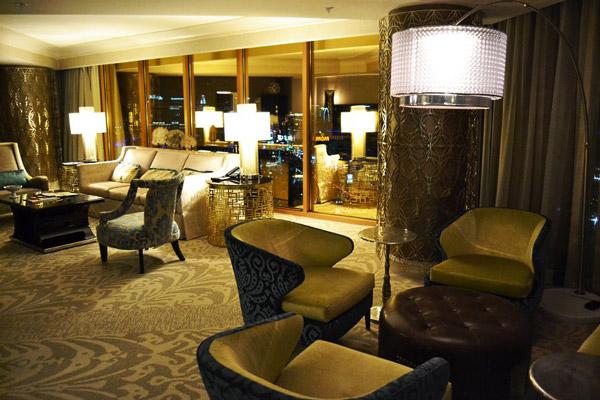 In the elegant Presidential Suite atop the Mandalay Bay, the Las Vegas strip's most formal hotel (no slots in the lobby), fine wines were poured, hors d'oeuvres were offered by white-gloved waiters, and a sushi chef—silhouetted by a dramatic nighttime panorama of Las Vegas—deftly fashioned sashimi and sushi to order for the hundreds of guests filtering in and out of the well-attended pre-dinner party.
If you'd asked me 10 years ago to predict where a purveyor of mostly analog gear would be throwing a party at the 2003 Consumer Electronics Show, I probably would have said Denny's—not the roof of the ritziest lodge in town. Yet that's where Jerry Raskin's Needle Doctor, sponsored in part by the vendors whose products he sells, shared the analog wealth with the press and the industry during one cocktail hour at last January's Show.
Despite the weak economy, analog meant good business for almost everyone involved. Most online dealers claimed that business was up around 50% over 2002—and I believe them, judging by the Show vibe. I kept hearing about back orders and not being able to keep things in stock. And no one whined or complained, which almost never happens.
But analog's resurgence meant less urgency in the demo rooms. Fewer vinyl partisans felt compelled to schlep their personal turntables and records to the Show to prove their point. Vinyl reissuers such as Classic Records no longer felt the need to leave free samples and glossy color posters of their wares in rooms featuring analog playback. To the uninformed observer, it might have seemed that analog's presence at CES had diminished. What's really happened is a more relaxed approach, as spinning records returns to favor among audiophiles (and a surprising number of kids) and, despite the weak economy, the analog business grows.
Greater Resolution, Please!
If there was an overriding theme at this year's CES in both high-end audio and mainstream consumer electronics, it was "We want higher resolution!" Despite the naysayers at Business Week and the cluelessness of the New York Times, which basically ignores the subject unless there's bad news, HDTV will succeed—especially now that the cable industry has come aboard. High-resolution audio, be it analog vinyl or SACD or DVD-Audio, also seems to be grabbing the imaginations of a healthy chunk of the mainstream audience.
Sony and Philips held an SRO press event at the Hard Rock Hotel's Baby's Night Club—a dank, smelly, creepy dungeon a few flights down from the casino that is easily the most unpleasant basement watering hole in Las Vegas. (The imbecile who allowed a salt-water fish tank to be installed in that smoky hole should be arrested for cruelty to animals.) When David Kawakami, Sony's SACD project director and one of the format's inventors, announced that Sony Music would soon release 15 Bob Dylan albums on SACD, all mastered by my old friend Greg Calbi, as well as SACDs of the Police catalog (including a multichannel "greatest hits" compilation), the attendees—most of them from the mainstream, not the audiophile, press—whooped and hollered the way they did when CD was rolled out in 1983. The difference was that, this time, I joined them. I fantasized about ripping the microphone from Kawakami's hands and yelling "I thought CDs were 'perfect,' you shills!"
The crowd almost rioted when it was announced that Pink Floyd's Dark Side of the Moon would be issued as Capitol USA's first SACD release on March 3, 2003—to coincide with the 30th anniversary of its original vinyl release—as a hybrid disc in both 2- and 5.1-channel versions. The remix is by longtime Floyd engineer James Guthrie, with the approval (separately, I'm sure) of David Gilmour and Roger Waters. All of this SACD action will be aided by new American hybrid SACD production facilities, which will have come on line by early spring. A new European facility was announced after the Show. [For another take on the implications of this press conference, see this issue's "As We See It."—Ed.]
SACD has got the attention of the record industry, which sees the cultivation of the audience's appreciation for higher-quality sound as one way of countering tinny-sounding MP3 file sharing. With Allen Klein's ABKCO Records leading the way—its Rolling Stones hybrid SACD/CD reissues have sold more than 2 million units worldwide—other labels will follow, though DVD-A proponents promise to continue fighting for their format. True to its so far inept history, the DVD-Audio camp had nothing to announce at CES, where they met to formulate plans, leaving Sony and Philips to steal all of the attention with their announcements.
How good is all of this for the quality audio business? Very—for obvious reasons. How good is it for audiophile reissue labels? That's a mixed bag. While purveyors of vinyl are finding open doors at the major labels' tape vaults, SACD and DVD-Audio reissuers are meeting with resistance as the majors gear up to do it themselves. While Classic Records continues its fabulous-sounding Peter Gabriel reissue project of 200gm Quiex SV-P LPs, Virgin has announced that it will issue the entire Gabriel catalog on hybrid SACD/CDs, including the new one, Up, in 5.1-channel.
Despite SACD's strong support among such audiophile reissue labels as Analogue Productions, Mobile Fidelity, Opus3, and others—not to mention majors and indies like Uni and Rounder—Classic is sticking with DVD-A. At two press events—one analog, one digital—Classic made some major news. On the digital side, after five years of releases using the interim technology of DVD-Video–based 24-bit/96kHz DAD discs (on which the audio program is on the video "title set"), in 2003 the label will issue 12 genuine 24/192 DVD-A titles that will be "universal": in addition to the 24/192 material on the "audio set," 24/96 data will also be encoded on the "video set." Offerings from Procol Harum, Pete Townshend, the Vanguard catalog, and others will kick off the series, beginning with Vanguard's legendary recording of Canteloube's Songs of the Auvergne. Transfers from analog will make use of a high-resolution A/D converter designed by Muse Electronics' Kevin Halverson.
There was plenty of interest in hi-rez digital at CES 2003. MusicDirect/Mobile Fidelity's Josh Bizar told me that, by the second day, they'd run out of SACD and DVD-A titles and had to send someone back to Chicago to pick up more. Everyone told me that sales of SACDs, DVD-As, and LPs were very strong at the Show. MoFi introduced three new SACD titles: Isaac Hayes' Hot Buttered Soul, Sonny Rollins' Plus 4, and Dave Alvin's Blackjack David.
If all the talk of DAD, DVD-A, "audio sets," "video sets," 24/192, and 24/96, has you confused and mathlexic, Classic also announced that it will issue three much-sought Roy Orbison titles on vinyl: Lonely and Blue, In Dreams, and Greatest Hits. After all, lower the stylus of any turntable and it plays with high resolution and no watermarking. And you can make copies to your heart's content. These will be issued in both stereo and mono, cut by Bernie Grundman on his all-tube stereo and mono cutting systems from the original two-track analog tapes, which Classic's Mike Hobson claims were recently discovered in Nashville, the original home of Fred Foster's Monument Records. Classic claims these tapes have not been used since the original LPs were issued. When asked what Mobile Fidelity used for its gold CD Orbison reissue, released a few years ago, Hobson threw up his hands. I got copies of the Classic Orbison LPs at the Show—engineer Bill Porter's "DC to light" sound is superb! Mikey likes it!
Classic also announced plans to reissue the Allman Brothers Band's classic two-LP At Fillmore East on Quiex SV-P, and the mono edition of Procol Harum's legendary first LP, issued in the UK on EMI's Regal Zonophone subsidiary (it was never mixed for stereo from the original four-track tape, which has disappeared). While the UK original doesn't include the single "A Whiter Shade of Pale"—it was EMI's UK policy back then to not include singles on LPs—the reissue will include a second disc with the original mono mix of "A Whiter Shade of Pale," cut at 331/3rpm on one side and 45rpm on the other. In addition, the first 1000 copies will include a special 7" stereo edition, newly mixed at Dave Gilmour's Astoria Studio by John Leckie from the original four-track master tape of the single, which was found. The entire project was mastered by Tim de Paravicini at The Exchange.
Speaking of renowned mastering engineers, I ran into Stan Ricker in the Merlin room, where he was auditioning a test pressing generated from the lacquer he'd cut of Ray Brown's Soular Energy, for Dennis Cassidy's Pure Audiophile Records. Originally on Concord Jazz, the album was issued in 1991 on a half-speed-mastered, 180gm, limited-edition pressing by Bellaphon Germany. The title has also been issued on DAD by Hi-Res and on SACD by Groove Note.
Chad Kassem of Analogue Productions told me that his label's Top 25 subscription series of 45rpm jazz reissues from the Fantasy-owned Prestige, Riverside, Fantasy, Contemporary, and Pablo catalogs has been an unqualified success: "hundreds" of vinyl lovers have signed up to buy the $50 LPs. The first 100 subscribers got their inserts autographed by mastering engineers Kevin Gray and Steve Hoffman, plus free shipping. Kassem told me the series has been a "home run"; they've chosen another 75 titles for possible future 45rpm release. When you get to hear one of the first 25, you'll know why Analogue Productions has hit the ball out of the park.
Kassem's Acoustic Sounds has been named the exclusive mail-order distributor for Yasohachi Itoh's exciting new Eighty-Eight's Jazz label (part of Sony's Village Records). Itoh's East-Wind label will be familiar to many audiophiles for its direct-to-disc recordings of The LA4, among others. The new label's first 10 titles, most of them recorded by veteran engineer David Baker (who serves as chief engineer at Kassem's Blue Heaven Studios in Salina, Kansas), include such greats as Clark Terry, Max Roach, Elvin Jones and his brother Hank, Roy Haynes, Gary Bartz, Ravi Coltrane, Kenny Barron, Jimmy Cobb, and on and on. The SACDs were recorded direct to DSD, the LPs to half-inch analog tape at 30ips and pressed in Japan on high-quality vinyl.
Finally, Audio Fidelity, the new company of Marshall Blonstein (formerly of DCC Compact Classics), introduced three inexpensive but swell-sounding (given the mono sources) 150gm blues LPs mastered by Hoffman and Gray. There are discs by Lightnin' Hopkins and John Lee Hooker, as well as a compilation called O Blues, Where Art Thou? Raw, great stuff, sounding about as good as it can. These post-WWII recordings sound better than you might expect, as long as you're not expecting Living Stereo.
Finding the Needles in a Haystack of Exhibitors
Starting with the very front end, some significant new cartridges were announced at CES 2003, including two new ones from Scan-Tech: the Lyra Argus ($1195) and the Lyra Titan ($5000). The Argus, which replaces the Lydian, includes a great deal of Helikon technology, according to designer Jonathan Carr, but uses different internal wire, and is tuned for the less expensive arms in which it's most likely to be used. The Titan is the new top-of-the-line Lyra and replaces the Parnassus DCt. Both new models are medium-output (ca 0.45mV) moving-coils.
Importer Mike Pranka demoed Dynavector's new, sexy-looking XV-1S ($4000), which many listeners have told me occupies a sweet spot between the lush and the analytical. Muse Electronics' Kevin Halverson had a sample of the new Kuzma KC reference cartridge ($3000) with 0.5mV output, while Axiss Distribution's Art Manzano showed off the Shelter 501 Mk.2 ($800) and the more expensive 901, which, he says he "can't keep in stock." He also gave me a close-up look at the Blue Electric Magic Diamond ($5000), a 0.5mV-output cartridge that tracks at 2.2–2.5gm. Finally, Linn announced the Akiva ($2950), a new reference MC cartridge designed specifically for Linn's Ittok and Ekos tonearms.
Speaking of tonearms, Bob Graham introduced a new base for his Robin arm designed specifically for the popular VPI Scout turntable, which he says can now be ordered without VPI's own arm. Kuzma's finished air-bearing arm was on display in the Muse room and, contrary to previous reports, will be sold with an air supply. The sophisticated, quiet-running setup jacks the final price up to around $6500. Muse's Kevin Halverson told me that he and Frank Kuzma decided that offering the arm without the air supply would be a big mistake—buyers might opt for cheap, unregulated air supplies that could degrade performance and even destroy cantilevers.
Dung Mei proudly showed me the changes he's made to the Tri-Planar arm. He's changed the headshell design to greatly improve the rigidity of the cartridge/arm interface, upgraded the tolerances of the machining to "four zeros after the decimal point," and upgraded the VTA adjustment system so that the post has virtually no play as it's being moved up and down. These were all issues I brought up last year in my review of the $3250 arm in the July 2001 Stereophile. Glad someone listens.
I tried to get Basis' A.J. Conti to send me one of his intriguing Vector arms for review, but he's adamantly against using it on a cantilevered armboard, which is what my Simon Yorke turntable has. I just got the Avid Acutus for review, which comes with the SME IV arm. It, too, uses a cantilevered arm mount; when I told designer Conrad Mas that I was going to try the Graham, he basically said it wouldn't work. Come on, guys! Conti said I might be able to review the arm with one of his 'tables; hopefully, that will happen this year.
More New Turntables
Roy Hall introduced the new Music Hall Maestro cartridge, a modified high-output Goldring Eroica featuring a "Vital" stylus, but the only way to get one for now is with Roy's new MMF-9 turntable ($1699 including Maestro). The 'table uses Pro-Ject's carbon-fiber arm, an inboard/outboard separate AC-synchronous motor, a two-speed quartz motor drive, and a bearing system with an inverted ceramic ball. The triple-plinth design is damped and isolated with thin discs of Sorbothane.
Other new 'tables spinning vinyl at this year's Show included the battery-powered Nordic Concept Reference, an unusual-looking two-piece design whose DC motor can run for 48 hours on a single self-charge. The $10,650 asking price, according to importer Donald North, includes an integrated isolation base; add $4000 for an integrated solid-state MM/MC phono stage. Total weight: around 120 lbs. The Concept Reference was shown with a new Airtangent 2002 tonearm. No, it's not last year's model. For some reason, that's what they're calling it instead of the 2003. It's a low-pressure design with a decoupled counterweight, electronic cueing, and auto-lift at the end of the record. The $8225 price includes the essentially silent air pump—the arm comes packed in the pump housing. The very small footprint of the arm's mounting base makes it usable with a wide variety of turntables. Airtangent also announced its first turntable: the compact 2001 ($20,200; add $1000 for the floorstanding version).
Also in the air-bearing camp was the line from Italian company V.Y.G.E.R., who introduced a vacuum holddown system at the Show. The properly executed design sucks the record down onto the platter and, once a vacuum is achieved, lowers the pressure to prevent record damage. Importer Acoustic Dreams will deliver a review sample of a V.Y.G.E.R. to me this spring. The Atlantis model, with vacuum holddown, costs a breathtaking $33,000.
Axiss, which continues to import the extensive Trans Rotor line from Germany, introduced the Super 88 'table, which features a regulated power supply, pitch control, and a good clamp: $6000 without arm, $8000 with SME 309. And although it's a Super 88, it's not your father's Oldsmobile—or turntable, for that matter. Roksan again showed its long-awaited TMS-2 triple-plinth 'table, which, with Artemis arm and Shiraz cartridge, will set you back $15,000. Roksan introduced the new entry-level Radius Y with unipivot arm (also available separately) for "around" $1200.
The Brinkman line of turntables and electronics is now officially imported from Germany by Impact Technology, Ltd. Lawrence Blair III showed me the exquisitely machined and refined-looking LeGrange 'table ($8000), and a Breuer-like arm ($3200) fitted with a modified EMT cartridge ($2500). Breuer was a Swiss tonearm still held in very high regard for its superb bearings and overall quality. This is a package I want to get my hands on.
Also from Germany was the new, 25th-anniversary edition of the Clearaudio Master Reference turntable ($6000 without arm), featuring a CNC-machined chassis of multiple layers of wood and aluminum assembled under great pressure—which I bet is a significant sonic upgrade from the standard acrylic. I hope to find out soon. Clearaudio also announced: a new ceramic ball bearing for the 'table that will soon be used in all of their turntables; the Everest turntable stand (ca $6000); and the Synchro, a universal, two-speed, AC-synchronous power supply that includes trim adjustments for precise speed. Based on Clearaudio's Master Reference Accurate Power Generator (APG), the Synchro features multiple stages of electronic filtering and power regeneration, yet has a projected US retail price of less than $800. Clearaudio products are imported by Musical Surroundings.
More turntable news from Germany: Acoustic Signature introduced the Samba, which features a sophisticated bearing system using a spindle of hardened, polished steel, a tungsten-carbide ball, and self-lubricating sintered brass bushings. The ball rides on a plate of Tidorfolon, which is made of vanadium, ferrite, Teflon, and titanium. The system runs dry—no oil necessary—and comes with a 10-year warranty. The rubber-decoupled AC-synchronous motor is driven by a sophisticated outboard supply that drops the wall voltage to 36V and converts it to DC, which an oscillator then uses to produce a new 24V sinewave that powers the motor. A resonance-damped 8-lb platter and base, both of aluminum, round out the design, which comes with a Rega RB250 tonearm. Price? $1600! This could be a great and very affordable 'table. Also introduced were the Mambo ($4000) and the Calypso ($3100), both prices without arms. There's not enough space here to cover these designs, but, as in all Acoustic Signature 'tables, no plastic is used, and both feature sophisticated power supplies.
Back in business, Thorens showed prototypes of three new 'tables: the 800, 810, and 850, each a variation on a basic theme. The 800 ($1500 with Rega 250 arm) features an MDF plinth, the 810 ($2000) adds a steel underplate for greater rigidity (it's cut out under the arm's path across the record), and the 850 features a more massive plinth of MDF sandwiched with steel. All feature AC-synchronous motors and two-speed outboard power supplies. Also on display was a prototype of the TD 350, which looks like a Thorens from the old days. Newly tooled but similar to the 320, with the 2001 suspension, the TD 350 features three speeds plus pitch control. It will cost around $2000 when introduced in the fourth quarter of 2003.
I finally saw a Teres turntable in the flesh. The flagship Model 200, with lead-shot–loaded base and 26-lb acrylic platter plugged with lead shot, costs $2500. An optional battery power supply adds $300. (Battery power is gaining in popularity; Audio Advancements demoed the $1400 battery-powered Minuette.) Finally, I once again encountered Max Townshend's Rock Reference, with remote-controlled VTA adjustability, and Harry Weisfeld's finished VPI HRX, which looked and sounded mighty impressive.
Phono Sections
Balanced Audio Technology announced the VK-P10SE Super-Pak phono section, an upgraded version of the VK-P10SE packed with oil capacitors called Depth Charges. Speaking of that "sinking feeling," the cost is $8000. That's nothing compared to Boulder's 2008, which costs $29,000. Bruce Van Allen told me that Boulder has already sold 22 of them—amazing when you think that they expected their run of 30 units to last five years. Scan-Tech's Jonathan Carr and Stig Bjorge showed me their soon-to-be-issued Erodion MC phono section, a 60dB-gain unit that makes use of technologies incorporated in the company's far more expensive Connoisseur 4.0. The Erodion will cost "under $4000."
Other Stuff
The Living Voices Mystic Mat, a platter mat featuring a gel-coat carbon-fiber skin on bottom, a layer of ceramic textile, and a 2mm-thick polyurethane foam skin with no gel coat on top, looked interesting.
Rega UK announced at the Show that Dynavector importer Mike Pranka and Sound Organisation's Steve Daniels will be Rega's new American importer-distributors (they haven't yet named the new company), taking the line over from Lauerman Audio which is now distributing Castle loudspeakers and Cyrus electronics. Finally, Nordost announced a new 1.25m phono cable, available in RCA-to-RCA or DIN-to-RCA configurations, each for $900. Longer lengths are available but not recommended by me, Nordost, or anyone else.
The best sound at CES 2003 was easily the Halcro–Wilson Audio room—an enormous ballroom with the big Wilson MAXXes near the corners of one of the short walls, creating a convincing, life-sized soundstage that had detail, delicacy, focus, superb imaging, stupendous dynamics, and timbral accuracy. It was about the best presentation I have ever heard at a Consumer Electronics Show or anywhere else. Usually these big, inflated systems suffer serious problems in the bass, or with image specificity or harmonic cohesiveness. Not this one. I could have stayed there all day.
Other noteworthy rooms: Ayre's, featuring the relatively inexpensive K-5x preamp, V-5x power amp, and CX-7 CD player (total cost: $10.5k) driving Avalon Acoustics Eidolon Diamond speakers ($34k/pair)—slightly on the overdamped side of perfection for my taste but definitely "in the pocket." Also memorable: the new Alán Lotus Elite Signature speaker with Thunderbolt subwoofer and ProAc's new top model, the Response D80 tower, though the latter could have used some tubes to drive it.
My most memorable personal moment at CES 2003 was when an overseas Audio Research importer came up to me and said, "I really enjoyed your review of the ARC VTM-200 monoblocks!" [The review appeared in January 2001.—Ed.]
I was surprised. "But I didn't exactly give them a great review."
"Yeah, but you were right! You're always right!"
He said it, not I.
---
Sidebar: In Heavy Rotation
1) Roy Orbison, Lonely and Blue, Classic 200gm Quiex SV-P LP
2) Sonny Rollins, Way Out West, Analogue Productions 45rpm 180gm LPs (2)
3) Clark Terry & Max Roach, Friendship, Eighty-Eight's Jazz X-Compound Press LP/SACD
4) Peter Case, Beeline, Vanguard LP/CD
5) The Byrds, The Columbia Singles '65–'67, Sundazed 180gm LPs (2)
6) George Harrison, Brainwashed, Parlophone 180gm import LP
7) The Butterfield Blues Band, The Resurrection of Pigboy Crabshaw, Sundazed 180gm LP
8) Art Blakey's Jazz Messengers, With Thelonious Monk, 4 Men With Beards 180gm LP
9) Dead Kennedys, Fresh Fruit for Rotting Vegetables, Cleopatra LP
10) Dvorák & Glazunov, Violin Concertos, Nathan Milstein, William Steinberg, Pittsburgh Symphony, Cisco 180gm LP
<!- ------------------------------------>